The fragrance of well-prepared traditional biryanis is enough to make even the most jaded of eaters salivate, and the dish itself is nothing short of an artistic masterpiece.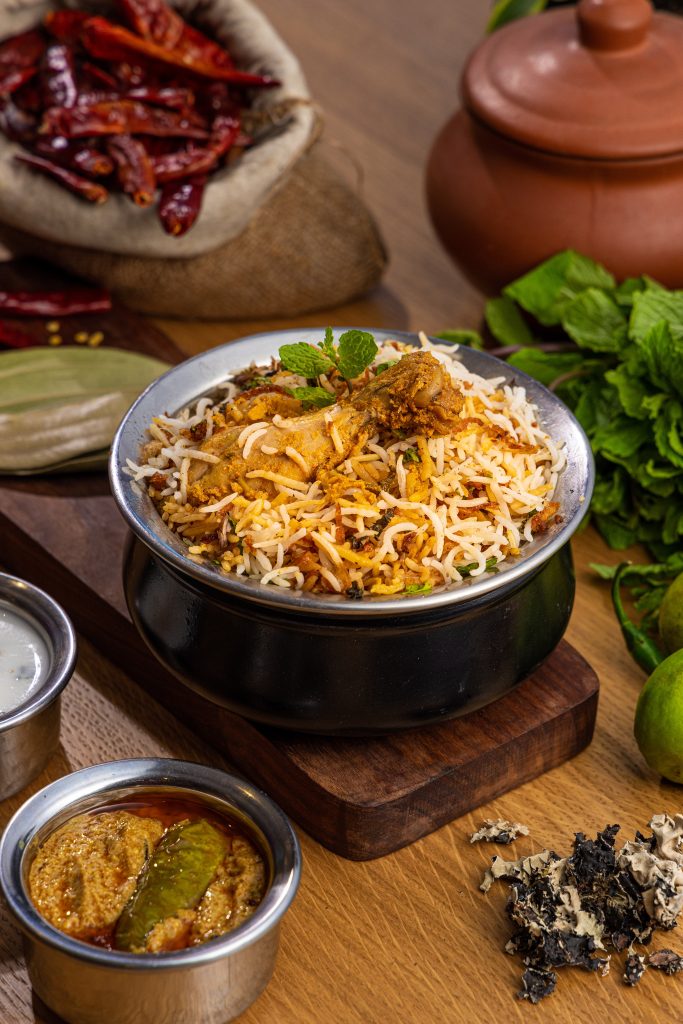 Biryani the famous Indian rice dish is generally made with mutton but it is now equally popular with a chicken preparation and there are several different regional takes on the dish.
Biryani is typically made with marinated meat and rice cooked in a mixture of spices like cardamom, cinnamon and cloves. Other ingredients that are commonly used include yoghurt, cashews, saffron, onion and mint leaves. The end dish is usually served with raita (yoghurt-based condiment) and chutney.
Biryani is normally served on special occasions like parties, weddings and festivals in India. It has now become a popular dish around the world due to its exotic taste and flavour.
Biryani is not only delicious but also healthy as it contains all the essential nutrients that are required for our body. The rice used in biryani provides carbohydrates that give us energy. Meat provides protein and vegetables used provide us with essential vitamins and minerals. Furthermore, the spices added enhance the flavour of biryani while also providing their own health benefits such as anti-inflammatory properties.
Biryani can be cooked in a variety of ways depending on individual taste and preference. Some people like to use ghee (clarified butter) while others prefer to use oil. The spices can also be adjusted according to personal taste. Also, the method of preparation varies from region to region and the type of biryani that is made. For instance, Hyderabadi biryani has its own distinct style of cooking which involves marinating the meat with yoghurt and spices before it is layered with the rice.
The Dum Pukht method, in which food is cooked in a sealed handi, is the method most often used in India to prepare biryani. This traditional meal is conceived and prepared in a manner that is distinctively different throughout the country.
Hyderabadi Biryani
Hyderabadi biryani is cooked using basmati rice and meat in Hyderabad, India. Combining Hyderabadi and Mughlai cuisines, it originated in the Nizam's kitchens. Hyderabadi Biryani comes in Pakki and Kacchi (raw). Pakki Hyderabadi Biryani layers basmati rice and meat.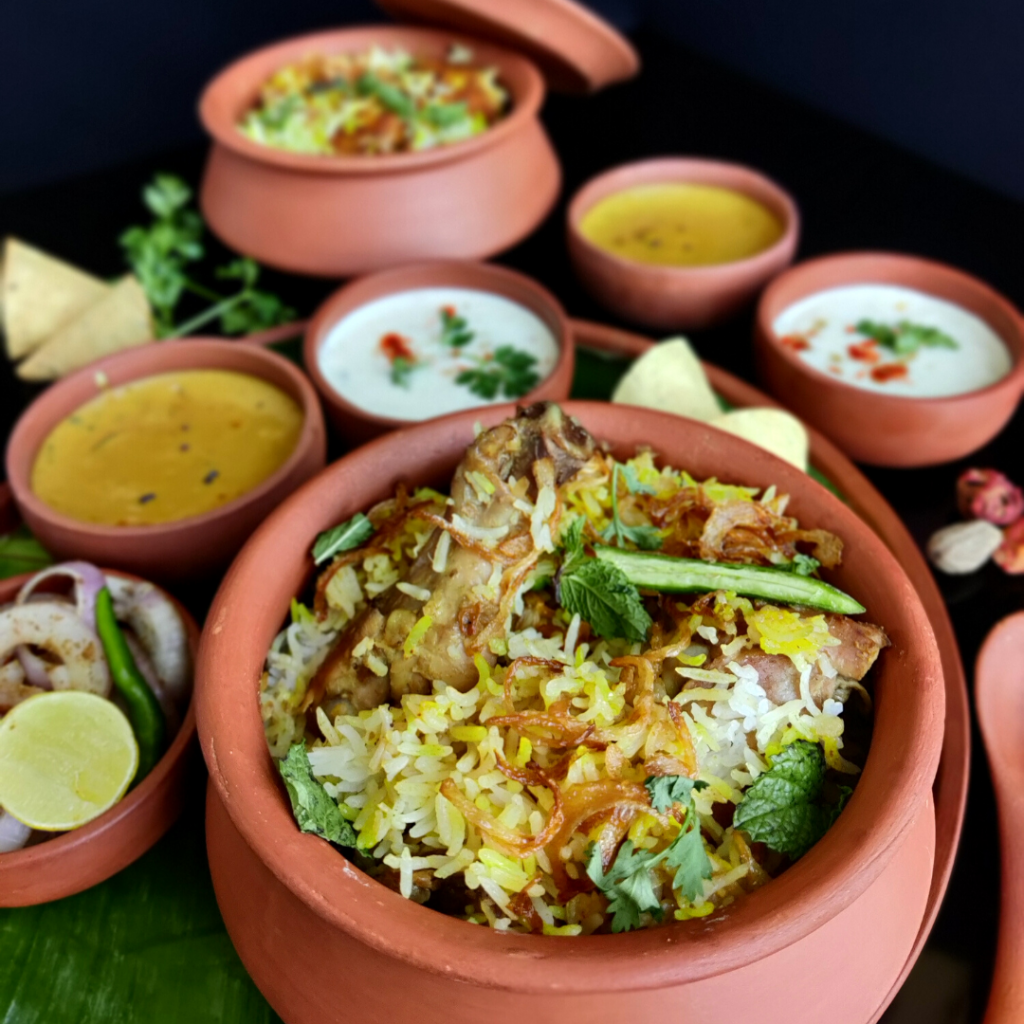 The kacchi Hyderabadi Biryani is created with uncooked marinated meat (chicken or lamb) between sheets of basmati rice flavoured with saffron, onions, and dried fruits. Both of these are slow-cooked in a dough-sealed earthen pot over a charcoal grill, resulting in a rich, fragrant, and punchy biryani.
Awadhi Biryani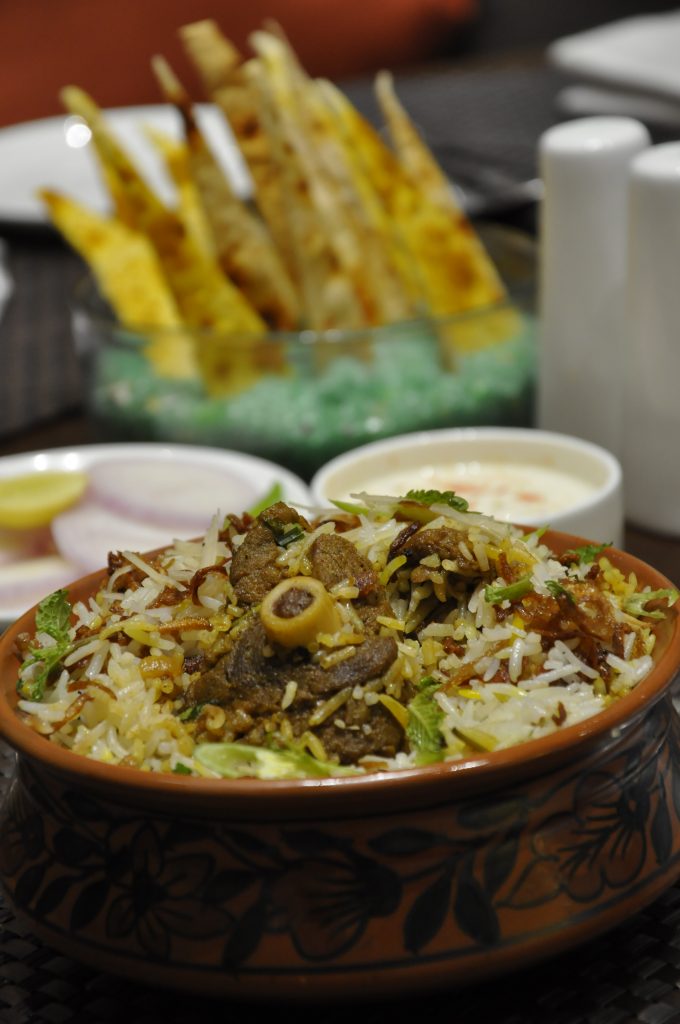 Awadh is an ancient name for the region that is now the northeastern section of the state of Uttar Pradesh. The Awadhi or Lucknowi biryani is called pakki biryani. In other words, the meat and rice are not cooked simultaneously; instead, they are prepared in a dum-style manner by layering one on top of the other. The Lucknowi biryani is another name for this dish.
Thalassery Biryani
As a consequence of its long history as a marine trade centre, the town of Thalassery in northern Kerala is known for having a distinctive cuisine that combines elements of Arabian, Persian, Indian, and European styles of cooking.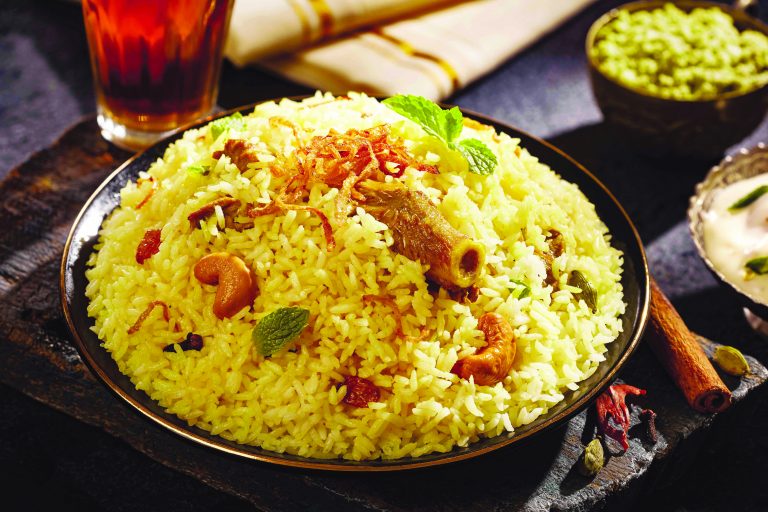 Tellicherry biryani is a speciality dish served in Thalassery. The main ingredient of thalassery biryani is rice, and it is combined with various spices and chicken. Since it is the sole recipe for biryani found in the cuisine of Kerala, it is sometimes referred to as Kerala biryani. The only form of biryani prepared in all of Kerala using Kaima rice is called Thalassery biryani.
Kolkata Biryani
A subcategory of the biryani prepared in the Lucknowi fashion is known as Kolkata Biryani. The Kolkata Biryani is not an original dish of the city; rather, it is a variety of the Lucknowi Biryani that has been changed.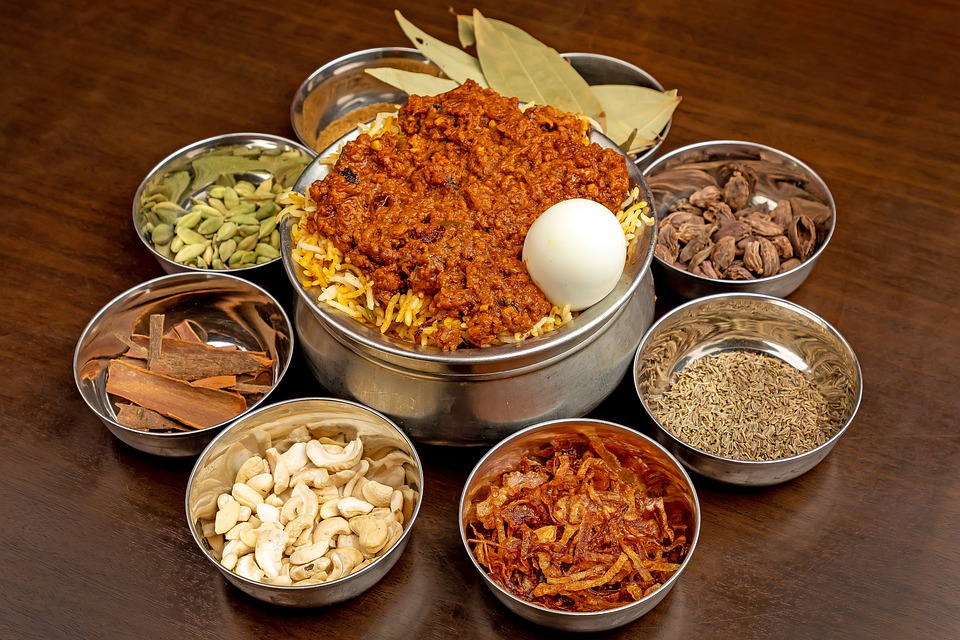 Cooked with light yellow rice that is stacked with yogurt-based meat, soft-boiled eggs, and potatoes, this dish is marked by delicate flavours with a hint of sweetness and a more frugal use of spices.
Ambur Biryani and Chettinad Biryani
Ambur Biryani, prepared in the manner of Tamil Nadu and also known as Arcot Biryani, may trace its roots all the way back to the Mughal kitchens of the area.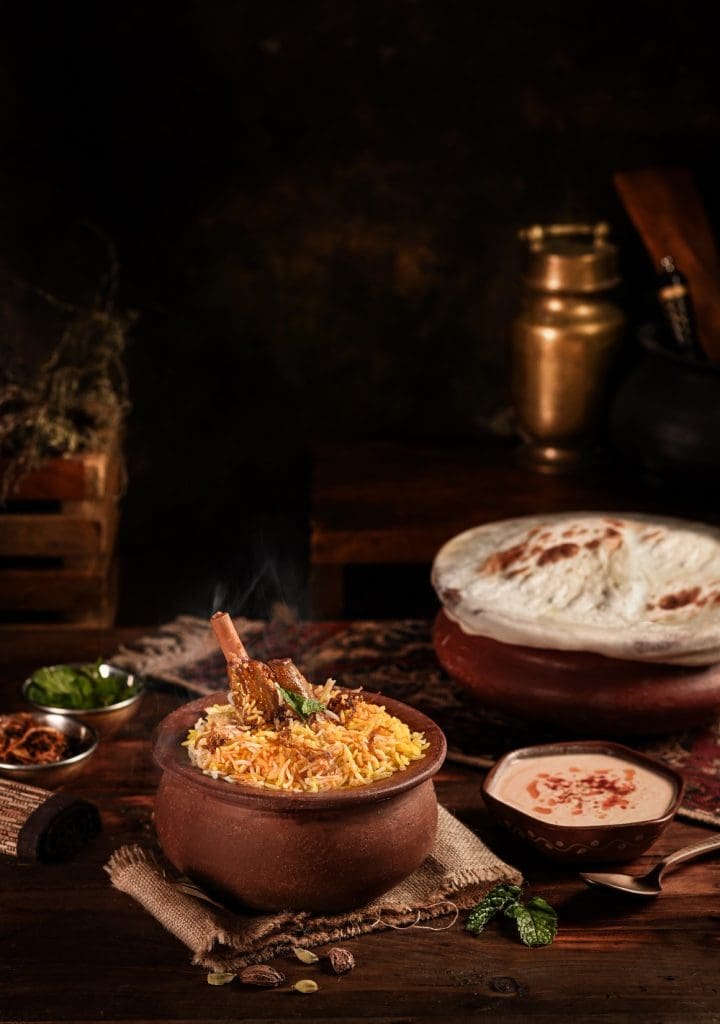 The Nawabs of Arcot, who governed the Carnatic area of South India for the most part in the 18th century, made Arcot their centre of operations. It was in the kitchens of these Nawabs that the Ambur biryani legend got its start. After being marinated in curd and seasoned with coriander and mint, the meat is then combined with Seeraga samba rice that has been cooked along with additional spices.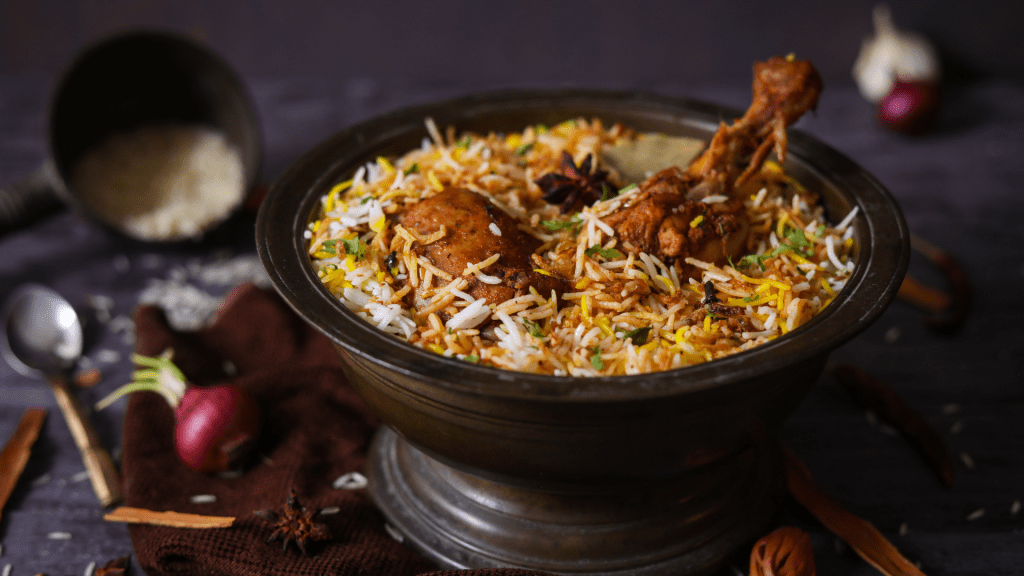 In Tamil Nadu, where Arcot Biryani is famous, another delicious Biryani is making the rounds – the Chettinad Chicken Biryani. This is a strongly spicey offering than the usual Dum Biryanis. Spices include kalpasi (stone flower), star anise, Marathi moggu (dried flower pods), and in some cases a well-blended tomato and mint puree. Sometimes the masala is combined with coconut milk, to add an interesting flavour to this rice dish.
Memoni Biryani
The Memon people of the Gujarat-Sindh area in India and Pakistan are responsible for developing a particularly fiery form of biryani known as memoni biryani. It has a lower amount of tomatoes but is still prepared with lamb, yoghurt, fried onions, and potatoes.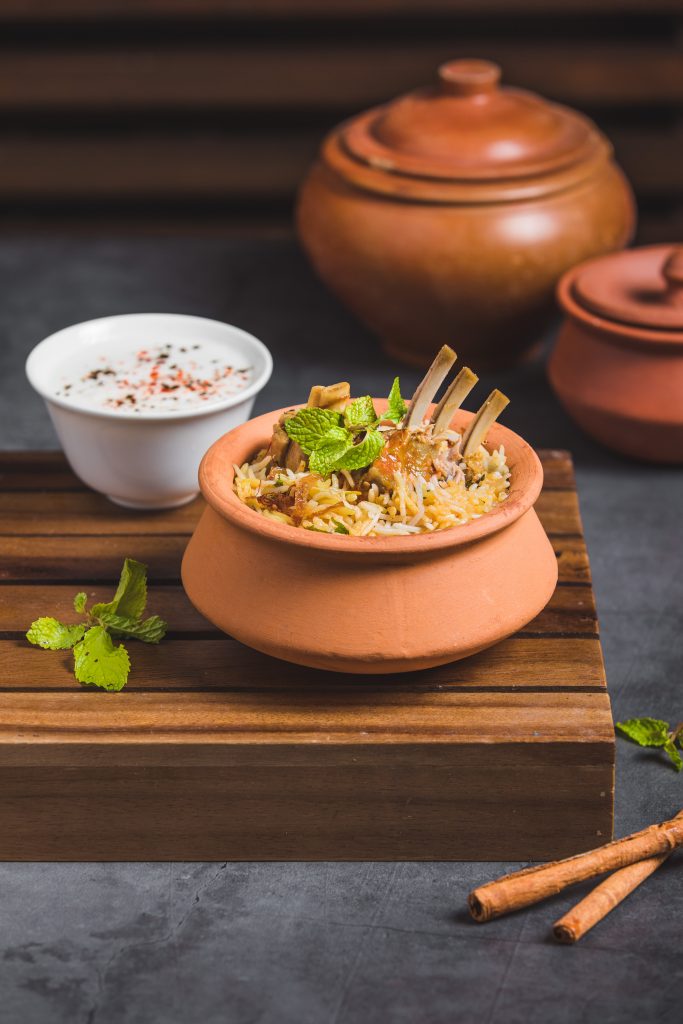 Since just a little amount of food colouring was used, the biryani did not have an orange hue. This allowed the deep colour of the meat and spices to shine through and provided the dish with its signature look.
Bhatkali Biryani
This is an essential component of the Navayath cuisine and a delicacy that can only be found in Bhatkal, which is located in the coastal region of Karnataka. The history of this dish may be traced back to Persian merchants who brought with them a variety of kababs and Indian flatbread and also left behind the recipe for biryani.
In Bhatkali biryani, the layers of flavorful rice are sandwiched between layers of meat that have been cooked in a masala made with onions and green chillies. It has a flavour that is singularly fiery and heavy, and the rice is mostly white with very few orange specks throughout.
Kalyani Biryani
A biryani dish known as kalyani biryani is traditional in the Indian state that was once known as Hyderabad Deccan. Buffalo meat is usually cut into little cubes and used in the preparation of Kalyani biryani, which is also regarded as the "poor man's" version of Hyderabadi biryani.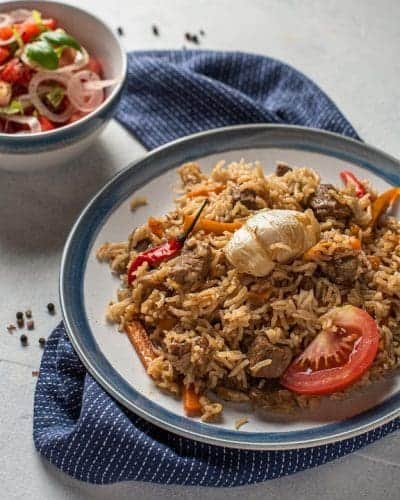 The meat gets its flavour from ginger, garlic, turmeric, red chilli, cumin, coriander powder, and a significant amount of onion and tomato. First, it is prepared as a curry sauce, and then, after that, it is simmered with rice.
Bombay Biryani
A unique kind of Indian biryani is known as Bombay biryani, and it is made up of alternating layers of flavoured basmati rice, potatoes, pieces of chicken, mutton, lamb, or vegetables, as well as some fried onions, mint leaves, and dried plums. After the meat and potatoes have been fried, the rice is piled in a pot with everything else after it has been cooked with a number of different spices.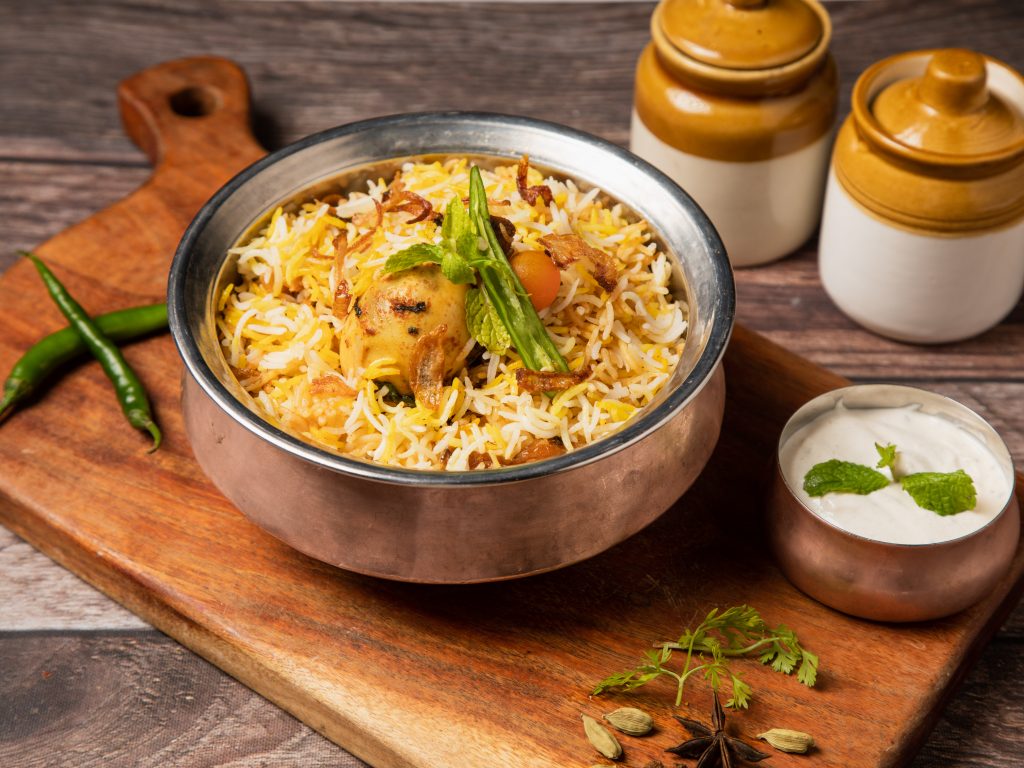 The meal is traditionally served with cold raita and a fresh salad on the side, and it is completed with ghee that has been melted and drizzled over the top. The dried plums, kewra essence, and fried onions that go into the making of this particular kind of biryani give it a mellow sweetness that sets it apart from other kinds of the dish.
Rawther Biriyani
This spicy dum biriyani gets its naturally dark red colour from the abundance of fresh tomatoes and Kashmiri red chilli powder that is used in its preparation. It is also crafted using Jeerakasala rice, which is a fragrant kind of short rice grain. It is very popular in some regions of Tamil Nadu and Kerala.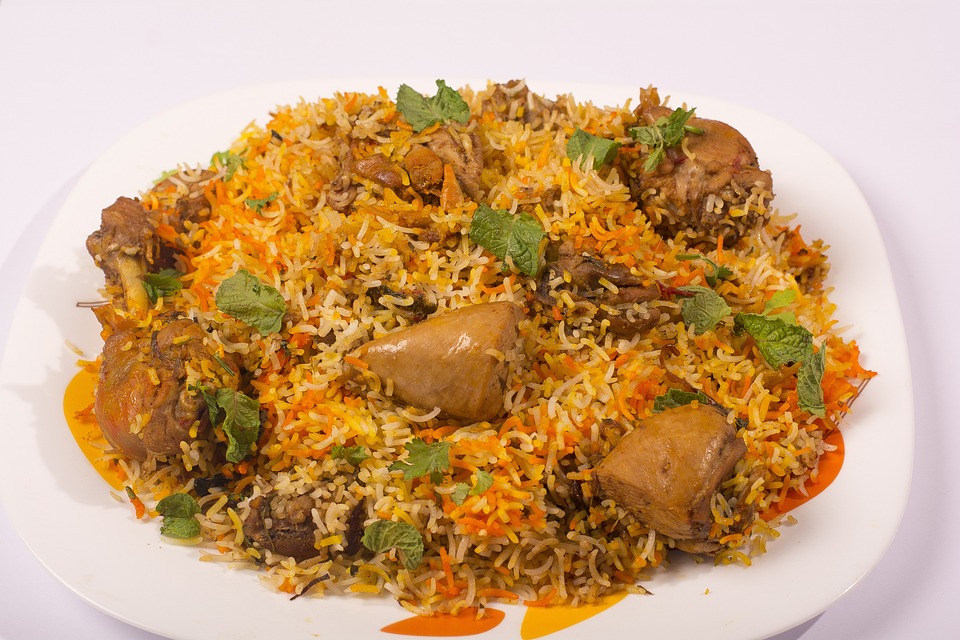 It is most common among the Rawther Muslim communities in Coimbatore and the Palakkad area of Kerala; however, it is gaining popularity not only within the Rawther communities but also beyond them.
Read More: Latest