Andaman and Nicobar Islands which is home to splendid beauty and magnificent treasures is a union territory that tops every traveller's bucket list!
Visit Andaman and Nicobar Islands in the months of October to May, with almost 300 islands clubbed together in the Bay of Bengal, it is sure to stun your eyes with the very best that it has to offer.
From the friendly locals to the rich marine life and lush green mangroves every part of this island captivates the visitors with its wholesome beauty. Here are our top 10 picks of stunning places to explore in the Andaman and Nicobar Islands.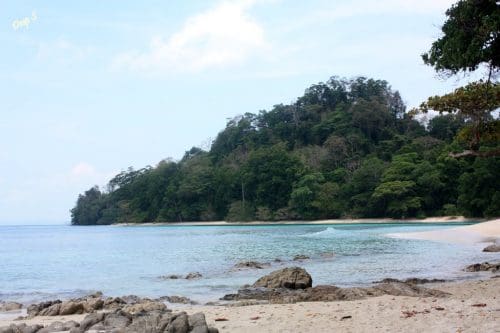 Kick start your journey at Radhanagar Beach! This beach has every precaution tucked in place as the lifeguards are always there in case of emergencies and it's super clean too! So be sure to visit Radhanagar beach and explore its vast landscape to be lost in beauty. Be it sunbathing or swimming or sunrises or sunsets, this beach tops it all.
Situated at Havelock Island, approximately 70 kilometers away from Port Blair, this beach stands no more in solitude as it attracts thousands of visitors every year for its pristine beauty and scenic views. Reach this beach from Havelock Ferry Ghat (almost 11 km away) by cab or a rented bike. Neil Cove, another popular tourist spot near Radhanagar beach is also a must-visit, just a ten-minute walk away, be sure to visit.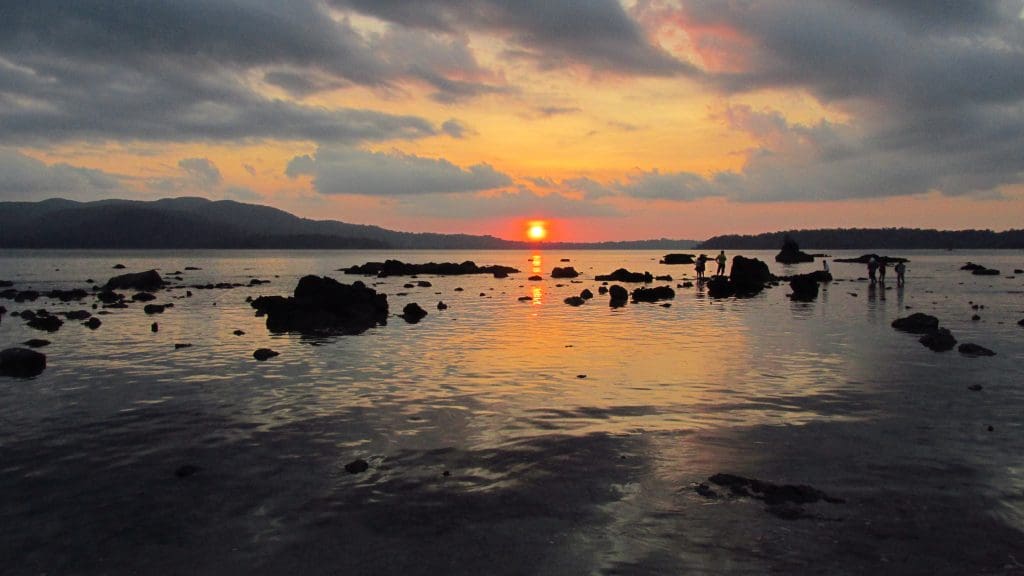 Feel surreal at Chidiya Tapu during sunsets! From wildlife to bird watching this place is ultimate as it gives you a perfect getaway for your family. Sip in some coconut water and relax under the shacks and enjoy your view of sunrises and sunsets. Both the clean beach and the biology park exhibiting the flora and fauna deserve to be on your bucket list.
The nearest bus stop is located at the Amardeen Baazaar and the nearest airport joint is the Port Blair Airport which is 22 km away and from where you can take a cab or an auto to reach it which takes approximately 1.5 hours.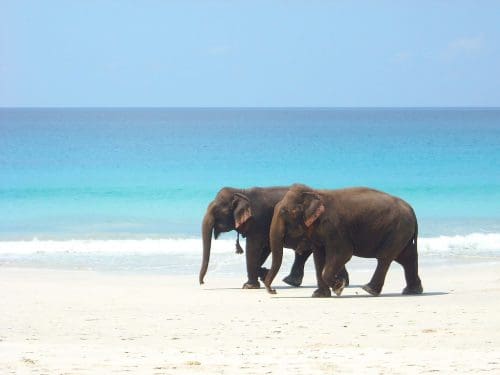 For the adventure buffs, Elephant Beach is a must-visit to explore the daring soul in you! Also situated at the northern part of Havelock Island, reach this beach by bus or cab or even by boat! Yes, costing approximately Rs. 1000 – Rs. 1200, start from Ferry Ghat and reach Elephant beach in just 20 mins. The crystal waters and luscious greenery make it a perfect spot to try out new and exciting adventures! From scuba diving to jet skiing, this beach has it all! You can pre-book or directly book your slots on spot too.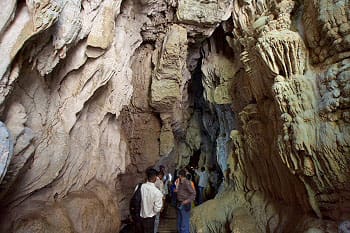 Tour the Limestone Caves!! Get set for a super-duper adventurous and highly educational exploration at the Limestone caves, guides always present to help you out. This venture includes a laborious journey filled with obstacles all the way leading to a magnificent revelation of the limestone formation which sure will rock your world.
The formation of these limestones dates back to millions of years, a really fascinating process of the diverse marine life going through a natural compression leading to its formation. Snuggled between mangroves and dense forests are these limestones caves, which you shouldn't miss as it one of a kind.
Located at Baratang Island, it is 100 km away from Port Blair take the Andaman Trunk Road or a jetty ride or cab for a 2 hour ride. Be sure to pack your safety kit.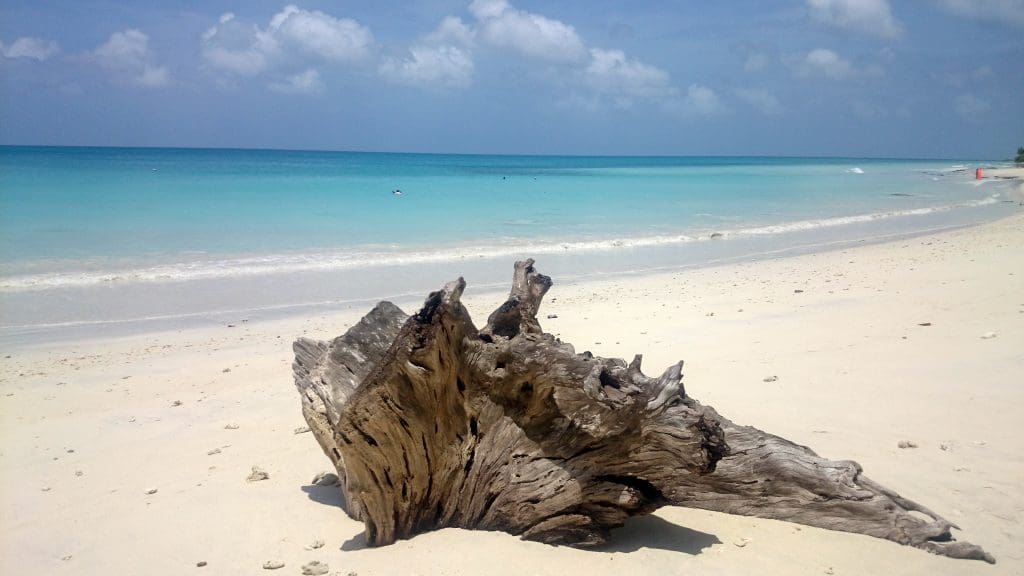 Quite an offbeat location: Kalapathar Beach! Often an unattended location by tourists might help you to appreciate this beauty more. Be sure to explore this beach of white sands and enthralling clean blue waters that serve as a treat to your eyes! With dense forests on one side to the beach on the other, it's an ideal option to rest, pause and relax!
Located at Havelock Island, reach this place by cab or rented bikes or an auto from Havelock jetty in 30 mins.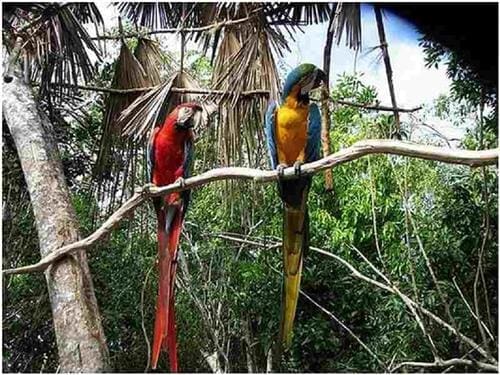 Squawk squawk at Parrot Island! If you are a bird lover and can't wait to visit a bird lover's paradise one day, the Parrot Island at the Baratang Island is a must-visit for you. Flock together with your family just like parrots and other species of birds. It is a lovely place to explore and unwind and get spellbound into the beauty of the colorful parrots. Almost hundreds and hundreds of birds, predominantly flock together and head over here every single day attracting so much attention for its beauty and aesthetics. Get lucky and go visit this island.
The nearest airport is the Port Blair airport, you can also reach this place by road by taking the NH233 towards Diglipur or reach this place from Barang Jetty which is at a distance of 30 km. Winter to summer is the best time to visit.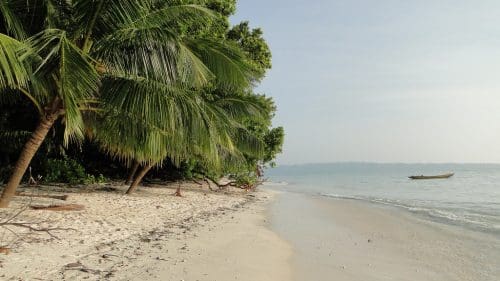 Vijayanagar Beach, to immerse yourselves in complete calmness and serenity explore Vijayanagar beach with your loved ones. Also often quoted and considered an offbeat location, this beach rules every part with complete stillness. With white sands and trees blessing your eyes with lovely views, it is a good place to chill and explore oneself.
Also situated at Havelock Island, it is 38 km from Port Blair and 9 km away from Havelock Jetty, rental bike services and daily shuttle will help you reach.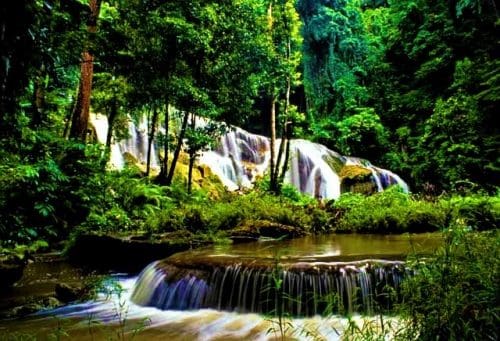 Get drenched by the beauty of Panchavati waterfalls! Situated almost 200 km from Port Blair, on the island of Ranagat, swim, photograph, and completely fade into this cascading beauty. Some of the springs from these waterfalls are actually a major source of water supply for the inhabitants of Andaman and Nicobar Island. So be sure to visit this magical and magnificent beauty. Reach this place by road or air with Port Blair as the most common point.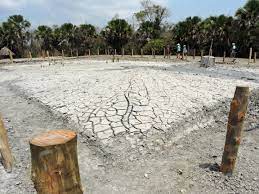 Mud Volcano! Sounds super interesting right? When in Andaman be sure to explore this unique place to experience something relatively new, fun, and exciting. You will be able to sight big mud volcanoes. A fun fact is these mud volcanos are much cooler in temperature than normal volcanos.
There are 9 mud volcanos in total at the Baratang island and to feed your curiosity and interest know about the science behind this, visit this place. The nearest airport is the Veer Savarkar Airport and bus services available from Port Blair to Diglipur.
Located at Baratang Island and almost 20 km away from Diglipur is the Mud Volcanoes. Trek your way up for a sum of 15 minutes to explore something new.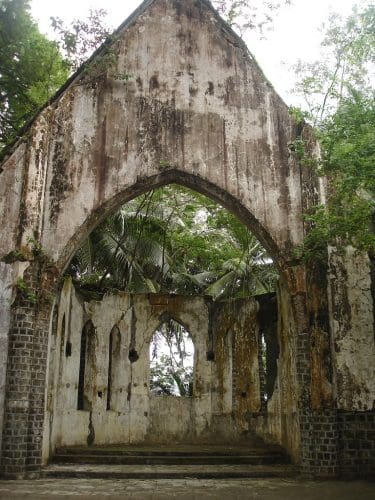 The Old Ruins at Ross Island is the best to explore in Andaman if you like a good dose of history. The Location includes the colonial Church, Secretariat, Government House, Chief Commissioner's residence, dense gardens, Swimming pools, and vintage ballrooms.
Formerly, taken over by the British and later by the Japanese, this place now stands in time as its heritage gets captivated by the roots of the trees of Ross island. The nearest airport is the Port Blair airport which is 3 km away from the Old ruins.
Read More: Discover Your India