Giving women visibility in mountain and outdoor sports, creating role models, and inspiring women to try something new: the 100% Women initiative and associated Peak Challenge were successfully launched on International Women's Day 2021.
This ambitious concept is now continuing into 2022.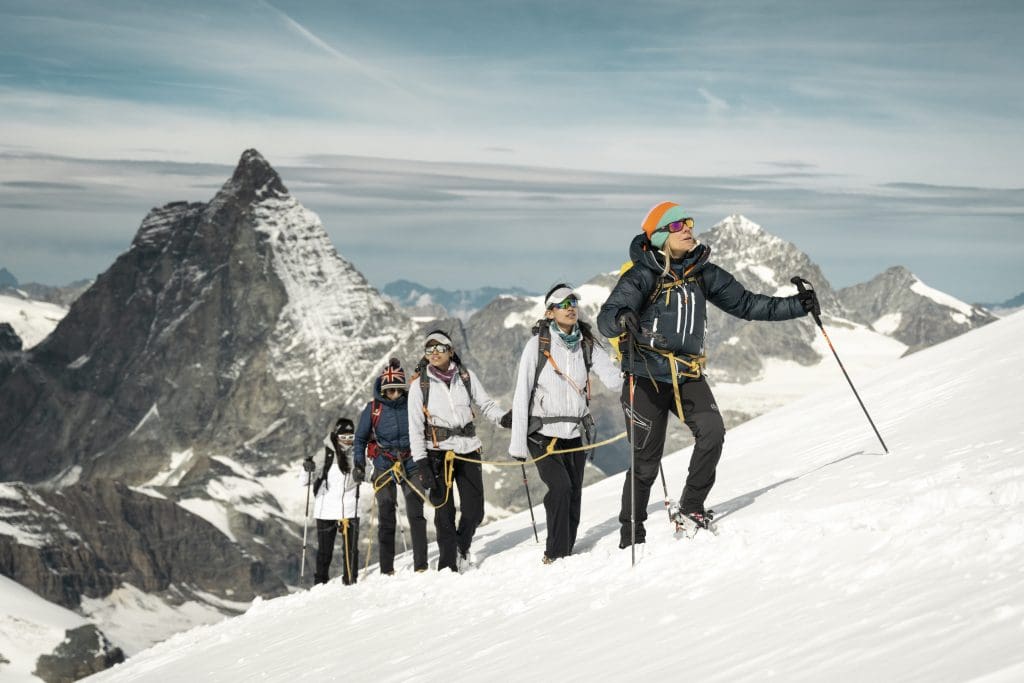 Switzerland Tourism, the Swiss Alpine Club (SAC), the Swiss Mountain Guide Association (SBV), Saas-Fee/Saastal Tourism, and the outdoor brand Mammut are planning to set a unique record with the world's largest all-female rope team. Some 60 women from around the globe will come together in June to tackle the 4,027-metre Allalinhorn in Valais.
Travelling brings people together. The 100% Women initiative launched successfully on International Women's Day last year is proof of it. Despite the pandemic, women from more than 20 countries came to Switzerland for the Peak Challenge.
Between them, around 700 women climbed all 48 of Switzerland's 4,000-metre peaks in all-female teams including the Everest twins- Tashi and Nungshi Malik from India. At the end of September, the mountaineering twins Tashi and Nungshi Malik successfully conquered Mount Breithorn (4,164 m) & Allalinhorn (4,027 m) in the Swiss Alps.
Overall, this was also the first time ever that female mountaineers and guides had undertaken a visible, concerted effort of this kind anywhere in the world.
As the country takes the next step in 100% Women on this year's International Women's Day, this collective female power on the mountain is set to grow even stronger.
Switzerland Tourism (ST) is planning a record attempt in the Alps this June in conjunction with the Swiss Alpine Club, the Swiss Mountain Guide Association, Saas-Fee/Saastal Tourism, and the outdoor brand Mammut.
Around 60 women will together climb the Allalinhorn in Valais and symbolically form the world's largest all-female rope team. Two partner organisations – the Swiss Alpine Club and the Swiss Mountain Guide Association – along with prestigious women's mountaineering experts all agree that mobilising such a large all-female team is unprecedented.
The historian Marie-France Hendrikx concurs: "To my knowledge, never before in the history of mountain sport have so many women teamed up to climb a peak together. It is all the more pleasing that this record is being set in Switzerland."
Greater diversity on the mountain
The Swiss mountains are accessible to all women, and 100% Women are seeking to highlight this via the largest, most diverse all-female rope team. Women from all cultures and of any age that have the basic level of fitness required for the ascent of about three hours can register online for one of 10 places. The other 40 or so places will be allocated to journalists and specially selected women from Switzerland and abroad. The aim is to make the group as diverse as possible.
Around 15 experienced female mountain guides will each take charge of the safety of four participants per rope during the ascent. The Allalinhorn was selected as a 4,000-metre peak that is suitable even for those with limited mountaineering experience. For some of the women, this could be the first 4,000-metre peak they ever climb.
The record attempt will take place between 15 and 17 June 2022. Depending on the weather, the climb will take place on Thursday or Friday. Saas-Fee will serve as the base camp, thus establishing itself as a hub for women's mountain sport.
It is important to stress that this event is not just about the mountain climb itself, but also about the chance to share experiences. The accompanying programme includes various workshops, training opportunities, relaxation activities for body and mind, and a celebratory evening meal once the peak has been successfully summited.
Women-only travel: huge potential for Switzerland as a destination
ST believes that female travel holds great potential for the Swiss tourism industry. Switzerland has much to offer this target group, with its varied and unspoiled natural environment. The country also regularly features at the top of international rankings for safety, cleanliness, and sustainability.
These are all attributes that are particularly valued by women. Furthermore, the conditions for getting more women involved in mountain sports and outdoor activities, in general, are constantly improving. In developed countries, the number of well-educated, financially independent women with a desire for physical, back-to-nature adventure continues to rise.
Within tourism, this trend has translated into higher demand for women-only travel. ST has responded by compiling a women's platform as part of the 100% Women initiative. It provides inspiration for many different experiences specifically tailored to women's needs. They include 11 multi-day mountaineering, hiking, and e-biking experiences led exclusively by female guides.
Read More: Latest