Featuring some of the holiest sites in Islam, Saudi architecture is undoubtedly stunning.
But in addition to ornate, centuries-old mosques, the country is home to ultramodern cultural centers, historical districts built of coral limestone from the Red Sea, and some of the world's tallest skyscrapers.
We share examples of five impressive sites of Saudi architecture so you can learn more about each of these awe-inspiring places, including what you can see or do at each.
Kingdom Centre – example of Saudi architecture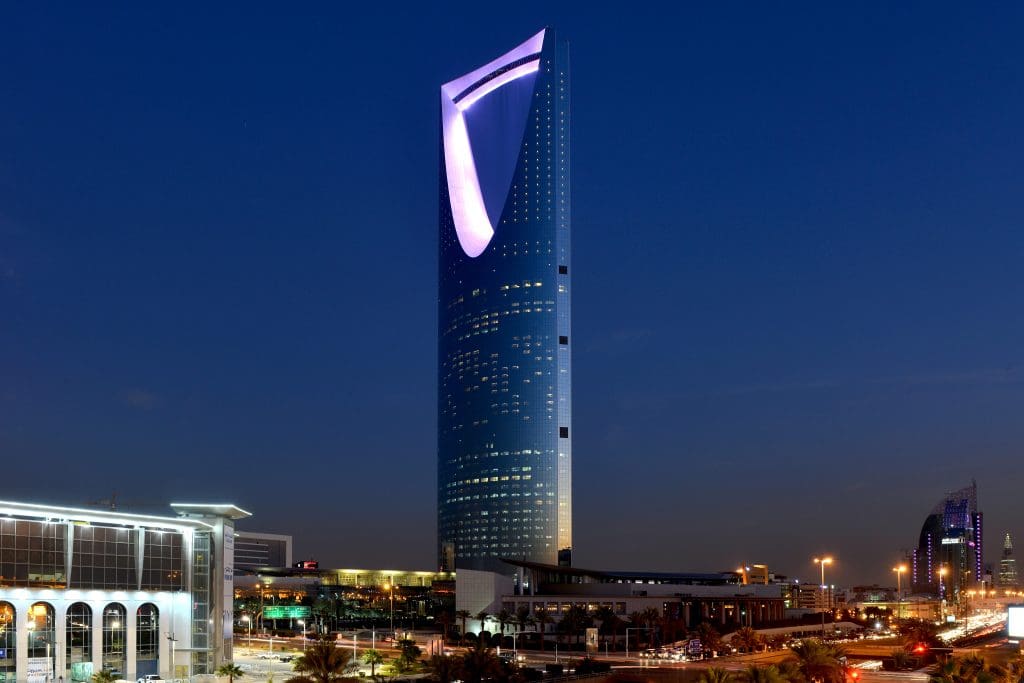 One of the world's tallest buildings, Kingdom Centre tower in Riyadh is an iconic part of the Saudi capital's skyline. Designed by local architecture firm Omrania and Associates and the U.S.-based Ellerbe Becket, the modern multipurpose building features east and west wings that soar 300 meters high.
The building's unique curved shape and some of the materials used were carefully planned to keep the building cool. The narrowest ends of the building face east and west, where heat is greatest. Wrapped around the building is a reflective glass wall that is heat-resistant to Arabia's intense sun.
What about the opening at the top? It also has a purpose. To build taller than the local height restriction of 30 occupied floors, the floors around the inverted arch opening are unoccupied; however, they connect at the top. Here, visitors can explore a glass sky bridge observation deck for breathtaking views of the city.
Afraid of heights? There's plenty more to explore inside this modern work of architecture, including a shopping mall, restaurants, a hotel, sports facilities, and even a wedding venue. "We have planned several extraordinary weddings, as the Kingdom Tower and the Four Seasons Hotel Riyadh are the most iconic architectural oasis in Saudi Arabia," says Dounia Eldorra, a wedding specialist at the Four Seasons in Kingdom Centre.
Al Balad, Jeddah – example of Saudi architecture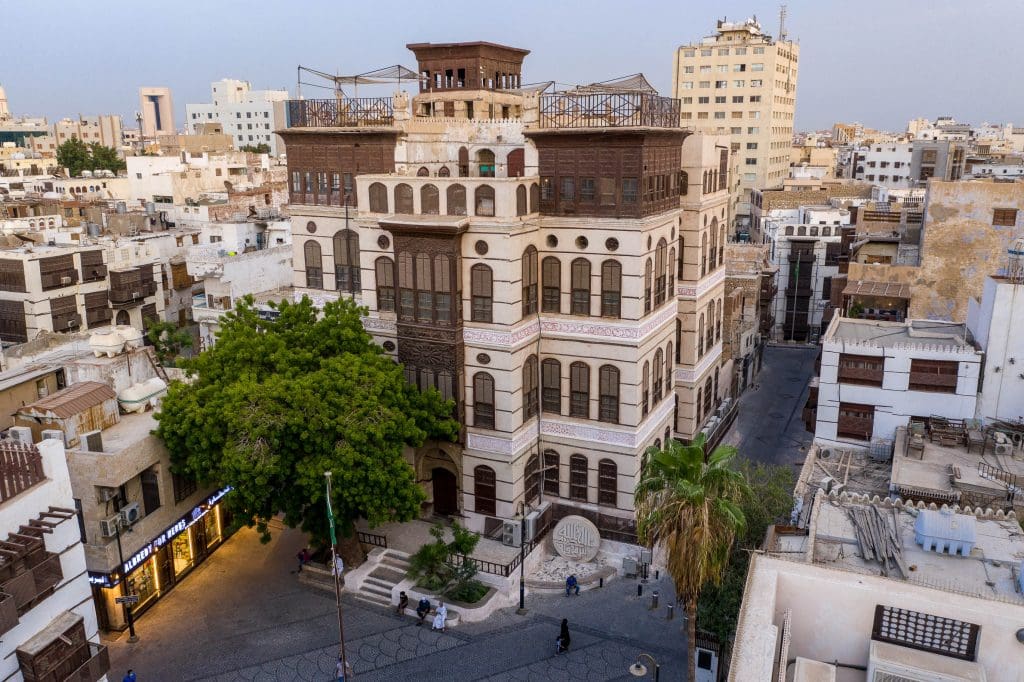 A UNESCO World Heritage Site since 2014, Jeddah's historical district of Al Balad was founded in the seventh century; today, the neighborhood's preserved architecture tells stories of the city's past. Here, you'll find houses built from the 16th to early 20th centuries. To demonstrate is a traditional architecture of Saudi Arabia pdf
One reason these homes are unique is that, unlike other regional high-rises that were constructed out of clay, Al Balad's were built with coral limestone brought in from the Red Sea. The impressive woodwork adorning these structures is another striking feature. In 1869, the Suez Canal opened, and Jeddah profited along with it.
Merchants began decorating Al Balad's traditional buildings with ornate wooden details around the doors and windows and carving highly decorative wooden bay windows and balconies, known as rawasheen, making it a part of Saudi Arabia architecture history.
King Abdulaziz Center for World Culture (Ithra)
Ithra resembles a larger-than-life Zen garden. Designed by the Norwegian architecture firm Snohetta, the buildings are arranged purposefully to symbolize unity. The tallest, known as Knowledge Tower, stands 18 stories tall and represents Saudi's future. The ground-floor pieces of this architectural work represent the present, and those underground are the past.
Covered in more than 350 kilometers of stainless steel tubes that were bent and framed over the six buildings of the complex, Ithra is a striking addition to Dhahran's skyline. In addition to following LEED certification guidelines, the center used highly compressed materials found around Saudi, including sand, clay and gravel, to ensure that Ithra is both sound- and fireproof.
What's inside this cultural hub, gifted by Saudi Aramco, is just as impressive. "The center is a place where ideas and dreams take shape," says Ithra's former director, Ali Al Mutairi. Discover museums, exhibits, libraries, a theater, and a concert hall.
Maraya, AlUla – example of Saudi architecture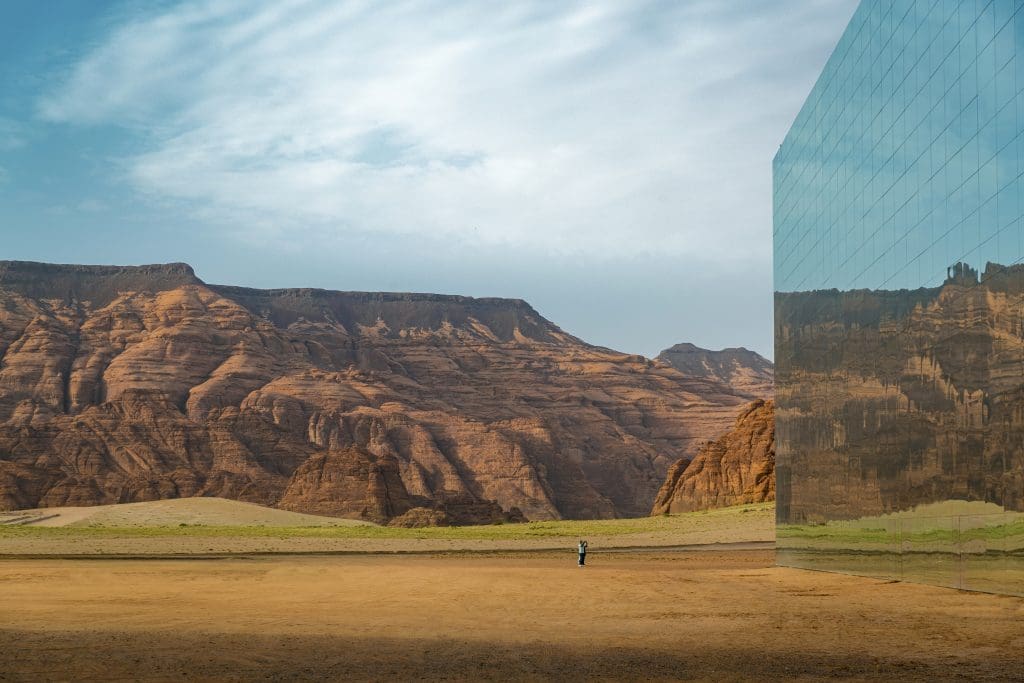 In the middle of the Saudi desert sits Maraya, which translates to "mirror." The 5,000-square-meter building's exterior is covered in 9,740 square meters of mirrors, which reflect the desert-scapes surrounding it in AlUla.
"AlUla was at the crossroad of cultural exchange for millennia. With Maraya, we are one step further to realizing our vision to re-create a place to dream, a place that inspires and facilitates the sharing of cultures and ideas," says Phillip Jones, chief destination management and marketing officer at the Royal Commission for AlUla.
Maraya set a Guinness World Record as the largest mirrored building in 2019, though it's more than just an impressive art installation in the desert. It's also a cultural and entertainment hub for concerts, immersive theater, interactive exhibitions and other events.
Behind the stage, a retractable window that's more than 800 square meters opens up to reveal AlUla's landscapes. In August 2020, Maraya was named an Architizer A+Awards popular choice winner. "It's perhaps particularly gratifying to win the popular vote," Jones says. "Visitors are truly mesmerized by Maraya's impact and by the way it blends in so perfectly and reflects its surroundings."
King Abdullah Petroleum Studies and Research Center, Riyadh
Both imaginative and uber-efficient, the King Abdullah Petroleum Studies and Research Center (KAPSARC) might remind you of something you've seen in a science fiction movie.
In truth, there's a lot of science going on inside this sleek, solar-efficient, and LEED Platinum-certified structure. The 70,000-square-meter energy and environmental research campus serve as a nonprofit dedicated to finding the most efficient and effective uses of energy.
Sustainability was at the forefront when designing the campus's five buildings, which include the Energy Knowledge Center, the Energy Computer Center, a conference center with an exhibition hall and auditorium, a research library, and a musalla for prayer and worship.
The campus's design ties the five buildings together as one space connected by public expanses. KAPSARC is one of the final projects overseen by Zaha Hadid Architects' namesake founder, and its honeycomb structure was inspired by natural elements she observed in the desert landscape and is a good example of Saudi Arabian architecture
Those crystalline forms serve another, more practical purpose: The buildings were designed around each other in a way that created shaded, enclosed courtyards to protect against the Arabian sun and desert winds. Inside KAPSARC, the strategic architectural design — featuring offset floor plans that allow people to see floors above and below as well as common spaces — promotes interaction and idea-sharing among visitors and researchers.
Read more: Latest