Captain Aarohi Pandit created history by becoming the third pilot to re-enact J. R. D's flight. She received a warm and enthusiastic welcome as she successfully touched down in her plane Mahi VT NBF, a Pipistrel Sinus weighing only 330 kg, at Juhu, Mumbai, India's first civil airport.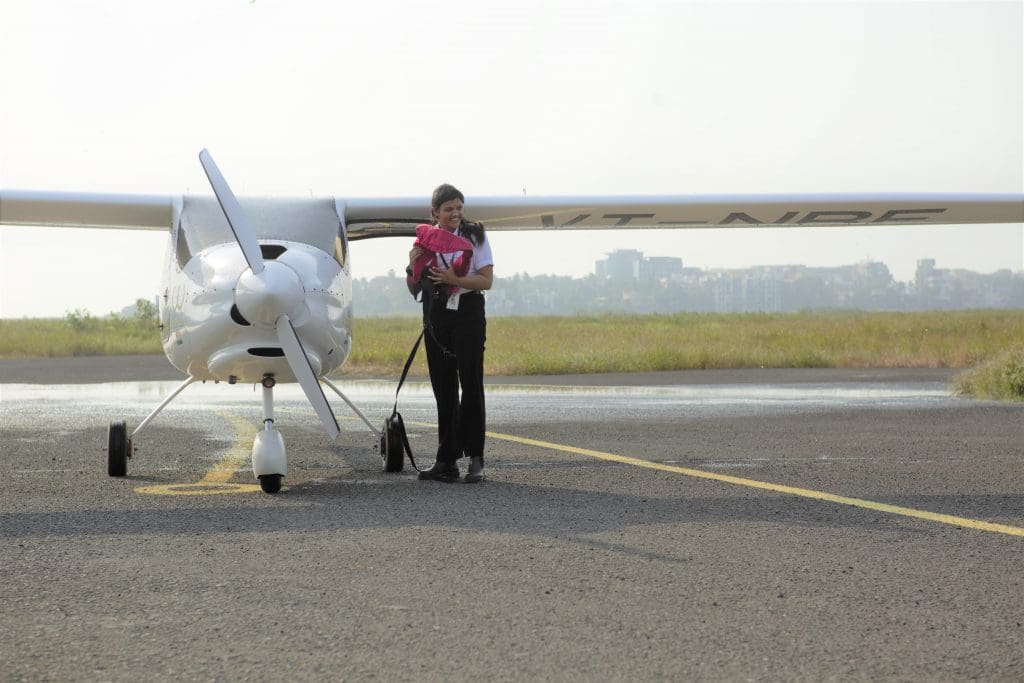 The young captain took off at 9.30 am from the Bhuj runway that was rebuilt by the women of Madhapar within 72 hours during the Indo-Pak war to a moving letter signing and flag-off ceremony by the women on the runway that they built 50 years ago.
Without using any current technology like GPS, autopilot or computerized equipment, Aarohi flew below 7000 feet above mean sea level at all times.
Operating the same route from Kutch to Mumbai, with less than 60 liters of petrol for an estimated 5 hours of flying over the 500 nautical mile distance, Aarohi brought a special letter from the 1971 Indo Pak war women heroes of Madhapar village in Gujarat to the young women of suburban villages, in Mumbai, Maharashtra, in recalling the 25 kg of mails that JRD Tata carried on his flight.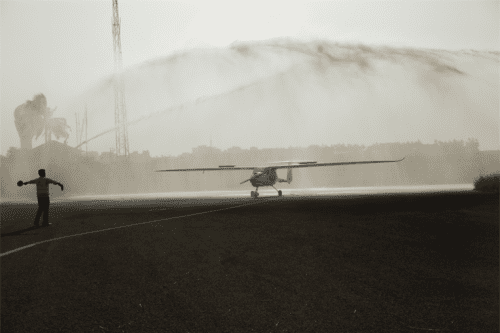 She taxied to the Tata Power hangar where she was greeted with a traditional water salute and reception. On stepping out of her plane at the apron, Aarohi was greeted by IWPA women pilots dressed in pink, lined up in a welcome formation. She handed over the letters from the Madhapur Mothers to her friend and fellow pilot, Keithair Misquitta.
"To reach for the skies, you must start by building your own runway – simply, honestly, with hard work, with no time wasted, using the resources you have within and around you. You may never fly on that runway you build, but you will change the lives of the millions who use it, and that is the truest sky of all that you must reach." said the Madhapur Mothers in their letter to the daughters of Mumbai.
Dr. Praveer Sinha, CEO & MD of Tata Power readout Ratan Tata's message for Captain Aarohi: "I was present at the first re-enactment of Mr. J. R. D. Tata's Karachi-Bombay flight. It was an emotional event, escorted by two Air India or Air Force aircraft with Mr. J. R. D. Tata's plane entering the pattern and making a perfect 3-point landing. It was a moment of great pride and I wish young Aarohi Pandit all the best in this 3rd re-enacting of J. R. D's flight."
Jyotiraditya Scindia, Honorable Minister of Civil Aviation said, "On this historic occasion, as we recreate history, I congratulate IWPA, our pilots for this initiative. And I'd like to congratulate Aarohi Panditji for taking on this task, flying from Bhuj all the way down to Mumbai via Ahmedabad and commemorating this event and not only is she commemorating this event but she is also carrying the mail from Madhapur from the extremely strong women who rebuilt the airstrip in the 1971 war."
Dr Harpreet A De Singh, President IWPA, and Fellow, Aeronautical Society of India added, "Today on the 15th of October 2021, on the culmination of Navratri, and on the auspicious Dussehra day, Goddess Durga blessings are visible with her Shakti, strength and energy in our young member Aarohi Pandit, as she re-enacts JRD Tata's flight from Bhuj to Juhu Aerodrome, Mumbai via Ahmedabad."
He added, " We salute the women of Madhapur who rebuilt the runway during the 1971 world war, and all the women of India. Bharathiya Naari Ki Udaan Shakti on Dussehra makes India proud as IWPA launches various programmes today as a part of the 75th Amrit Mahotsav. IWPA expresses gratitude to MOCA, HMCA, Nexus, Tata Power, AAI, AeSI, Blue Ray Aviation and Aviakul for their support."
Speaking on the completion of her flight Aarohi Pandit said, "I would like to repeat JRD Tata's speech that he gave in 1932 where he said that this flight of mine today was intended to inspire a little hope and enthusiasm in the youngest people of our country. That despite all the difficulties and frustrations, there is a joy in having done something as well as you could and better than others thought you could and this is something I must have read 15 times before I took this flight and this is what inspired me."
Said Michael Mascarenhas, Chairman of the JRD Tata Memorial Trust and former MD of Air India, "The JRD Tata Memorial Trust is proud and happy to be involved in the patronage of this flight highlighting the commencement of civil aviation in India and the birth of Air India 68 years ago. Kudos to Aarohi Pandit for joining the ranks of record-creating women aviators of the past."
Said Dr. Praveer Sinha, CEO & MD of Tata Power, "On this special occasion to pay tribute to the aviation legend, JRD Tata, we are honoured to support Capt. Aarohi Pandit on the successful re-run of her flight from Bhuj to Mumbai. Tata Power believes that women empowerment is about creating opportunities for them to dream and create their own destiny."
This JRD Tata Tribute flight – the first of a series of events planned for Azadi Ka Amrut Mahotsav by the Indian Women Pilots Association was a veritable demonstration of the unbeatable spirit and grit of an Indian.
About IWPA
IWPA was founded in 1967, by India's foremost women pilots, and has played a stellar role in the promotion of women in Indian aviation, as many of its senior members occupy influential positions in Indian and global aviation policy bodies. India leads the global stage for women in aviation, with 15% of commercial pilots being women.
Read More: Blog