The first and the only Andaz in India, this one-of-its-kind luxury hotel brand from the house of Hyatt creates and curates unmatched and exceptional experiences, offers, and promotions.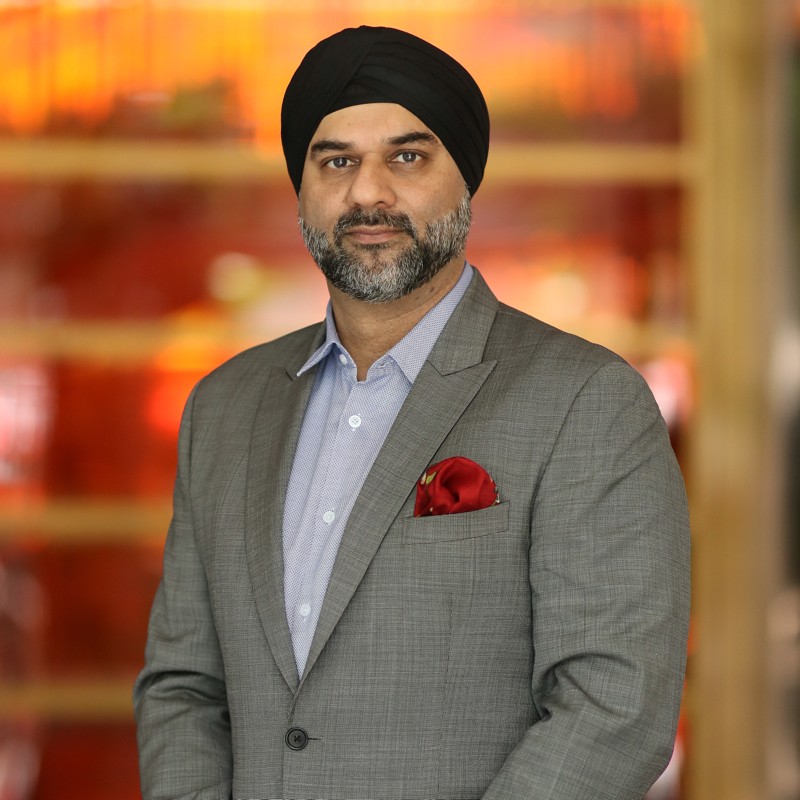 Hardip Marwah, General Manager, Andaz Delhi says, "We have been extremely fortunate to be embraced by our guests as a preferred choice in the market we are located in. We foster a spontaneous environment, free of both physical and mental barriers, all leading to new discoveries and ultimately to unforgettable memories."
He adds, " Andaz Delhi is a design and experience-led formally informal hotel in the ever-evolving capital bringing to life '401 Reasons to Fall in Love with Delhi'. We created a vibrant luxury lifestyle hotel experience woven into the fabric of the local culture, fueling our guests' creativity and inspiring them to express their own unique styles and passions."
Indeed, guests have come to recognise its unique art pieces in each of its sprawling 401 guest rooms, among the largest in Aerocity. Locally inspired details thoughtfully adorn the premises of this beautiful hotel, which is equidistant from downtown Delhi and the commercial business district of Gurgaon.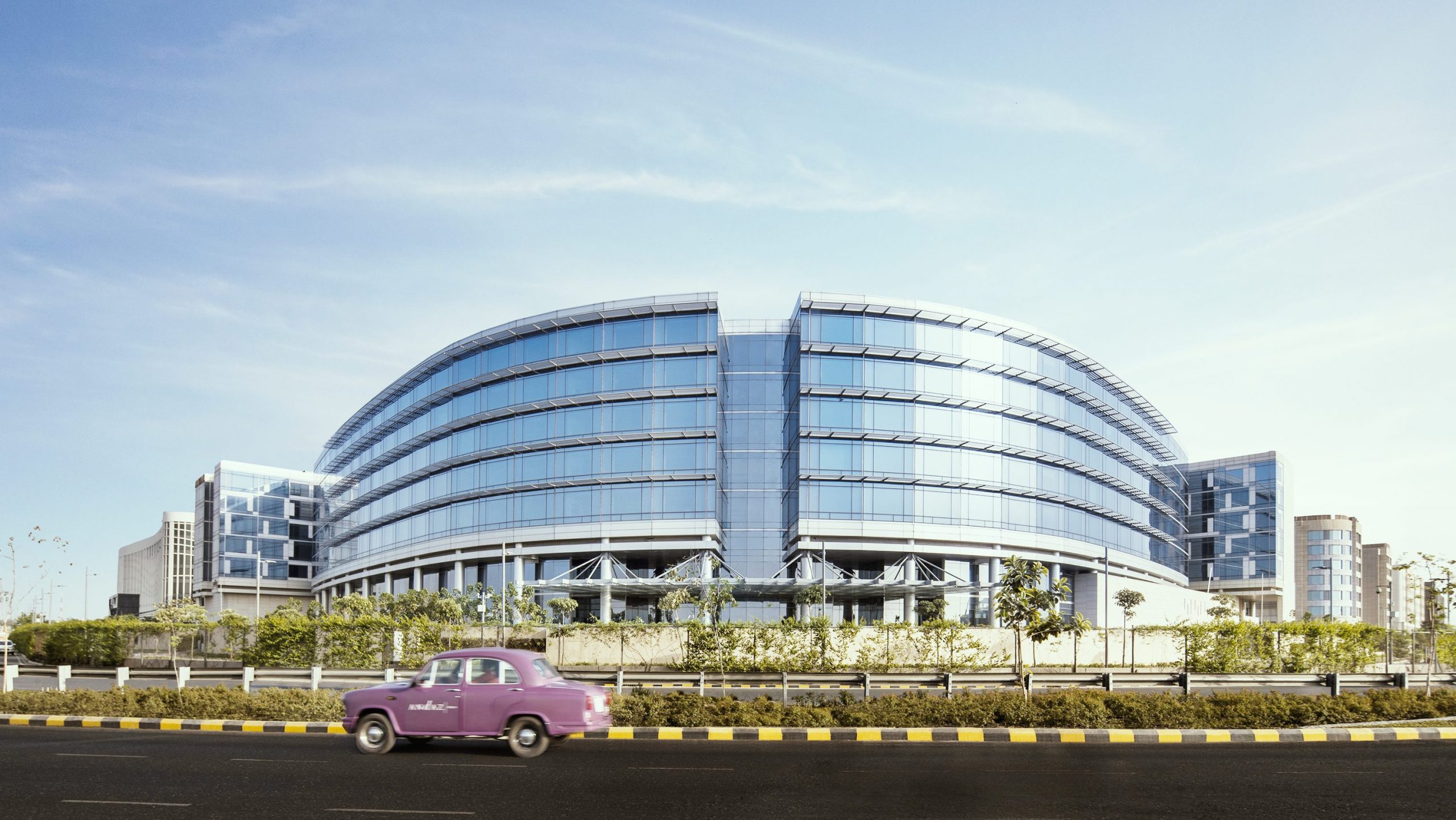 Close to the U.S. Embassy and Consulate General, the artsy hotel is also in proximity to quintessential Delhi landmarks such as India Gate, Qutub Minar, Lodhi Gardens, and the more recent ones like DLF Emporio, DLF Promenade, Ambience Mall, and WorldMark.
Dining is relaxing, thoughtful, artisanal, and Instagram-worthy at Andaz Delhi. Dine at AnnaMaya, a modern FoodHall inspired by the colours and flavours of the world. The menu is locally sourced and thoughtfully crafted to inspire mindful, sustainable eating, making meals synonymous with a culinary tour on your plate. For those who wish to enjoy more of AnnaMaya's offerings, artisanal produce is also available for purchase.
As the motto lovingly says, 'Eat Mindful, Shop Artisanal, Raise Awareness', food is truly revered at Andaz Delhi.
Soul Pantry, another quirky bespoke eatery, led by an all-women team curates a menu inspired by nutrition-dense grains of India. Fresh juices, pizzas, salads, and desserts are on display.
All food and no play – it isn't at the Andaz Delhi. It houses Juniper, the award-winning India's first Gin Bar is a perfect place to socialize for gatherings of any sort. The talk of the town is the diverse selection of 40 stylized gin and tonic infusions, all revolving around the botanical and medicinal history of juniper.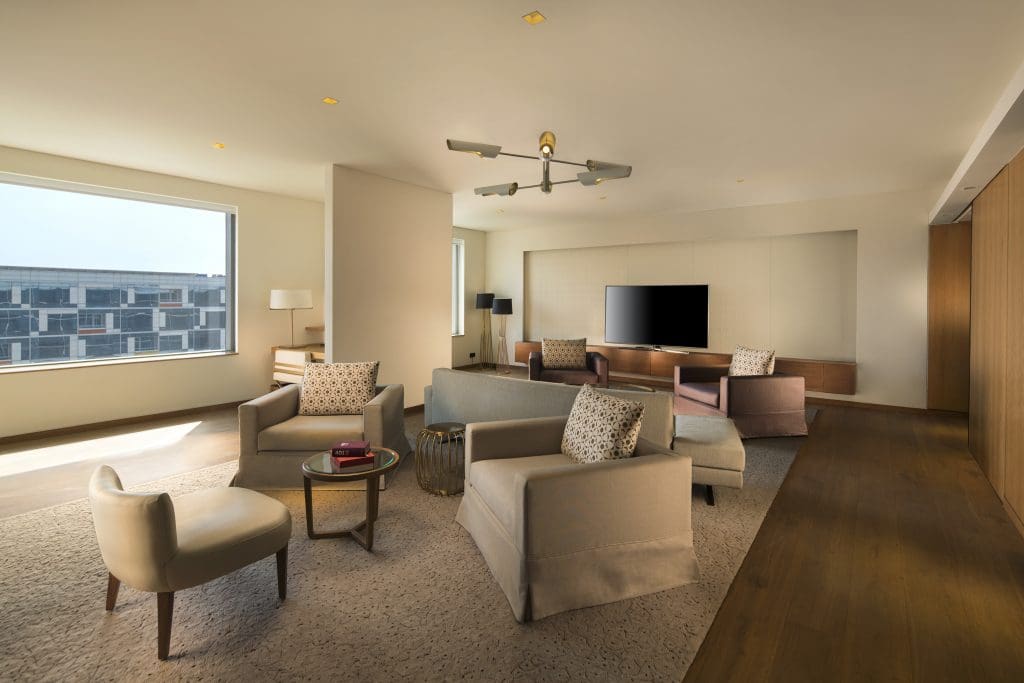 Enjoy the signature Juniper experience with large communal bar tables, exciting in-house gin infusions, and an eclectic range of cocktails inspired by the legacy of gin. Served with utmost creativity and originality by the most talented mixologists.
Centered around today's collective consciousness and growing awareness of well-being, Soul Pantry is a bespoke eatery, inspired by the forgotten and nutrition-dense grains of India. Enjoy fresh salads and juices, your favourite pizza in the nutrition-dense flatbread along with a daily selection of desserts and beverages.
For business, leisure, events, and weddings, Andaz Delhi is a definite choice for all those who visit the capital or call it their home.
With 37,500 sq ft of event spaces, the hotel is perfect for events and socials, big and small.
Barrier-free spaces, modern chic décor, and a hands-on event management and catering team, ensure seamless planning and execution.
For those who love a well-tended event, the Grand Ballroom, pillar-less and oval shaped can beautifully accommodate 1500 guests.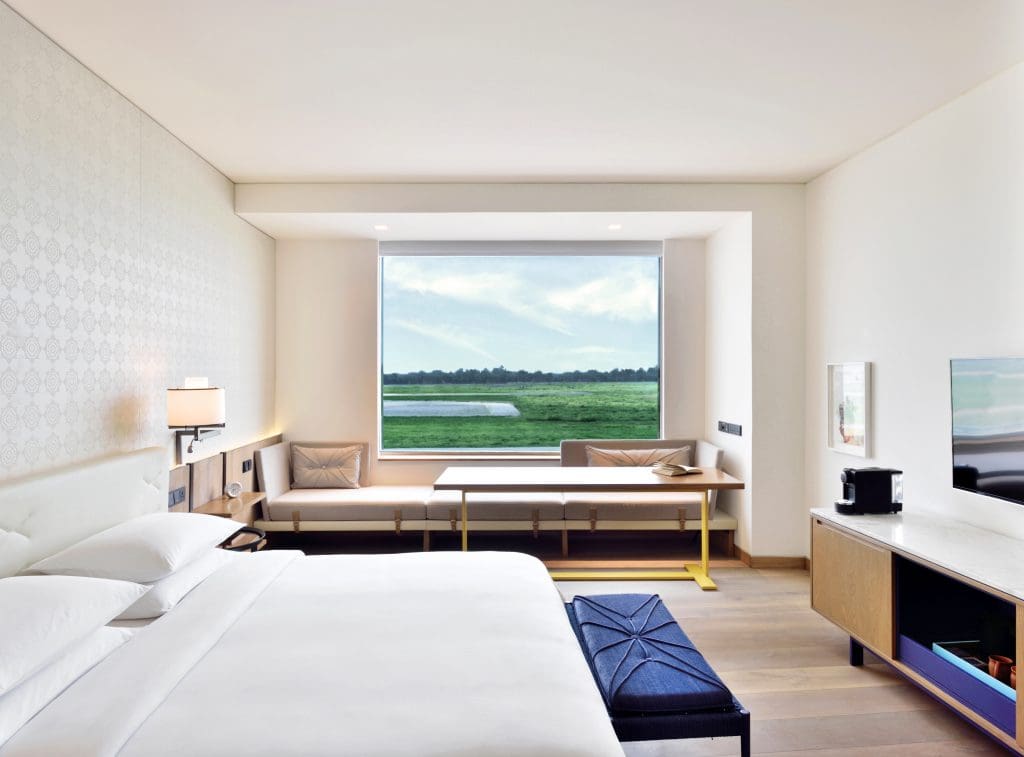 Indian weddings are no fun without the customary 'baraat' and Andaz Delhi boasts of the unique 'Elephant Path'; a route that leads right into the hotel's central courtyard and goes up to the entrance of the Ballroom. Truly, a non-stop celebration!
Business travel is on the rise once again, and Andaz has rolled out the red carpet for its loyal guests and those who are city-hopping into the capital, every now and then.
For those who are in the capital for a few days, their Executive offer is definitely a wallet-smart choice.
Daily amenities include breakfast, quick laundry service, high-speed internet, happy hours during the early evening, and special offers on beverages. Works like a charm when you have meetings to attend, a few hours to unwind, and a red-eye to hop on to.
Those who prefer to stay longer in the capital should opt for their Long Stay offer. This one comes with a host of privileges including a buffet breakfast, a daily discount on food, beverages, laundry, and spa services, and the best one-way or two-way airport transfers (depending on whether you opt for deluxe rooms or suites).
For fitness enthusiasts, a modern fitness centre, pool, and spa come in handy too.
While Andaz Delhi remains the only Andaz property in India for now, it is easy to see why guests have more than 401 reasons to fall in love with it. Seamless service, exceptional experiences, and unmatched hospitality are some of them.
Read more: Latest