Find out about beautiful Rajasthani jewellery that reflects the beloved culture and artistry of the land. Learn how the different types of traditional jewellery are designed, and for which Rajasthan is famous.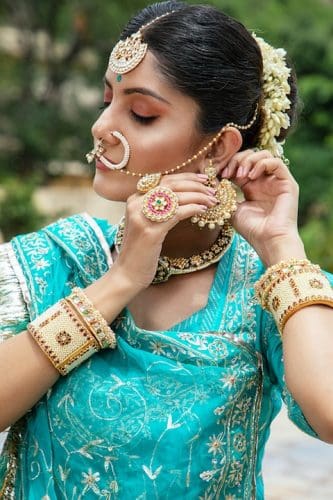 The artistry of the stunning jewellery of Rajasthan is well-known. The Indian royals, who perfected the traditional art of crafting, designing, and maintaining quality, have passed down their love for jewellery. The Indian royals were extravagant, and they loved to collect jewellery as part of their collections. The different types of traditional jewellery and their design and making for which Rajasthan is famous are Kundan jewellery, Polki jewellery, Meenakari jewellery and Thewa Jewellery.
Each type of traditional jewellery from Rajasthan is unique and special, crafted with intricate details and delicate designs that make them one of a kind. These pieces are timeless and can be passed down for generations, making them an ideal heirloom. They are a representation of the rich history and culture of India that can be found in these beautiful jewellery pieces. Rajasthan's traditional jewellery is truly a work of art!
Today, contemporary Rajasthani jewellery is a mix of current trends and ancient and traditional styles. No woman can resist wearing and flaunting these beautiful jewellery designs and styles.
6 traditional Jewellery Designs that form the heart of Rajasthani Jewellery
Thewa Jewellery
The traditional skill of fusing 23K gold with colourful glass is known as thewa. This unique jewellery-making technique entails fusing carefully worked-out sheet gold over the molten glass. The thin gold sheets are cut into different shapes and sizes and decorated with colourful glass pieces called thewas. This type of jewellery is believed to have originated in the Rajasthani area of Pratapgarh although some attribute the beginning to Jaipur, the capital city of Rajasthan. It is often used to adorn ceremonial attire as it is believed to bring good luck.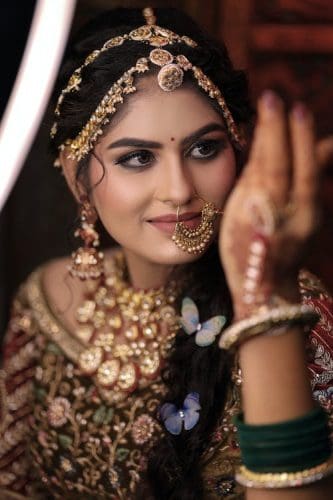 A particular process gives the glass a glistening look, which draws attention to the delicate goldwork. Over the course of a month, professional artisans handcraft the whole Thewa sculpture.
Thewa, thus remains an excellent handcrafted artwork that flickers with life, captured apparently in motion in patterns used on jewellery, reflecting Rajasthan's history, traditions, and tales of romance and heroism with beauty and happiness.
Lac Jewellery
The vibrant colours of Lac jewellery stand out from the backdrop of Rajasthan's desert, where the craft initially blossomed. Lac jewellery from Rajasthan is an important part of the local culture. It is believed that wearing lac jewellery keeps away evil spirits and brings good luck to its wearer.
The artisans create beautiful pieces of jewellery with intricate designs using delicate threads of glass, silver, gold and other materials. Some traditional designs are based on animals and deities from Hindu mythology, while others depict floral motifs.
The pieces are often adorned with precious and semi-precious stones like rubies, emeralds, sapphires and pearls. Lac jewellery is available in a variety of shapes and sizes, ranging from simple studs to elaborate necklaces and bracelets. It is also popularly used to decorate clothing items such as saris, salwar kameez and dupattas. Lac jewellery makes a great gift for any occasion and is sure to be appreciated by those who appreciate the beauty of traditional Indian artistry.
Lac jewellery is thus an intricate collection of components crafted with extreme precision by skilled craftspeople. Lacquered jewellery is passed down through generations of craftspeople to keep the tradition alive. Lac bangles are indeed a traditional wedding sign. Married ladies wear them with great pride.
Kundan Jewellery
Kundan jewellery is made with precious stones and gold ornaments. It involves a complex process of setting the different stones using wax or lacquer on the surface of a metal sheet. The sheet is usually made up of gold. The intricate designs are hand-crafted and the stones are cut in different shapes and sizes to give it an aesthetically pleasing look.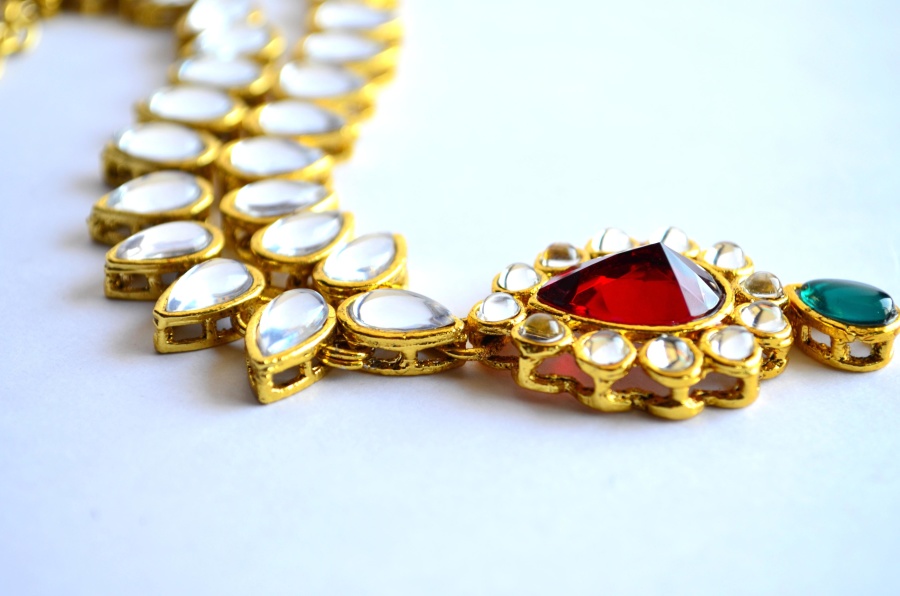 Kundan involves classic Indian gemstone craftsmanship that involves a gem set with a gold foil between both the stones and its base, which is typically used for intricate necklaces. The technique is believed to have developed in Rajasthan and Gujarat's royal courts. This is one of India's oldest and most popular types of jewellery. A highly processed and pure type of molten gold is referred to as Kundan.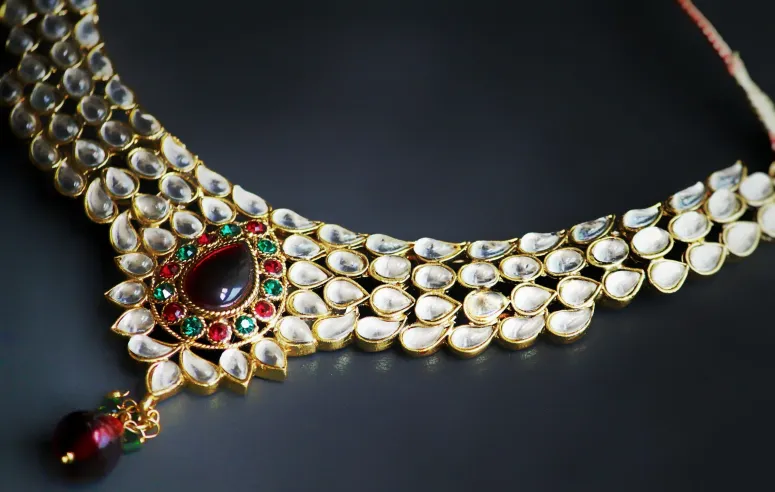 Kundan jewellery is made by painstakingly arranging uncut diamonds and refined multicoloured jewels in a beautiful pure gold or fake metal setting. Wearing Kundan jewellery, traditionally demonstrated its prominence among Rajasthani nobility.
Gold Jewellery
In Indian jewellery, gold is the imperial metal. and Rajasthani jewellery is distinguished by its genuine patterns and ornamental variety in gold.
Gold jewellery from Rajasthan is distinctive because of its rich use of enamel and meenakari work. The intricate designs, bright colours, and bold patterns create a statement piece that is sure to stand out in any collection.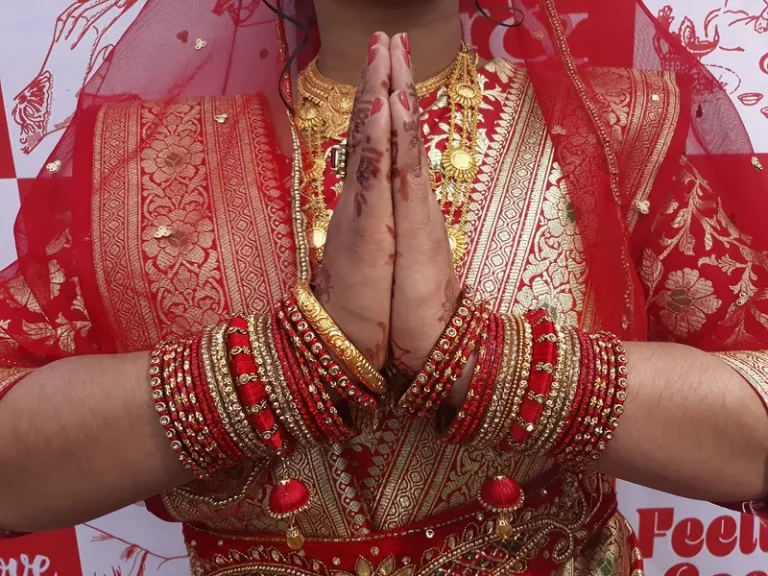 Rajasthani jewellery is made from a variety of metals including silver, gold, copper, brass and more. Each piece has been handcrafted by skilled artisans and is unique in its own right. The jewellery often has religious significance, as brides commonly wear it during auspicious ceremonies such as weddings or on special occasions like festivals. The use of precious and semi-precious stones like rubies, emeralds, amethyst and pearls further accentuate the beauty of these pieces. Rajasthani jewellery is a timeless way to accessorize your wardrobe and add a touch of Indian glamour to any outfit.
Meenakari jewellery
Meenakari jewellery is made by fusing different types of metals such as copper, silver, and gold together to form a single piece of jewellery. Then these pieces are encrusted with colourful enamel that gives them an ornamental look. The designs are usually inspired by nature, such as flowers and birds.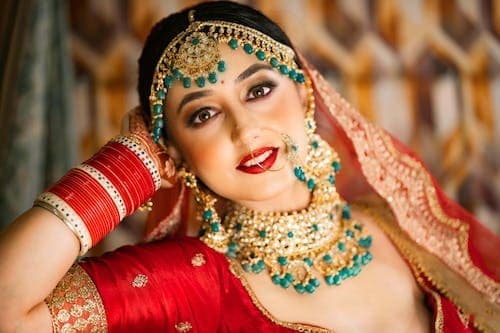 Meenakari jewellery is generally an artistic portrayal of natural landscapes using brilliant colours and complex carvings. Furrows are carved out of a metallic substrate (usually gold or silver). Then, one by one, colours are applied to each segment. After that, each part is burned separately to ensure that the colour is equally distributed over its shape. The design's depiction of scenery and blooms also makes it an excellent choice for joyful seasons and celebrations.
Polki Jewellery
Polki jewellery is made from uncut diamonds that are set without any metal backing. It is one of the oldest forms of jewellery making in India, used by royalty centuries ago for their personal adornment. The stones are often set in gold and decorated with intricate designs, a hallmark of antique Rajasthani jewellery..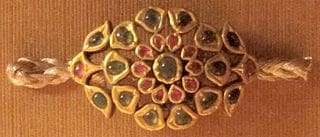 Unfaceted diamonds used in old Indian diamond jewellery were particularly popular during the Mughal era. In recent years, uncut diamonds known as "Polki" have become fashionable when wearing Mughal-style jewellery in India (which was originally referred to as a style of cleaving diamonds). And although polki jewellery can be rather costly, the gems used in contemporary polki jewellery are of inferior quality and have no investment value. To allow light to reflect, the diamonds are encircled with silver foil.
Rajasthan's Popular Jewellery styles and body parts where traditionally worn
Rajasthan's traditional jewellery is highly versatile and can be worn in many different styles. From the head to the toes, Rajasthani jewellery adorns almost every body part. Some of the most popular pieces include bangles, earrings, necklaces and rings featuring traditional motifs like peacocks and elephants. From Borla (a head-pendant) to Nathni (a nose ring), Surliya (earring) to Kanthi (necklace), Bajubandh (armlet) to Bangdi (bangles), the list continues on and on.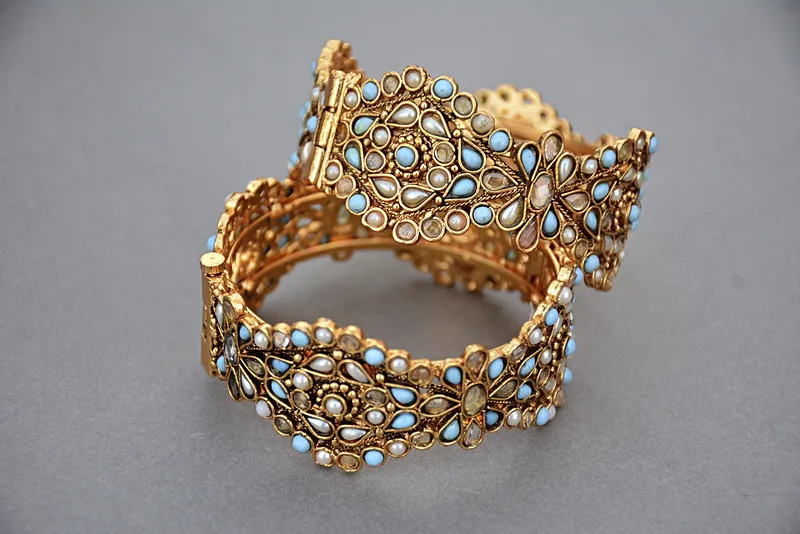 One of the most common forms is the maang tikka, a single piece of jewellery that adorns the centre parting of the head. It is traditionally made of gold and studded with precious stones like rubies and emeralds. Other jewellery for the head includes maatha pattis, which are intricate gold ornaments that cover the entire forehead, jhumkas which are earrings usually made in a bell shape, and naths which are nose rings.
Rajasthani jewellery is also worn to adorn the neck and upper body. Necklaces, like chokers, are usually made with delicate strands of gold or silver beads and often contain beautiful pendants that hang from the bottom. Haars are long necklaces made with pearls or precious stones strung together. Other neck pieces include ara and kundan work, both of which are heavily decorated with gemstones.
The arms and wrists of Rajasthani women are adorned with several different ornaments including bangles, bracelets, armlets, wristlets and haath phools. Bangles come in various sizes and designs, from plain and simple to heavily embellished. Bracelets are usually made of silver or gold and come in various shapes like rings, cuffs and bangles with pendants. Armlets, wristlets and haath phools are all pieces of jewellery covering the arms, wrists and hands respectively.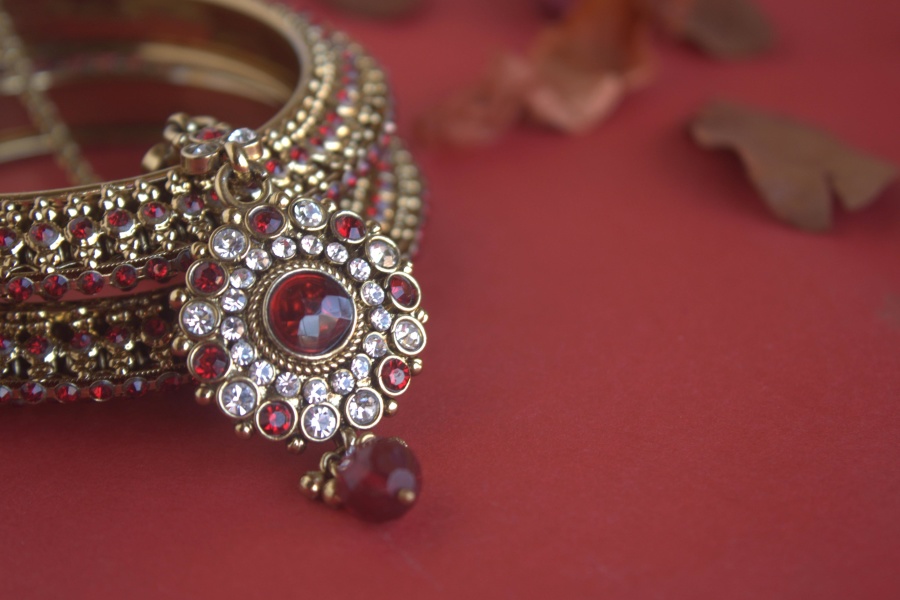 Rajasthani jewellery is also worn on the legs and feet. Payals, which are anklets made of gold or silver, are a popular choice and often contain decorative pendants that dangle from the bottom. Toe rings are traditionally worn on both feet as a symbol of marriage in Rajasthan. They can be made of anything from gold and silver to glass, wood and even clay.
Nath
Amongst the most prominent jewellery types worn by Rajasthani ladies is the nath or nathni. It's commonly worn on the left nose, with a platinum or pearl chain connecting it to the left ear. Nath is a key component of the Rajasthani jewellery wedding line. It is worn by ladies during weddings and other festive events.
Bajubandh
The upper armlet is known as Bajubandh. Marwari and Rajput brides wear it because it symbolises marital joy.
Kaanbali and Jhaale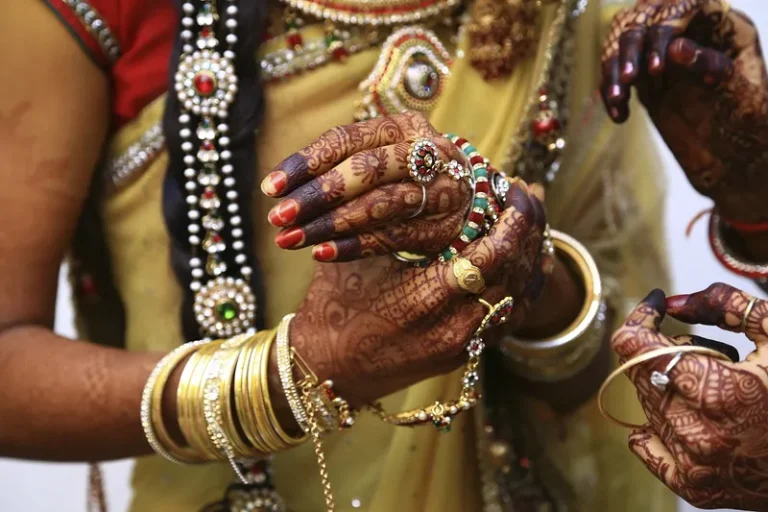 Rajasthani jewellery earrings have become fairly famous due to their ancient and imperial appearance. Surliya/Kaanbali or Jhaale are the names given to them in Rajasthan. Rajasthani earrings are immaculately created with elaborate Kundan or Meenakari work, giving them a rich regal appeal with a dash of history and flair.
Borla/Rakhdi
Traditional Rajasthani head jewellery is known as Rakhdi/Borla (Maang tikka). Borla, a traditional Rajasthani jewellery design, is different from the normal maang tikas because of its round or bell-like form. Borla is one of Rajasthan's most famous jewellery! It's essentially a maang tikka with a spherical pendant in the centre of the head. It comes in a variety of bright and eye-catching designs. Borla is available in a number of metals, including gold, silver, brass, and pearls, as well as stone-studded forms such as Kundan, Meena, and pearls.
Aad/Kanthi Necklace
Kanthi is a real gold choker donned by brides, and it is frequently embellished with Kundan and other valuable stones like as polka. Aad oomphs the bride's appearance and adds loads of regal charm to her total aesthetic value in Rajasthan, where it is regarded as must-have jewellery.
The finest traditional Rajasthani jewellery markets
The finest traditional Rajasthani jewellery markets are found in various cities of Rajasthan such as Jaipur, Jodhpur and Udaipur. A visit to these markets is a must for anyone who wants to experience the beauty of traditional Rajasthani jewellery. Here you will find an array of precious gemstones, pearls, corals and gold jewellery studded with intricate patterns and unique designs.
The jewellers in the Rajasthani markets are known for their creativity and their attention to detail. From traditional items such as bangles, necklaces and earrings to modern creations like diamond rings and custom-made pieces, you can find almost any kind of Rajasthani jewellery at these old markets with family shops boasting a lineage of jewellers through generations.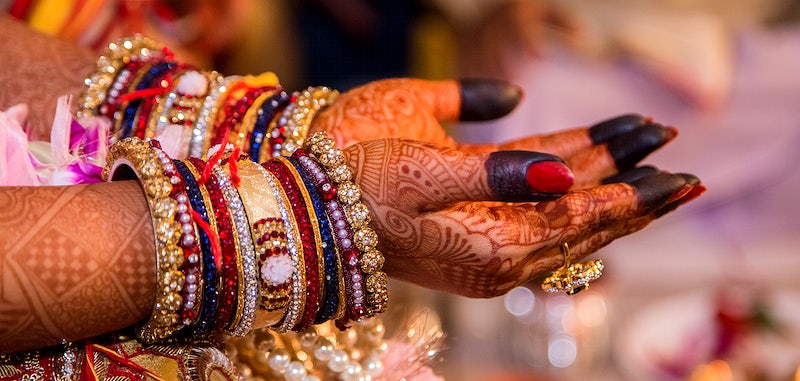 Famous names of markets include Johri Bazar and Chameli Bazar in Jaipur, Sadar Market in Jodhpur, Hathi Pol and Suraj pol in Udaipur. All these markets offer a variety of jewellery pieces at various prices to suit every pocket.
Apart from buying jewellery pieces from the markets, there are several stores in Rajasthan that specialise in selling authentic Rajasthani jewellery. These stores provide a wide range of options to choose from, including both modern and traditional pieces. You can also find specialised artisans in these stores who create custom-made jewellery for those looking for something unique. Some of the popular stores are Bapu Bazaar in Jaipur, Vardan Jewellers in Jodhpur, and Ganpati Jewellers in Udaipur.
You can also find a variety of Rajasthani costume jewellery online on various e-commerce websites. Here you will find a vast selection of pieces from different designers, styles and budgets.
Johari Bazaar
Johari Bazaar has been one of Jaipur's most well-known shopping destinations. In Hindi, the term 'Johari' means 'Jeweller.' The market is bordered by uncountable businesses that deal with exceptional jewellery that represents the city's rich Rajasthani culture. The bazaar's attractions include alluring jewellery made of gold, diamonds, rubies, emeralds, and silver. Every piece is meticulously created to resemble traditional Rajasthani 'Thewa' and 'Kundan' jewellery.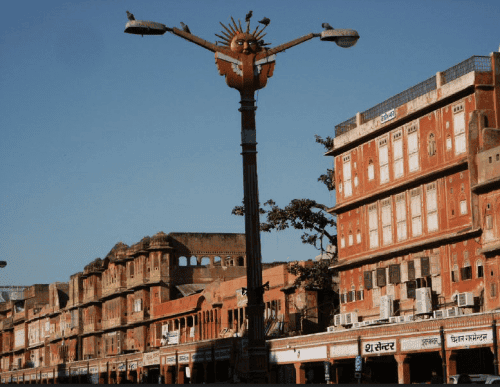 While walking through the by-lanes of Johari Bazaar, visitors will observe several artisans with their workstations, known as Gaddis, who have been crafting stunning pieces of jewellery since the dawn of time. Another well-known street, 'Haldiyon ka Rasta,' is known for its jewellery, silverware, trash jewellery, stones, and other items. The pathways of Johari Bazaar, which are dotted with different stores, are bustling with merchants calling out to travellers and offering lovely items.
Price range – A Kundan can be half the price of a piece of Polki jewellery, which can cost anywhere from Rs. 4 to 15 lakh.
Marketplaces for jewellery purchase – Apart from Johari Bazaar, there is Bada Bazaar, a one-stop shop for gold jewellery, and Jaipur's Clock Tower, which is known for its jewellery collection.
Rajasthani jewellery is more than a form of adornment
Rajasthani jewellery is more than just a form of adornment; it holds a deep spiritual significance for those who wear it. Rajasthan's culture emphasises the importance of wearing traditional jewellery as they represent the grace and beauty of the wearer, as well as their commitment to tradition. Wearing this jewellery is also believed to bring good luck and prosperity. For these reasons, Rajasthan's traditional jewellery continues to be a beloved part of the culture.
Read More: Latest