One of the best places to visit near Mumbai, Alibag is a coastal town in Raigad District of Maharashtra, India.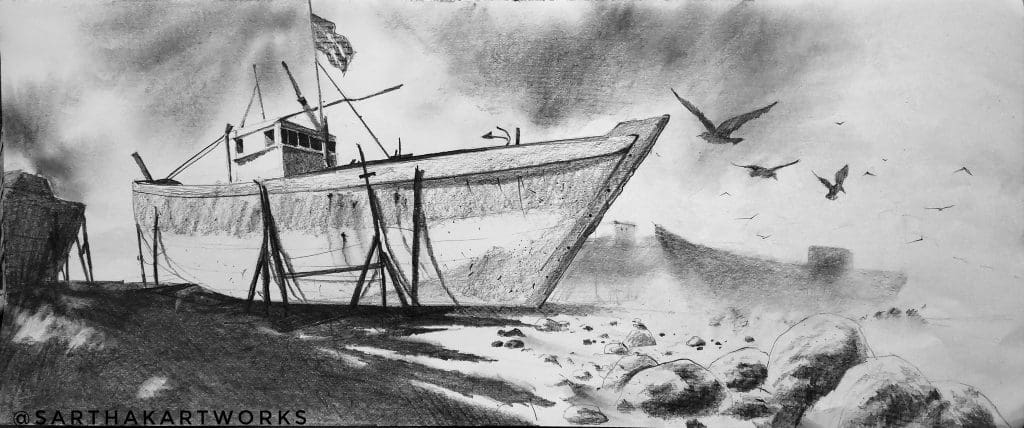 On a recent trip to Alibag, I came across these fishing boats which i was so fascinated by, the wooden frames and the way the boat was sitting on the keel blocks. The lighting was perfect to capture on my sketchbook.
Fishing boats are traditionally made from wood by the Koli community of Maharashtra, Western India . The construction of the wooden hull is astonishing to watch.
It is 96 km from Mumbai and can be reached by car in around 3 hours.
Known for its sandy beaches – Alibag Beach and Varsoli Beach- it is popular as a drivecation. You can spend a day here or stay overnight absorbing the local culture and food.
You can explore the 17th-century Kolaba Fort, which has rich stone carvings of tigers and elephants, and ancient temples of Hindu gods. Further south, you can spend time discovering the Portuguese-built Korlai Fort dating back to 1521.
The lighthouse is a must visit as also the island fort of Janjira, 55 km from Alibag with its high walls, turrets and cannons. The blue stretch of water surrounding the island that houses the fort is a instagrammers delight.
Read more: Discover your India