A bike ride to beautiful Meghalaya is a most memorable biking trip.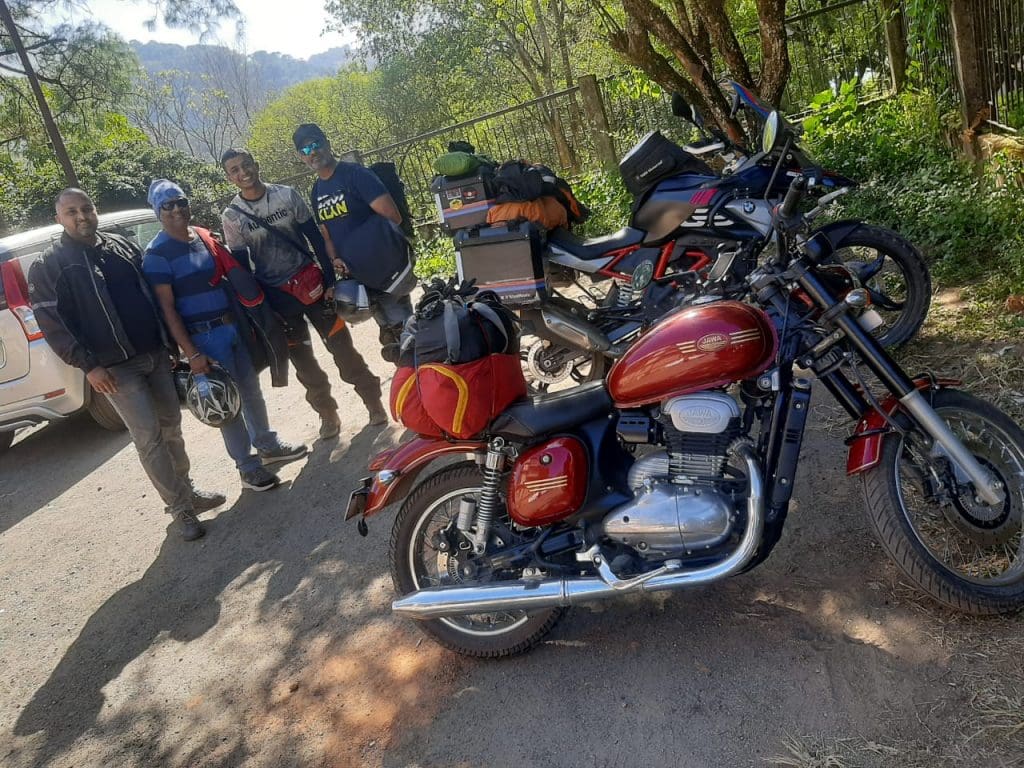 Meghalaya means "Abode of Clouds" which is Megh=Clouds + Aalaya=Abode.
It was previously part of Assam state but later in the year 1972, the combination of districts of Garo, Khasi and Jainia became the new state of Meghalaya.
Meghalaya state alone covers a distance of over 22000 square km. Meghalaya is surrounded by Bangladesh on West and south while on east and north it is bound by the state of Assam. The capital of Meghalaya is the majestic city of Shillong which the Britishers in India proudly hailed as "Scotland of East".
The state has over 1100 km of National Highway and it is a major Trade Logistical Gateway to Bangladesh.
The state of Meghalaya is the wettest region of India with over 70% of its land being a forest area. The forests of Meghalaya are known for their biodiversity of Mammals, Birds and Plants of varied variety.
Meghalaya has predominantly an agrarian economy with significant commercial forest industry. The important produce in Meghalaya are potatoes, rice, maize, pineapple, banana, papaya and a variety of local spices.
The Ride Plan- Initial Thoughts
I had shifted from Mumbai to my hometown up NCR during the lockdown owing to COVID Pandemic. In March 2021 I received a call from a Mumbai ex office colleague, Kamaleshwar Sanga, to be referred to as KS from now. KS and myself had done 4 rides in Mumbai spread over a few years. During that call, KS expressed to me that, "Pls plan a ride preferably to Bhutan andI shall be happy to join along with another fellow rider, Melron D'mello."
Melron was basically my ex colleague from the years 2003-04-05 and I had introduced him to KS. But since KS and MD were both residing in the Northern suburbs of Mumbai, they managed more joint rides and thus became good friends. I ended up promising KS, "Allow me some time to come back with a plan".
Since I knew that Bhutan is still not open for Indian tourists, I had my eyes on the North East for some time.
The Fresh Call and Final Ride START Plan
One fine evening in the 3rd week of October KS called and said, "I am able to manage 7 days" and "Let's make a new plan starting 7th November 2021".
That's when I suggested, "Lets do Meghalaya with Guwahati as base."
I contacted a couple of Motorbike renting companies and the response was favorable and that led to the next step. soon came another message from KS that one more person, Vishal Agarwal will join too. So we were a group of four as in myself as SS, KS, MD and VA.
Air Tickets booked and only essential accommodations booked as we kept most of the plan as open as per the flow of the moment – just so we could have a "Ride the way you want to" style. And so began our memorable Meghalaya bike ride.
The Assembly Day@Guwahati on 7th November 2021
KS, MD and VA flew out of Mumbai and SS flew out of Delhi and assembled at our Home Stay @Cupidtrail Penthouse. Since we had evening free, at 3 pm we took a chance and contacted one of the local Brahmputra River Cruise Operators, if we could get 4 tickets for the Sunset Cruise scheduled just 2 hours ahead.
The gentleman obliged us and booked 4 tickets and also gave us a Table.The one hour Sunset Cruise was an amazing experience not only to explore the mighty Brahmaputra and the scenic surroundings, but also enjoyable dancing music by the DJ and Live Singer.
Then it was time to collect the Motorbikes and things went as per plan without any issue. So we had two Royal Enfield Himalayans, one new Jawa and my choice was a RE Thunderbird.
The Ride Start Day @ 8th November, 2021
The Riders, as in, KS, MD, VA and SS started at 7 am on 8th November 2022 and since Guwahati is home to the Sacred Goddess Mata Kamakhya Devi, it was a blessed opportunity to start the ride from the divine surroundings of Maa Kamakhya.
We started our ride with a thought that we should reach Cherrapunjee by sunset and try to cover every possible attraction midway. We took a breakfast break after a couple of hours ride, just before the Assam Meghalaya border point. At the Border we had to complete the permits and COVID protocols related documentation which was swift and within 30 minutes we were back on road.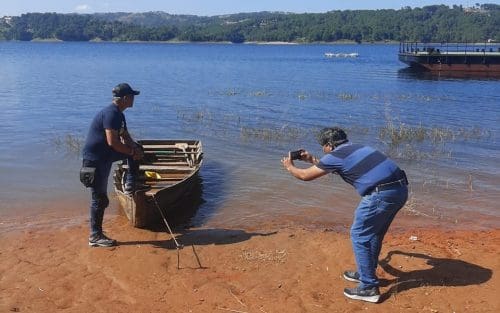 The first major stop was at "Umiam Lake" in the outskirts of Shillong and around 15 km away on the highway to Cherrapunjee. "Umiam is a scenic artificial lake carved out through a dam at Umiam River.
The lake is a great resting and picnic spot and it offers recreational activities. There are accommodation options around the lake for those who wish to stay overnight. We spent a couple of hours at Umiam and then headed towards Cherrapunjee.
Day 1 was a smooth ride and as per our plans we reached our stay place before it was dark. We stayed at Serenity Travellers Inn and the owner and our host Mrs and Mr. Mitchel were an amazing hospitable couple.
NohKaLikai WaterFalls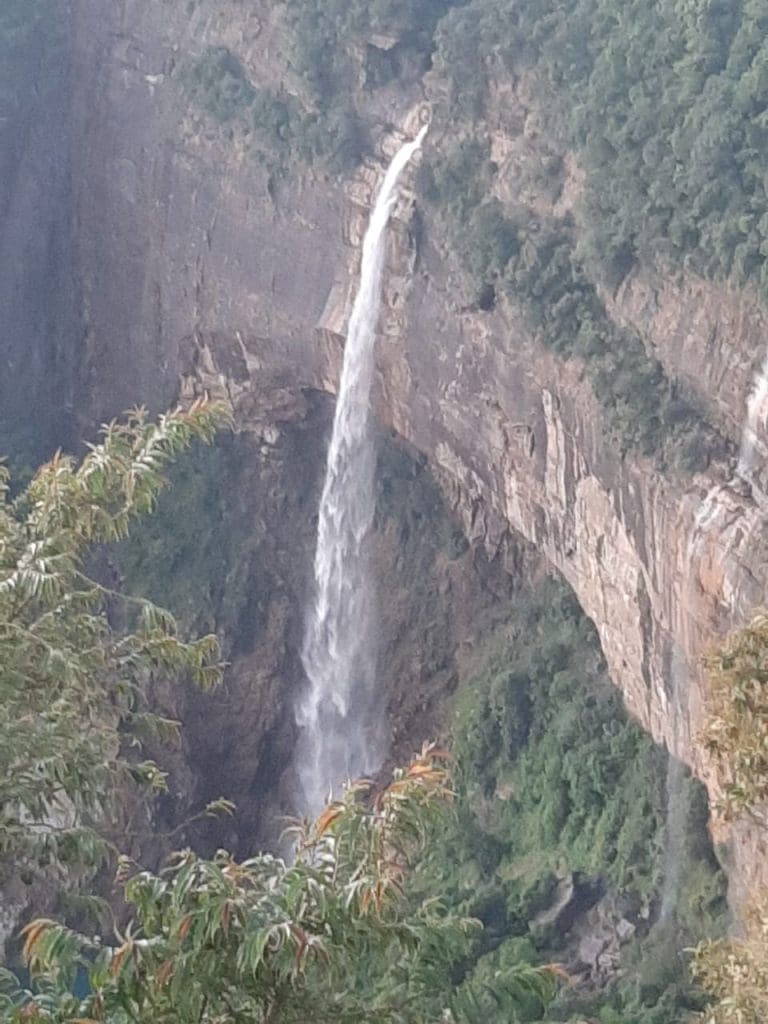 Nohkalikai has a fall height of 340 Meters, it is India's tallest Plunge Waterfall and it is situated just 3 km away from our stay place. Our host suggested that if sufficient daylight time was available, we must visit the waterfall on the same day.
We did visit the fall immediately and it was such a nice place that after enjoying the fall, we also indulged in a long walk towards the end of the complex giving us a marvelous valley view of the barren but scenic lands of neighboring Bangladesh.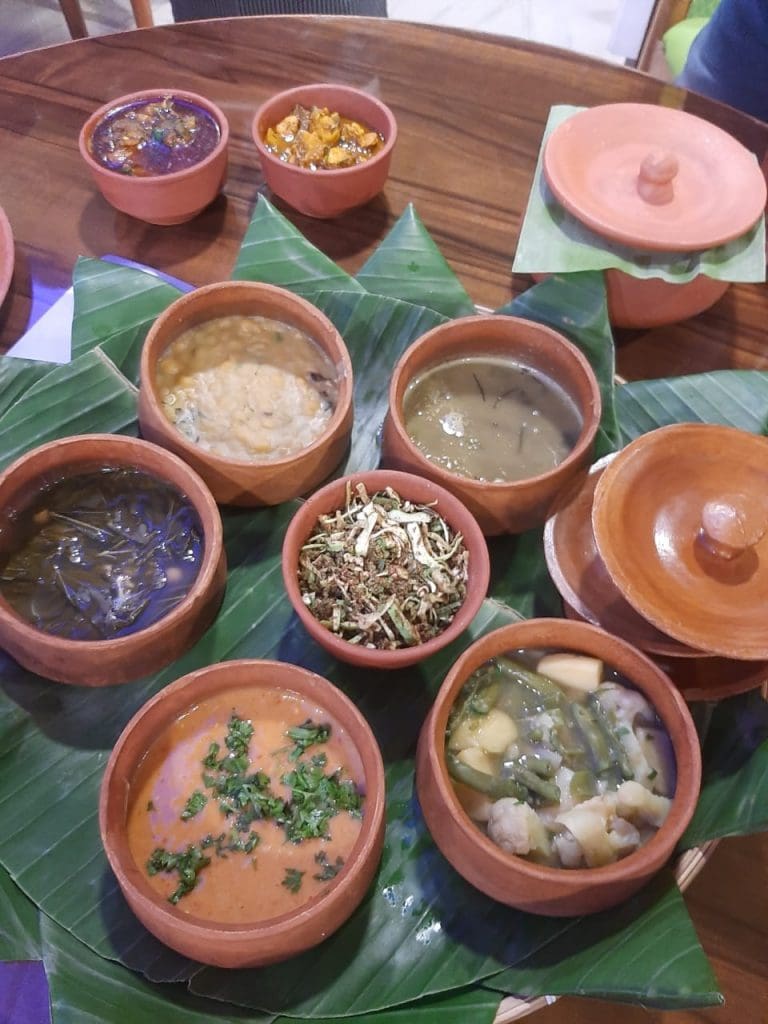 Later towards night, since it was a cold night with temperature touching less than 10 degrees, the hosts organized a bonfire for us followed by delicious home cooked dinner. After a good sleep, we got up and had a Tea session with our host who suggested we do a 40 minutes trek as that will take us to another beautiful waterfall. We did so, which took a couple of hours to get back.
Riding Day 2 @ 9th November 2021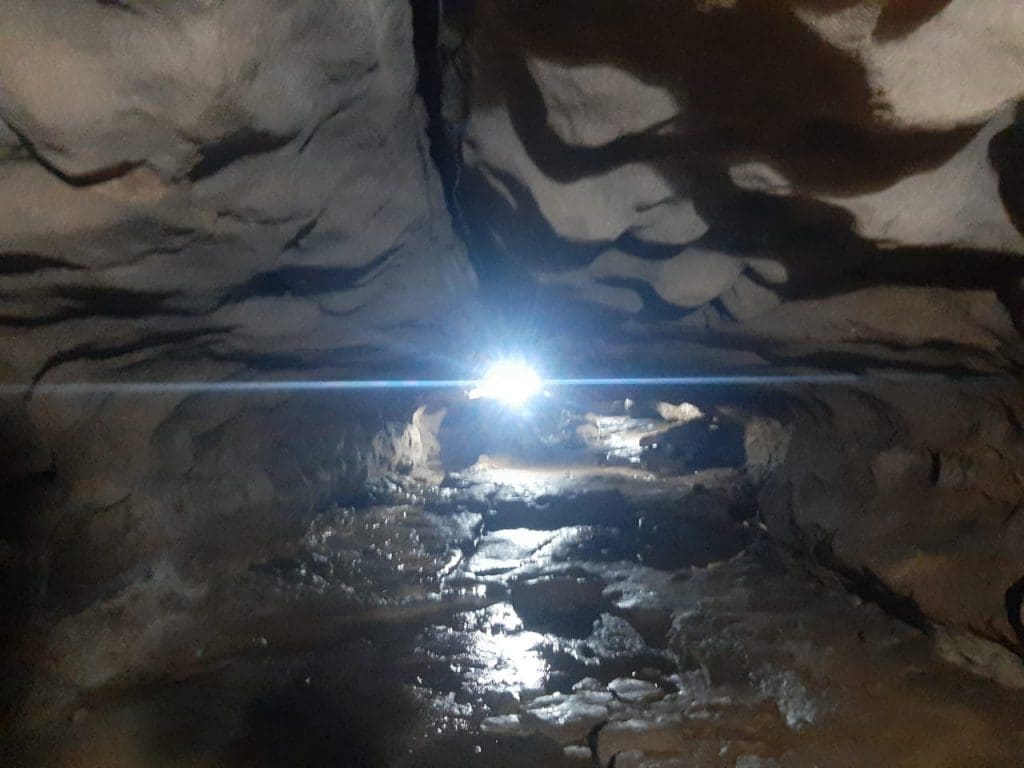 We had kept day 2 as an open plan to be decided on the same morning and we decided that we shall ride to Mawlynnong which is around 90 km away and midway we covered :-
1. Arwah Caves of Cherrapunjee
2. Nongsawlia Presbyterian Church – An Ancient Church on Sohra-Shella Road
3. Wah Kaba Water Falls
Mawlynnong Village and Day 3 of Riding
We stopped to admire and take in the sights of the caves and waterfalls and the church, after which we reached the beautiful Village of Mawlynnong. By the evening of 9th November we had booked another home stay which belonged to Mr. Henry who was also the Head Man of the Village.
Mawlynnong is one the cleanest villages in Asia and in 2019 it was awarded the Cleanest Village Award by UNESCO.
On the morning of Day 3 we covered the whole village through a lovely walk and decided that our next destination would be Dawki via Bangladesh Border road and finally a stay-over at Shnongpdeng. We finished our breakfast and we got underway.
Within 3 hours we were back on road and rode through Bangladesh Border road, covered Dawki and had a photo stop at Bangladesh Border point of Tamabil check post. By sunset we reached the small village of Shnongpdeng where we had booked another home stay – Mr. Manbha's Place.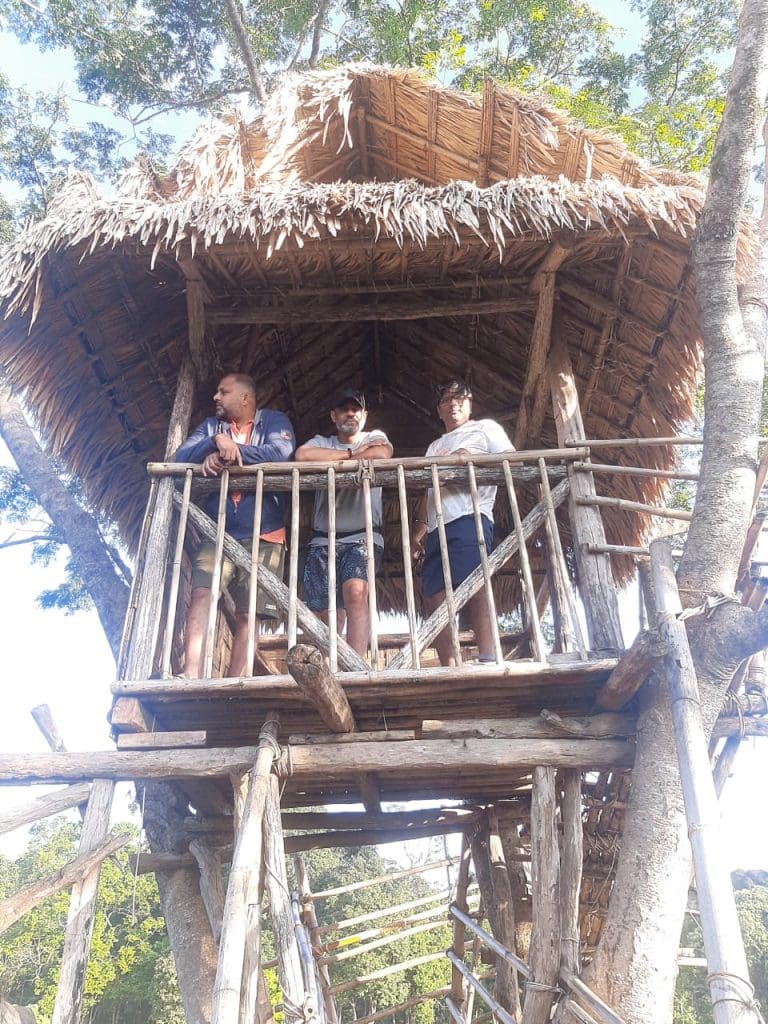 MotorBike Breakdown @ Tyre Puncture
Breakdowns are a part and parcel of road trips and that is also a test to check how the riders and drivers handle those situations.
The moment we started our ride from Mawlynnong, we realized that there was a puncture in the rear tyre of one of the RE Himalayans. Upon enquiry, we got to know that 5 km away there is a mechanic who can help.
Day 4. Boating in Umngot River and Ride to Krang Suri near Jowai and finally to Shillong
Day 4 was an action-packed day and it involved 2-3 hours in the morning at Umngot indulging in Boating and Swimming activities. By afternoon we were to first go to Krang Suri waterfall and finally reach Shillong by late evening or so.
Things went as per plan. Krang suri is a heavenly waterfall which also offers an opportunity to swimming enthusiasts. To reach the base of the waterfall one needs to walk for 20-30 minutes. There is also an adventurous way to reach which is through half a km long Zipline. I chose to do the zipline for the onward journey and later walked back through the walking route. Finally, we reached Shillong by late evening.
Day 5 & 6 at Shillong on 12th November
11th November night as well as 12th November was meant to explore the city of Shillong and experience the local market and indulge in some real good street food dining experiences.
13th November – Ride back to Guwahati
This was the last day of our group ride as KS, MD and VA were scheduled to fly back to Mumbai. So after over 500 KMs of riding together, it was GoodBye after reaching Guwahati and we returned 3 bikes back to the vendor.
I, however chose to stay back and ride through the divine city of Guwahati and carried on exploring over two days before flying back home. Places I explored were Divine Maa Kamakhya Mandir; Famous Street Food hub as Paan Bazar; Shaheed Memorial and Lake and city areas The Cotton University.
About the writer and photographer:
Sunil Sharma is an avid motorcycling enthusiast and travel philosopher having covered long rides up to 2800 km to unexplored destinations like Siliguri-Gangtok-Nathula Pass-Kamlimpong-Bagdogra; Himalayan Odyssey; Mumbai-Bangalore-Madurai-Thekaddy-Munnar-Kochi; Dehradun-Guarikund, the last point before one starts trekking to Kedarnath.)
Read More: Latest