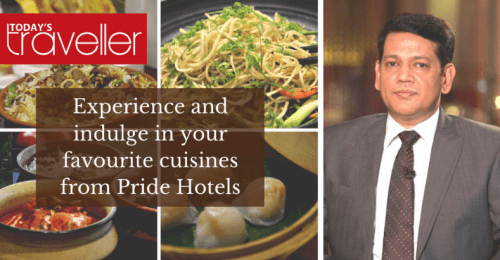 ​​
Bon Appetit With Catering From Pride Hotels. The Pride Hotels launches an all-new catering service experience at its, New Delhi, Kolkata, Chennai, Ahmedabad, Pune, Nagpur, Chennai and Bangalore properties.
The hotel group opens its services for doorstep deliveries redefining the dining experience in the New Normal. The initiative enables the customers to enjoy food delicacies with 'contactless' delivery and unique food offering to satiate their cravings.
The catering menu is curated by the team of expert chefs and culinarians featuring an interesting amalgamation of Indian food concepts and local ingredients together. These are small bites and memorable flavours. Be it authentic Home Style Mixed Vegetable, Dal Makhani and Paneer Achari from the Vegetarian menu; Murgh Dum Biryani, Lamb Rogan Josh and Rara Ghost Punjabi from the Non-Vegetarian menu and Pasta, Sandwich & Burger from the Asian menu, one can savour it all at their home.
This initiative was taken by the Pride Hotels to make sure that its loyal patrons don't miss out on their favourite cuisine due to COVID. To amplify the concept of 'Luxury-in-Privacy' the hotel group is now offering exclusive catering services for personal meets at home. Pride Group will help in making the celebrations successful with delightful culinary creations and flawless service. Pride Hotels have partnered with online food delivery aggregator platforms to deliver its food delicacies at customers' doorsteps.
"We are constantly working towards re-modelling our services for guest satisfaction whether it's at our premises or at our guests' chosen venue. This contactless order, payment and the delivery option will help us in delivering a responsible guest experience. Through this initiative, our guests will be able to experience and indulge in their favourite cuisine from the popular restaurants of Pride Group of Hotels present at their cities." says Atul Upadhyay, Vice President Operations, Pride Hotels.
Read More: News