Ready to be transported to the future? Get a glimpse of what's to come as Bottega Veneta takes you on an electric journey with its glittering and futuristic Winter 2023 show!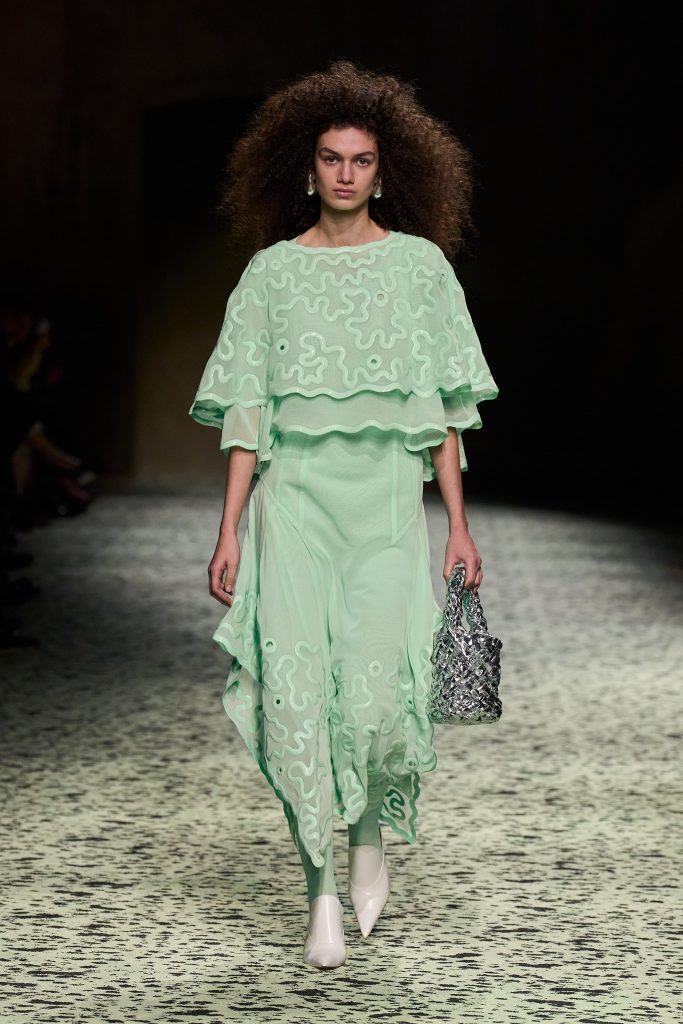 "A parade: The alchemy of the street is in the difference; who will you meet? What is around the corner? Who will amaze you? It is the surprise of the encounter that has importance, " says Matthieu Blazy.
Bringing to a close his 'Italia' trilogy of shows, creative director Matthieu Blazy continues to celebrate and conflate the past, present, and future of the country with craft in motion. In this parade, techniques, motifs, characters, and creatures from the past travel through space and time to speak to the present and the future.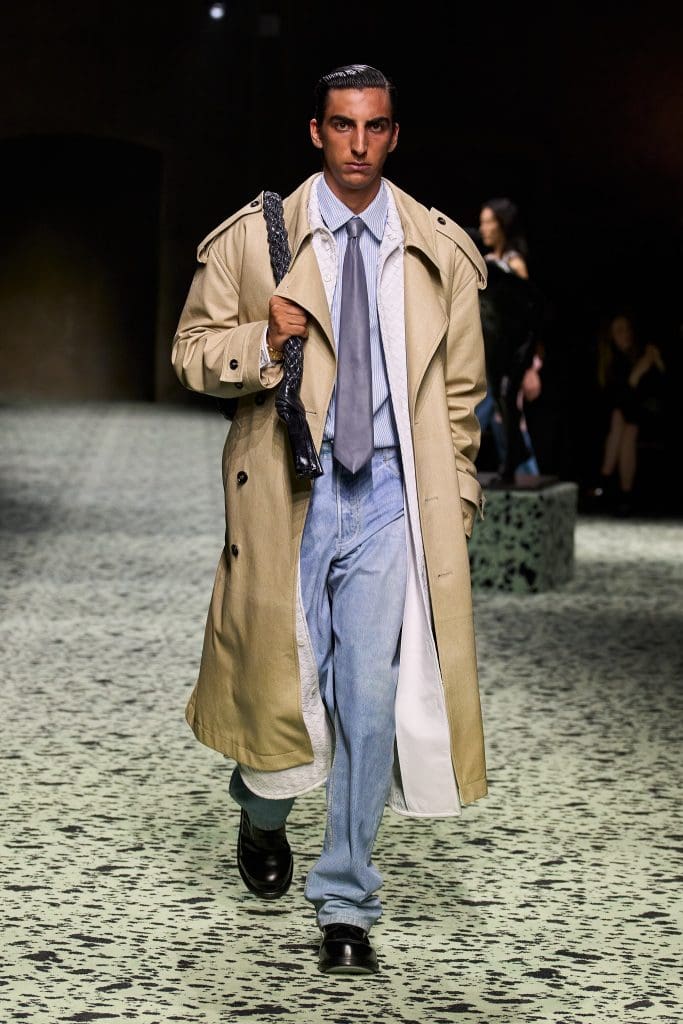 A cacophony of influences, both animate and inanimate, becomes a polyphony. Each has its place and is part of the proceedings: from ancient Roman bronze runners (1BC); to Boccioni's Futurist 'Unique Forms of Continuity in Space' (1913); to today's collection for Winter 2023 that at times draws from both the mythology of antiquity and Futurism's shape of things to come – quite literally in the cutting of 'Boccioni' silhouettes, present from Blazy's foundation collection and expanded upon here.
The odyssey of the cast continues, and yet they are now character archetypes in transformation, mutable and moving, travelling from the ordinary to the extraordinary. There is a question of what it means to be chic and when it starts.
From the morning ritual of the bombshell in her transparent white chemise and bed socks (that dress belies its material complexity while those socks are knitted leather shoes) to the sartorially obsessed industrialist in his pinstriped nightshirt or 'grey flannel' pyjamas (all fully realised in Nappa leather). There is an exploration of the idea of 'getting changed' from its everyday meaning in the early silhouettes to its more fantastical promises later on, where a new mythology takes shape.
The parade is a place of priests and playboys, sleepwalkers, and streetwalkers with sirens of the screen and the ancient seas. Above all, it is a place where there is the joyful, emotional, and personal pleasure of dressing up, of gaining the confidence to be whoever the wearer wants to be through clothing.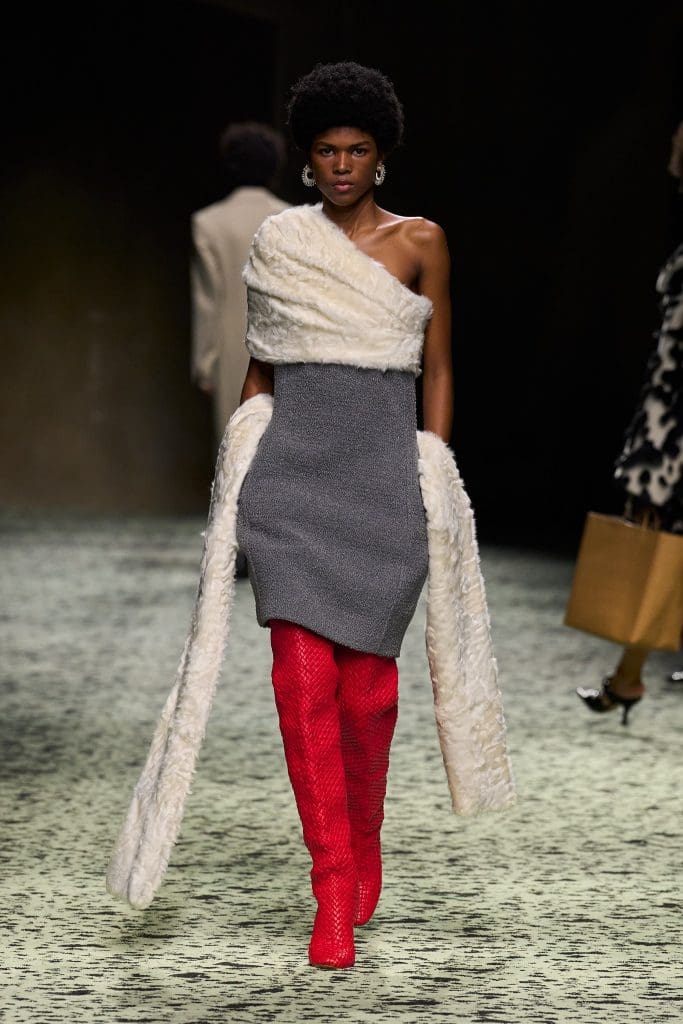 Here, craft is reconfigured as innovation, with historical silhouettes revived and reinvented, scooped, boned, slit, and suspended. Botticelli's Chloris and Flora from 'Primavera' (c1482) are reconfigured for today. The intricate silk hand embroideries were recreated and rearranged, a new turning of their metamorphosis.
The collection and show are treated like a game of Exquisite Corpse, where there is an unfolding of possibilities. Chimerical creatures emerge, transformed through cut and craft, splicing of codes of volume and technique, shaggy fil coupe jacquards, and the Intreccio take the form of a new kind of skin, becoming cascading scales and feathers, finding new configurations in clothing and leather goods. Murano glass gains added malleability as a medium, clutched by these new creatures when applied as the translucent handles of Sardine bags.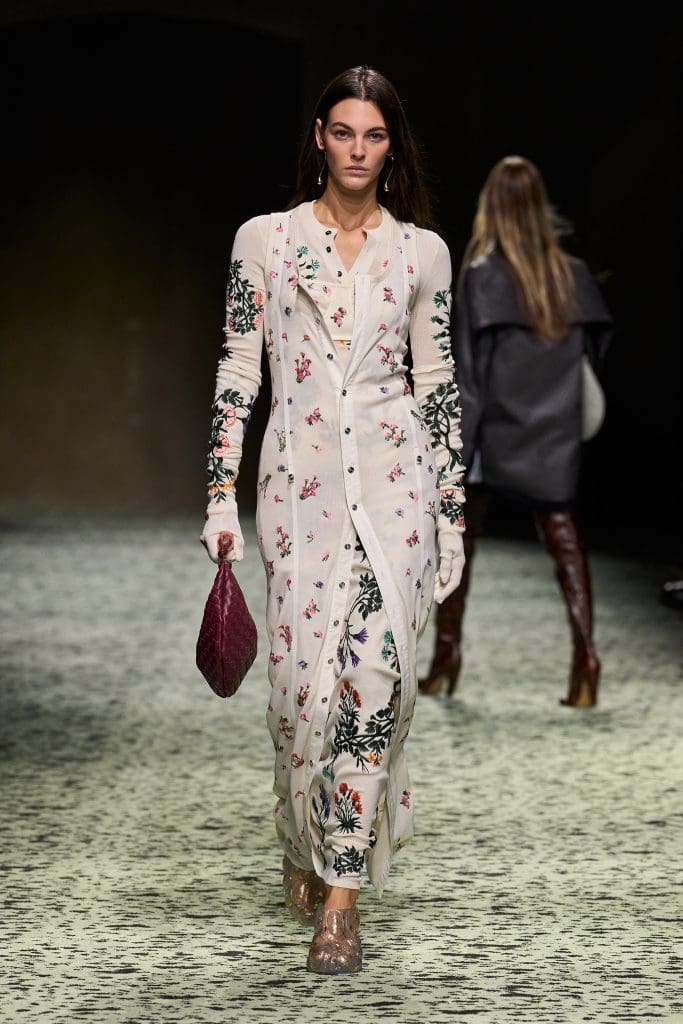 It points to the end of one part of the Bottega Veneta story and the beginning of another, of a new mythology. "I loved the idea of the parade in Italy; a procession, a strange carnival, a crowd of people from anywhere and everywhere, and yet somehow, they all fit and go in the same direction. I wanted to look at what makes people gather together in a place without hierarchy, where everyone is invited," says Matthieu Blazy.
Since its launch in 1966, Bottega Veneta logo has established itself as the destination for luxury leather goods crafted with utmost attention to detail. Expertly woven using their signature Intrecciato technique and created with clean lines and a classic palette, each piece is handmade by artisans based in Vicenza, Italy—reflecting a timeless sophistication unparalleled by other fashion houses. True to its motto that "Your own initials are enough," all products carry only an inside label of recognition – perfect for those who seek understated elegance without relinquishing quality craftsmanship.
Read more: Latest