Chocolate unites us all!
If there ever was anything that everyone unanimously agreed upon, it would be about chocolate's delicious taste.
During these tough times, it is essential to keep up your mood and nothing better than having a bite of a chocolate dessert!
Today's Traveller invites Chef Manikandan, Fortune Park Lake City, Thane to share his favourite Choco Delight…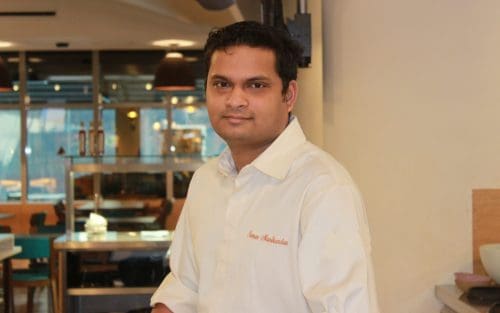 The Brownie
Brownie Pecan
350 G Whole eggs tempered
225 G Caster sugar
225 G Caster sugar
360 G Clarified butter
135 G Flour type 55
70 G Egg whites tempered
160 G Roasted Pecan or Walnut
260 G sao palme 60%
Melt the chocolate, add the clarified liquid butter. Check the temperature; it must be 45/50°, Whisk the eggs, egg whites and sugars together until the mixture is smooth and well beaten. Pour the butter and chocolate mixture into the eggs. Mix evenly. sift the flour and add to the previous mixture. Finally, add the crushed Pecan nuts. Pour into a 30x40cm frame. Bake at 160° c for 12 to 15 minutes. Let it cool and cut into portions.
Milk Chocolate cream
200 G Milk full cream
10 G Glucose
28 G Gelatin mass
300 G Bahibe 46%
400 G Cream UHT 35%
Bring the milk and the glucose to a boil in a pot When the mixture has boiled and while it is still burning hot, pour it over the chocolate and emulsify Finish the procedure of emulsion by using a hand mixer and then add the whipping cream in a fluid state Leave the Namelaka in a fridge for a night to get stable.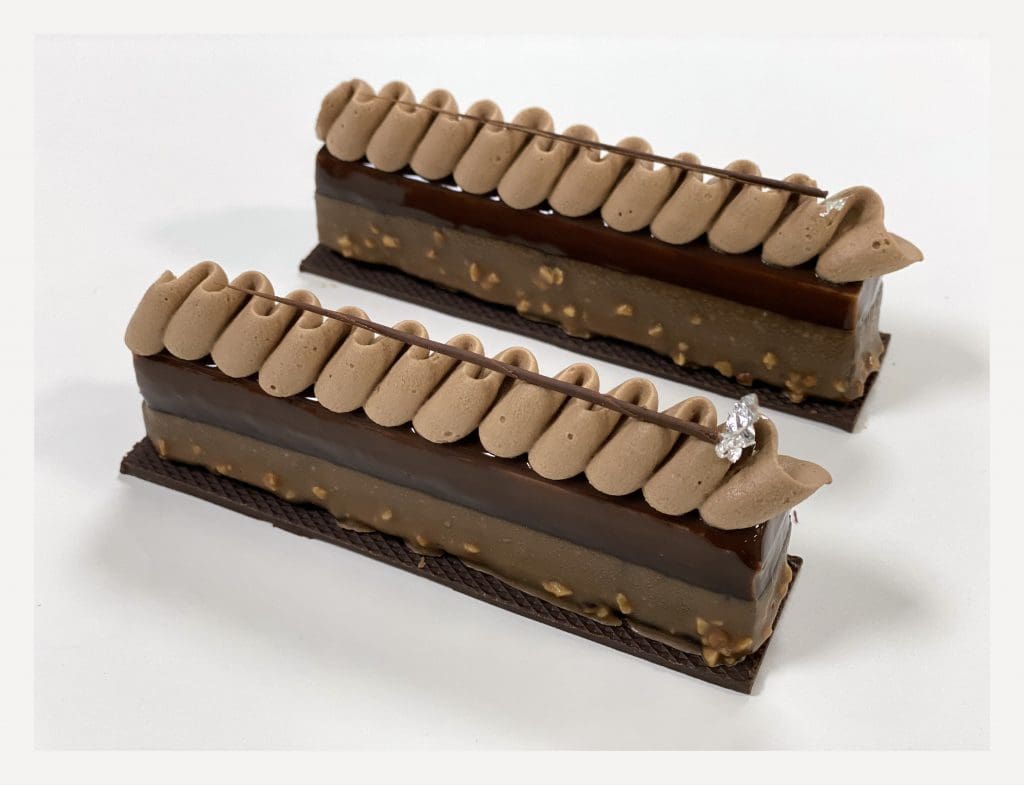 Milk Chocolate Pate Glacer
700 G Milk chocolate 40%
150 G Hazelnut paste 100%
50 G Grape seed oil
126 G Chopped roasted almond
Melt the chocolate to 45ºC, add the hazelnut paste and the grape seed oil, add the pre-roasted runched
hazelnut, use at 32ºC.
Dark Glaze
150 gm Water
300 gm Sugar
300 gm Glucose
200 gm Condensed milk
120 gm Gelatin mass
330 gm 75%Dark chocolate
q.s red color
bring the water, sugar and glucose to boil @104C, add the gelatin mass, condensed milk and dark chocolate & color into the mixrure, blend well with immersion blender, strain and cool, use @ 33c to glaze
Read more: Food Voyager