Chocolate unites us all!
If there ever was anything that everyone unanimously agreed upon, it would be about chocolate's delicious taste.
During these tough times, it is essential to keep up your mood and nothing better than having a bite of a chocolate dessert!
Today's Traveller invites Pastry Chef Rakesh Ranjan Pandey, Fortune Landmark, Ahmedabad to share his favourite Choco Delight…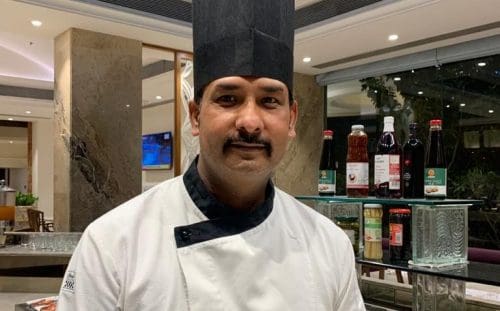 Basil-Choco Pie
Ingredients
For the pastry
170 gms flour
150 gms sugar
1 egg
150 gms butter, room temp
30 gms cocoa powder
1 tsp baking powder
a pinch of salt
30 gms vanilla powder
For the chocolate cream
50 gms sugar
2 egg yolks
15 gms flour
1 tsp cornstarch
1 package vanilla powder
200 gms dark chocolate, melted
130 ml cream
Fresh Basil leaf 5gms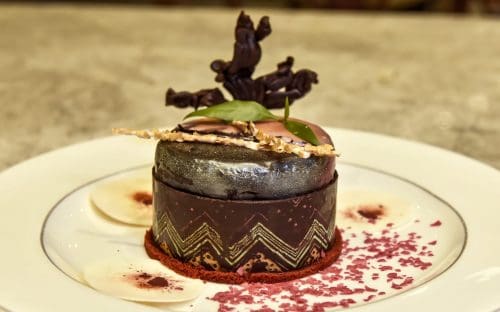 Method
Start with the pastry by combining all of the dry ingredients and then add butter and egg. Mix everything by hand until uniform, then cover and set aside for 1 hour, in a separate bowl.
Pour hot milk into the yolk mixture slowly, while whisking constantly. Transfer the mixture on low heat and cook, whisking nonstop, until thickens Combine melted chocolate with warm cream and add into the yolk and milk base. Cover and set aside to cool slightly.
Roll out 2/3 of the cold pie pastry and place it into a 4-6 inch round cake pan covering the bottom and the sides. Trim any excess. Use leftover pastry to make strips for pie décor. Pour chocolate cream onto a base, add fresh chop Basil leaves and bake 350F for 40 minutes. Once baked to enhance the aroma of the pie we can glaze pie with basil-infused truffle.
Garnish with a fancy chocolate rim, dehydrated red velvet sponge crumbs, and a fresh spring of basil.
Read more: Food Voyager