Chocolate unites us all!
If there ever was anything that everyone unanimously agreed upon, it would be about chocolate's delicious taste.
During these tough times, it is essential to keep up your mood and nothing better than having a bite of a chocolate dessert!
Today's Traveller invites Chef Shivam Sharma, Bara Bungalow Gethia – Nainital to share his favourite Choco Delight…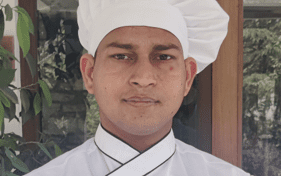 Chocolate Cookie Slice Cake
USP: An easy to make slice cake at home with basic ingredients. Served with steaming hot Tea or coffee.
Ingredients
Biscuits- 200 gm (For the Dough)
Chocolate Slab (dark chocolate)- 200 + 200 gm ( Two batches )
Cream- 200 ml
Dark Chocolate Cookies or Bourbon Biscuits 10 pieces, (For Lining)
Sweetened Milk 100 ml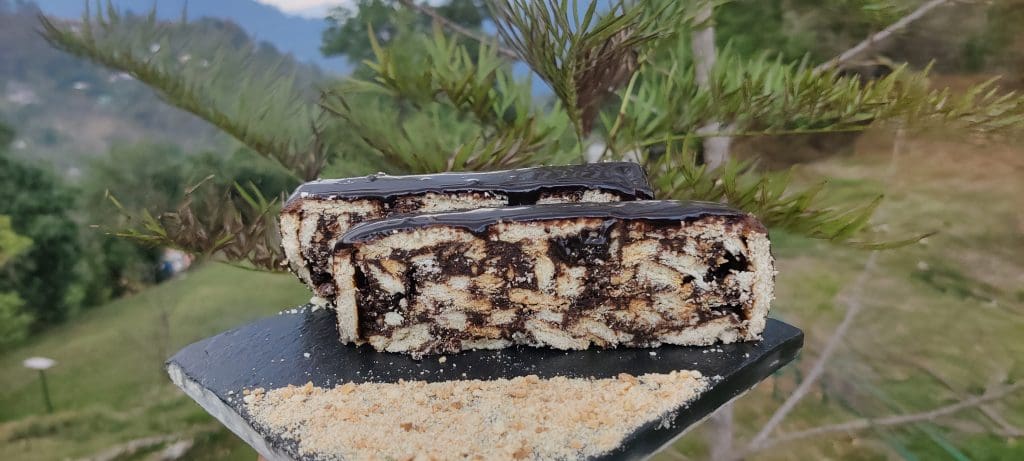 Method
Take 10 pieces of chocolate cookies and crumble them in a bowl.
In a clean glass bowl add melted chocolate 200 gm and 200 gm of cream.
Hand whisk the chocolate and cream to form a smooth mixture.
Pour this mixture over the Chocolate cookie crumble.
Take a square Borosil glass container and line whole Bourbon biscuits along the bottom and the sides. (This should cover the side and the bottom entirely).
Gently pour the sweetened milk over the bourbon biscuits.
Introduce the melted chocolate and cookie crumble mixture to the bowl.
Pat the mixture gently till it has evenly filled the square bowl exactly.
Smoothen the surface flat with a spatula.
Place inside the refrigerator for an hour to set.
Now melt 200 gm of chocolate.
Remove the cooled cake mixture from the fridge.
Separate from the glass container. The mixture should hold the shape of the bowl.
Pour the melted chocolate evenly on top and on the sides of the cookie cake
Keep in refrigerator for an hour.
Remove from the fridge. (The cake is ready to be eaten after 10 minutes)
Cut the cake and serve with hot coffee.
Bon Apetit.
Read more: Food Voyager