Chocolate unites us all!
If there ever was anything that everyone unanimously agreed upon, it would be about chocolate's delicious taste.
During these tough times, it is essential to keep up your mood and nothing better than having a bite of a chocolate dessert!
Today's Traveller invites Exec Chef Mohit Mishra, Vivanta Hyderabad, Begumpet to share his favourite Choco Delight…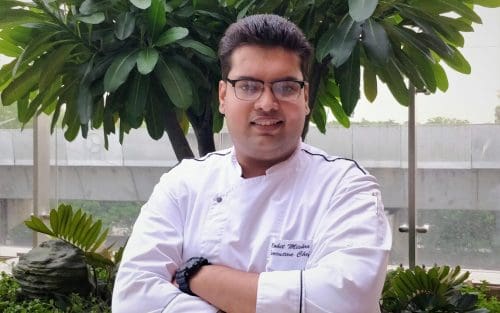 Fresh Minted Mango and Chocolate Pave
No. of portions: 2
INGREDIENTS
Fresh Mango-40 grams
Dark Chocolate-125 grams
Fresh Cream-125 grams
Mint-3 grams
Gelatine-6 grams
Cocoa Powder-12 grams
Icing Sugar-60 grams
Unsalted Butter-60 grams
Eggs-1 number
Walnuts-25 grams
METHOD
Take fresh cream in a pan, heat it on low flame add in dark chocolate and unsalted butter to make the truffle
Switch off the flame, add eggs to the melted mixture and beat
Now mix cocoa powder, icing sugar, chop mint and fold in the mixture
Take fresh mango, remove the pulp and add the soaked gelatine in the pulp
Make the layer and let the mango pulp mix cool down
Put the chocolate mixture and bake in pre-heated oven on double boiler at 150c for 45 minutes
Let it cool and set, cut it into layers
Now layer the mango sheet in between baked chocolate
Make caramelized walnuts by melting sugar and adding walnuts
For garnish use whipped cream and mangoes.
Read more: Food Voyager