Chocolate unites us all!
If there ever was anything that everyone unanimously agreed upon, it would be about chocolate's delicious taste.
During these tough times, it is essential to keep up your mood and nothing better than having a bite of a chocolate dessert!
Today's Traveller invites Exec Pastry Chef Santosh Rawat, JW Marriott Mumbai Sahar to share his favourite Choco Delight…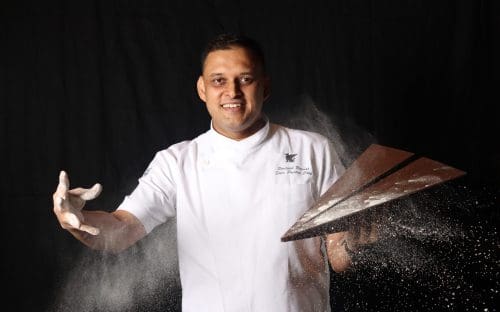 Chocolate Hazelnut Soufflé Tart
Composition
Sable Dough
Milk Chocolate Cremeux
Soufflé Sponge
Hazelnut Praline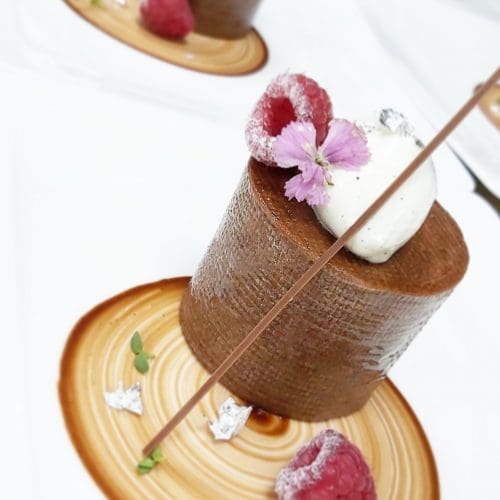 Hazelnut Praline
Ingredients
Hazelnut Roasted- 250gm
Castor sugar – 160gm
Water – 40gm
Vanilla Bean – ½
Method
Roast Hazelnut, keep it read and warm.
Make dark caramel with Sugar and water.
Combine the roasted hazelnut to the caramel.
Place on the nonstick mat to cool.
One it is cooled, place in the robot coup.
Blend it to a smooth texture. Store in the air tight container.
Milk Chocolate Cremeaux
Ingredients
Fresh Cream 35% 500gm
Milk Chocolate 500gm
Sugar 50gm
Egg yolk 200gm
Method
Combine Egg yolk and sugar, mix well
Boil milk and add to the egg mixer in parts.
Make anglaise and cook to 85C.
Strain the anglaise to the milk to make a ganache.
Cool in the refrigerator.
Soufflé Sponge
Ingredients
Milk- 300gm
Corn Starch – 30gm
Dark Chocolate 53% – 120gm
Egg Yolk – 85gm
Egg White- 200gm
Castor Sugar- 85gm
Method:
Make Pastry Cream with Milk, Corn starch, Chocolate and Egg yolk.
Whisk Egg White and sugar to a meringue.
Combine the meringue to pastry cream lightly and deposit into the mould 2cm thick.
Bake at 180c until well cooked.
Freeze
Chocolate Sable
Ingredients :
Dark chocolate- 200gm
Butter unsalted- 360gm
Sea salt- 6gm
Icing sugar- 270gm
Ground almond- 90gm
Whole eggs- 150gm
Refine pastry flour- 180gm
Refine pastry flour- 520gm
Method
Melt butter, add dark chocolate to melt.
Combine sea salt, icing sugar, ground almond, whole egg and 1st part of flour. Mix well
Lastly add the second part of flour. Do not over mix. Rest in the refrigerator for an hour.
Roll the dough to 1mm thickness, line the tart ring and blind bake 100% at 180c until well cooked. Store in airtight container
Assembly
Spray the tart with Cocoa butter to avoid getting soggy.
Cut the soufflé sponge round, pipe the hazelnut praline on it.
Fill the tart ½ with hazelnut cremeaux insert the sponge in middle to level the tart. freeze
Serve upside down.
Read more: Food Voyager