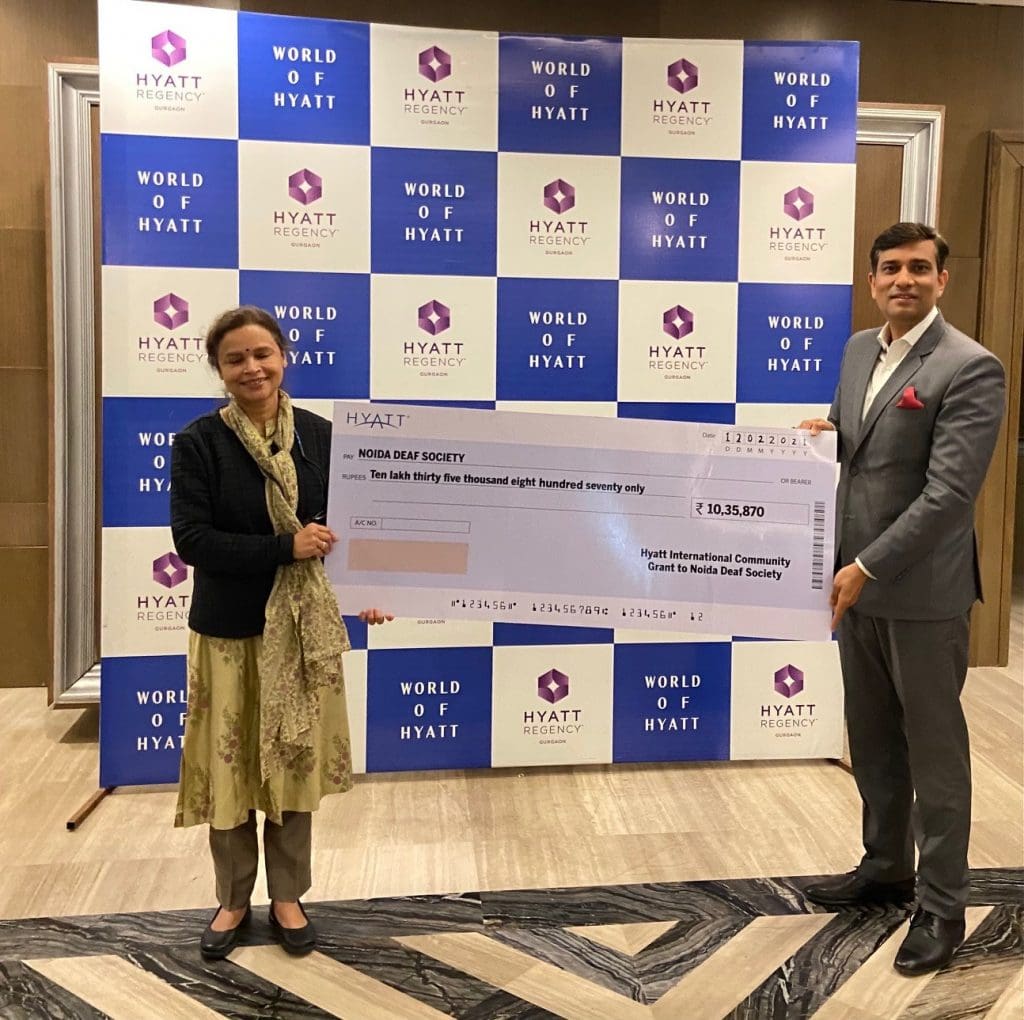 Hyatt Regency Gurgaon donated USD 14500 (INR 10,35,870) to Noida Deaf Society under Hyatt Community Grants programme
The Hyatt Community Grants program works with Hyatt hotels and resorts all over the world to donate money to nonprofits doing important work in their communities.
Since 2008, Hyatt has helped direct nearly $3.5 million to over 260 deserving nonprofits in 52 countries. This year, Hyatt proudly awarded over $360,000 to 29 nonprofits across the globe.
The grants celebrate and build upon hotels long-standing partnerships with local community-based organizations providing on-the-job training and employment opportunities to Opportunity Youth and under-resourced youth.
Hyatt Regency Gurgaon has been working closely with Noida deaf society for the community causes and nominated them for the community grant.
We are one of the chosen hotels amongst India region for USD 14500 (INR 10, 35,870) grant for Noida Deaf Society.
The vision is to mainstream deaf children and youth in society by providing quality education and specialized vocational training leading to gainful employment. To empower and enable the deaf community to develop their capabilities and fullest potential so that they can lead self-reliant lives and be a productive partner of our society.
Hyatt Regency Gurgaon has employed candidates from Noida Deaf Society and have been working in our mainstream operations since last one year. They have been working in Housekeeping and Food &Beverage operations and their performance has been exceptionally well.
Our 2020 Grant Cycle is in celebration of Hyatt's commitment to inclusion and diversity, as well as Hyatt's signature program, RiseHY, focused on investing in disadvantaged youth around the world to build the diverse workforce of tomorrow.
The RiseHY program is to bring Hyatt's purpose of caring for people so they can be their best to life in our communities through a global signature program that addresses youth unemployment and helps build a diverse workforce for the hospitality industry of the future.
Read More: News