The aroma of Kapi Luwak, petrichor of the rice terraces, and enchanting panorama suitable for falling in love fill one's senses as you absorb the many facets of Bali, Indonesia.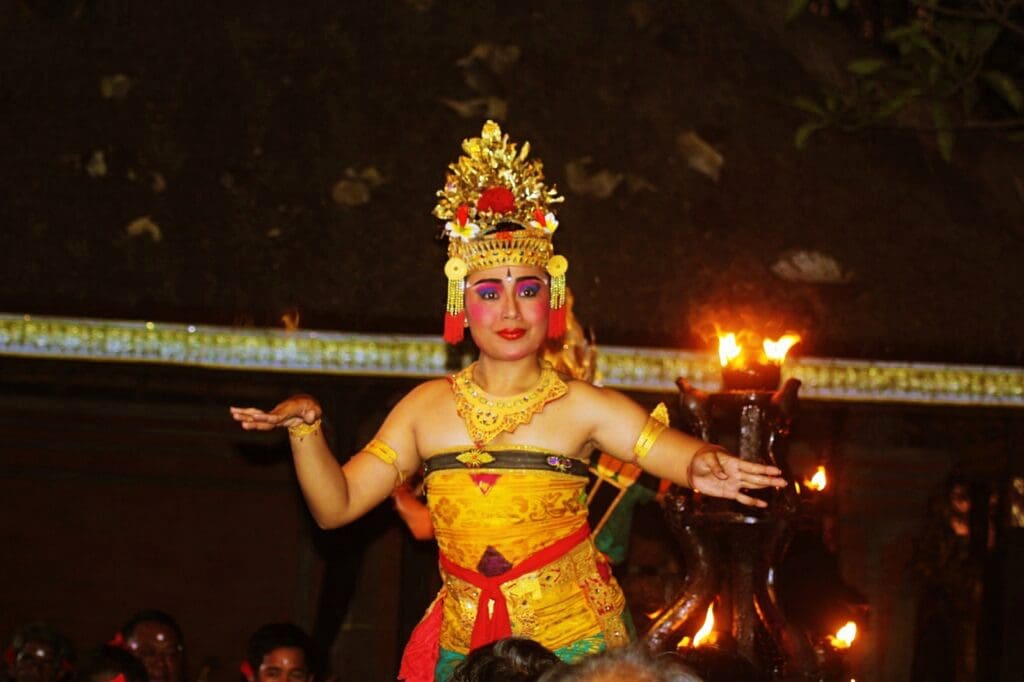 However, one is also reminded of the numerous references to the Hindu trinity, as well as the family temples that line each side of the road, reinforcing the religious tie. Let your love not confine you to the beautiful beaches or luxury resorts now that the island is open again following the pandemic.
Instead, step out and explore some of the cultural marvels, such as the architectural uniqueness of the water temples or mythological representations of the Indian epic Ramayana through a traditional dance form.
Kecak – a trance-inducing Indo-Balinese ritual dance
Kecak, a trance-inducing Indo-Balinese ritual dance, is one such practice that highlights Bali's deep Indian links. With its peculiar sounds, Kecak puts you in a hypnotic state, and every time you recall the experience, a pleasant reminiscence of recurrent beats will fill your mind. Although when you first arrive at the Batubulan dance stadium you are likely to expect yet another musical exposition of the famous Hindu epic Ramayana. One has no idea that this fairly simple dance form can transform into mesmerism of its own in just a few minutes.
The event is generally scheduled to start at 6.30 p.m. at sunset, and all one needs is a $7 (IDR 100,000) ticket to get a seat in the open-air theatre. It's best to arrive early to obtain the front-row seats! There are only a few steps between the main counter and the theatrical grandstand.
On the other hand, a little area of forest marks the path's left side. Because the plot of the Ramayana revolves around characters spending a lot of time in the woods, seeing a spotted fawn eating grass immediately sets the tone for the audience. An open stage with no proscenium is the principal performing space. It is projected into the crowd and encircled by them on three sides.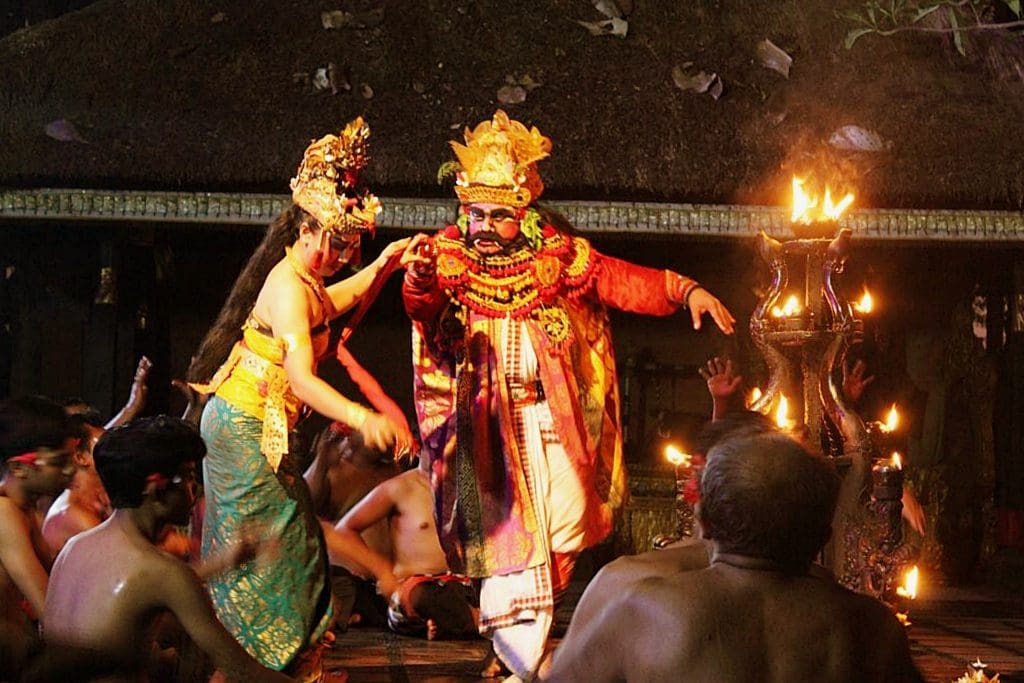 Balinese culture compares to ancient India but seeing a live Kecak performance, is a whole other experience. A stunning spectacle is exposed behind an impenetrable shroud. More than fifty men, dressed in traditional clothing, sit in a circle on the platform. As many as 150 men are said to be involved in this chanting march.
At 6.30 p.m., the drama begins to unfold. As they sit in concentric rings around a traditional Balinese light, the bare-chested Balinese performers begin singing melodic syllables that distinctively construct a musical monologue. These men in striped loincloths symbolise Prince Ram's monkeys and giants.
They rally-call Chak-Ke-Chak by rhythmically moving their upper bodies and hands from left to right. The rhythm gradually builds up speed, and Kecak's noises resonate throughout the hall. On this island, one learns that art and music are as much a part of their culture as in India. The impact of Hinduism is evident via the worshipping of Balinese Dewa Siwa, or as is known in India, Lord Shiva, or Nataraja, one of the trinity of supreme gods who created dance and the cosmos.
One of these males keeps the beat going by hollering Po-Po-Po. Chiaaat, Deeh, and other sounds are yowled by the chorus leader. Another man sings in a pleasant tone during the chanting.
Throughout the performance, one person recounts the narrative in both Balinese and Sanskrit. In the 1930s, this musical dance play, called Kechak, became popular and this one-of-a-kind dance features no musical instruments or a theatrical backdrop, unlike a standard orchestra. It was solely done by men until 2006, following which it was introduced to women.
The Ramayana, performed at Bali's most famous temples, is the plot of this theatrical play. The Ramayana monkey chant is another name for the narrative. Hanuman's burning of the fortress, for example, conjures up images of trance rites. Before performing the fire dance, Hanuman obtains blessings from a priest.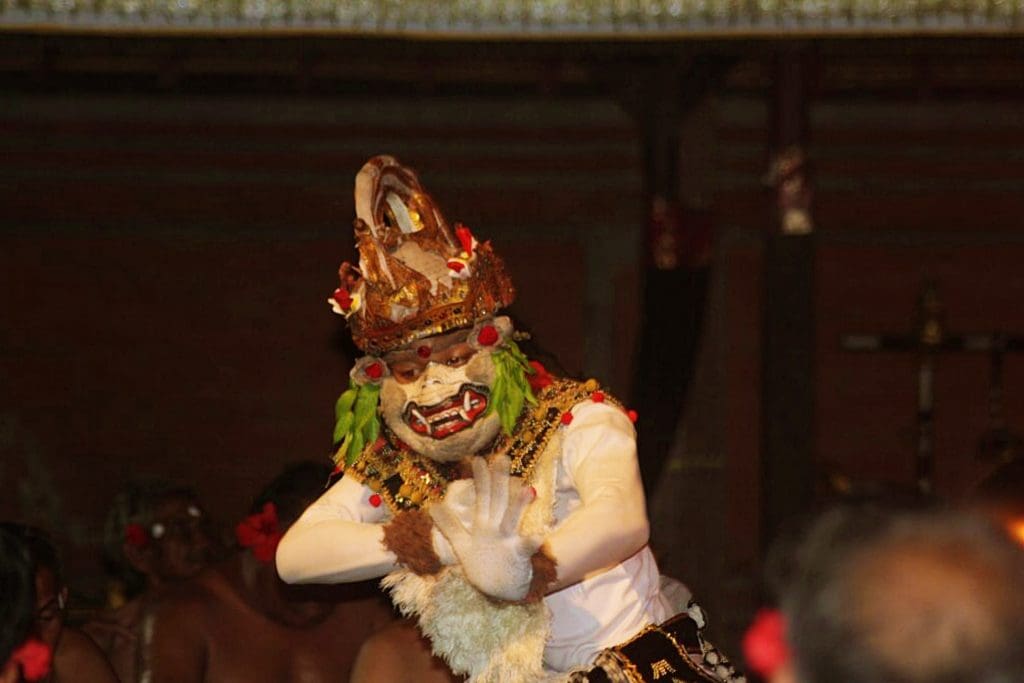 Because he is in a half-conscious condition due to the lack of external stimulation, he is pain-free. The Ramayana battle is shown in the recitation, in which prince Ram fights the evil King Ravana with the assistance of a monkey army commanded by Hanuman.
This sunset performance begins with a damsel in distress narrative and ends with the antics of a cheeky monkey. Ram and Sita's self-imposed exile in the Panchavati jungles is shown in the opening scene. By capturing Sita, Ravana ravaged Ram, Sita, and Laxman's peace.
As the Kecak chanters in sync with the story's atmosphere, the show re-enacts the wandering of the Golden Deer, Sita's abduction, Ravana and Jatayu's collision, and Hanuman's quest for Sita, and eventually the fight between Ram and Ravana.
In short, King Ravana dispatches Mareecha, his first minister, to alienate Sita and kidnap her. Mareecha transforms into a golden deer and enters the woodland using his magical talents.
Sita is pleased when she sees the golden deer and begs Prince Ram to go retrieve it for her. To appease Sita, Ram pursues the deer. He does, however, entrust Sita's protection to his brother Laxman. Sita hears Ram's screams for help and sends Laxman to follow him. After considerable hesitation, Lakshman pursues Ram, but not before drawing a mystical line (Lakshman Rekha) on the ground and warning Sita not to cross it under any circumstances.
Ravana takes advantage of the situation by impersonating a priest and deceiving Sita. He then goes on to Sita's hut and makes an honest plea for food. She falls for this deception and feeds him outside the boundary. King Ravana then abducts her and carries her to his castle. After that, King Ravan attempts everything he can to capture Sita's heart but remains unsuccessful.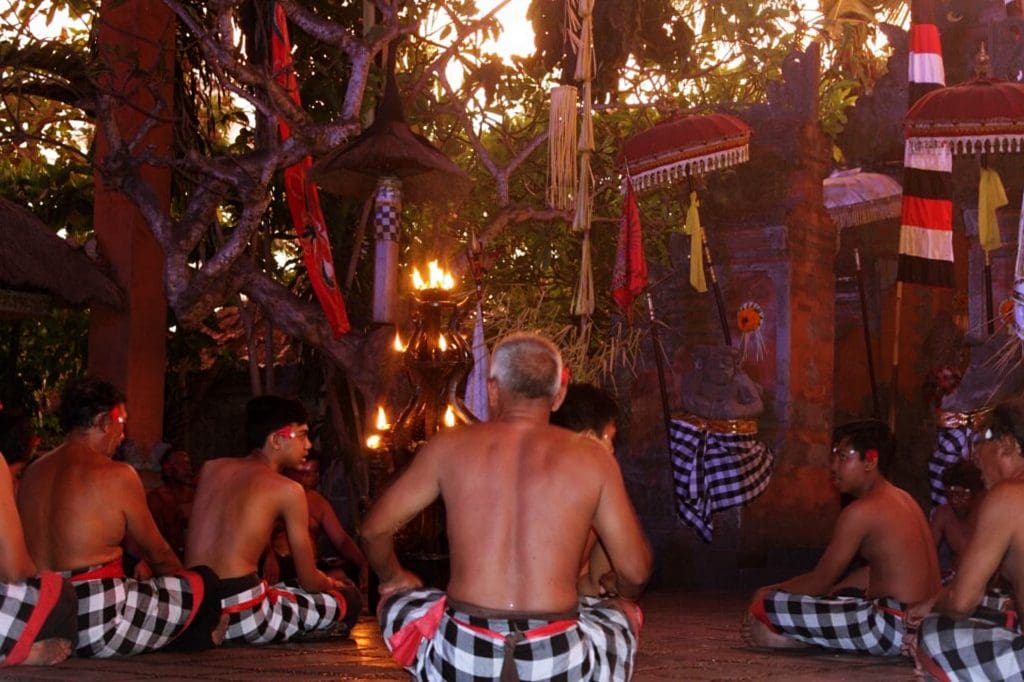 Hanuman quickly comes into the castle and presents Ram's ring as proof that he has come at Ram's request. In exchange, Sita hands Hanuman her hairpin so Ram would know she is still alive and rushes to her aid. Ram and Lakshman are joined by Sugriwa, the king of monkeys, and his army to help in the rescue of Sita. Ram eventually beats Ravana and is able to flee with Sita to a safe area.
This epic tale is played out against a background of ritual chanting. The plot weaves around the difficulties Ram and Laxman experience while seeking to save Sita. When the sun sets and the sky darkens in the backdrop, the Kecak dance achieves its dramatic conclusion, depicting the mischievous monkey lighting fire to the palace. Smouldering orange and crimson flames in the centre of the stage bring the concert to a finish.
Kecak is a trance-inducing exorcism with roots in Sanghyang that dates back to the early nineteenth century. It is a dance that represents courage, beauty, combat tactics, and a strong moral message.
In 1930, a German artist named Walter Spies turned the rite into a theatrical drama to appeal to a Western audience. He worked closely with Indonesian dancer Wayan Limbak to popularise the dance by organising foreign tours. Therefore, today what you see, is Kecak demonstrating a modern art-culture system interwoven with marginalised cultural characteristics.
While the stage at Batubulan auditorium is rung by a natural forest, Uluwatu in Badung regency and Pura Dalem Taman Kaja in Gianyar regency are two more fantastic sites on the island to experience the enchantment of Kecak amid breathtaking backdrops.
It is so great to be introduced to Balinese and Indian cultures through this cultural event, and what better way to learn about a country than through its traditional dance, right?
This Indo-Balinese dance style is a stunning work of art that will dazzle you. So do experience it if you ever find yourself in Bali. Each element, from the make-up to the artists to the screenplay to portrayal, tells a narrative: Now it's up to you to go find it.
(About the author: Veidehi Gite is a travel journalist and author with over 7 years of experience in the field of travel writing. She covers travel, luxury, gastronomy, fashion, and fitness in her articles.)
Read More: Latest