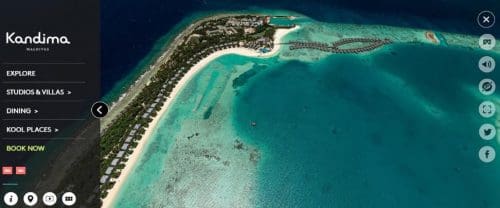 Let's face it; how we live, work and travel may never be the same again. At Kandima Maldives, they believe in continuous innovation to meet the new normal head on and bring guest extraordinary experiences that are playful, different and fresh. To us, change is a good thing!
Many travellers are missing the Maldives' crystal clear waters so Kandima is oh-so excited to launch its totally immersive, state-of-the-art virtual platform – Kandima D.I.V.E (Digitally Immersive Virtual Experiences).
D.I.V.E. gives you a little taste what you are in for and lets you reimagine your favourite tropiKal paradise with just the click of a button.
D.I.V.E is a multi-sensory journey through an interactive 360° virtual world that takes customer engagement to a whole new level. D.I.V.E. is available for viewing on any device including VR headsets, desktops, smartphones or tablets, with a multi-dimensional sound experience as you swim through #YourKindOfPlace!
Brett Castleman, General Manager for the resort said "Kandima Maldives has been the first mover in terms of new and innovative lifestyle experiences in the destination, D.I.V.E. is yet another remarkable virtual platform that will help our trade partners to be future ready. Our partners can navigate through the resort showcasing an immersive 360°view, and also have a fully interactive session with an ability to see the host and converse with everyone joined on the virtual tour."