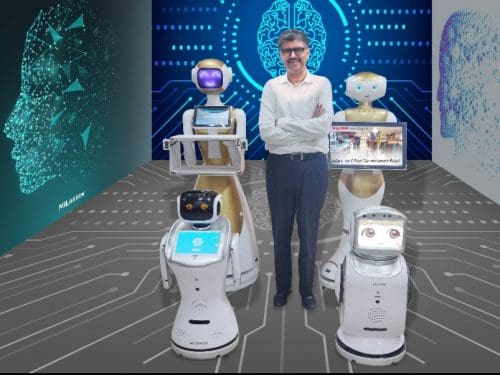 ​​
An innovator, a shaper, and a future thought-leader.  Meet Rajeev Karwal, Founder, Milagrow the "turnaround specialist" of the consumer electronics and durables industry, who cast aside a high profile career to pursue a concept before its time – Robot Technology.  
His adaptive nature and high-energy management stye have brought him remarkable success with startups, as well as global organizations.
Having steered the fortunes of companies like  Reliance Retail – Consumer durables; LG Electronics; Philips Electronics and Electrolux to name a few, Karwal opened a new inning by setting up Milagrow, a "beyond consultancy" Business and Knowledge Solutions for SMEs to help them achieve global benchmarks. In 2011, he entered the nascent robotic technology industry and thus began his journey with the revolutionary Milagrow Robots, India's leading Service Robots. 
In this candid and interactive Q&A with Today's Traveller, Karwal shares the milestones of his journey and how life has come full circle with Milagrow Robots establishing a huge demand curve during the touchless Corona era.​​
TT Bureau: Mil Kar Grow – is that where Milagrow came from or is that popular sentiment.
Rajeev Karwal: Milagrow without the word 'w' is a Spanish word and means 'Magic of Faith'. After I had left Onida in 1992, I lived in Spain with my family for almost five years. I learned Spanish very well and picked up this word from there.
We started off as a consulting firm, my elder son said, "why don't you add a 'w' and it will be pronounced 'grow'?" It made sense.
TT Bureau: You took a leap of faith to begin a new inning as an entrepreneur. What did it take, to do it?
Rajeev Karwal: One of the things I always believed in is that whatever you do in life, do it with a sense of ownership – your product, your people – as an employee at the junior-most step or as a senior at the top rung. If you have this approach, everybody appreciates you and you will keep on progressing in life till you reach a particular level, which can be the post of a Managing Director, President or CEO.
My last position was President and CEO at Reliance Digital, India's largest electronics retail chain.
When I started my business, the ownership mentality I followed all my life, was a boon. My first cornerstone was and remains Ethics … something I never compromise upon.
I have learnt during my long years at senior leadership levels, in corporate life that one's aspirations for authority, power or money are infinite. Power and money are orbits without end and an end unto themselves.
I decided to step back. Start something, where one gets that satisfaction. Start something with a value system and ethics, where there is there'll be no conflict between what you say and what you do and what you believe in terms of intent and execution. So, we started off as a consulting company from 2007 till 2011, and it was an energy-high to help small and medium businesses to compete with the best in the world.
In 2011, Milagrow entered the robots business, and it has been an extremely difficult journey because of our value systems. However, it makes me happy to share that we do not have any loan from any bank or any money from outside or any investment from outside. This organization is debt-free. You realise the difficulties of a small company like not being able to afford the best manpower and talent. You are limited to people who are ready to work with you, training becomes critical, building loyalty, aligning them to your value systems all takes up time and energy.​​
TT Bureau: From consumer durables to the revolutionary Milagrow Robots, what was the natural progression to where you are today?
Rajeev Karwal: When I decided to enter the product business, I basically started to scout around because I was very clear that I would not ask for loans or equity or, investment from anyone.
I wanted to identify an industry which will grow for the next hundred years. And even if there were one or two years of slow growth. So be it. You will not lose out much. And I also started to search for an industry where there were no big brands. So, over a period, you grow as the industry grows.
Tomorrow you can be a Tata, you know, with a similar kind of a value system. I finally identified robots. I understood that my resources were limited. So, we did not enter the industrial robotics segment. We entered the service robots or the residential domestic segment.
And when we started to look around and we got down to an initial survey, we found that housework was a key point of discussion amongst housewives. Amongst family members, the top two priorities in a home are house cleaning. Floor cleaning was identified as the ideal place to start.
This verified my whole thought process that why should one human being serve another human being for domestic chores or menial chores? Why should this not be replaced by a robot, right?
Because, by relieving that human being of menial chores, that person has moved up the value chain to do a more rewarding, more skilled job. We developed a humane tech angle to Milagrow.
TT Bureau: What was the thought process behind India's first Floor Robots, Pool Robots, Lawn Robots and Massaging Robots?
Rajeev Karwal: From India's first Floor Robots we progressed and developed window cleaning robots, lawnmowing robots, and pool cleaning robots.
We then looked at the B2B market – the hospitality industry and the facility management sector where housekeeping is a critical component.
It was a good move because we hit it big with both sectors. Our clients included The Oberoi, TATA, ITC, JLL, CBRE, Cushman Wakefield, Sodexo etc.
When the pandemic broke out, the Healthcare sector approached us. The need for robots to clean and provide touchless activities suddenly became acute.
Enquiries of all types began pouring in: Why don't you bring in air duct cleaning robots for air conditioning? Why don't you bring in robotic crawler chassis for security? Why don't you bring in robots, which can manage a reception? How about a robot at the concierge desk? A robot for cleaning swimming pools?
So, from two models we now have a big width and depth in most of the robot categories. So, this is in brief about our journey in terms of product development.
TT Bureau: As the front runners globally to launch live mapping robots, air-purification robots, home safety robots and Alexa enabled robots, what kind of market response did you get to such innovations?
Rajeev Karwal: The market has been responsive. In the early days in 2014, we reached out to early tech adopters. And although our market base was small, 60 per cent of our customers were double or triple owners of Milagrow products as each product was catering to a different need.
I recall, one day, we got a call from Amitabh Bachchan's office and when the demo was completed at his home, he bought products from us and tweeted that he had a demo from a robotic company and "man will make his own alternative and repent"!
Today we have an installed base of more than 100,000 units in the market in the last almost 10 years.
But now with the pandemic, what has happened is that the demand for the floor cleaning robots' market has just gone through the roof. If it were not for the supply chain constraints, in terms of the logistics, the market would have easily grown by 4000 per cent because we have those many inquiries.
But even so, with the enquiries and supplies in the months of April, May and June, we have registered almost a 400% growth over last year. I think it is the pandemic that has acted as a tipping point.
Domestic help during and post-pandemic may not be the most viable option and just like the adoption of the washing machine in Indian homes, it is likely a floor cleaning robot will be a must in every household.
If in 2014, 95% of our customers were in the top five Metro's, now the scope has enlarged and 97% of our customers are spread across 12 top metros. Which tells you that now this revolution has spread to Tier II towns also.
The other interesting development is that we have moved from sales demos at condominiums to independent homes as well. In the last three months, almost 25% of sales are to senior citizens.
TT Bureau: What changes will Robot Technology bring to our lives by 2030?
Rajeev Karwal: Like human beings are the best creation of God, similarly, Robots are the best creation of human beings
Human beings have a body structure, skeleton, muscles, arteries, veins etc. So too in the robot, it is a motor, actuator etc. Like human beings have the hardware, so too robots. If God gave the best software which he created which is the Atma to his best creation, which is the human being; so the best software developed by humans is so AI, machine learning, deep learning, IoT, virtual reality which can only be showcased in man's best creation, which is the robot.
As artificial intelligence, camera technology, battery technology, is also moving forward, you can read or recreate every expression on a human face, so robots can scan and actually replicate any sort of pattern or reproduce every emotion which comes on a human face.
While they can replicate almost the same facial expression as human beings, they cannot feel emotion as empathy is visceral too. For robotic technology to ultimately arrive, the biggest barrier is empathy. Empathy is about imagining what the other person is feeling. Even without the word being spoken. When robots will be able to replicate empathy, that I think will be the last frontier.
Robotic technology is so fascinating that I want to work till the last day of my life. I think it is one of the best things which has happened in my life. Every day one learns something new and that gets me a tremendous amount of satisfaction and happiness.
Read More: Interviews