FAITH has released an India Tourism Vision 2035 with a vision statement, goals and a tangible execution path to begin immediately for the country commemorating the 75th golden year of Indian independence.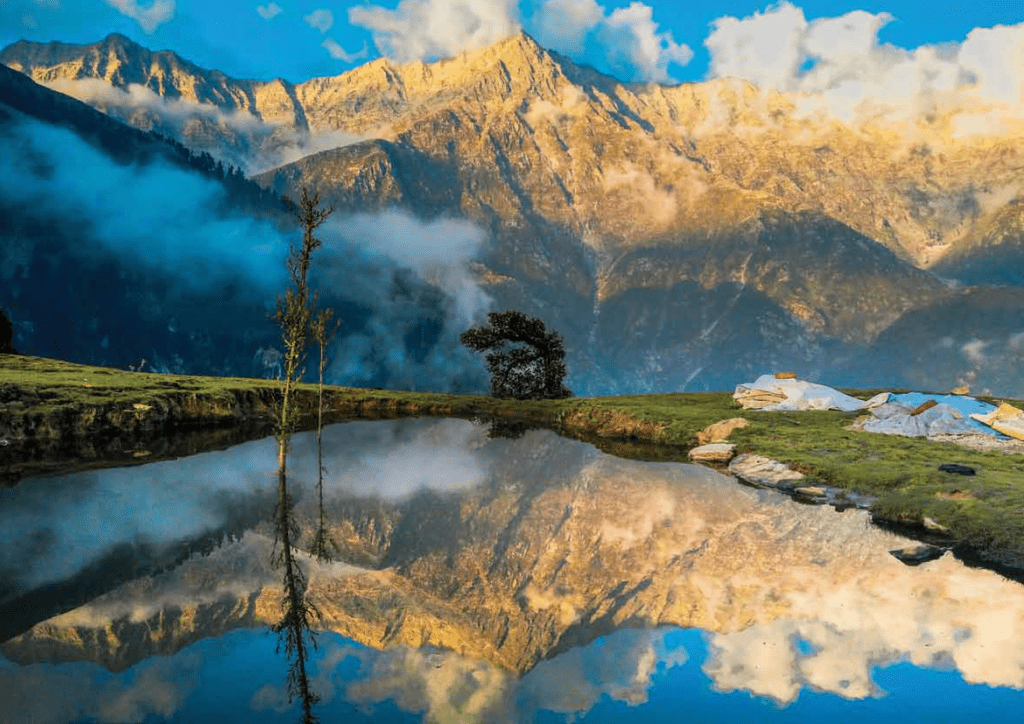 FAITH is the policy federation of all the national associations representing the complete tourism, travel and hospitality industry of India (ADTOI, ATOAI, FHRAI, HAI, IATO, ICPB, IHHA, ITTA, TAAI, TAFI).
Nakul Anand, Chairman FAITH shared the broad highlights of vision 2035 to make Indian Tourism preferred and loved by global & domestic tourists, to create economic and wealth, infrastructure creates opportunities for tourism entrepreneurs & employees & to be a role model sector for sustainable and inclusive growth.
It targets 75 million inbound tourists, $ 150 bn of foreign exchange earnings, 7.5 billion domestic tourism visits, 15 crore direct and indirect jobs from tourism, $ 225 bn from domestic tourism, $ 1.1 tn + + GDP impact direct and indirect 75 mn outbound travellers.
Nakul Anand mentioned that execution of this vision will be achieved by four strategic pillars – shared national approach, market excellence, value accretive regulations and investment drivers.
FAITH's vision statement for Indian tourism:
To make Indian Tourism preferred and loved by global & domestic tourists
To create economic and wealth creation opportunities for tourism, travel & hospitality entrepreneurs for India
To position Tourism rightly as social economic job and infrastructure creator for India.
To become a role model sector for sustainable and inclusive growth.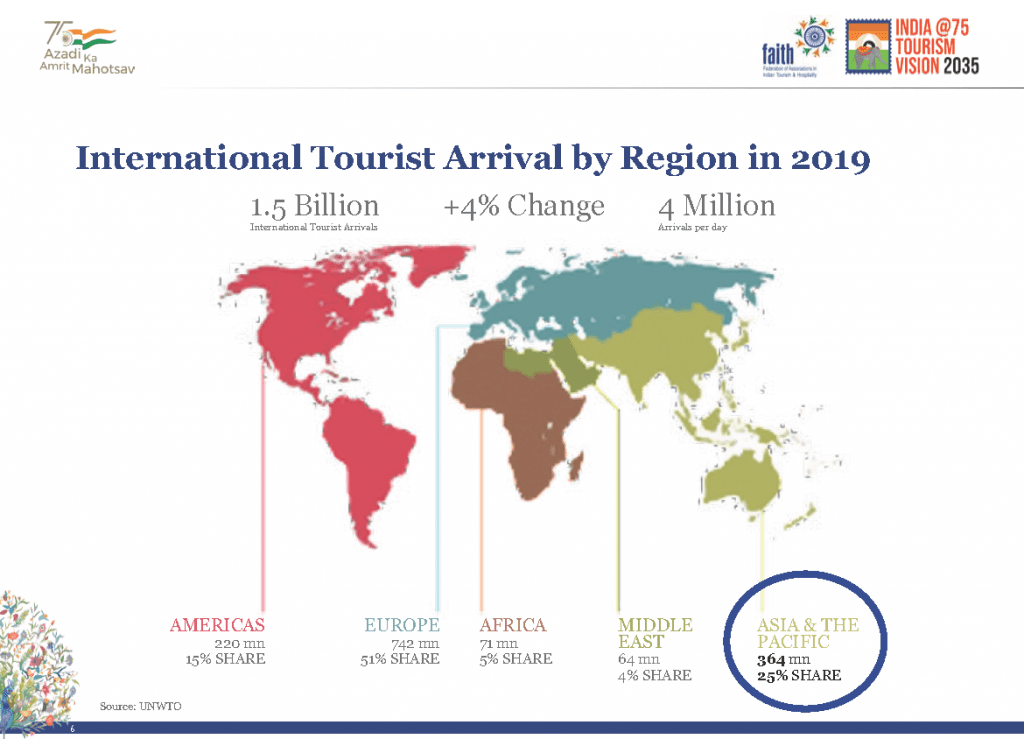 FAITH 2035 vision lays down the following key headline action goals in multiples of 75 referencing all indicators to our 75th golden year of independence.
Target 75 million inbound tourists
Aim for $ 75 bn *2 (ie $ 150 bn of foreign exchange earnings from inbound tourism
Aim for 7.5 billion domestic tourism visits
Target 75 mn * 2 ( i.e. 150 mn or 15 crores) direct and indirect employment from tourism in public and private sector in hotels, travels agencies & tour operations, tourism transportation , food services, destination management & services which are looking after tourists.
Target $ 75 bn *3 ( $ 225 bn ) economic revenue from domestic tourism
Target $ 75 bn capex direct and indirect annually
Target $ 75 bn * 15 ( $ 1.1 tn + + economic impact direct and indirect )
Enable 75 mn outbound travellers from India.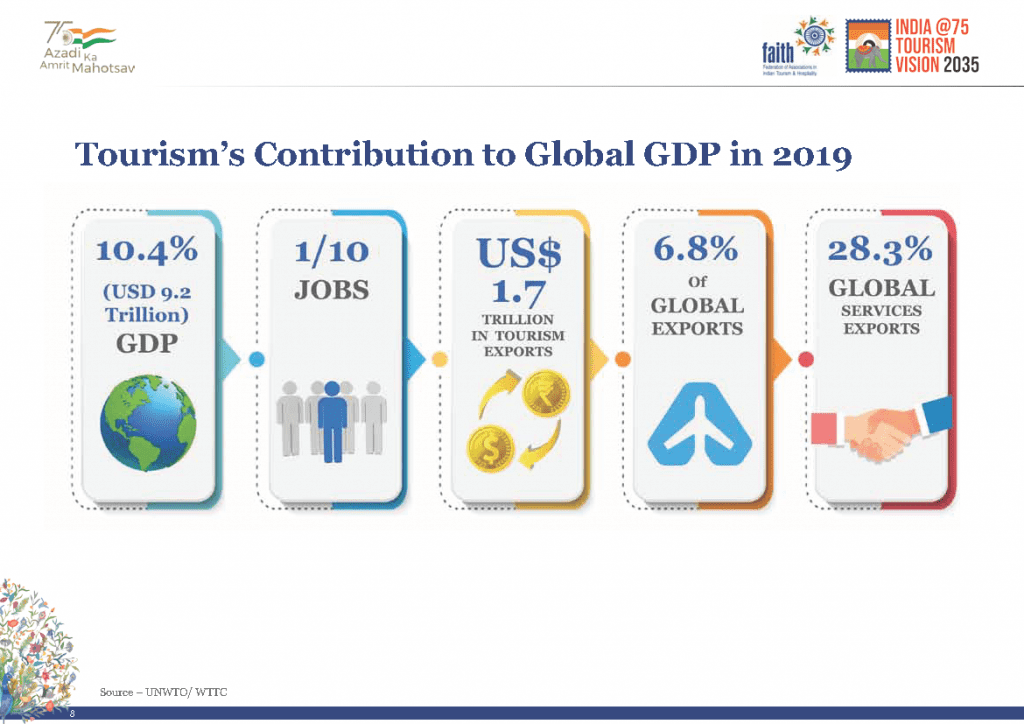 FAITH tourism vision 2035 proposes 4 strategic pillars to achieve the goals
Shared national tourism approach
Value accretive regulations
Investment drivers
Market excellence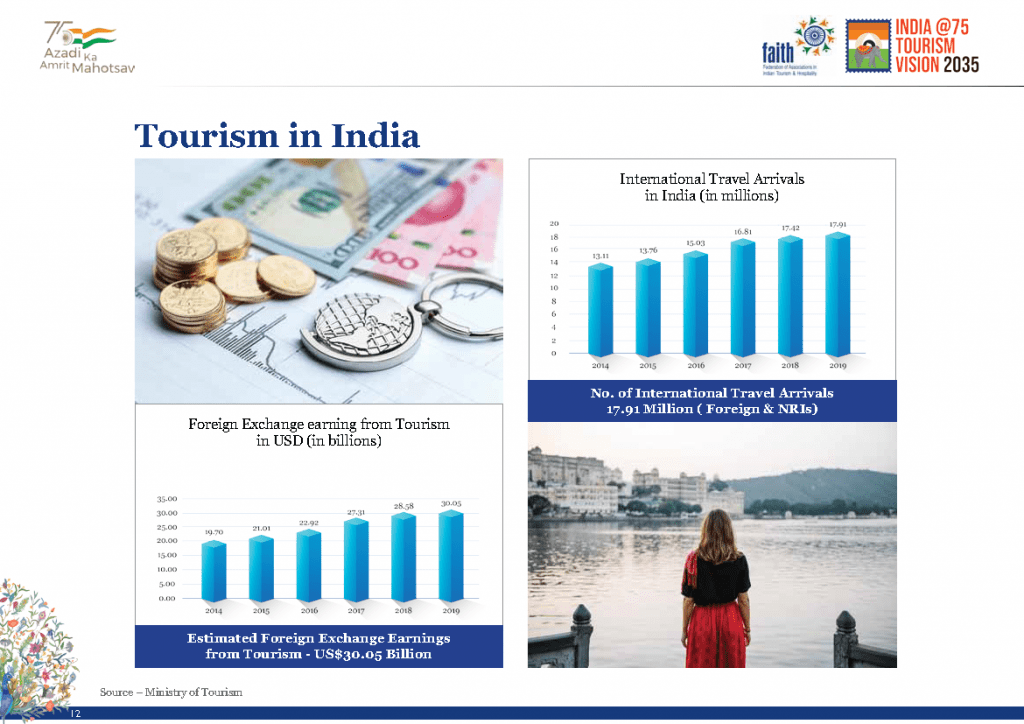 Under each of these strategic pillars FAITH proposes the following actions plans:
Shared Tourism Vision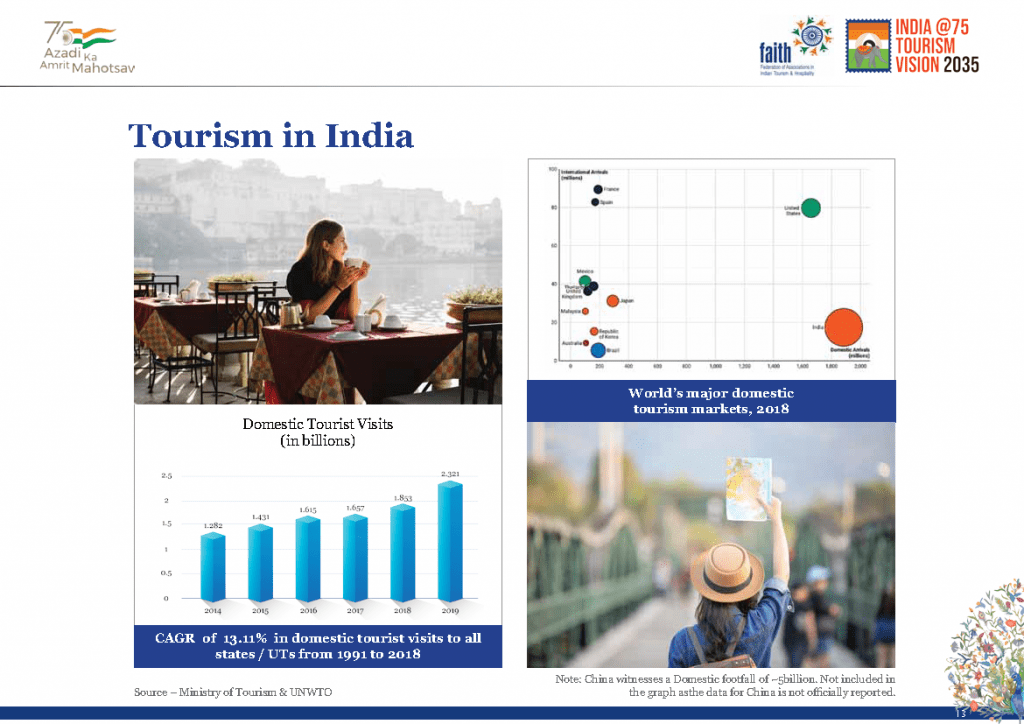 Tourism to be a concurrent subject as a shared execution between centre & state
Tourism Exports be treated at par with other exports & services and such transactions may be zero rated for GST without stopping the flow of input credits
National Tourism Council of PM & CMs
Registered Tourism service provides with single Centre State unique id for quality assurance
All Tourism projects and plans based around Sustainable Design Principles
Value Accretive Regulation
GST rates 10% with full set offs on hotels and restaurants and 1% on travel intermediaries and .1% on ticketing, all GST setoffs on fuel, liquor, construction, tourism transportation fees
Travel credit for domestic travel and MICE
Single window e – clearance for all projects
National seamless Tourist transportation
Single source verified credits based Hospitality and Tourism skilling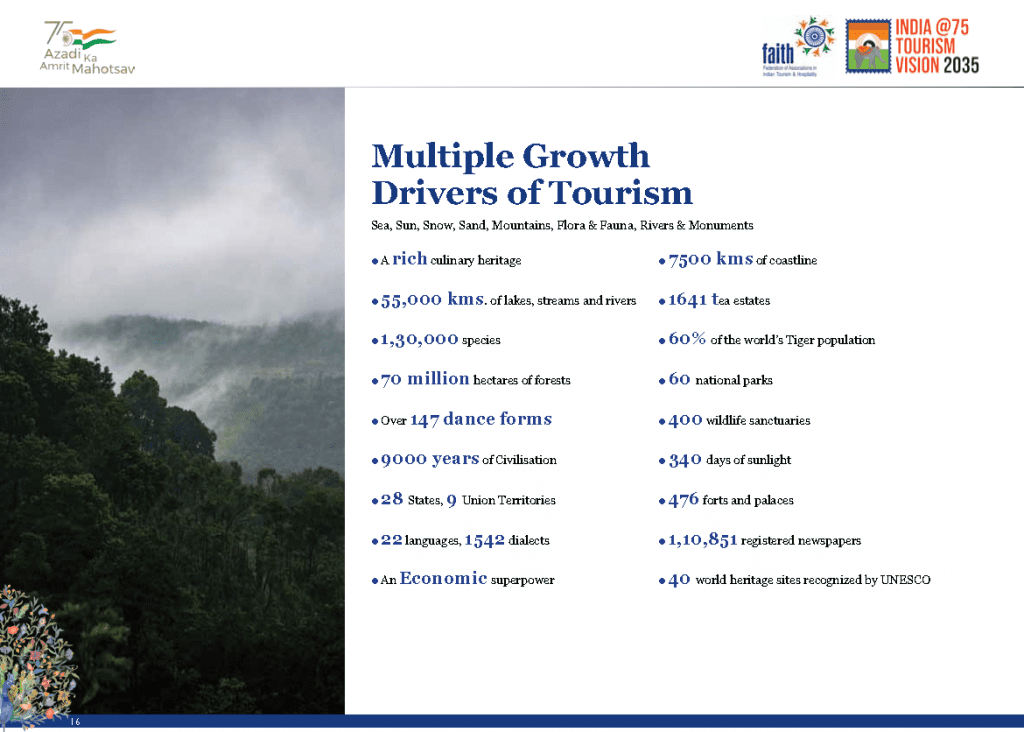 Investment Driver
Set up 200 Centres of Excellence across States through Swadesh Darshan and Prasad schemes each with to 0.1 mn Foreign Tourists and 20 mn Domestic Tourists leading to 20 mn Foreign and 4 bn DTVs
Industrial rates in all States on Utilities
Set up 5 Mega Tourism Zones each with almost 10 mn
Foreign Tourists and 200 mn Domestic Tourism Visits (DTVs) leading to 50 mn Foreign tourists and 1 bn DTVs
Target almost 1 mn new Hospitality rooms on identified land banks
Tourism to be declared a critical socio commercial infrastructure
Create Last Mile Connectivity to all destinations boosting their visitation attractiveness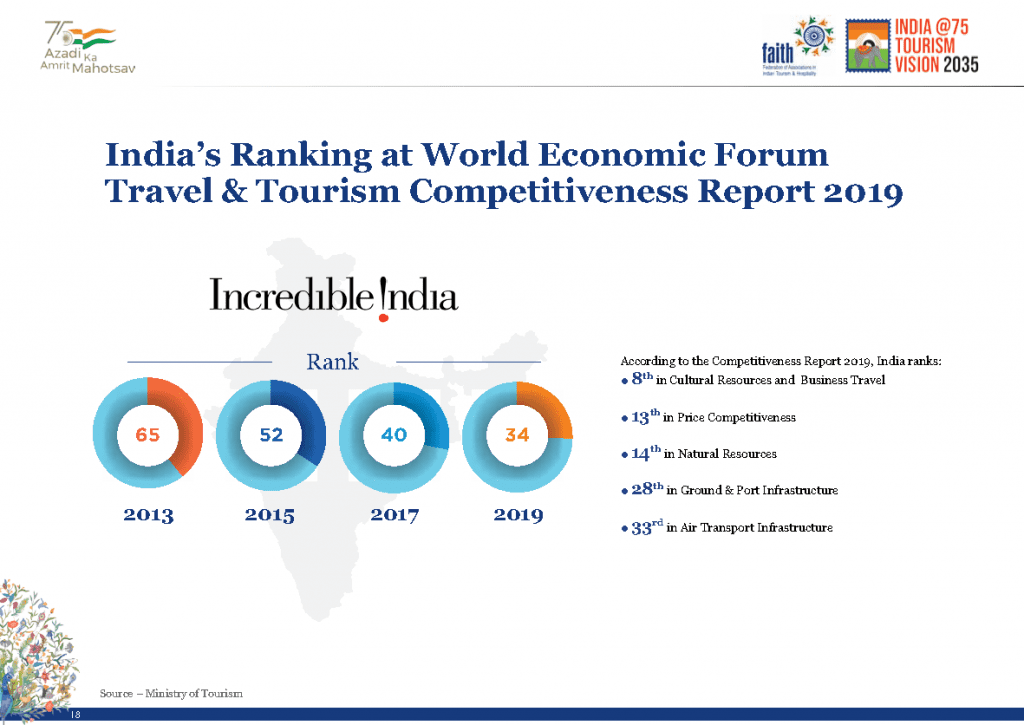 Market Excellence
Tourism segments of excellence creating 10% MICE, 20% Adventure, 30% Heritage, 20% Medical , 10% Niche & 10% Buddhist
Global Tourism Brand Ambassadors in all markets
INR 5000 crores annual average Tourism expenditure by Centre and equivalent by States
Double share of Short Haul international Tourism
Create a 12-month market of Indian Tourism through targeted market positioning of each season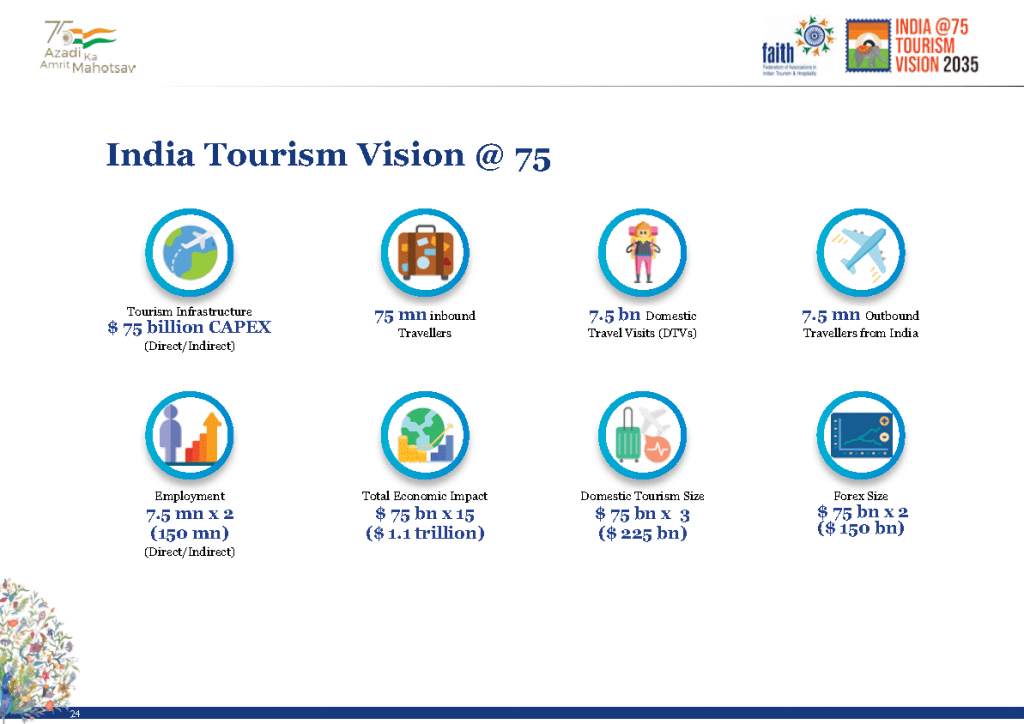 Press statements of member Associations
PP Khanna, President ADTOI ( Domestic Tourism)
Indian domestic tourism is already the second-highest in the world with almost 2.3 billion domestic tourism visits. On a medium to long term basis, there should be steps taken by Indian states in collaboration with one another and with the central government to double Indian domestic tourism higher than China which is around 4 billion domestic tourism visits in the medium term and then to more than triple it in the long term.
The GST on Tour operators should be 1.8% with full set-offs. Currently, it is at 5% that too without setoffs which implies tax on tax and defeats the purpose of GST. We must make income tax exemption available on travelling within India to make domestic tourism part of the mainstream Indian economy. This should ensure that Indian citizens can get income tax credits for up to ₹ 1.5 lakhs when spending with GST registered domestic tour operators, travel agents, hoteliers and transporters anywhere within the country.
For quick recovery in the post – COVID era, this should also incentive Indian corporates to undertake domestic mice (meetings, incentives, conferences & events) and to prevent Indian mice events from going abroad. This needs to be enabled by offering a 200% weighted income tax expense benefit to Indian companies which are undertaking MICE events in India. This will not only fast track revival but will also enable Indian domestic tourism which was at almost 2.3 billion domestic tourism visits to grow three to four times in the medium to long term.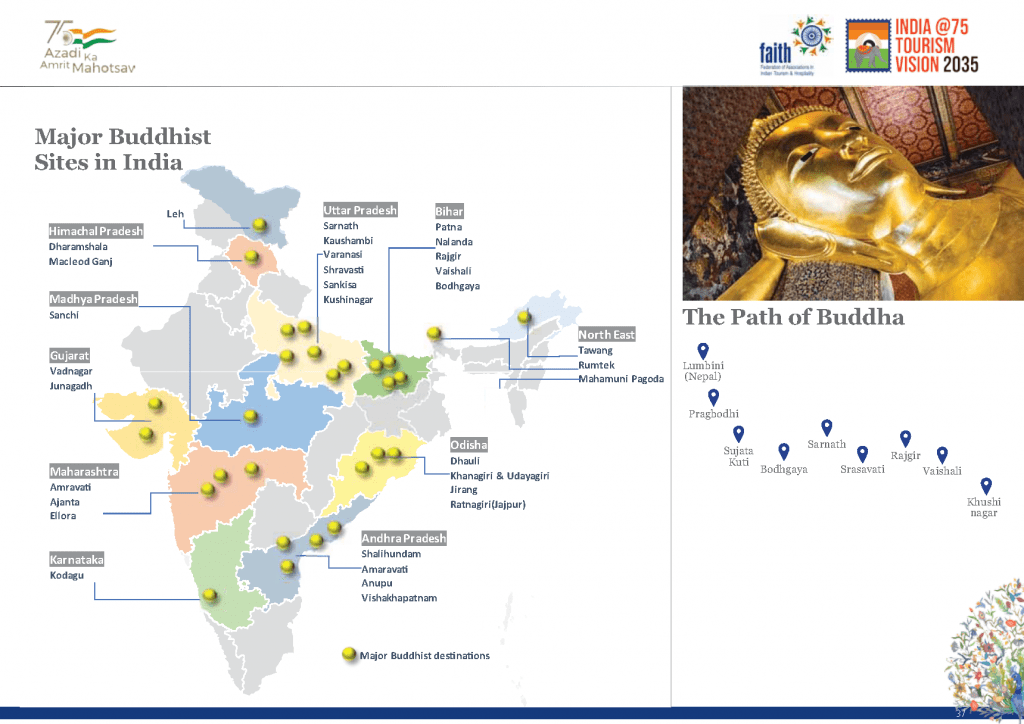 Each of our Indian states and union territories is unique and have the potential to create multiple tourism zones of excellence. We must between centre and state jointly target up to 10 centres of tourism excellence in each state must be set up going up to almost 350 + Tourism centres of excellence in the country. These can leverage the Swadesh & Prasad schemes for effective tourism development.
Tourism is complete only when there is full connectivity. Connectivity in each state between state capitals and tourism centres must be ensured through special high-speed vista trains or Shatabdi or Rajdhani trains or full flight connectivity under udaan from each state capital to the top 10 tourism destinations of each state. High-speed state highways need to be ensured on these networks for bus and car tourist transportation to move freely and fast.
The Government must also offer an immediate one-time grant to domestic tourism travel & hospitality companies whose businesses have been severely affected due to the pandemic to enable them to settle their statutory liabilities, rentals, levies and taxes. This will prevent such affected enterprises from going bankrupt.
There need to be these and more concrete steps both by the centre and the state governments have taken to organise the domestic travel trade industry going forward.
Tejbir Singh – Alternate Board Member to FAITH ATOAI (Adventure Tourism) & Vice-Chairman FAITH
India has one of the most unique natural heritage of the world. We have been rated by World Economic Forum as the 9th most competitive in natural and cultural tourism resources.
Be it our 7500 km of coastline, our Himalayan range with some of the highest peaks in the world, our portfolio of 400 + perennial, seasonal rivers backwaters, part of 14500 km of inland waterways, our 25-30%, forest cover which covers more than 0.1 million sq km of wildlife reserve being inhabited with almost 8% of world mammals, 6% of world's bird & flora life, our world unique mangrove Sundarbans delta and 5% of the country which is covered by our million-year-old, 0.2 million sq km desert area.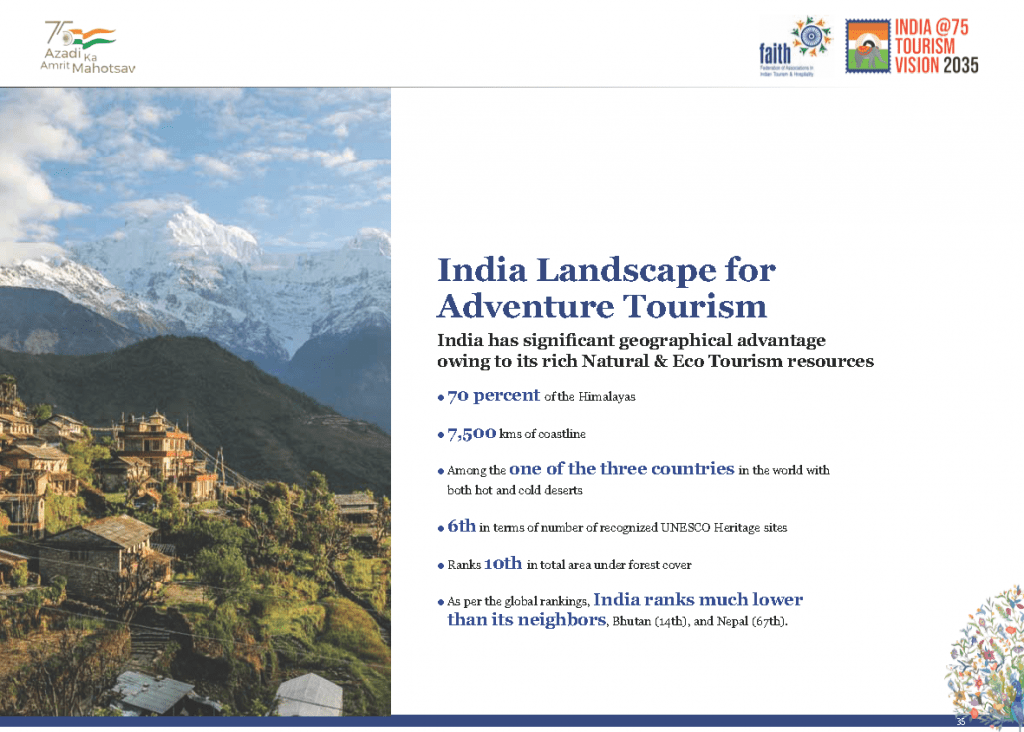 We are a blessed country being only one of the 17 Megadiverse countries of the world. Each state of India has the potential to become a centre of excellence in natural and adventure tourism.
Yet, in the $ 750 bn + world adventure tourism industry which is poised to touch $ 1.5 trillion in the post covid world, India currently has a negligible share. We look forward to working closely with the central & state governments to move towards a vision is to get at a respectable market share of 5-10% in the medium to a long run in the world adventure tourism market which is commensurate with our natural assets.
At the outset, we must have a sustainable and responsible development plan around each vertical of natural heritage tourism be it in Mountaineering, cruising, trekking, wildlife & reserve forests based activities, snorkelling, paragliding, whitewater rafting, conservatories, paragliding, ballooning, desert safaris and so on. These sustainable plans must be based on the carrying capacities of the destinations and framed around sustainable guidelines developed by experts of our association ATOAI & those which have also been recommended by the tourism ministry.
Adventure & Natural Heritage Tourism happens in remote hinterlands. We need to have a robust hub & spoke, all-season, inter-modal connectivity model across air, rail, road or water connecting such destinations across the country. We want to become one of the top ten nations in adventure tourism ranking in the post covid world and must accordingly have to enable policy mechanisms such as search and rescue, satellite phone connectivity, x visa, global insurance recognition and more.
Most adventure tourism activity is based on working with the local population in hinterlands and rural areas and is in the unorganised sector. Currently, all of them are unemployed with no work. We need a robust Social security mechanism effective immediately across the country on the lines of MNREGA for such tourism industry stakeholders.
We need to be rightfully recognised as an export industry either through SEIS like instruments with 10% duty credit in the new foreign trade policy or zero-rating in GST and also 1.8% GST with full setoffs for our tour operators. Not only does India have the potential to become the world capital of both soft adventure and hard adventure but also in the post covid era, our natural heritage-based tourism can be co- bundled with multiple tourism products of meetings & convention, heritage, education & luxury tourism.
Garish Oberoi, Alternate Board Member to FAITH from ( FHRAI) Federation of Hotels & Restaurants Industry of India & Treasurer FAITH
India has an estimated more than 70000 hotels and over 5 lakhs restaurants. Our vision is to make India the hospitality and cuisine capital of the world.
To achieve this and to make India the global ecosystem for entrepreneurship and business models we need an enabling environment from state governments and the central government. Foremost, hotels & restaurants across each state of India need to be declared and treated as an industry. Unlike commercial establishments we don't just retail, we create and produce high-quality service. Power and water utility rates must be at industrial rates effectively.
GST rates for hospitality in India are one of the highest in the world. This makes both domestic and inbound tourism in India expensive. The 18% GST category for hotels above room rates of ₹ 7500 must be abolished and merged with the category of 12% GST. Gradually it should be brought down further below 10% with full set-offs in line with global trends.
Restaurants too have an 18% and also 5% slab but which is without setoffs. The 18% category needs to be abolished and there needs to be an option made available of GST at 12% with full set-offs. Additionally, the needs to be no linkage to room tariffs above ₹ 7500 as it currently exists.
Heat light power costs, liquor excise and also property taxes are all forms of very high-cost input indirect costs on hotels & restaurants. These need to be made available as input costs setoffs for GST to truly make us one country, one tax. These will make our hotels & restaurants truly cost-effective and will stimulate demand.
E- Single window clearance at a national level must be enabled for hotels & restaurants through the hospitality Development Promotion Board and all existing licenses, permits, permissions must be thoroughly examined for redundancies and standardised at a national level. This will bring down the cost of pre-openings and also annual costs of compliance and make us more globally competitive.
Liquor excise policies have to become more pragmatic in states. They have to take cognisance of the number of days the restaurant or the bar is open, they should not have any hikes and they should permit instalment based payments. Any state which has increased the liquor excise fees should roll it back immediately considering the past 23 months state of the industry.
Like in Europe it is also critical to permit our restaurants across all states to utilise their open spaces which is not only covid preventive but also revives demand in a new setting. Today, hospitality covers both conventional and also alternate accommodation such as B&B guest houses, short term rentals and so on. It is thus critical to ensure there is level playing field in terms of compliances and entry requirements among all sub-segments.
India is perhaps the only country in the world where hospitality & accommodation products can be created around diverse segments of tourism be it an adventure, pilgrimage, heritage, mice, forest, cruise, hills accommodation, sports student. It is also widely believed that in India cuisine changes every 300 sq km. That would make India perhaps the most unique country with an estimated 1000 regional & hyper-local cuisines reflecting the diversity of India's geography, history and culture.
We are just about to emerge from the darkest moment for the worst-hit industry hospitality and restaurants and we have been constantly dialoguing with the central and state governments. We earnestly hope that state governments and the Central government will enable a lot of these policies to revive hotels & restaurants to enable us to move towards our vision.
Rajiv Mehra, the President of (IATO) Indian Association of Tour Operators & Honorary Secretary of FAITH
In 2019, pre – covid Indian inbound tourism, recorded 17.8 mn plus international travellers to India. Out of these 6.8 mn plus were Indians visiting their friends and relatives and 10.9 mn + foreign tourist arrivals. In the pre- covid period India had a global share of 1.2% international travel. This is not commensurate with the size and scope India can offer.
In the post – covid period our vision is to double India's share of inbound tourism to 2.5% in the medium term post-normal and then double it again to more than 5% in the medium-long post that. This will rightfully put Indian tourism in the global league where it belongs.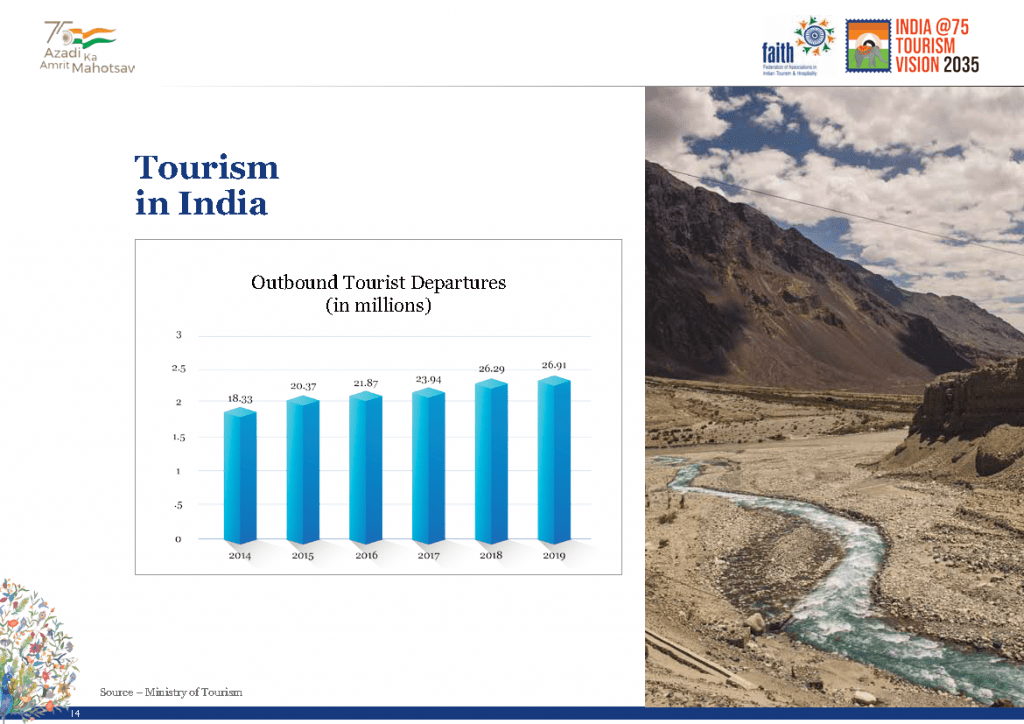 But that journey begins today and today the inbound tourism industry is grasping for survival since 23 months. With all key source markets such as North America and West Europe just showing signs of just emerging from the severe grasp of covid we do not see a full resumption to inbound tourism till October 2023 – 24 and that too is conditional upon no further variants.
To survive till then, the inbound tour operators need to have an operating cash subsidy to pay salaries and operating costs as had been effectively done in other countries. In the new Foreign Trade Policy which is being planned a duty credit similar to the earlier SEIS rate should be made effective at 10% for the next 10 years. The inbound tourism which earns foreign exchange needs to be treated at par with merchandise exports and needs to be zero-rated on GST.
The GST on Tour operators should be 1.8% with full set-offs which is calculated as 18% GST on a 10% margin. Currently at 5% that too without setoffs it effectively comes to 18% on a 38% margin which is penal. This has made Indian travel one of the most expensive globally.
Commercial flights need to resume in full to ensure affordable rate travel. Multiple entry tourist e- visa needs to be effectively issued. The policy of free e- visa should be extended to 2024 till full resumption of inbound tourism happens. On this note, I thank the Govt. of India, MoHFW in particular for revising the Guidelines for International Travellers arriving in India – as they say Well Begun is half done.
My address to you echoes the recommendations of the Parliamentary Committee regarding 2 major facets: Rationalisation of Taxes to make India more competitive as a destination in the formulation of packages by the stakeholders; Marketing India overseas in a more efficient and effective manner
Randhir Vikram Singh, the President of IHHA
Indian Heritage Hotels Association of India represents a unique travel experience in our country i.e. Heritage Hotels which give a new lease of life to buildings like forts, castles, palaces, hunting lodges and traditional Havelis or period buildings.
Each member hotel offers a distinct experience that reaches into the rich culture, history and heritage of India. Membership of this Association signifies that the property has a certain authentic character of the period and the location. The members of this prestigious Association enhance the cultural preservation, traditional crafts, fairs and festivals. Their exceptional basket of activities & experiences preserves and showcases the essence of India!
India has one of the most unique heritage in the world going back more than 10000 years. Our tourism vision for 2035 and beyond in the heritage tourism segment is to target must be minimum of 10 million to 30 million heritage foreign tourists. Our ultimate tourism goal is for India's rank to be number 1 globally in heritage tourism.
To enable these targets the following critical actions must be put in place immediately. We must between centre and state jointly target 3 centres of tourism excellence focused around heritage tourism in each state and must be set up going up almost 100 in the country.
There must be a heritage tourism board that must be set up with the representation of all states and centres in coordination with IHHA to synchronise and standardise heritage tourism policies. Heritage tourism is a highly unique combination of tourism, arts, architecture, history, culture, rural management and hospitality.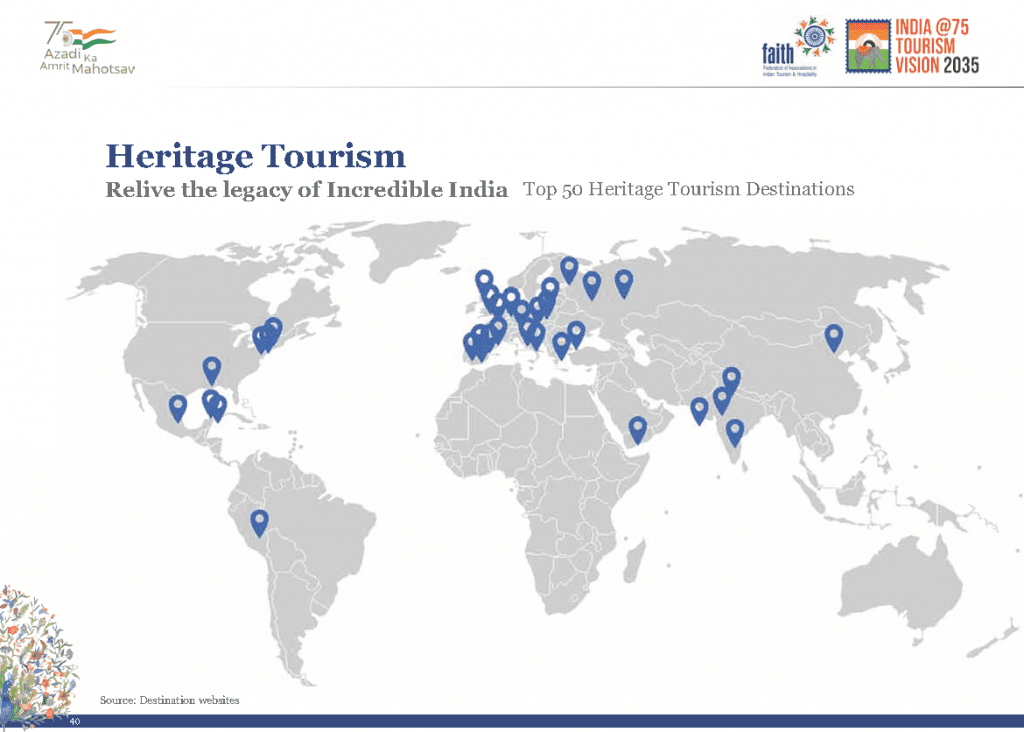 Thus all efforts must be made at both centre and state level to ensure that at least 1 crore skilled tourism travel and hospitality employees in heritage tourism itself have been trained to deliver the goals that we are setting. Heritage Tourism is incomplete without connectivity. Connectivity in each state must be ensured through special high-speed vista trains from each state capital to the top 5 heritage destinations of each state
Public-private participation through our adopted heritage scheme must be fast-tracked across all states and monuments, sites and soft heritage to ensure widespread private participation in heritage tourism. Both income tax incentives and GST concessions must be given to tourism enterprises that restore and revive broken and lost heritage monuments of India. All of these and more will put our heritage tourism in the right place to achieve our vision and our goals.
Amaresh Tiwari, Vice Chairman of India Convention Promotion Bureau
The global mice industry is estimated to be upwards of $ 800 bn and India's share pre covid was estimated to be around 1 %. MICE sector has the strongest direct correlation to the GDP more than any other tourism sector.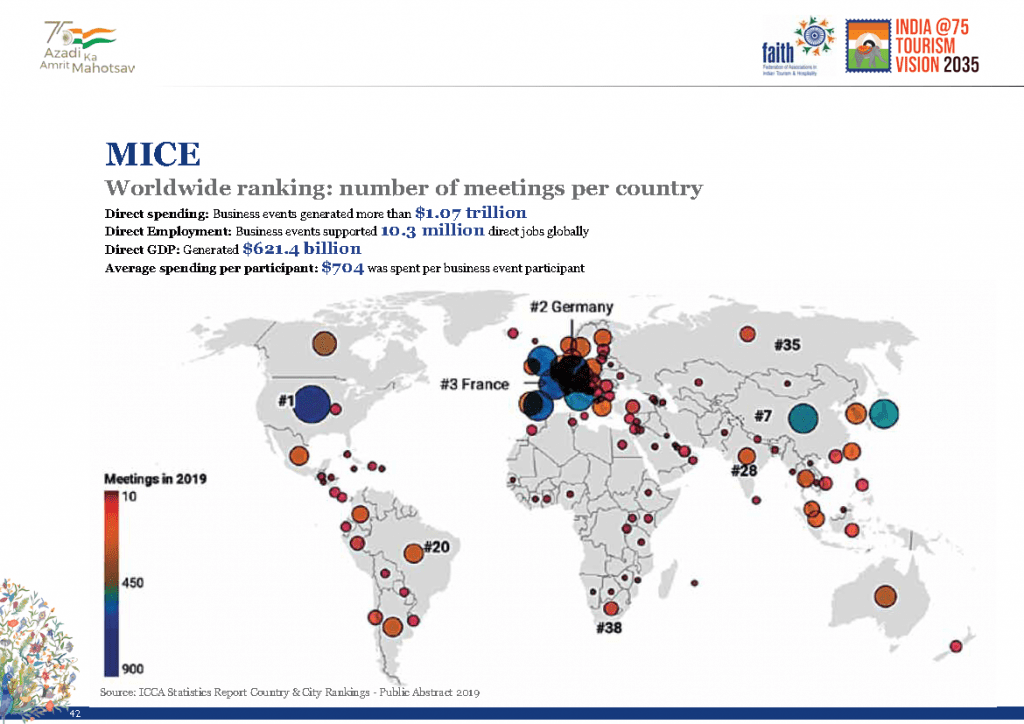 Thus our first objective post covid, in the medium-term would be to double our mice share to 2.5% of the world and then double it over the medium to long term. In the global international congress associations rankings, our goal will be to take India's rank to the top 10 in the world from 28 where we were pre covid.
We will also request central and state governments to aim to benchmark the mice infrastructure of our Indian cities to the top global mice cities. Pre covid we had 1 city in the top 100 ranks. Our goal must be to be having 3 Indian cities in the top 100 in the medium term post covid and 6 – 10 cities in the top 100 in the medium to long term.
We need to recognise MICE tourism as a distinct business segment and based upon our years of recommendation the government has already created a sub-brand to the main brand Incredible India. We must target global congress, conventions and conferences, and social events. We need to create global mice bidding fund with a corpus of ₹ 500 crores to enable our entrepreneurs to undertake techno-economic bids for events that have a bid cycle of 2 years plus.
We need to create city convention bureaus in each of our main cities which will work with ICPB as their hub to carry out a global bidding activity. In the post – Covid era we also need to incentive Indian corporates to undertake domestic mice and to prevent Indian mice events from going abroad. For that, we need to offer a 200% weighted income tax expense benefit to Indian companies which are undertaking mice events in India.
We need to enable IGST for our hotels which will complete the end to end GST chain and companies get Gst setoffs for companies undertaking mice events in states other than their state of registration.
Also, our Gst rates are one of the highest in the world and to revive we should move immediately to a 12% Gst rate for all mice related events with full set-offs and gradually to below 10% in the medium term with full set-offs. Of the Special Tourism Zones being planned by the tourism ministry, we look forward to a mega tourism zone which should be a fully integrated world-class mice city.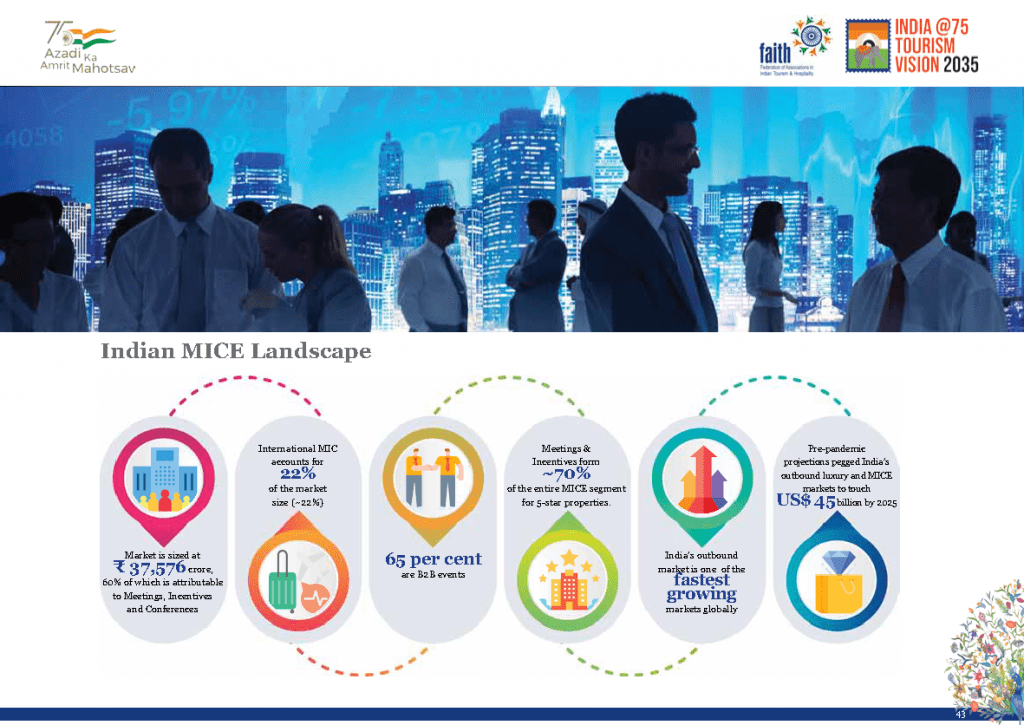 As the virtual mice become the order of the day, we look forward to each state recognising this and supporting both physical & hybrid mice activities on a structured & financial basis. Indian tourism has globally unique cultural phenomena. Between all states collaboratively and centre we must ensure that Indian mice have the unique advantage of being bundled with the natural and cultural assets of India.
Sharat Chandra, Treasurer of Indian Tourist Transportation Association ( ITTA)
Tourist transportation is the backbone of domestic tourism. Globally in all countries stable and uniform policies for tourist transportation have stimulated growth.
We need to become seamless in our tourist transportation procedures as well and so we need to standardise all inter-State road taxes and payable at a single point which will facilitate the ease of doing business. This will also prevent queues for paying tolls taxes at any place in India, whether for NHAI, Private Toll operators or Municipal corporations of any state. The renewal of All India permits, local permits, Fitness for New cars needs to become paperless. As a solution, authorized dealerships of respective manufacturers should be allowed for valid Fitness.
Group transport must be encouraged instead of private cars or taxi movement and all the State Govts need to collectively arrive at solutions for this. They must collectively open up all stage carriage permits for free interstate movements. Along with this, they need to enable special yearly passes for Tourist buses for free interstate movement. To make use of our highways Increase in the speed limit for buses to 90 km per hour on all expressways and National Highways must be enabled from 65 km per hour currently.
Parking is a structural issue which needs to be addressed to handle group travel in all our cities. Multi-level parking for tourist buses in all our cities and key tourist destinations must be made available. As a solution, transport corporation bus depots must be explored to make Multi-Level parking.
We need to have 'one country one GST', it is critical to make available all costs of tourist transport for GST set-offs. These include interstate taxes, tolls & parking charges, On fuel and taxes on parking, all of which exceed almost 40% of our gross cost of operations which are charged to clients and have cascading effect. GST should not be applicable on forex earnings of Tourist Transport. It should also be reduced on purchase of buses from 28% to 18% to encourage group tourism.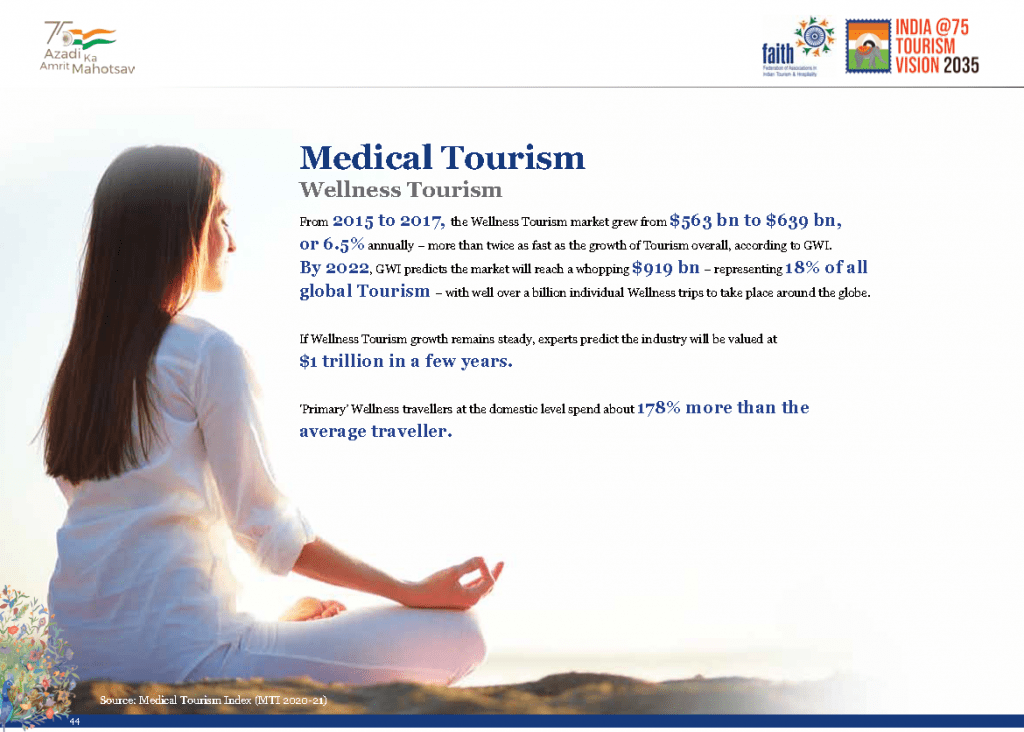 Front line People, our drivers are the most important component of our tourist transportation experience. Full due Respect to the Drivers of Buses and cars must be extended as civil citizens and not treated with a penal mindset by enforcement agencies. Special training classes for chauffeurs to handle high end foreign and domestic tourists must be undertaken to encourage premium travel.
Jyoti Mayal, President of Travel Agents Association of India ( TAAI) and Vice-Chairman, FAITH
The Indian travel industry will undergo a radical change in the post covid era. We see Indian travel & tourism becoming one of the biggest travel opportunities globally over the medium to long term.
Whether it is outbound, domestic or inbound travel or in segments of business travel, leisure travel, weddings travel, conference travel or special activities such as medical or rural tourism travel we look forward to creating multiple opportunities for our travel agents fraternity.
As part of the movement towards the vision, the travel agents fraternity has to face the challenge and address certain issues along with the policymakers.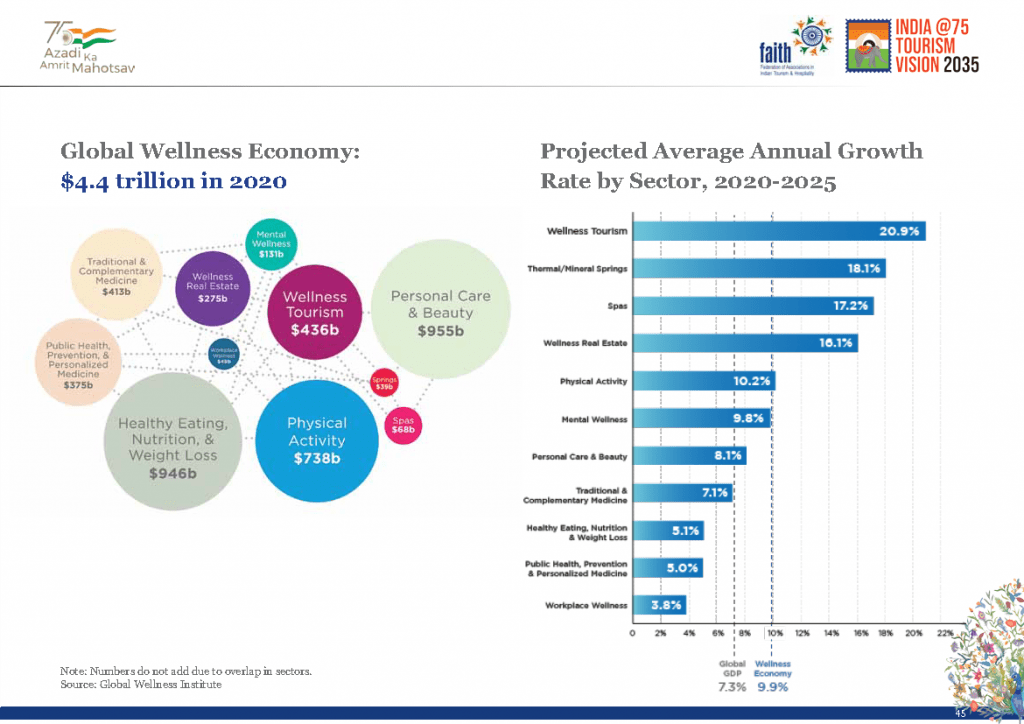 We have to constantly plan to enable our travel agents communities to partner and create combinations of online and offline models. We have to increasingly partner with multiple country tourism boards to collaborate with the Indian travel agents fraternity and expand country opportunities for them.
We have to ensure a significant component of reskilling and upskilling of the travel Agents fraternity. A key requirement is to make Indian travel agents globally competitive. We along with the Government have to ensure that TCS on outbound travel is not levied.
Opening up scheduled commercial flights and moving towards creating a fully functional regional aviation hub will fast track the Indian travel industry. We have tried to survive this pandemic and now we must begin to revive and continue to build trust and confidence to deal with the challenges today in the post covid era as we move towards our vision.
Ajay Prakash, the President of Travel Agents Fraternity of India ( TAFI)
Times are changing, businesses models are changing and they are changing fast. With technology earlier and now because of the pandemic, the travel agents fraternity are under immense pressure. More so In such volatile business scenarios, their payments have also come under pressure.
Our primary vision for our travel agents fraternity is foremost to ensure their security and their protection while making efforts to identify their business expansion possibilities.
No future is safe till our present is safe for our travel agents fraternity. Travel agents payments to principals are unsecured credit and we need to ensure that some form of mechanisms whether escrow or guarantee or underwriting based mechanisms are in place to ensure that travel agents money stays secure.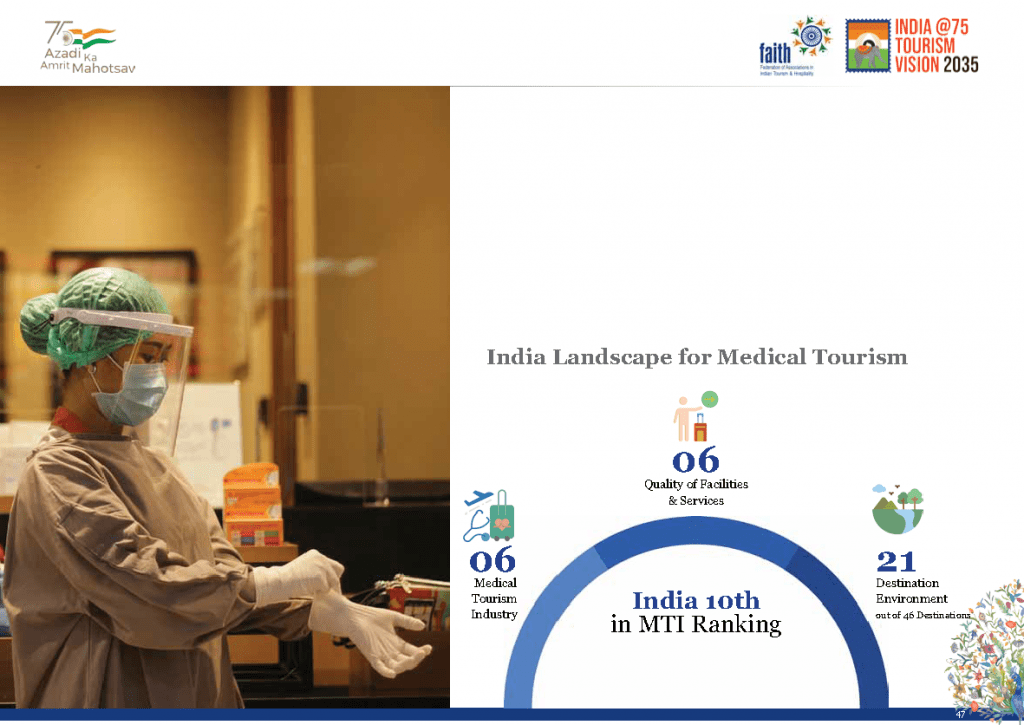 India is going to be one of the biggest source markets for outbound travel. We see this as the largest opportunity for our travel agents fraternity. In 2019, pre- covid 27 million Indians travelled outwards. This has doubled over the past 10 years and Post Covid, we see this doubling in the medium term and then increasing again to almost 75+ Million travellers.
Another key opportunity that we plan to create is increasing the number of countries' opportunities for our travel agents fraternity. Currently, 10 countries account for almost 70% of travel outbound destinations from India and our vision is to expand the basket of countries in the post covid world to create more opportunities for travel and thus more travel booking opportunities.
The applicability of TCS puts our travel agents business models under threat as they make us expensive to book by 5 – 10%. Even though the advance tax is settled at the end of the year during the year, it puts a liquidity concern by blocking money and will also raise the issue of reconciliation.
The two-way commercial flights need to resume in full to ensure affordable rate travel for passengers inbound and outbound. Most important Digitisation of travel has accelerated and for that, we require handholding and business training support for offline travel agents to migrate to new age travel models.
Our national travel websites among governments should also get standardized and must Include a higher component of verified 'Alternate accommodation' options across destinations to enable travel agents to add them to their product inventory.
Finally, our GST regime for travel and tourism needs a completed overhaul and we suggest a special committee to look into all issues of GST rates and credits along with the entire travel and tourism value chain. As a result of the pandemic over the past 22 months, the world has also changed on the parameters of travel commerce. This is now the time to bring a change in the travel ecosystem.
About FAITH: FAITH, Federation of Associations in Indian Tourism & Hospitality, is the National Federation of the 10 National Tourism, Travel and Hospitality organisations of India. These associations are ADTOI, ATOAI, FHRAI, HAI, IATO, ICPB, IHHA, ITTA, TAAI & TAFI.
FAITH, on behalf of the whole tourism industry, engages in key policy and strategy ideation with Central and State Governments of India for the growth of the Indian tourism industry.
Read More: News