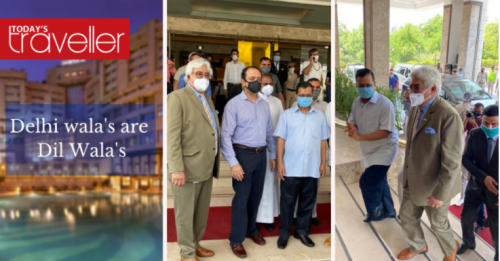 Turning Hotels into hospital facilities was introduced by China to cope with COVID 19. Today it has become a norm to utilize the bed strength of hotels by governments struggling to find beds for the sick. How distinct is India's experience in this matter?  Greesh Bindra, Vice President – Operations, The Suryaa, New Delhi gives you an inside look into what went into this difficult transformation.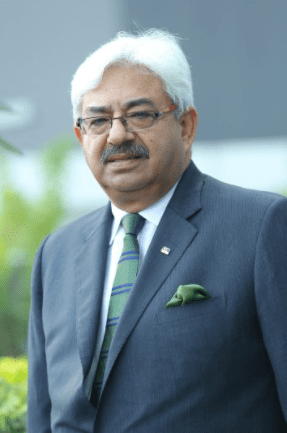 TT Bureau: As an upscale hotel in a high-end locality in South Delhi, what kind of strategic rethinking took place when you were told that your hotel would be a hospital facility?
Greesh Bindra: Suddenly one fine morning, one wakes up and we read in the newspaper, that these five hotels in Delhi are going to be converted into hospitals. So obviously the first reaction is: A COVID Hospital…what next? I mean, how do we handle this? And, so then we started thinking about how to tackle this situation.
I had a meeting with Love Malhotra, the Managing Director of the hotel, and we did some brainstorming and obviously it wasn't the best thing to happen to us because at that stage, one, what one thought was of the repercussion after we had to convert back from a hospital, I mean, what is going to be the tone and response in the market? What is going to be the mood of the guests? Whether you ever get anyone back, what is it going to be? what will be the state of the restaurants?
Because all the protocols now being demanded were absolutely new to us. No one had ever spoken to us about it. And then we came to the conclusion that, okay, this is the need of the hour in the city. So be it. The Delhi government needs us. So then we took a step forward and see how we can do justice to this and serve our city.
TT Bureau: Is it correct to think that 'Hotels have the same structure and personnel numbers to transform into a hospital facility.'
Greesh Bindra: In terms of the structure — a hotel and a hospital are totally different because the hospital always has far more people because they have nurses and they have doctors working around the clock. And the second thing is that hospitals have far more rooms and far more beds available. An average hotel in Delhi would have about 200 rooms. So, obviously we split our staff, there's backend staff and there's a front of the house staff. And, it all depends on the occupancies. So there is no comparison in numbers to what a hotel would have against a hospital facility.
Certain departments are somewhat similar: a hospital has housekeeping, production, service (but the standard of service is not the same) security and finance. However, in hotels, the finance department is more back of the house, while in hospitals it hits you in your face because they take everything in advance and they will not allow patients to leave the hospital till you pay up.
So, really, while the structure may be somewhat similar, there's no comparison in terms of the actual operation of a hotel.
TT Bureau: How did you handle the staff fear of the risk of infection and health scare?
Greesh Bindra: I think that was my biggest concern right through was the seniority of the staff. Because our hotel being almost 40 years or so, I have almost 47% of staff in my hotel who are over 50 years old so that itself is a challenge. On the flip side, there are challenges too with the younger staff working in the hotel — he is married, has young kids at home, some of them have old parents at home. So all around, it was a very big challenge.
And the worst was that when we were nominated as a quarantine hotel, the staff were scared. Then we spoke to them and said that this is for the city and for the country, and this is what we are doing to be of service.
So I could convince them. At the same time. I think the fears are still very much there, but then I told them that what I'm going to do is I would organize a Training program with the Holy Family hospital who is affiliated to us. So I got the quality manager as well as the head nurse. And they came and gave us a full training session where I had over 95 of my employees. All my head of departments were there. I wanted this scare to get out of their system and I wanted the commitment to come from within.
At the same time, I also gave them an assurance that in case any staff member of the hotel got COVID, the Holy Family hospital would take care of them. I put it on the notice board and I ended the day.
I kept telling them that this culture has to develop. Because this is not something that's going to die out tomorrow. This is the new normal. So we need to develop this culture to be responsible for ourselves. I think even the guests-we need to educate them. We have to develop this culture not only at work but communicate the same when you go back home, to your friends and to your family.
So you have to ensure that this culture is understood and absorbed because it keeps everyone safe. And then finally we understood that this training had made a lot of sense to them and I started getting volunteers and now I have almost 50% of my staff who is ready to do work as soon as required.
TT Bureau: Are there sufficient financial returns for the government's decision to utilize near-empty hotels?
Greesh Bindra: In terms of the financial returns, the government has laid down rates for all the categories of hotels and as a five star, the rates that I've been allocated is Rs 5,000, which obviously include all three meal and the rest of the facilities that a hotel runs.
So, you know, there's laundry and of course, there's Housekeeping and there's my F&B. And then the air conditioners, air purifiers, technology and so on. But we understood what was at stake did not make too much of a fuss on that because the purpose was to help Delhites. And I think it is fair enough because being a Delhi hotel, I thought "Delhi wala's are Dil Wala's" so we took that smiling.
Our regular rates inclusive, all are about Rs 7,000 to 8,000 plus taxes but for a cause like this, it is okay.
And obviously, now the only issue in terms of finances is that as long as you get the patients, you have a revenue stream. Now all the hotels are ready, but I think what is happening is that there are not enough patients who want to come to hotels because, for starters, all the care centres, (that means all the hotels that have been attached to hospitals) are for only for asymptomatic patients and for patients who are on the recovery mode and for the last three or four days of their recovery.
As per regulations, the first 10 days of infection, they are in hospital. As they get better and in the last three or, four days they are supposed to be moved into a hotel. And so when I talk to Holy Family Hospital or Apollo Hospital, or some of the other hospitals, every hospital has available beds.
So, currently, we don't have a single patient as of now in the hotel. I'm not talking only for my self, I am talking about other hotels in the city which are similarly nominated as 'Care Centres'.
So I think that is a little bit of a challenge because obviously we have all the staff ready. Some of them had gone back to their home towns. We've got them back on duty, to the city for this because, initially we were told there was a requirement for 200 beds and, so I in order to cater for all those patients I had to get over 150 – 175 staff back because a hospital needs staff around the clock. So that is the situation in terms of funds.
TT Bureau: What kind of challenges did you face at the start and how are you coping today?
Greesh Bindra: The biggest challenge was converting the hotel from "extended hospital" to "extended guest centre". Hotels are not equipped to be hospitals. For example, elevators cannot take stretchers in them. Unlike hospitals where they have ramps, so stretchers can be rolled down, my hotel only has steps. I also have only one entrance into the hotel coming into the lobby. We had to make changes to ensure that these and more challenges were met.
A very big challenge for us, especially in hospitality is Bio-Medical Waste. You can't just dump it. Whoever is taking it down, needs to be in a PPE suit. It has to be stored in a different place. It cannot be stored with the rest of the waste of the hotel, because it's very contagious and very infectious.
And your regular vendor who comes in collect your waste from the hotel, cannot collect it because there are specialized vendors for this, which are normally attached to hospitals.
TT Bureau: Can you trace the journey step by step so that it will be a case study for other hotels following in your footsteps?
Greesh Bindra: The journey step by step, initially, was quite a challenge because you can imagine the minute it came out in the press that these five hotels are to be COVID hotels, the word really spread. And I started getting calls from half the General Managers of the city, calls and messages from our overseas clients. And that, of course, was when we were in court and we were trying to sort this out.
So we make it made a representation to the court. And then finally, it was announced that instead of a 'COVID hospital extension', it would be a 'COVID care centre', which made things much easier because care centre is for asymptomatic patients and for patients who have the last three or four days left in a hospital.
So that made things simpler, though it still wasn't very easy for us.
Things got a little better because now they have done the same with 30 hotels in the city. I think 80% of those hotels are still vacant. I still get called from a lot of General Managers in the city. People are not even clear with what work orders they have. So I was guiding them on that and I shouldn't stop here because let me tell you, it's not only with hotels, I've been getting calls from hospitals asking the same thing.
TT Bureau: What kind of leadership skills is demanded of you during this crisis and how do you keep up the employee morale during these tough times?
Greesh Bindra: Leadership skills are a hundred per cent required here because the situation is not the best. And, of course, your staff, your colleagues, that work for you are most important for any organization. And if they're not happy and they don't have a smile on their face, and if they're not doing things willingly, there can never be a hundred per cent commitment.
So to get them to that level, you have to ensure that you have to give them, answers to every question that they have. And you also have to fulfil and ensure that each one is safe and they follow instructions. For example, I've made it quite clear to the Holy Family Hospital that none of my boys are going to go into the room.
They will bring the food to the corridor, and then the nurses on the floor will have to pass it on to the guests and whether it is housekeeping or it is food and beverage service, none of them will enter the corridor. So this understanding we had, and this is the way I explained it to them.
And even while they're doing that, they have to be in PPE sets. And that means each colleague of ours, who is on the floor is in a PPE set for six to seven hours. And there are certain restrictions which are done in a hospital. While you're in that set, you can't drink water. You can't go to the loo. There are certain challenges with that. So this was my biggest problem.
And of course, you have to boost the morale and you have to lead by example and that's the only way you can move forward in this.
So we are looking forward now to see what happens in the future.
Read More: interviews