Wondering about the best golf courses in India? Here are the ones we recommend playing a round at if you happen to be in the country.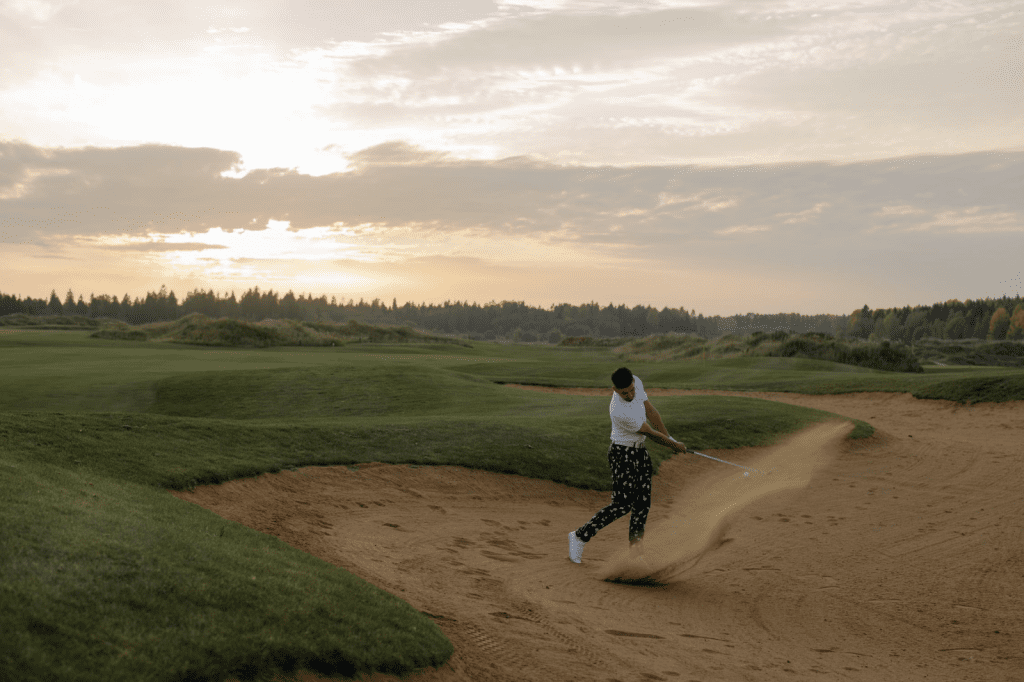 Golf probably isn't the first thing that comes to mind when you think of India. If you've recently moved to the country, you're probably more familiar with its cuisine, tea, its unique culture, and its beautiful temples.
But if you're a golfer, you'll be pleased to know that there are many beautiful golf courses in India! Over 200, in fact, and the majority of them are open to the public.
So if you're new to the country and looking for somewhere to play a quick round or trying to find a new home club… here's our expat's guide to the best golf courses in India.
We always recommend playing at a few different clubs before you choose which one you want to settle down at. Each of these is worth traveling for, so we suggest hitting them all before you select which one to join!
Prestige Golfshire Club, Bengaluru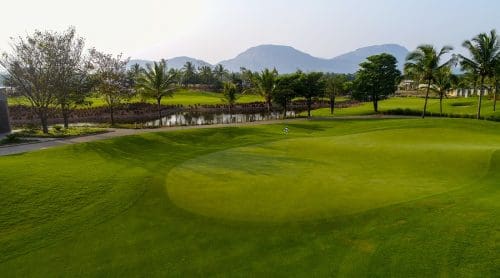 A championship course stretching to about 7,000 yards, the Prestige Golfshire Club's name says it all. Managed by Troon Golf, it's situated in the Silicon Valley of India, near the local airport, and with beautiful views of Nando Hills.
Laid out as two returning nines, the fairways meander through some light residential property and multiple lakes, which adds some interest to the otherwise flat terrain. While there's very little elevation change, the greens are curvy and fast, some of which are also two-tiered.
Add to that some tropical trees and large sand traps, and there's plenty of challenge on this course for both beginners and experienced golfers.
You'll also find a clubhouse, restaurants, a spa, a creche, and other sporting facilities like squash courts and a swimming pool. It's got some great golf, but it's also an excellent place for a family outing.
On the other hand, if you want to get away for a bit, they offer stay-and-play packages, where you can stay in a luxury villa and enjoy everything the course has to offer.
DLF Golf & Country Club, Gurgaon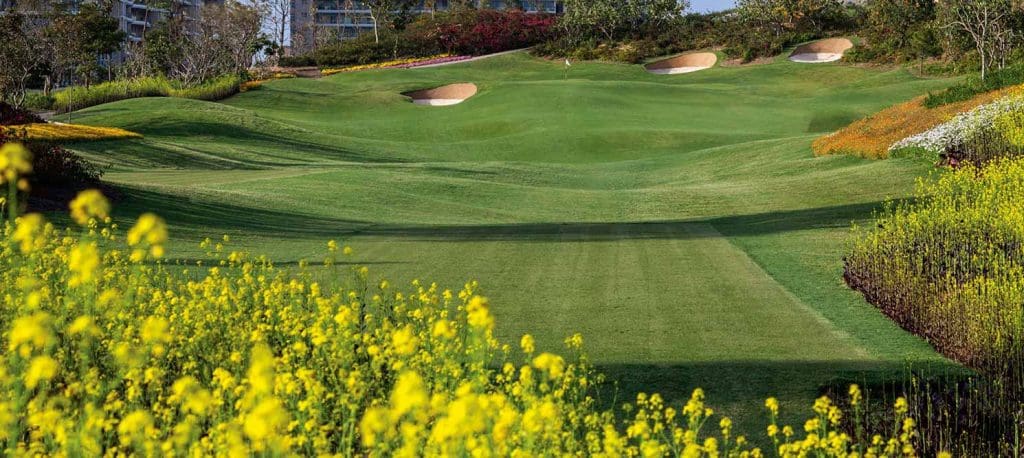 Located in a residential complex, this golf club offers an exciting round of golf. Featuring two 9-hole courses, the Arnold Palmer and the Gary Player course, it's a rollercoaster of drama from start to finish!
Tricky, uneven fairways, deep bunkers, and sloping greens can frustrate even the best of golfers. There's even an island green, although water isn't a huge feature. This course features exciting elevation changes, so be prepared for a challenge no matter your skill level.
One of the most interesting things about this club is that it offers night golf, the first club in the country to do so. The Arnold Palmer course is kitted out with floodlights, so this is an experience you must try if you're a golfing fan.
The Royal Calcutta Golf Club, Kolkata

Known simply as "The Royal", this golf club is the oldest golf club that's not in Britain! Founded in 1829, the course is loaded with history. Designed on rice paddy fields, the course is unsurprisingly undulating and also features a number of natural water hazards and beautiful trees to create a stunning environment.
Don't be deceived by the wide-open look of the fairways. The greens are strategically protected by trees, adding an element of challenge that requires concentration and precision to master.
A good mix of long holes and short, tricky ones keeps you guessing throughout your round. It's an oasis in the hustle and bustle of Calcutta!
The Bombay Presidency Golf Club, Bombay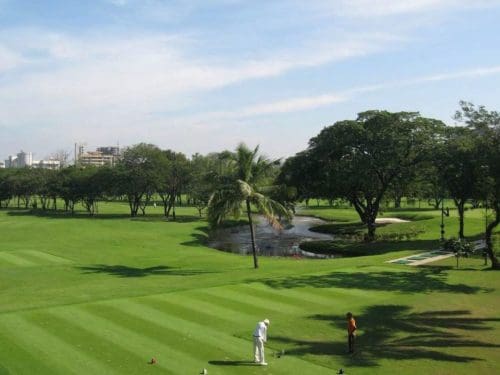 The Bombay Presidency Golf Club is prestigious and offers limited access to visitors, but it's absolutely worth the play. Founded in 1927, it's a well-established club that's designed in an old-school manner, featuring tight, tree-lined fairways and a nice sprinkling of bunkers and water hazards.
Caddies are compulsory here, which is very helpful for those playing the course for the first time. The course is not an easy one, so their knowledge is invaluable—make use of them! If you have some time before you go, check out their website, where they offer pro tips on every hole for getting the best score.
The club is busy on weekends, so if you can get there on a weekday, you'll have a better experience. Enjoy a meal and some relaxation at the clubhouse after your round!
Royal Spring Golf Course, Srinagar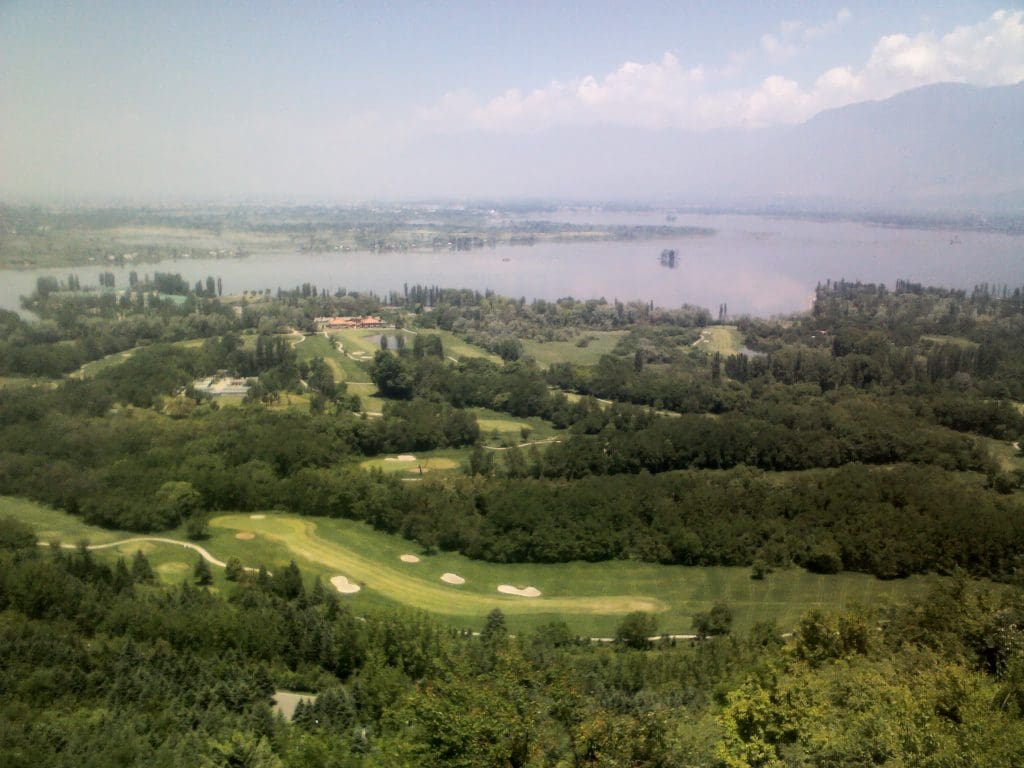 Located in the northernmost state of India, Royal Springs Golf Course is one of the most picturesque you can find in the country. You'll find expansive views of the Zabarwan Mountains, but don't let them distract you… The course is pretty challenging!
Reaching slightly over 7,000 yards, it's the only Robert Trent Jones Jr course in the country. Routed through a wooded area filled with imported cork trees, scattered bunkers, and well-placed water hazards, you won't find this course simple.
If you miss the fairway, the rough will swallow your ball. But there are a few advantages—the thinner air makes you feel like you can drive further than ever before, and the weather in this part of India is somewhat cooler than in other places. Also, keep an eye out for birdlife throughout the golf course.
Top favourites
With around 231 golf courses in the country, it's difficult to pick the best golf courses in India. But these five are some of our top favorites, all of them being excellent plays and a little slice of green, open, quiet heaven in a country that's always busy!
Golfers, we highly recommend spending some time on each one of these (and others, if you don't fall in love with one of these and join it!). If you've moved to India recently, there's no shortage of courses to enjoy… And with most of them open to the public, you can play them all until you find the one that really speaks to you.
Don't forget to enjoy all the rest that the country has to offer! India is a bustling, magical place and there are a ton of interesting experiences to be had. The good news is that golf is one of those things.
(About the Author: Jordan Fuller is a retired golfer and businessman. When he's not on the course working on his own game or mentoring young golfers, he writes in-depth articles for his website, Golf Influence)
Read more: Latest