Hyatt announced plans for the first Hyatt-branded hotel in the historic city of Aurangabad – Hyatt Place Aurangabad Airport.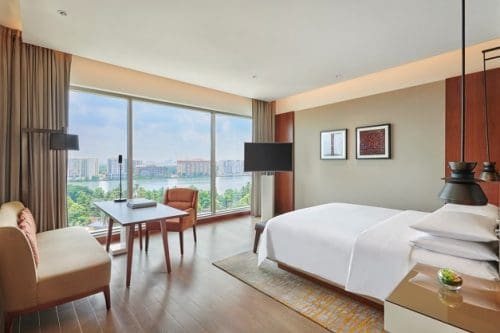 The 157-room Hyatt Place Aurangabad Airport represents continued expansion of the Hyatt Place brand in India and is set to be the sixth Hyatt-branded property in the state of Maharashtra.
Expected to open in 2023, Hyatt Place Aurangabad Airport will feature the Hyatt Place brand's intuitive design, casual atmosphere and elevated amenities, such as free Wi-Fi and 24-hour food offerings.
Located near the Aurangabad Airport in the Chikalthana industrial area, Hyatt Place Aurangabad Airport will provide guests with an approachable stay experience and the ability to easily access the city center and the Shendra & DMIC industrial area, which is currently being developed.
As Aurangabad continues to experience an influx of leisure travelers looking to explore local heritage sites, the hotel's smartly designed social spaces and guestrooms with dedicated work and sleep areas will cater to business and leisure travelers alike.
In addition to 157 spacious guestrooms, Hyatt Place Aurangabad Airport will include a restaurant & Bar, grab-and-go meal service, fitness center and swimming pool for guests to relax and unwind.
 "As we continue to prioritize intentional growth and expand Hyatt's brand footprint in locations that matter most to our guests, World of Hyatt members and customers, we look forward to introducing the first Hyatt-branded hotel to Aurangabad," said Dhruva Rathore, Vice President Real Estate and Development, India at Hyatt.
He added,"The development of Hyatt Place Aurangabad Airport captures the strength of the select service model and travelers' interest in accommodations that offer comfortable and seamless experiences."
In addition to being the first Hyatt-branded hotel in Aurangabad, Hyatt Place Aurangabad Airport will be the sixth Hyatt Place hotel in India, joining Hyatt Place Pune Hinjewadi, Hyatt Place Hampi, Hyatt Place Gurgaon Udyog Vihar, Hyatt Place Hyderabad Banjara Hills and Hyatt Place Rameswaram.
Read More: Hotels & Resorts