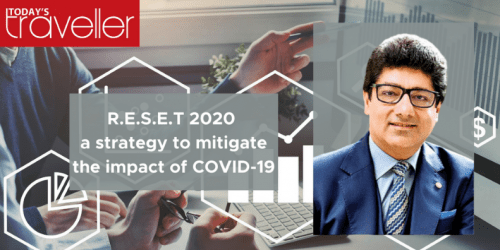 ​​
The Indian Hotels Company Limited (IHCL), South Asia's largest hospitality company, reported its Consolidated and Standalone financials for the first quarter ending June 30th, 2020.
KEY CONSOLIDATED FINANCIAL RESULTS FOR THE QUARTER ENDED JUNE 30th, 2020
Commenting on the performance, Puneet Chhatwal, Managing Director and Chief Executive Officer, IHCL, said, "The global travel and tourism industry was at a virtual standstill in the last three months, which had a big impact on the hospitality sector. While over 50% of IHCL hotels were closed for the most part of Q1 due to government lockdowns, we implemented R.E.S.E.T 2020, a strategy to mitigate the impact of COVID-19; and several revenue enhancement and spend optimization measures initiated have started yielding results. We remain confident, given the strength and power of our brand and our market leadership, that we will weather this disruption and emerge stronger."
R.E.S.E.T 2020, a comprehensive five-point strategy, provides a transformative framework to help the Company overcome the COVID-19 related challenges and achieve revenue growth while optimizing expenditure and strengthening the balance sheet and at the same time, continuing on its path of excellence.
Revenue Growth – Implemented a host of new revenue generation initiatives such as Hospitality@Home, Qmin and rolled out various campaign offers like 4D – Dream, Drive, Discover and Delight, Urban Getaways and Bizcation to stimulate and capture domestic demand
Excellence – Enhanced SOP's under Tajness – A Commitment Restrengthened and I-ZEST: IHCL's Zero-Touch Service Transformation, which ensures heightened safety for guests and employees through a host of digital and service interventions
Spend Optimization – Leveraged opportunities across all cost heads to rationalize resources and optimize expenditure
Effective Asset Management – Continuing to undertake renegotiation of contracts and lease rentals, while monetizing assets
Thrift and Financial Prudence – Taking necessary steps to ensure adequate cash flows while reducing the corporate overheads of the company.
Giridhar Sanjeevi, Executive Vice President and Chief Financial Officer, IHCL, said, "We have taken substantial steps to preserve liquidity. In addition, we are rationalizing all costs and maintaining the highest financial prudence. This will assist us in managing the evolving situation."
Read More: News