Today's Traveller teams up with the Institute of Hotel Management, Aurangabad (IHM Aurangabad) in a dynamic and progressive initiative – #HospitalityFirst – that will bring incisive reports and data-based analysis to the current situation and solutions for the Hospitality industry for its long term health and sustainability.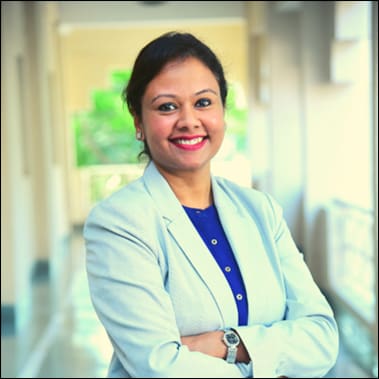 In this article, Smita Parmar, Assistant Professor: Digital & Marketing Communications at Institute of Hotel Management, Aurangabad (IHM Aurangabad) shares insights on the new industry dynamics and how the pandemic has provided an opportunity to recondition our minds to realise the potential of digital platforms and value their effectiveness in all spheres in the long term.
Today's Traveller: Did digital workplace actually benefit work associates?
Smita Parmar – IHM Aurangabad: Life in the post-Covid-19 era has been a bouquet of intangible benefits with the elusive WFH opportunity becoming a Virtual Experience (VX). For some this has been a boon in disguise and productivities have in fact increased!
No 9 am-6 pm work schedules, flexible work timings, no holidays, happy working, fewer coffee table talks, and more engaging project discussions. The advantages of home comforts, commute savings, and flexible lunch breaks – the benefits are endless. This digital transformation is the new normal as all aspects have been embraced with willingness and skepticism in equal measure. The challenge is to really condition our minds to realise the potential of digital platforms and value their effectiveness in all spheres in the long term.
Today's Traveller: How did organisations leverage the online opportunity?
Smita Parmar – IHM Aurangabad: Fostering an open environment and a flexible work culture requires changed leadership exemplars and re-orientation of the team to participate in this virtual digital uprising! Organisations were left with no choice but to transition into a digital existence. Old methodologies were constantly challenged with the advent of digital tools, resulting in paper-less report creation, online stand-up meetings, WhatsApp groups to convey important announcements, as well as email, invites to AGM's! This wave of challenging old norms is possible if leaders can commit to the transformation that must be driven from the top.
Today's Traveller: In your opinion, what can the leaders do, in order to ensure the transformation is for real?
Smita Parmar – IHM Aurangabad: This responsibility must be taken seriously by organisational leaders in their responses to a bottom-up stimulus. It is also the natural outcome of digital democratisation.
Leadership Experience (LX) – Affected leaders create dashboards of accountability from digital tasks that can be measured quantitatively. This affects the level of adaptability and responsiveness practiced by the team in new conditions.
Virtual Network Experience (VNX) – Networks ensure knowledge sharing across the board. Learning platforms achieve skill enhancement by exposing the team to new challenges. This VNX opportunity creates avenues for growth in perspective.
Mutual Peer Experience (MPX) – Colleagues engage in effective mutual mentorship with teams across the hierarchy. Seasoned seniors on the team create mutual peer mentoring experiences adapting to renewed work trends through e-synergy.
Today's Traveller: Have we been able to enhance the DX? (Digital Experience)
Smita Parmar – IHM Aurangabad: DX changes at work will have to be supported by a paradigm shift from changing CX (Customer Experience) expectations. Providing a robust DX (Digital Experience) to customers requires new digital skills on the team. Keeping customer interests in mind, tactical implementation of business-level innovation must be practiced to incorporate cutting-edge digital technologies. Stakeholder engagement must permeate operational processes, products, and CIS (Customer Information Systems).
Transcending from traditional beliefs and roles played, an organisation's digital foresightedness will help implement innovation in business models. Progressing this innovation rapidly towards long-term sustainability is the key to success in real-time.
An enhanced Customer Experience (CX) can be attained primarily through an improved Digital Experience (DX) – the magic mantra on the ground being:
Maintain a professionally well-developed website – that has an easy navigation, crisp information and a visually interactive interface.
Regularly update social media platforms – that inform users of new products/ services, service enhancements and customer reviews.
Maintain email marketing and chat interfaces to receive on-going tips towards opportunities for improvement to facilitate interaction.
Today's Traveller: Can we prepare for a seamless VX with limited resources at home?
Smita Parmar – IHM Aurangabad: Blended work styles in organisations are able to harness associate potential and enable the work force to evolve into a digitally active community. Mindful steps must be taken to ensure a seamless VX as you balance the comforts of home with undulating work pressures.
When participating in meetings, if you are not the speaker at the event – confirm your mic and video have been switched off. Maintain a noise-free background, unmute only when asked to speak, lest you disturb the proceedings.
While participating in webinars, as an active speaker – switch on your camera on request, preferably closer to a light source ensuring visibility to your audience. A stable bandwidth is a prerequisite for video communication.
It is absolutely important to use a neat background image when your camera is on -particularly during meetings demonstrating high standards of professionalism. A standard organisation template with the brand's logo is a must.
UX (User Experience) transcends from a tangible experience to an intangible HX (Human Experience). CX, DX, MPX, LX, VX, VNX and XXX are vital for an empowered associate today! Many unique X's are on the way!
Read More: Hospitality First