Today's Traveller teams up with the Institute of Hotel Management, Aurangabad (IHM Aurangabad) in a dynamic and progressive initiative – #HospitalityFirst – that will bring incisive reports and data-based analysis to the current situation and solutions for the Hospitality industry for its long term health and sustainability.
In this article, Prof. Anand Iyengar, PhD, Dean – Teaching & Learning Services at Institute of Hotel Management, Aurangabad (IHM Aurangabad) shares insights on how teaching and learning approaches will continue to evolve as the dynamics of education change.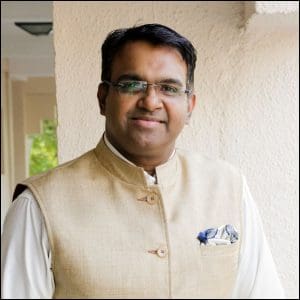 Today's Traveller: Why do we need to consider the use of technology in higher education?
Prof. Anand Iyengar – IHM Aurangabad: The pandemic has posed many challenges and also taught key lessons to every organisation on the face of this planet. While all organisations have been severely affected, educational institutions have taken the worst beatings of all times.
While one may want to see the brighter side of things in the gradual resurgence lately, educational institutions will be the last to rebound and return to business as usual. Many schools, colleges, and universities are waking up to the need for digital coaching, wherever there is a possibility of engaging students with access to technology, as an interim measure to provide relief in these troubled times.
This review concerns that part of the diaspora that can use technology for education. Soon, for higher education institutions banking on digital delivery, it would be far from reality to assume that everything would be back to normal once the restrictions on free movement are relaxed. The dependence on digital classes would continue to exist for a longer period than one would imagine in the past.
Today's Traveller: Why do we need to think pedagogy differently in a digital era?
Prof. Anand Iyengar – IHM Aurangabad: Teaching and learning approaches will continue to evolve as the dynamics of education change. Teachers at higher educational institutions focus on a lot of techniques in face-to-face teaching to help students improve their knowledge quotient and critical thinking abilities.
An entire range from rote learning to experiential learning is offered to students to make learning effective for real-time application. The debate here is not about the perfect technique or suitability of certain techniques, the point here is to appreciate the fact that we may have to struggle to apply these techniques on a digital platform.
Technology development firms have swiftly transposed existing remote working solutions for educational purposes. Alongside managing platform-related challenges, educators are now required to not only meet student requirements but also live up to parent expectations from higher education institutions.
Adopting digital pedagogy is the only way forward that would facilitate the achievement of all stakeholder objectives. We need to understand that ideal digital pedagogy must be based on educational (course and content-related outcomes) and social imperatives such as parent and employers' expectations.
Today's Traveller: Do we have any guidelines for teachers and educators?
Prof. Anand Iyengar – IHM Aurangabad: Some researchers in this area like Donald Tapscott*argue that the characteristics and behaviours of people who are born after 1990, grown up in a technology-rich world should be called 'Net Generation'.
Tapscott further suggests that the current educational system is not suited to our current students, calls for changes, and recommends seven ways for educators to tap the Net Gen potential:
It is not wise to mindlessly throw technology into the classroom and hope for good things
It is most prudent to cut back on lecturing
We must empower students to collaborate
We do need to focus on life-long learning, not teaching the text
It is smart to use technology to get to know each student
It is a must to design educational programs according to the eight norms (choice, customisation, transparency, integrity, collaboration, fun, speed, and innovation in learning experiences)
We must always strive to reinvent ourselves as a Teacher and/or Educator
Today's Traveller: What should be the way forward for teachers and educators using technology to connect with their students?
Prof. Anand Iyengar – IHM Aurangabad: The strongest argument in favour of digital pedagogy is the influence of digital technology on student engagement and motivation.
Students enjoy using digital technology as a part of their routine and hence attend higher education institutions with a predisposition towards digital technology. Students tend to view the learning experiences that contain these tools favourably.
Learning is viewed more positively and hence learning outcomes are often easier to achieve due to the added element of digital technologies. The skills we are endeavouring to develop in our students are supposed to ensure that students become life-long learners. This paradigm shift in the vision of educators and policymakers can be achieved through digital technologies.
Before the internet, were institutions concerned with what students did after formal classroom hours? But in a digital world, there is immense potential for learning to continue outside of the classroom, in a time and space that is student-friendly.
The education that we impart in a formal setting is preordained to be used beyond a formal classroom setting in the real world. This requires a student to be digitally endowed and therefore teaching skills of critical inquiry coupled with digital literacy should be embedded in our DNA as 'Digital Educators' of the future.
* In a book 'Grown Up Digital'by Donald Tapscott (2009)
Read More: Hospitality First