India Tourism Mart 2021 – Virtual takes place 18th, 19th & 20th February, 2021 in association with Ministry of Tourism, Government of India.

The Inaugural Function on 18 February at Kamal Mahal, ITC Maurya , New Delhi is a function extended by FAITH and the Ministry of Tourism to put the spotlight on The India Tourism Mart and India Tourism Leadership Conclave.
Delegates will join the 3-Day highly interactive ITM 2021 – Virtual Expo and interact with India's biggest and best specialists in various verticals of Tourism in India.
A grand ceremony of ITM 2021 took place at ITC Maurya Hotel from 10:00 am to 11:30 am today. It was attended by the Hon'ble Tourism Minister virtually, Hon'ble Secretary, DG Tourism, Joint Secretary Tourism, ADG Tourism and Mr. Amitabh Kant, CEO Niti Aayog physically along with the Presidents of TAAI, TAFI, FHRAI, IATO, ICPB, ADTOI, ATOAI, HAI, IHHA & ITTA and about 150 delegates including travel and electronic media.
Mr. Subhash Goyal, Chairman ITM-2021 welcomed all the delegates, Mr. Amitabh Kant delivered the keynote address and Mr. Nakul Anand, Chairman –FAITH introduced all the 10 Presidents of FAITH member associations and spoke about the vision of the Tourism Industry and the road ahead.
DG Tourism, Mrs. Meenakshi Sharma in her speech said that even though she is moving to another department of the govt. of India, her heart will always remain in Tourism. The new Secretary Tourism, Mr. Arvind Singh Ji assured the industry that he is working closely with all the concerned ministries to restart e-visa and international flights. Joint Secretary Tourism, spoke about the Knowledge Conclave which was being organized by KPMG. The road ahead vision document prepared by FAITH & KPMG was released by the Hon'ble Secretary Tourism, Mr. Arvind Singh Ji. ADG Tourism, Mrs. Rupinder Brar delivered the vote of thanks.
Day 1 : 18 February 2021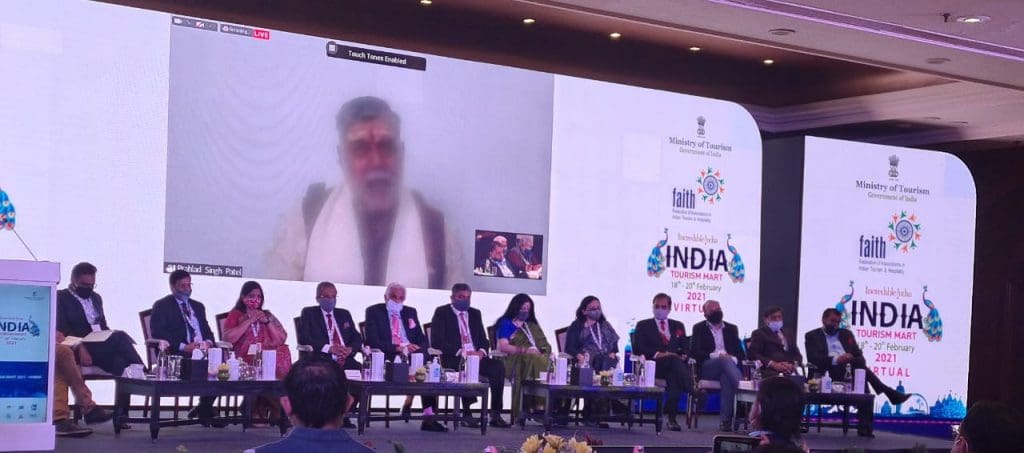 Address by Ms. Meenakshi Sharma (IA & AS), Director General (Tourism) at ITM 2021 – Virtual Expo
Address by Mr. Arvind Singh (IAS), Secretary Tourism, Ministry of Tourism, Government of India
Address by Mr Nakul Anand, Executive Director, ITC Limited, Chairman – Federation of Associations in Indian Tourism & Hospitality (FAITH)
Address by Ms Rupinder Brar, Additonal Director General, Ministry of Tourism, Government of India
Lead session of ITM 2021. Mr. Nakul Anand in discussion with Vir Sanghvi, Raj Menon, Piyush Pandey & Madhavan (Thomas Cook) at ITM 2021
Leadership Conclave, at ITM 2021 on 20 February 2021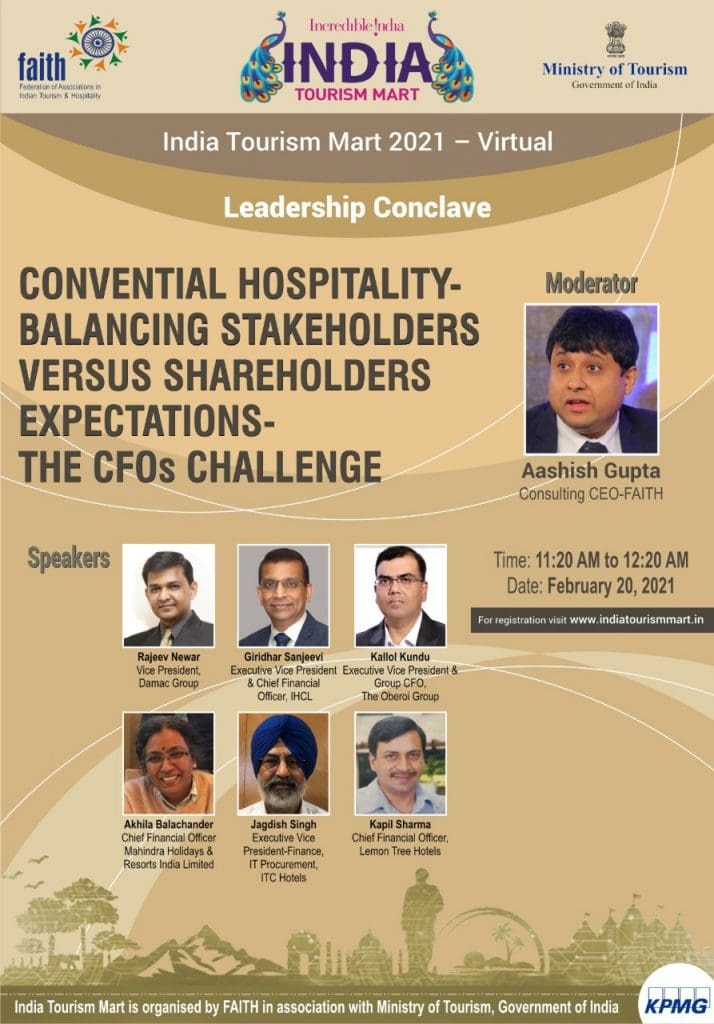 Briefing on the progress of ITM 2021 By Subhash Goyal, Chairman ITM 2021 and Hony Gen. Secretary FAITH
"Dear friends, you will be glad to know that ITM 21 virtual is a grand success. Yesterday the buyer-seller meetings were on till 1 AM today and we had 1832 footfalls. Today due to the demand of international buyers from the USA and South America we are extending the buyer-seller meetings till 4 am tomorrow please take full advantage as today is the last day."
"This could not have been possible without the support of IATO and the International Buyers Committee members Pronab Sarkar, Rajive Mehra, Rajnish Kaistha, Deepak Bhatnagar, Rahul Chakerwarthey, and Domestic Buyers committee headed by PP Khanna, Chetan Gupta and Team The knowledge sessions were attended by more than 2000 International and Domestic Delegates Thanks to Asish under the guidance of Our Chairman Nakul Anand and Special Thanks to my co-chair Amrish Tiwari Best of luck to everyone for today."
Read more: News