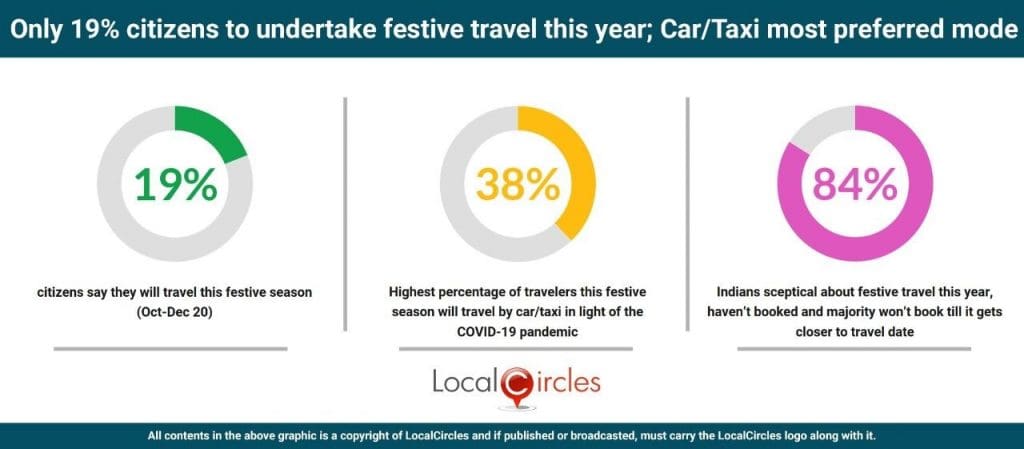 In a survey conducted by LocalCircles on how Indians are planning to travel in the upcoming festive season,  between Oct-Nov-Dec 2020, given the current situation with COVID-19, 69% respondents said that they will not be taking festive travel this year and would stay at home, 3% said they will travel to a holiday destination, 13% said they will visit family and friends, while another 3% said they will do both. 12% were unsure about what they would do. This means that only 19% citizens say they will travel in the upcoming festive season between Oct-Dec 2020.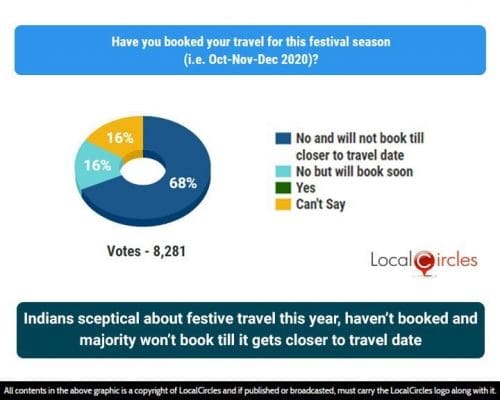 Given the COVID-19 pandemic outbreak, car/taxi is the most preferred mode of travel in the months when the country sees the highest number of travellers. The survey revealed that 38% will travel by road and take a car or taxi, 23% will take flights, 6% opted for trains and 18% said they will take multiple modes in the same or different trips. 15% were unsure.

Under the Vande Bharat Mission and under the air-bubbles created with countries like USA, France, Germany, Canada, UK, other European and Gulf countries, flights continue to operate. However, for this festive season, a majority 68% said "no and said they will not book till closer to the travel date". 16% said "no but will book soon" and 16% were still unsure about it.
Survey Demographics
25,000+ responses were received across 239 districts of India. 66% respondents were men while 34%
respondents were women. 61% respondents were from tier 1, 28% from tier 2 and 11% respondents were
from tier 3, 4 and rural districts. The survey was conducted via LocalCircles platform and all participants are validated citizens who had to be registered with LocalCircles to participate in this survey.
Read more: News