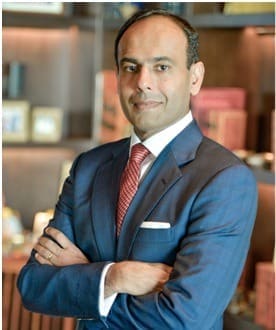 With its host of luxury services, an eye for detail and a generous rewards programme, Hilton has caught the imagination of travellers across the world, says Navjit Ahluwalia.
When it comes to new and emerging markets for the brand, India ranks high in the global hospitality market. 
Overseeing the expansion plans of the Group in India is Navjit Ahluwalia, Senior Vice President and Country Head of India, Hilton, who is currently in charge of 33 hotels, trading and under development, including the recently opened Conrad Bengaluru, while leading the growth strategy in the country.
Today's Traveller caught up with this dynamic leader, who spoke at length about the Hilton Group, the potential of the hospitality market in India, the operational challenges one faces in the country and finally, how he unwinds during his free time.

Navjit Ahluwalia starts by emphasising the importance of the Indian hospitality market, saying that after the United States and China, India is slated to be the third largest hospitality market in the world, although he could not be certain about when the country would be able to hit the magic mark.
"India," says Ahluwalia, "is not a 100-metre sprint, rather it is a Marathon. So, you need to have the stamina and the training to compete in a Marathon. Creating brand value in India, along with new properties, operations teams and guest experiences, takes time. Patience is the key."

The congenial corporate culture of Hilton is well-known, says Navjit Ahluwalia. Recently, a survey conducted by CareerBliss – an online career review portal – placed Hilton in its list of happiest US companies. Work place environment, the compensation package and benefits were some of the criteria chosen for consideration.
As Navjit Ahluwalia puts it, "We want to create a culture which makes it fun for people to work. This is not particular to India, but in fact, a global culture. Hilton already has it. It is a culture of thrive, which very few companies have. We are a company that believes in the larger purpose of what we are doing – whether it is about connecting people or making a difference to the environment around us.
"That is why people want to stay with us for years together. However, such things are easier said than done. This is due to the fact that as a corporate, we still have an interest in making the company commercially viable."

Navjit Ahluwalia takes time to ponder on the nature of the market in India. The country has gone through various cycles of growth. The international hospitality companies started coming only in the early 2000s. India saw a period of growth from 2000 to 2008-09.
Subsequently, the growth slowed down. But, we now see the second cycle of that growth, says Navjit Ahluwalia, adding that the hospitality industry still faces a number of problems.
Read More: Corporate Connect