Mementos Shimla sprawls over an area of 10 acres with a total of 297 keys including 40 Villas of four bedrooms each.
The 200 sq. mt. luxurious villas offer a marvellous view of the valley and are ideally suited to house a large family and friends' staycations.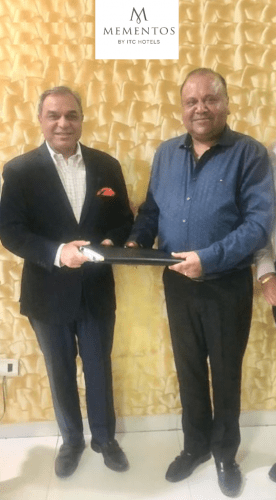 Widely applauded for their versatile Food&Beverage repertoire, ITC Hotels bring the flavours of their cuisine legacy to Mementos Shimla. The food and beverage options at the property include an all-day dining multi-cuisine restaurant, a bar, and a specialty rooftop restaurant.
Anil Chadha, Chief Executive – ITC Hotels stated, "Himachal Pradesh is one of the key hill destinations that witnessed huge footfalls post-pandemic. This state has unsurmountable beauty and is truly everyone's favourite. From 'white Christmas' to green glory, our latest luxury outpost Mementos Shimla brings you the best of all seasons. With demand mainly stemming from road trips to nearby destinations, Shimla is poised to receive a high influx of domestic tourism and destination weddings."
Pankaj Gupta, Owner, Mementos Shimla stated, "We are building one of the largest hotels in the hills, in the heart of Shimla and so we had to choose a partner that has the ability and experience in managing large luxury hotels. We are delighted to get ITC Hotels on board with their Mementos brand and are extremely confident that this alliance will deliver an outstanding luxury experience to guests".
Bringing nature's splendour closer to guests, the hotel offers a great view of the mountains. Uniquely located, Mementos Shimla truly exemplifies the local lush offering all rooms a beautiful view of the rich green forests.
Soak in the sunshine, plan a trek or a mountain picnic-each experience promises to be a wonderful memory. The enchanting beauty and serenity of the surroundings create beautiful scenic stories.
Already a much sought-after New Year destination, Shimla is being seen as a preferred 'all-time celebration destination', Mementos Shimla displays a massive 7500 sq. ft. pillar less banquet space to cater to the rising demand for destination weddings in the hills.
Mementos Shimla is equipped with a state-of-the-art fitness centre overlooking an all-weather swimming pool and spa. Be it business, leisure or bleisure, Mementos Shimla is your home away from home.
Mementos Shimla is situated in the heart of the city and is just a 30-minute drive from the Shimla Airport and 10 minutes drive from the Shimla railway station. The famous Shimla Mall Road is just a 15-minute drive from the hotel.
About ITC Hotels
With the enduring Namaste as the symbol of its brand experience, ITC Hotels is one of India's leading luxury hotel chains offering comprehensive hospitality solutions through more than 100 hotels in over 70 destinations in the country.
Embodying 'Responsible Luxury' as its guiding premise, ITC's hotels integrate India's fine tradition of hospitality with globally benchmarked services to reflect the culture and ethos of each destination, through a collection of hotels. The brand features opulent accommodations, state-of-the-art business facilities, renowned signature cuisine, and award-winning wellness experiences.
ITC's hotel group operates under six distinct brands; 'ITC Hotel' at the Luxury end, 'Welcomhotel' in the 5-star segment, 'Fortune' in the mid-market to upscale segment, and 'WelcomHeritage' in the heritage leisure segment.
Brand Mementos in the Luxury segment and brand Storii in the premium segment are the latest addition to the ITC Hotels portfolio.
Read More: News