We know her as the smiling, charming and brimming with enthusiasm – Kanika Hasrat who welcomes you as much into her hotel as into her heart.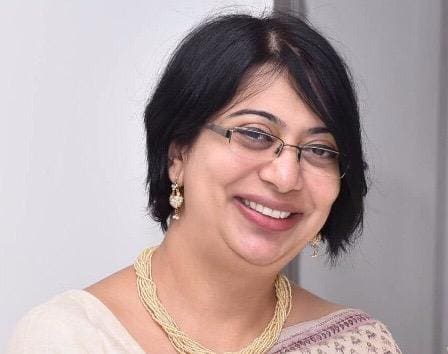 She is the General Manager at Taj City Centre Gurugram, after her last tenure with Vivanta New Delhi Dwarka as its General Manager where she helped the hotel become a market leader and position itself as the new Vivanta.
With an illustrious experience of nearly 25 years, Kanika Hasrat has held leadership positions and worked with renowned domestic and international hospitality brands across key cities in India and worldwide.
Kanika Hasrat has been a Global Action on Poverty Change Leader and is a strategy advisor and a board member for Labhya Foundation, a non Profit NGO that teaches Social and Emotional Learning popularly known as the 'Happiness Curriculum' in Delhi government schools.
Kanika Hasrat is also the President of WICCI Hospitality and Tourism National Council that aims to enhance gender diversity in Indian hospitality through its goals of communication, education, and support.
In an endeavour to bridge the gender divide and help women reach the top echelon of their careers, Kanika Hasrat shares deep insights into moments of truth during her life that helped her grow as an individual and as a professional, with resilience and strength regardless of situations outside her control.
This is her story:
Beliefs
I believe that a General Manager's role is diverse and versatile that makes each day different from the last!
I believe in harnessing the team's strengths and strongly opine that true success lies in growing and developing people. I lend a strong voice for gender parity, and I have happily worked with organizations to build platforms that encourage women to share and grow other women.
Childhood
I come from a 'fauji 'family, a middle-class family. I remember my dad dedicating long hours at work, the arduous nature of his work, and being out of station for long intervals. I remember my mother being the one getting us school admissions, making sure we played games, attended all classes on time as well as did all homework with discipline; whether dad was in town or wasn't.
We also moved cities within the country almost every year and that meant we learned to make friends easily as well had an opportunity to experience different cultures and places. I believe my love for travel and varied experiences comes from this part of my life that has truly been enriching.
Initial years
Once I finished my schooling, the only professions which were known at that time – a doctor or an engineer – were the first few preferences, so when I choose hotel management, it was something which surprised everyone including myself because I too wasn't very sure of what it entailed. I joined IHM Mumbai and after an initial few months of settling, I realised that in no time I was enjoying the diverse and versatile curriculum, the profound knowledge along with insights from some very passionate teachers.
My first job was actually more of training and learning! I had enrolled at the Oberoi School of Hotel Management, today call OCLD. The institute not only imparted knowledge of running and managing hotels but actually instilled in us the values of discipline, culture, respect and an attitude to never give up till perfection was reached. I know that these values ingrained at an early stage in my career have been the bedrock of my success.
The initial years in the job were tough. The job meant long hours, physical work and so much to imbibe and master. However, my biggest learning was how to deal with a lot of different people. Having started as a housekeeper, I realised that the strength of any process lies in the people.
The job taught me how to work with people of all ages and backgrounds. I learned that respecting individuals, sharing honest feedback and building trust are imperative and that has definitely helped me grow myself and my people.
Challenges
Being a woman in the hospitality industry in the initial stages may seem challenging. I was fortunate to work in companies that showed no discrimination with regard to gender.
So I learned to take responsibility, work shoulder to shoulder with men, and made no excuses for being a woman. I did all shifts, worked long hours, and learned to enjoy the job.
Probably, the toughest time in my professional life was when I became a mother and had to come back to work after three months of maternity leave. It was definitely a heart-wrenching time to leave my daughter at home and come to work.
Though my mother had travelled to be with me during this difficult time, after trying to cope for months – I was finally able to convince my hotel leadership team to allow me to bring my baby and her nanny to work.
The hotel team agreed and I do believe the first-day care and crèche in the Indian hotel industry came into being, due to this revolutionary decision. I am eternally grateful for this opportunity that allowed me to continue working and growing due to the support during a truly crucial time in my life.
Challenges as opportunities
At work, I have always embraced challenges to transform them into learning opportunities. The key is to have an attitude to gain from these experiences. I remember the time the Mumbai flash floods took place and the city came to a standstill. We at the hotel opened the doors to everyone on the streets and had the who's who of the city stay and mingle with everyone, each one supporting the other.
For three days, we fed people, kept them warm, and served them with smiles while not one of the hotel associates went home. With no cell phone coverage, limited food, and drinking water everyone gave more than they took.
My daughter, all of 2, was in a play school and since I couldn't reach her or connect with the play school; I decided to trust the goodness of the ladies who took care of her. When I got an opportunity to leave the hotel and managed to get to her after three days I found a locked door. I also found a note with the address of the 'Didi' who took care of the children. She had waited for almost 6 hours for me and then she had decided to take my daughter home with her. When I finally met my daughter after three days she was mosquito-bitten but well taken care of and happy.
It is such instances of kindness that taught me that to give back – one doesn't need money – all one needs is the desire, the gumption, trust, and hope!
Fun at Work
I enjoy my job and try and do justice to it every single day. However, I also have fun at work whether it is pulling a colleague's leg or sharing a laugh. Working with people teaches you how to be humble and never judge anyone based on the last mistake. I strongly believe that as a leader, you should keep the team engaged to instill a feeling of togetherness – be it some fun activities at work, cleanliness and plantation drives, healthy competitions to highlights the true stars of the hotel, painting the walls of the staff dining area, movie evenings at the hotel for associates, exclusive Diwali and Annual Day celebrations – it keeps the energy alive!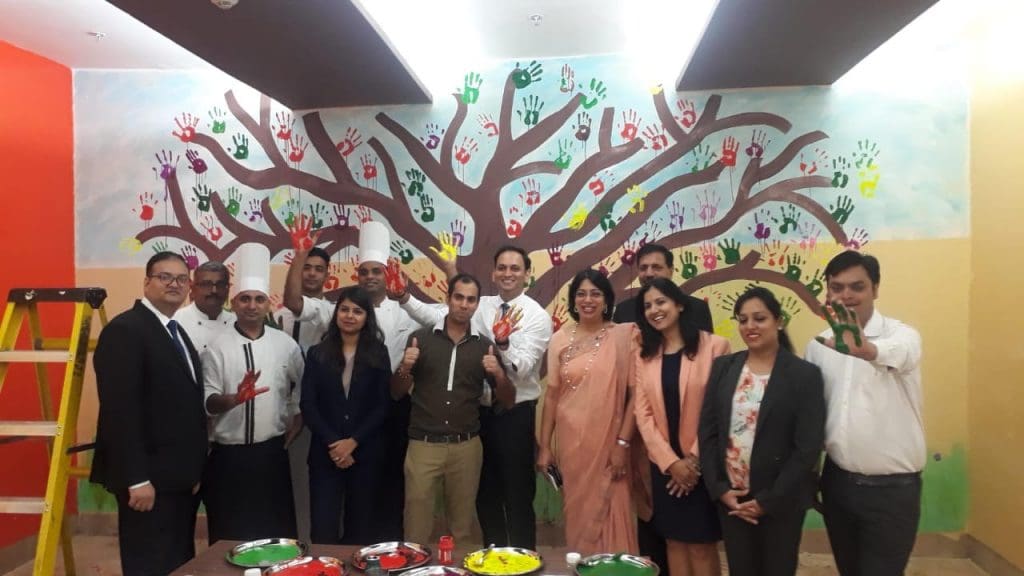 Work-life balance
I know a number of women who struggle to continue working in hotels because they believe they are unable to contribute effectively to both – work and home. I was fortunate to have my parents at my side during the initial stages of motherhood.
Besides, my husband also comes from the same industry and understands my challenges. I have often witnessed pangs of guilt too but today I look back and tell all ladies that "Any relationship is give-and-take. So, each one of us should share the responsibilities undertaken with our loved ones. There is no shame in saying – I can't do this but standing true to your commitment and delivering to the table in your own unique way and there's always a way!."
I also believe that having a good team at work helps us manage this balance better. Hence, it has always been my endeavour to develop my team. I have worked with many companies and for a good number of years and I do believe each person comes to work to make a difference every day and it depends on leaders to train, motivate, teach, handhold, support and help build careers and leaders for tomorrow.
My message
I believe the hospitality industry is an ideal fit for any woman since we deal with human beings – be it a Guest or an Associate. Quality of care, empathy, multi-skilling, creativity, and inkling to be experimental are in-built strengths for most women and these truly help women to grow in our industry.
I have worked with a number of brilliant women who added joy and energy to our day with their charm, smiles, passion to serve and their ability to walk hand-in-hand with men.
Be proud of being a woman. You have many inherent strengths that today's HR professionals are teaching men to develop. Don't hesitate to 'lean in'; ask for support; learn something new every day and enjoy what you do.
Read More: Corporate Connect