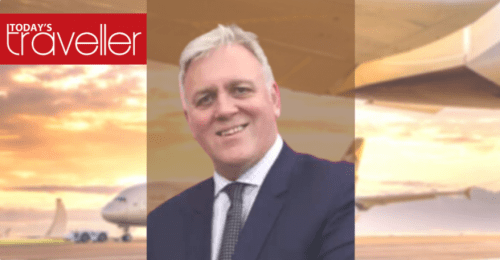 Lindsay White, Etihad Airways' Vice President, Eastern Region (APAC and ISC) in an exclusive to Today's Traveller stressed on the need to rebuild confidence in the traveller to fly again and the safety protocols Ethiad has put in place for this purpose. 
We are in the midst of a global crisis like none we've ever seen and COVID-19 has had massive impact on industries across the globe, with especially severe consequences for aviation and travel.
The industry that usually connects people and nations has been witnessing minimal movement.
While the pandemic has caused a slump in travel over the past quarter, countries are looking at incrementally relaxing the lockdown across the region and gradually lifting air travel restrictions.
We understand that people might be worried to take a flight again, and their apprehensions are not uncalled for.
But we've used this downtime to ensure we are well prepared to welcome guests and connect the world again, supporting them at every step of their journey and providing a safe and hygienic travel experience, keeping in mind our priority and theirs: wellness.
I am pleased to provide an understanding of how Etihad has weathered the impact of this global health and socio-economic crisis, and to give you an insight into some of our ground-breaking innovations that will redefine travel experiences in the coming months, setting high industry benchmarks once again.
Weathering the impact of COVID-19 with adaptability
Our ongoing restructuring programme has positioned the business well and given us agility to better manage operations and weather the current crisis. We are nimble and were able to respond quickly, navigating these times with adaptability.
In the initial months, Etihad Airways deployed some of its 787-10 aircraft on cargo routes to supplement Etihad Cargo's fleet of Boeing 777 freighters, increasing the flow of essential supplies and providing further east-west connectivity between major markets.
Etihad has also taken full advantage of the aircraft downtime; with 80% of our fleet on the ground, we embarked on the biggest aircraft maintenance programme in our history to ensure that the airline was in its best shape for when it returns to flying. 
We are doing everything possible to limit the spread of the COVID-19 and protect citizens, residents, international travellers as well as all our employees. 
Resuming a wider network of flights through July and August
Throughout June, Etihad was operating a network of special flights from Abu Dhabi to some destinations across its international network. We also announced transfer services linking 20 cities in Europe, Asia and Australia via Abu Dhabi.
In the past few months, Etihad has also operated several goodwill flights to 30+ cities around the world, including Lucknow and Bhubaneswar. 
These destinations are not normally served on the airline's global route network and have been chartered by the Government of the United Arab Emirates carrying foreign nationals returning home from the UAE.
We have been working closely with the UAE government and global aviation authorities to ensure we gradually grow our network and resume services to more destinations across our global network.
Following the easing of travel restrictions by UAE regulatory authorities, we have expanded our network even further for July and August, and plan on operating to more than 50 destinations across Europe, Middle East & Africa, North America, Asia & Australia, including the Indian sub-continent.
This includes the key gateway cities in India, namely Ahmedabad, Bengaluru, Chennai, Delhi, Hyderabad, Kochi, Kolkata, Kozhikode, Mumbai, and Thiruvananthapuram. 
Some other destinations in the region that we plan on flying to also include Colombo, Jakarta, Karachi, Kuala Lumpur, Seoul, Singapore, Tokyo, Melbourne and Sydney. 
This is, of course, subject to lifting of international restrictions and dependent on how markets open up. Our priority will be to return to a larger network of international flights, ensuring the safety of our guests and employees alike.
Introducing specially trained 'Wellness Ambassadors' 
The wellness of our guests and employees is and will always remain Etihad Airways' top priority. 
We understand that a new normal in international air travel is gradually emerging and come guests and partners and rightly concerned for their health when travelling. 
To ensure guests can travel with greater peace of mind, we have launched 'Etihad Wellness', a comprehensive health and hygiene programme and customer guide. 
This is championed by the introduction of specially trained Wellness Ambassadors, a first in the industry, who will provide essential travel health information and care, from pre-flight and at the airport as well as on-board. 
All our Wellness Ambassadors, a multi-lingual and dedicated team, undergo special training at the airline's training facilities in Abu Dhabi. 
They are available round-the-clock and guests can reach out to them via e-mail. They will also be available at Abu Dhabi International Airport to ensure guests are assisted at every point of their journey with Etihad, right from check-in and security, to immigration and boarding, providing added comfort and confidence. 
Once the airline resumes an expanded network of international flights, they will also be available on-board, complementing the service provided by other cabin crew, providing safety and wellness assistance in-flight
Leveraging technology for renewed air travel experiences
We have utilised the past few months to innovate and adapt in order to ensure that we provide a hygienic and safe travel experience to guests. These path-breaking innovations will forever redefine travel experiences. The face of air travel is sure to change and some of the temporary measures would include:
Stricter measures at check-in counters: To ensure a safer airport environment at Abu Dhabi International Airport, strict measures are in which include floor markings at 1.5m distance to ensure social distancing, check-in teams wearing gloves and face masks and regular sanitisation of check-in counters
Self-service check-in: We are about to launch self-service check-in and health screening at Abu Dhabi Airport, which will read guests' respiratory system, heart rate and temperature
Thermal cameras at Abu Dhabi Airport: We've installed thermal cameras at immigration that will measure the guest's temperature and alert the airport staff if required
Protective crew equipment: In order to maintain safety and protect our guests and crew, our team will wear face masks and personal protective gear at all times. Approved protective gowns will also be worn by cabin crew throughout the flight
Boarding and disembarking ensuring social distancing: Social distancing will also be implemented during boarding and disembarkation. Guests will be encouraged to board and disembark in small numbers, with no crowding allowed on jet bridges or steps
Renewed in-flight experiences: Etihad is providing special wellness kits including non-latex gloves, face mask, and hand sanitizer. During the journey, if any passenger or crew member begins to feel unwell, our teams will create an on-board quarantine zone and inform medical authorities prior to arrival at the destination
Meal service: We have revised our meal service to ensure we uphold COVID-19 precautionary requirements. A more streamlined delivery will see each meal served on a single tray, with additional dining offerings and variations based on the flight length
APT surface swab technology: We are using this to measure the amount of bacteria or virus on a surface in the airport as well as in the aircrafts
Uncompromised support to trade partners
We want to thank our partners for their commitment and hard work during such an unusual and difficult time. 
We understand how hard the past few months have been for our partners, and we've been touched by their immense support. Our teams are working around the clock to provide assistance to our partners to make sure they are the first to know about our new policies, procedures and travel news. 
We are focusing largely on seamless and consistent communication and have conducted frequent webinars to keep our them updated at all times, informing them of the changes and temporary measures being undertaken by Etihad Airways. 
We have taken every measure to extend maximum flexibility to our partners:
Support with existing bookings: If their guests are scheduled to fly with Etihad Airways before 30 November 2020, they can rebook their flight for free, or use the value of their ticket as credit towards their next trip. Tickets must have been issued before 31 August 2020 to be eligible, and standard fare rules will apply
Flexible travel for the future: Unlimited date changes are permitted on all new flights booked before 31 August 2020 for travel system range. If the guest is unable to travel, they will receive Etihad Credit and the fare difference will apply
Etihad Airways will continue to assess and adapt its procedures as the situation develops and will apply changes as and when it begins to resume a normal schedule of flights across its global network. Etihad is standing tall, waiting to welcome you back on-board.
Read More: News