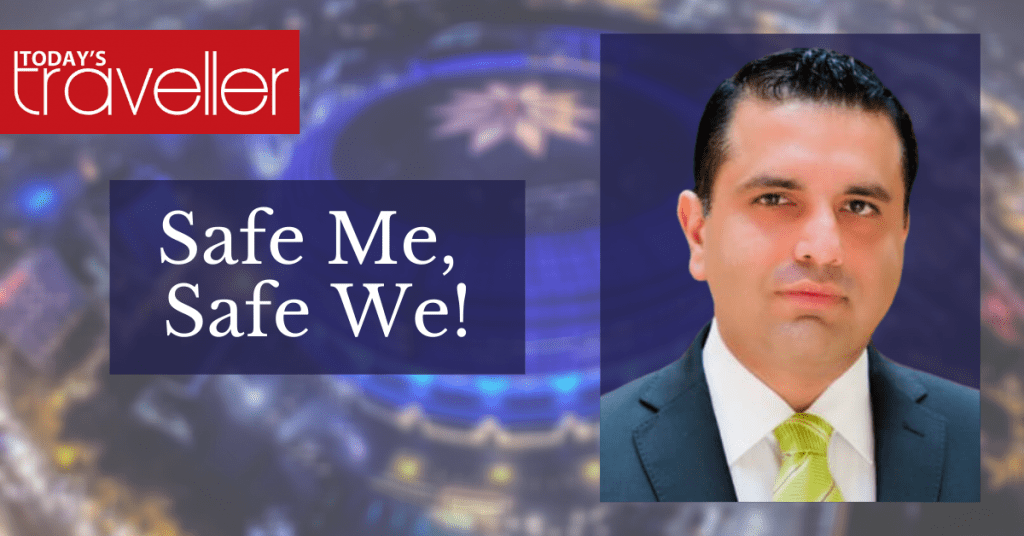 Manish Sodhi, CEO, Hotel Sahara Star in a exclusive interview with Today's Traveller
TT Bureau: It is widely said "The pandemic will change the way we do business" What changes do you think this pandemic will bring to the Hospitality sector?
Manish Sodhi: Adaptability to change is the only way to survive! Covid-19 has drastically impacted traditional hospitality operations and all efforts will now be focused on the hygiene and safety of our guests and team members. At the same time, hotels will also be more engaged with technology, sanitization and social distancing measures which have now become the new normal for hospitality.
At Hotel Sahara Star, we will be re-starting the operations in the coming weeks and to make sure that all our guests and the team is safe and protected we have undertaken several steps which will be visible across the property. The entire hotel has undergone complete sanitization with industry approved sanitizing machines; the hotel has also installed alcohol based sanitizers which have foot based automatic dispensers and thermal temperature guns at all public areas, all guest rooms will have a 24 to 48 hour curing period, each of the team members will be equipped with high end health essentials like Safety Masks, Gloves and Personal Protection Suits.
However fundamentally we will ensure that the emotional connect and service from the heart is the driving force of our hospitality culture at Sahara Star.

TT Bureau: What time frame do you give for the travel industry to revive?
Manish Sodhi: The next six to eight months will be a crucial "wait and adapt" period for the Hospitality and Travel industry. Seeing the current situation, domestic travel will be the only way forward, as international travel policies are still under consideration and will get a boost once the government mandates are put in place. The pace will be slow in domestic travel too and hotels will have to start building their repertoire from scratch and target minimum occupancy for the upcoming six to eight months and move on a steady path towards corporate events, trade shows, social gatherings and weddings.
TT Bureau: Being a convention hotel maintaining social distancing norms would be quite challenging. How do you plan to cope up with it?
Manish Sodhi: Sahara Star being a predominant MICE destination has one of the largest covered banqueting facilities in the city of Mumbai and this gives us the leverage to implement every safety and hygiene protocol as mandated by the Government.
Venues play a very important role in making any occasion memorable and by implementing social distancing protocols at our hotel we will be adding a layer of security and peace of mind of our guests.  All our venues will be equipped with thermal scanning and mandatory masks for those attending the event. Sanitation and disinfection of common and high-traffic areas will be done at regular intervals. 
Seating configuration during events will be specially taken care of to maintain social distancing norms.  All material brought in for the set up will be completely sanitized before it enters the venue. There will be a cap on the gathering size as per guidelines laid down by the Government. Trainings are been conducted for our team members on safety, sanitation and food-handling measures for all our banquet venues.
TT Bureau: Would you look at new revenue streams and reskilling to reclaim your share in a price-sensitive market?
Manish Sodhi: Revenue for hotels has been primarily driven by rooms, food and beverage outlets and banquets. The most important aspect in hospitality is the experience we create for our guests and we truly believe that one of the best ways to do that is to train our team members to give the best experience. In this phase of Covid -19, where rooms and food & beverage revenue is almost non-existent we will are adapting to new technology for better and safer experiences.
We will be launching our home delivery service called "Sahara Gourmet" wherein our guest can enjoy their favorite delicacies from our award winning restaurants at home. Our Sales and Revenue team is focused on creating specialized "work from hotel" proposals for our regular and new corporates, future staycations with flexible pricing and "pay now stay later" packages for our long staying guests, corporates and travel agents.
We will be reskilling our Team Members with relevant market knowledge and technology to overcome this situation and deliver the best always.
TT Bureau: How do you keep up the employee morale during these tough times?
Manish Sodhi: At Sahara Star we have always given precedence to "Human Management" over "Business Management" as business is purely driven by a motivated and charged team.
The current times have proven to be a turning point as well as a learning curve for everyone in the industry and also at Sahara Star. We have always supported our team members and even in these tough times, the morale has always been high. "Safe Me Safe We" is a campaign initiated by the hotel to educate and create awareness about health measures amongst our team members. These measures have been put into place for their safety and well-being along with making sure that they are well trained and equipped to service our guests and take care of themselves and their loved ones.
The hotel has also ensured that our team members receive emotional support during this trying period and have implemented various platforms for virtual connectivity, social celebrations, trainings, departmental competitions etc. so that they are charged and raring to get back to work.  We have always focused on the 'Little Things',  as 'Big Things' always fall into place if 'Little Things' are well looked after.
Read More: News