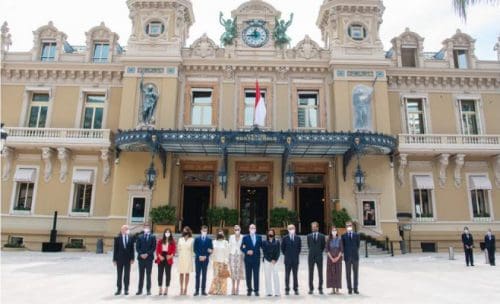 After two months of lockdown, health prevention policies implemented by the authorities of the Principality of Monaco have allowed a gradual recovery of economic and touristic activities.
Step by step, many sectors are reviving their activities in close cooperation with professional and economic factors and in strict compliance with the safety measures against the pandemic. After several months of renovations, the Place du Casino has finally revealed its new look—a modern, open space entirely redesigned to accommodate visitors.
On 02 June 2020, the inauguration of Place du Casino and re-opening of the iconic Brasserie du Cafe de Paris took place.
The occasion was made exceptional by the presence of H.S.H. Prince Albert II and Princess Charlene, S.E.M. Serge Telle, Jean-Luc Biamonti and the princely family members. Cafe de Paris Monte-Carlo enjoyed a double celebration as it is the first establishment in Monte-Carlo SBM Group to reopen its doors and also inaugurate its new embellished and extended terrace.
The renovation of Place du Casino is a comprehensive project that had already made possible the spectacular metamorphosis of the Hotel de Paris Monte-Carlo, the creation of ONE Monte-Carlo, one of the brightest luxury brand hubs in the world, and the restructuring of the Boulingrins Gardens, which have rediscovered the landscaping aesthetics they enjoyed in the 1930s, before giving back to the prestigious Casino de Monte-Carlo its original appearance.
The new Place du Casino is structured around three objectives: to give pedestrians priority to stroll around in complete serenity; to preserve the race course of the famous Formula 1 Grand Prix and to please the Monte-Carlo SBM Group VIP customers, whose vehicles, which are often parked in the square, arousing the admiration of passers-by.
This event reflected the tremendous enthusiasm that marks the Principality's 'return to life'. From 2 June 2020 onwards, hotels, museums, bars and restaurants started reopening, a few days after the shops and joining a vast recovery moment.
The Government of Monaco has always prioritized healthy safety, especially at the peak of the crisis, everything has been done to protect residents, day-trippers, and tourists, and therefore limit the impact of COVID-19.
Monaco's establishments are united around one objective: to welcome guests in the best possible conditions, with a special emphasis on health and safety with a calendar of "rediscovered pleasures" in phased manner.