MTM & LLTM successfully held its first virtual platform, to showcase three leading international destinations with a successful record of being protocol complaint to offer a Corona-free destination.
MTM & LLTM featured – Singapore Tourism Board as Premium Country Partner, South African Tourism as Country Partner and Korea Tourism Organization as Gold Partner – which lead the world in safe tourism revival, be it MICE or Leisure.
And it is only fitting that on the MTM & LLTM platform they showcase to the world benchmarks of excellence in the safe opening of destinations and the protocols under which travel is encouraged
The new platform premiered with the launch of MTM & LLTM Virtual 2020, which took place online from 20-21 November 2020.
MTM & LLTM Meetings & More successfully presented an exclusive platform created for select exhibitors looking to reach out to a targeted group of Corporate-led MICE travel decision makers from India who have high budgets for MICE travel, along with Event Planners, Wedding Planners, PCOs and MICE agents.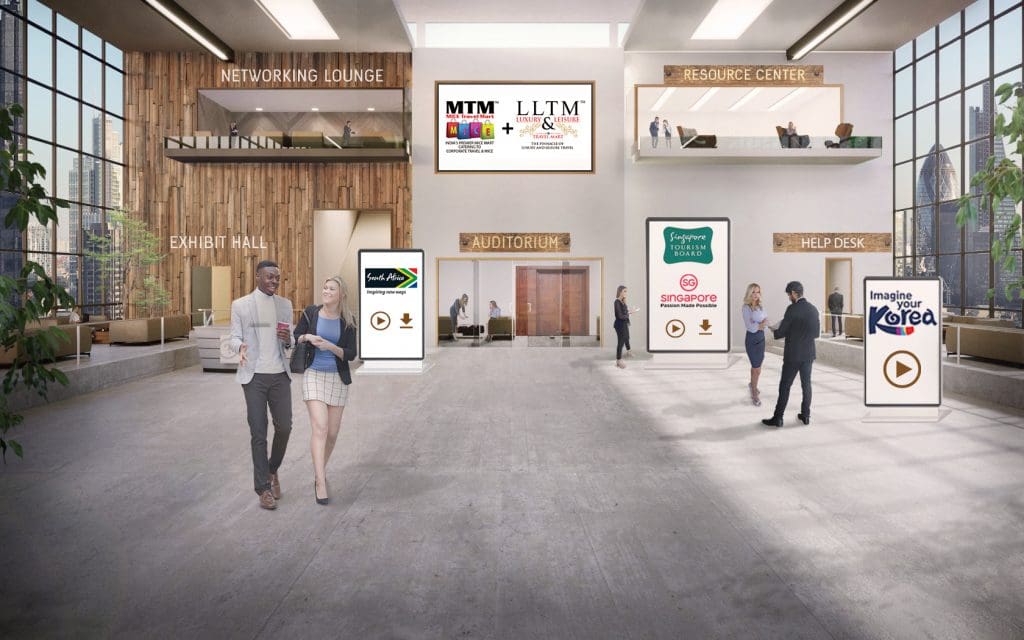 The country's premier virtual travel mart was attended by an invited delegation of decision makers, who were pre-identified for huge MICE movements and business travel, as well as luxury and leisure travel. MTM & LLTM created a one-of-a-kind platform for Exhibitors to showcase their products and leverage prospects in a business-driven ambience.
The event was curated via Keynote Addresses, Panel Discussions, Presentations and one-on-one meetings.
The live virtual 2 day MTM & LLTM event was packed with opportunities to meet and interact with clients, current and prospective, and their own community which was also open to collaboration.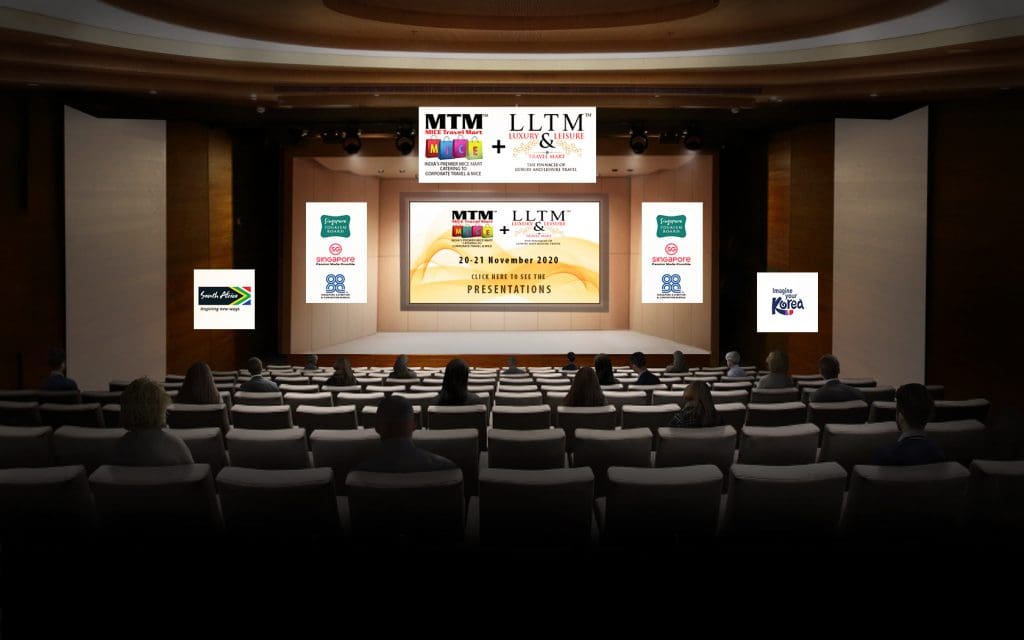 OptiMICE Events Pvt. Ltd. as a reputed integrated marketing and event management agency with an 11-year comprehensive experience of delivering sales and marketing of niche activities, used the occasion to connect corporate, business, luxury and leisure travel players. The company has developed an expert team in creating seamless, unique and interactive digital event experiences.
MTM & LLTM thus successfully created an interactive online Expo platform for this year's event which took place online.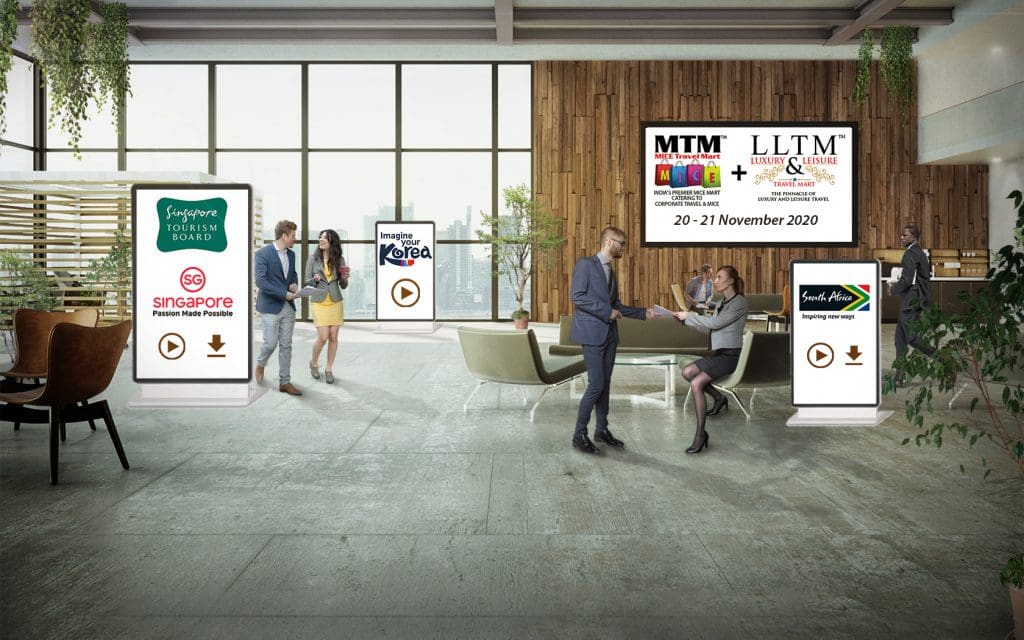 Features presented by MTM & LLTM included fully integrated conference sessions, complete with Keynote Addresses, Featured Speakers, Panel Discussion and Presentations. It also created an onsite fixed meeting format; HD video meetings during the event, exhibitor brochure download systems and an exhibition zone. Virtual attendees interacted with exhibitors via chats and video to carry forward business enquiries.
Together We Can, Together We Will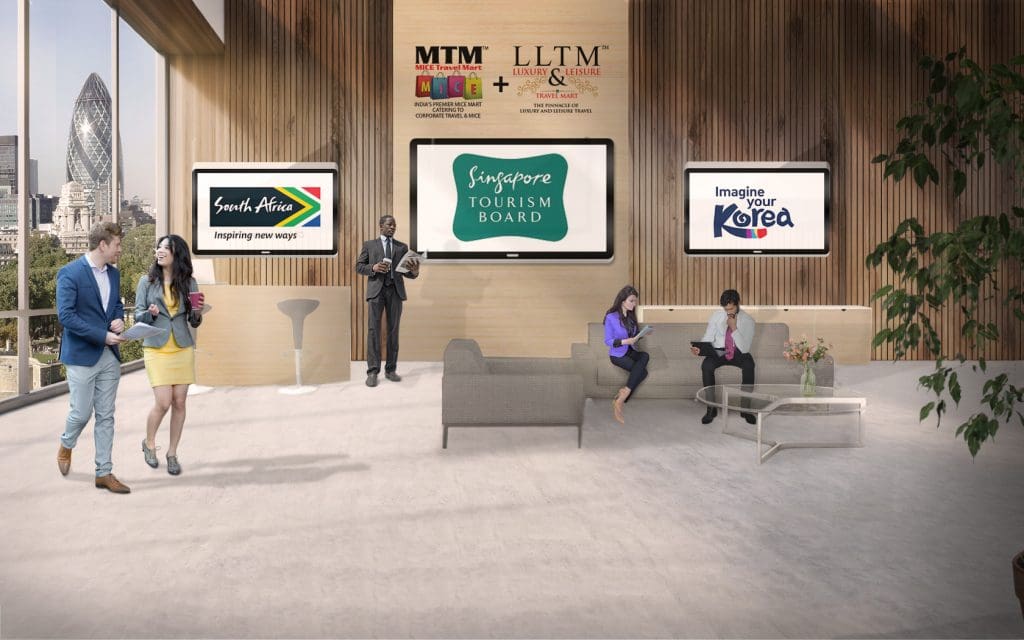 In her Welcome Address, Kamal Gill, Director OptiMICE Events said, "Together We Can, Together We Will! This is the spirit with which we invite you to join us on 20 & 21 November 2020 at MTM & LLTM Meetings & More, an exclusive platform created for select Corporate buyers who are looking forward to planning MICE for the post-Corona period."
She went on to say, "Enjoy the Virtual world and visit Singapore, South Africa and Korea through our virtual platform."
Briefly outlining the highlights of the first Virtual MTM & LLTM, she said, "Meet, network, chat and enjoy the 2 day Virtual MTM and LLTM on 20-21 November 2020. Be the first to listen in to the Keynote Address by the dynamic GB Srithar and the charismatic Featured Speaker Neliswa Nkani. Enjoy an energetic Panel Discussion by Thought Leaders from Singapore & India on Navigating MICE in the new-norm. Join in to hear the Presentations and promotions as well as pick up business leads as you go along."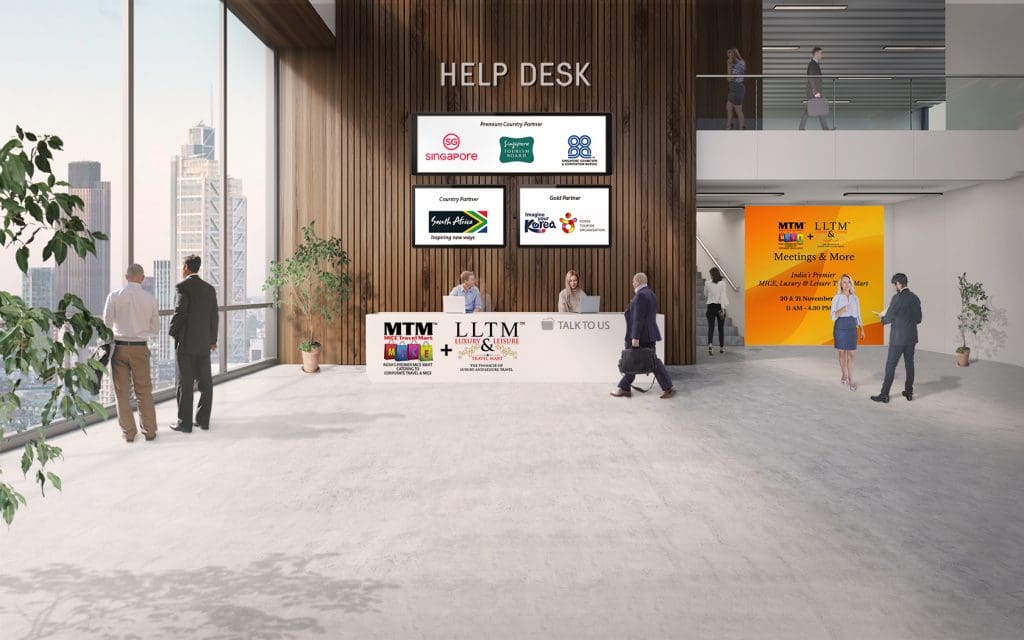 She said, "We expect a great opportunity-filled 2-day networking MTM & LLTM. As Srithar says, expect travel recovery to be a slow, deliberate and cautious process. The world will surely emerge stronger and more resilient and the return to travel a joyously fulfilling journey! In the meantime be the frontrunner and have a successful MTM and LLTM."
We are prepared for recovery to be a slow, deliberate and cautious process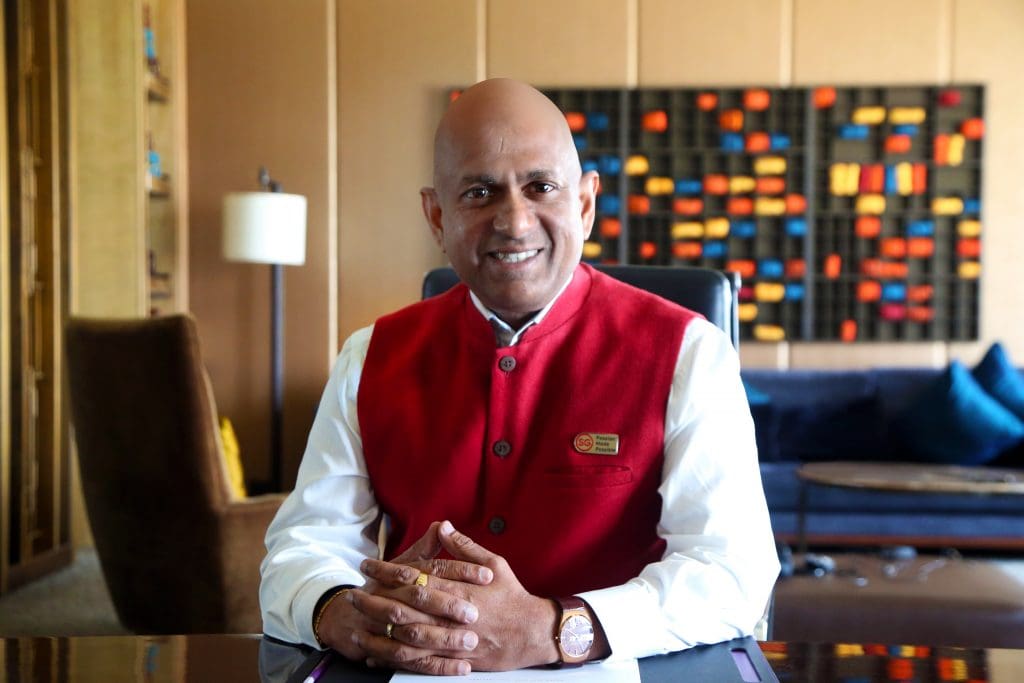 One of the highlights of the event was a compelling Keynote Address by GB Srithar, Regional Director, India, Middle East & South Asia, Singapore Tourism Board in which he pointed out, "STB has very strategic interest in the India MICE market and as part of our MICE outreach efforts, this event is an excellent opportunity for us to engage you and share what Singapore has to offer in the COVID-19 present world."
In a well-articulated Address, Srithar touched on developments in the Singapore MICE space emphasizing, "STB has announced gradual resumption of business events. This is underpinned by a risk management framework for business events of up to 50 attendees."
He said, "STB and our sister agency Enterprise Singapore are collaborating with the Singapore Association of Convention and Exhibition Organizers and Suppliers (SACEOS) to formulate an Industry Resilience Roadmap to establish best-in-class standards for new event safety measures; create agile business models with a focus on digital capabilities; and develop pathways for professional development in the post-COVID-19 world."
He added, "The Singapore MICE industry players have been hard at work adapting their businesses. One of the latest developments is the unveiling of a hybrid event broadcast studio with hologram functionalities located at the Sands Expo and Convention Centre. This enables Marina Bay Sands to be versatile in hosting meetings in a hybrid format."
Despite the progress, Srithar cautioned, "We don't expect a quick rebound in visitor arrivals to Singapore, as it will take a while for positive global travel sentiments to return. We are prepared for recovery to be a slow, deliberate and cautious process."
Srithar took the opportunity to share with the MICE intermediaries and corporates about the new event TravelRevive: "This new travel tradeshow powered by ITB Asia and STB brings international delegates and businesses together to exchange ideas, bridge knowledge gaps, and reimagine the future of travel. This show will trial the newly developed prototype for safe business events, safe itineraries and digital enablers in Singapore."     
He explained, "Moving ahead, as more insights and data are obtained through pilot events, STB will work with the MICE industry to adapt our protocols and solutions for safe business events. These pilot events and solutions will help Singapore lead the way as a safe, trusted and innovative destination for MICE events."
Srithar's Power point presentation, "Growing MICE Connections, Achieving Together!" focused on the highlights addressed in his Keynote namely that "Singapore was currently in Phase 2 of re-opening its economy, in our 3-phase safe and sustainable recovery approach. This progress builds upon our continual effort to: Expand our testing capacity; Conduct robust contact tracing; and ensure sufficient healthcare capacity to meet the needs and plan ahead."
The excellent presentation dwelt upon the fact that the majority of Singapore's economy has reopened subject to safe management measures being in place.
He brought attention to 20,000 tourism establishments including MICE venues and facilities that have been certified under the SG Clean program, and the target is to cover all the 37,000 business within the tourism and lifestyle sector.
He referred to the green lane arrangements with Malaysia and 6 provinces in China, Brunei Darussalam, New Zealand, Korea and Japan, focusing first on essential travel. And the most recent inclusions are Australia (except the State of Victoria) and Vietnam.
He summarized in his astute fashion, that Covid-19 has pushed the fast-forward button and accelerated digital transformation and adoption across the world. "Refocus on the needs of Association members. Reimagine the event model and Re-build the value proposition bearing in mind that for overseas business events, the decision to travel will need a high order of purpose and command greater compelling value."
Panel Discussion "Navigating MICE in the new-norm"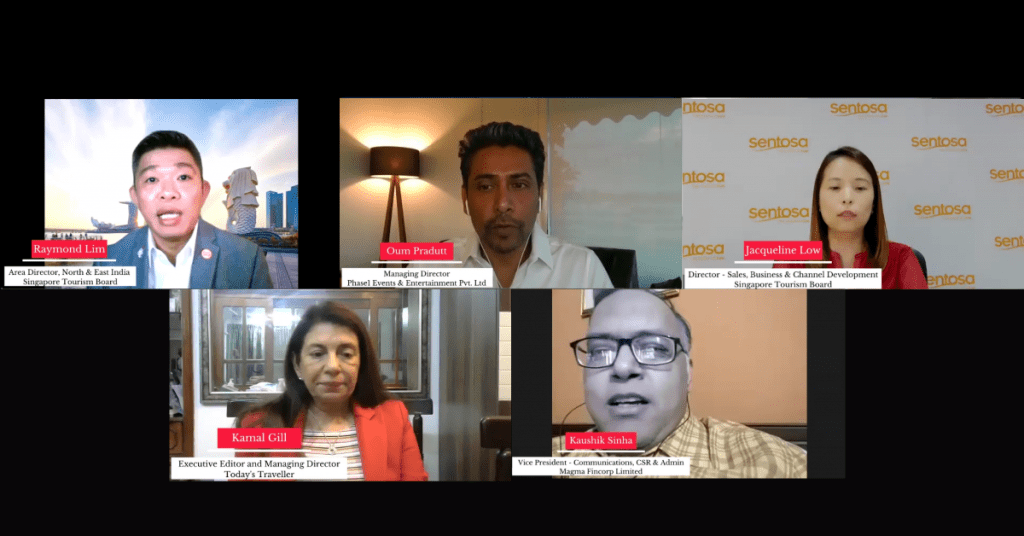 MTM & LLTM is known for its popular Panel Discussions. The Panel Discussion "Navigating MICE in the new-norm" was much awaited ever since its first announcement.
This engrossing discussion featured an energetic panel consisting of Singapore and India MICE leaders. The esteemed Panellists included Raymond Lim, Area Director North & East India, Singapore Tourism Board; Jacqueline Low- Director- Sales, Business & Channel Development, Sentosa Development Corporation; Oum Pradutt, Managing Director, Phase1 Events & Entertainment; and Kaushik Sinha, Group Vice President, Communications, CSR & Admin, Magma Fincorp.
The Panel was moderated by Kamal Gill, Executive Editor, Today's Traveller & Director OptiMICE Events.
Singapore is a leader in the resumption of MICE activities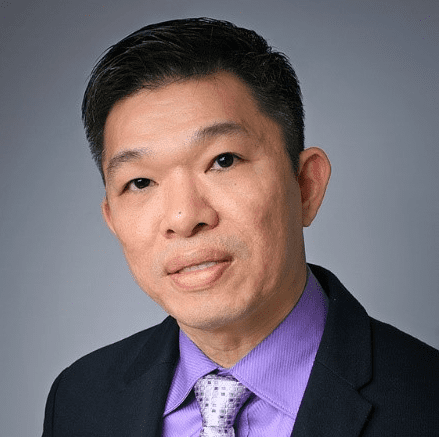 Raymond Lim, Area Director North & East India, Singapore Tourism Board brought the focus on Singapore as a leader in the resumption of MICE activities and fresh initiatives that will help STB enhance and maintain this position in 2021.
He shared that on the economic front, Singapore has moved towards a safe and calibrated re-opening with businesses operating and resuming in a sustainable manner.  
Said Lim, "We are also taking a cautious view on re-opening our borders with the necessary safeguards in place. There are already some travel arrangements in place – 5 are unilateral with New Zealand, Brunei, Vietnam, Australia and China while the rest are reciprocal green lanes to facilitate essential business travel."
He elaborated, "In July 2020, STB announced the Safe Business Event Framework of up to 50 attendees, based on strict Safe Management Measures. This is a milestone in our local MICE industry's journey to resuming business. This framework takes into account an event attendee's entire end-to-end journey, creating a safe environment for meetings and providing attendees the assurance from arrival and up until 14 days after the end of the event."
The framework was created in consultation with the industry and is aligned with international best practices. It arises from reflections and lessons learnt over the past few months, when businesses in Singapore's MICE sector conceptualised and reimagined what a safe event could look like.
He said, "The safe resumption of MICE events requires close partnership and coordination between public and private sector stakeholders. The Alliance for Action on Enabling Safe and Innovative Visitor Experiences, which is industry-led, government-supported coalitions was convened to look at 3 focal areas: Reimagine large-scale MICE events and tradeshow formats; Curate safe leisure itineraries; and deploy digital enablers to deliver a safe and seamless end-to-end visitor experience."
He pointed out, "STB and its convention and exhibition bureau provide support to both our Singapore MICE industry players and in-market trade partners and Corporates. STB's 2 offices in Mumbai and New Delhi are staffed with MICE specialists who reach out actively to the MICE trade and Corporates and offer facilitation in planning for their MICE travel programs."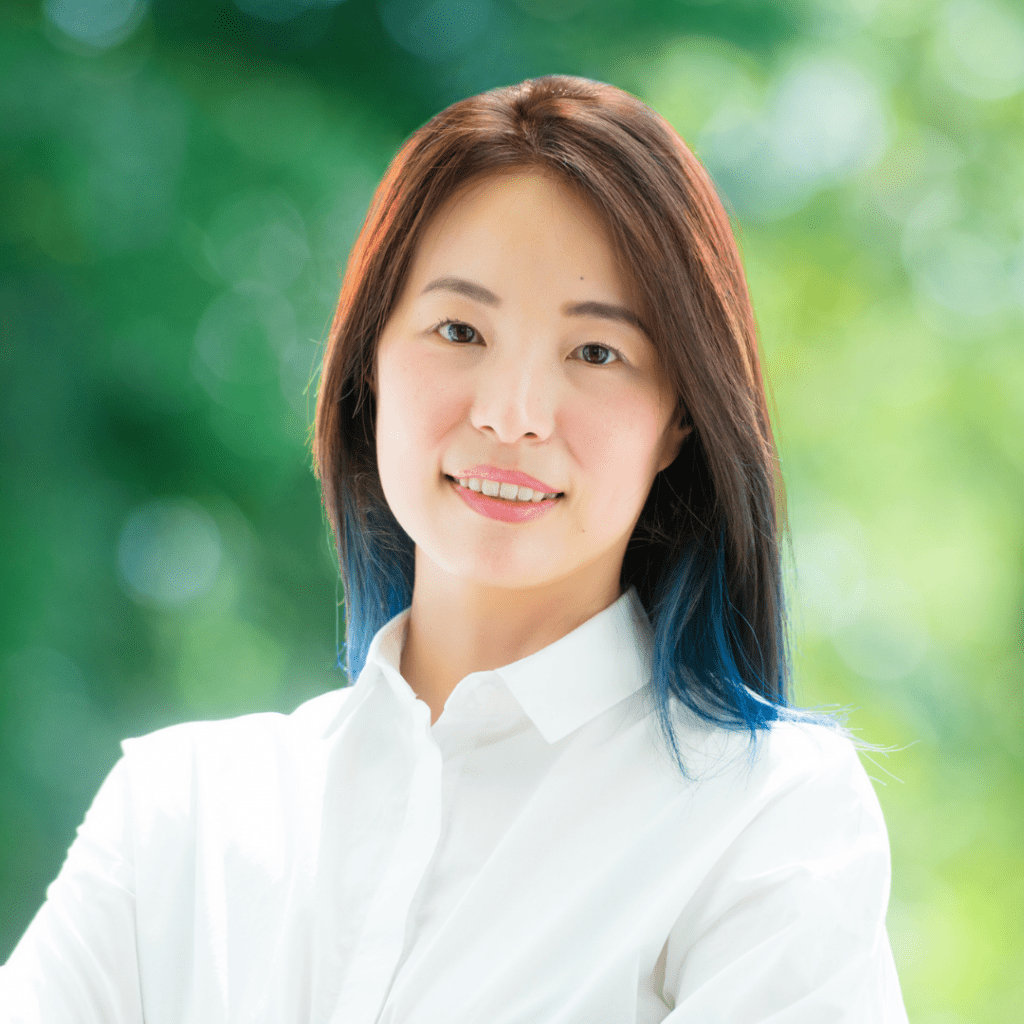 Best practices and safety measures for the revival of tourism
Jacqueline Low, Director – Sales, Business & Channel Development, Sentosa Development Corporation spoke passionately about best practices and safety measures for the revival of tourism. She said,"With the help of technology and the creative talent of our team at Sentosa, we have been able to put together a very forward looking product for visitors to Singapore. There are many gems on the island where we can bring our overseas guests virtually to be present with us."
She shared, "We receive many MICE Groups from India, who are favourite patrons of our Beach Clubs. We have gone to the India market in a big way to get incentive groups from India and we put together packages for the beach clubs and these packages have been a great success. We have also done well with our newly opened beach club like Rumours Beach Club Sentosa. As Raymond says Partnership and collaboration are key to resumption."
Low also talked about how these packages have been tested with the local market to understand the safety protocols and the durability of the attraction. "It has helped us to refine the product and make it part of the MICE experience when the market returns. This will also help us not only to curate these packages but it will help us to understand what sort of cost implications these will have for the MICE planners."
She concluded with saying that while virtual meetings and events may be economical, "Sometimes you really need to be there to experience it live – because some experiences need to be enjoyed when you are there physically."
We have tried innovative ways for guests to consume content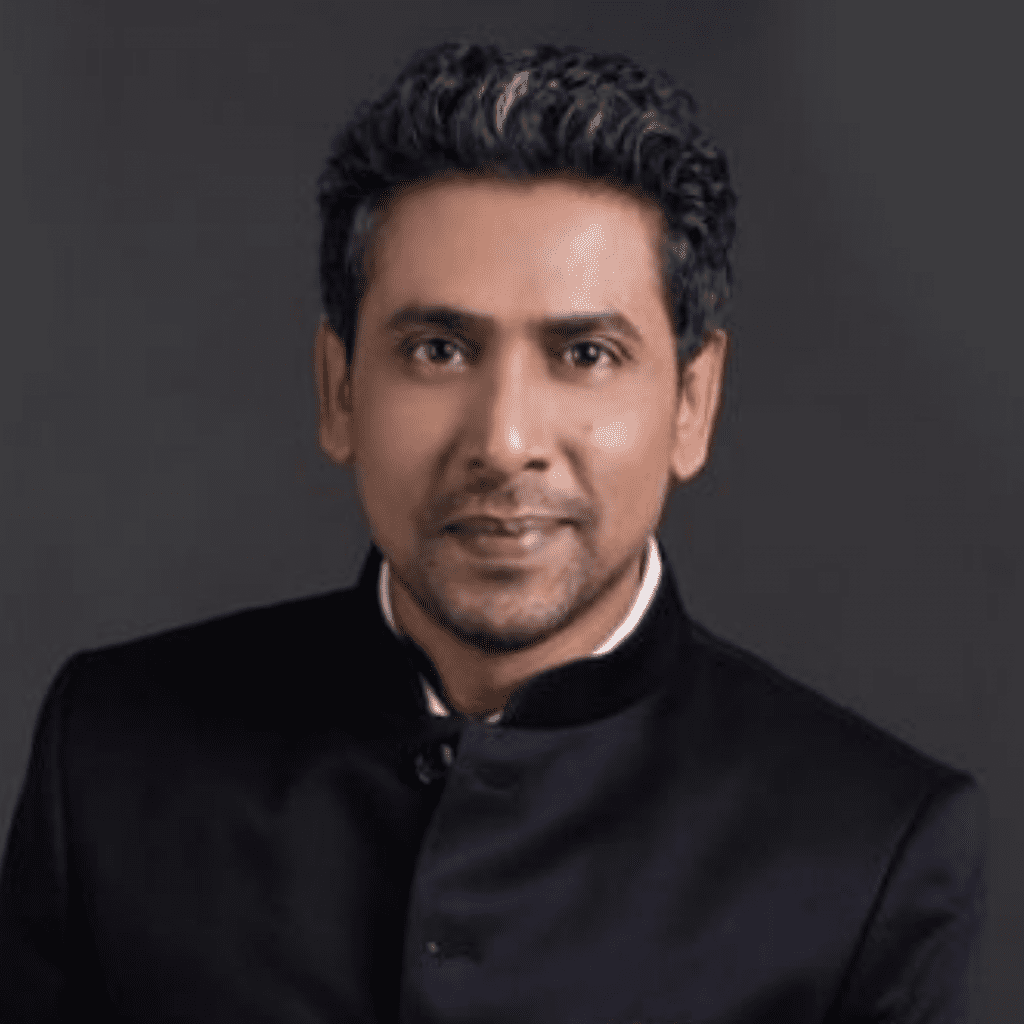 Oum Pradutt, Managing Director, Phase1 Events Entertainment appreciated the in-depth perspectives of Raymond Lim and Jacqueline Low and said Singapore was his all-time favourite destination.
He was of the belief, "Regarding virtual events everyone needs to be very creative and collaborative. As Raymond says "Collaborate rather than compete" which is to say that you can get the best talent around the world to produce the best and at an economical price because it is a virtual platform."
Pradutt was however clear that, "The flip side is that guests cannot meet eye to eye or face to face and entertainers and artists cannot gauge the response of the audience to their performance, so the whole touch and feel and smell and taste is lost."
He went on to say, "We have tried innovative ways for guests to consume content. But in the future I believe it will be hybrid events. I also feel that the event industry will never be the same again. I am personally very excited about the digital space because it has reset the planet and all of us mentally. Necessity is the mother of invention and it has helped us to put all kind of creative elements together during this period."
We are doing our rewards and recognition programs every month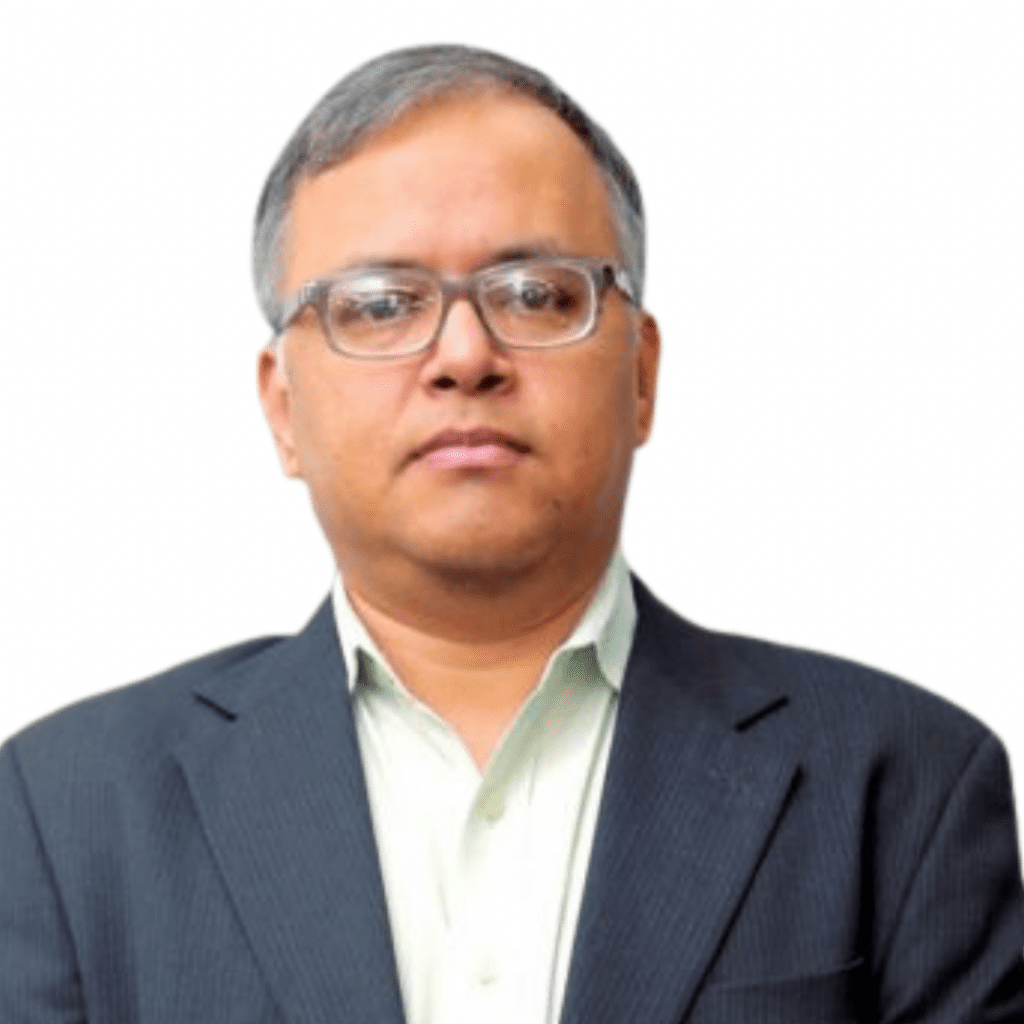 Kaushik Sinha, Vice President – Communications, CSR & Admin, Magma Fincorp Limited was clear in his assessment that digital has proved successful in the short run and physical events will resume once a successful vaccination program takes place.
He shared, "Typically we do smaller groups in our company and our group size on an average is typically between 50-100 pax. We often do these programs which are conference led, as basically two days of conference followed by a day of local sightseeing and entertainment. Most of our programs are organized between April and October every year."
With the Covid, the typical programs no longer exists. "This year we have done our events online and on digital platforms. We are doing our rewards and recognition programs every month and most of these are musical soirees every month with good engagement and requests pouring in for singers and songs and live streaming on social media. "
Sinha elaborated, "As such these digital programs have proved very popular. Our organization is nine and a half thousand people and for each of these musical soirees we were getting 4000 people to come and attend. By quarter 3 of next financial year 2021 is when we can see our MICE activities resuming. Meanwhile on a much lower scale we have done small-sized events in Mumbai, Calcutta, Delhi and so on."
Singapore as a destination of choice
In a comprehensive presentation Raymond Lim, Area Director North & East India, Singapore Tourism Board outlined various initiatives to demonstrate that Singapore has a head start in the safe resumption of travel due its adherence to safety protocols and technologically advanced systems.
The presentation was well conceived and covered an update on the Covid-19 situation in Singapore and how the MICE landscape is shaping up its response; information on some of the new tourism developments in Singapore and the various MICE support schemes to help MICE agents and Corporates in their planning for their next MICE travel program to Singapore.
Lim said, "India is one of the key source markets of business traffic to Singapore, particularly for Meeting Incentive travel segment. There are four programs which STB has customized to meet the needs of Corporates, Events Planners and the Delegates, for different group sizes. These schemes are catered specifically to help them to plan better and pitch more confidently should Singapore be a destination of choice. Besides marketing and itinerary planning, we offer financial support and incentive schemes to Corporates, MICE intermediaries and event planners."
He explained, "To provide further guidance for our MICE businesses, STB and Enterprise Singapore (ESG), the government agency that champions enterprise development, are collaborating with the Singapore Association of Convention and Exhibition Organisers and Suppliers (SACEOS) which is Singapore's MICE industry association, to formulate an Event Industry Resilience Roadmap (IRR).
The partnership is focused on three strategic objectives: Establishing best-in-class standards for new event safety measures, creating agile business models with a focus on digital capabilities, and developing pathways for professional development in the post-COVID-19 world.
Lim went on to elaborate, "The Event Industry Resilience Roadmap will serve as the "roadmap" to guide Singapore's event organizers as they plan for the safe resumption of other MICE events in Singapore and a sustainable recovery."
He concluded with, "We have a slew of support programs to cultivate the meeting and incentive travel segment and we are always looking for ways to make them for attractive and competitive."
South African Tourism would like to open their hearts to all those who are prepared to come to South Africa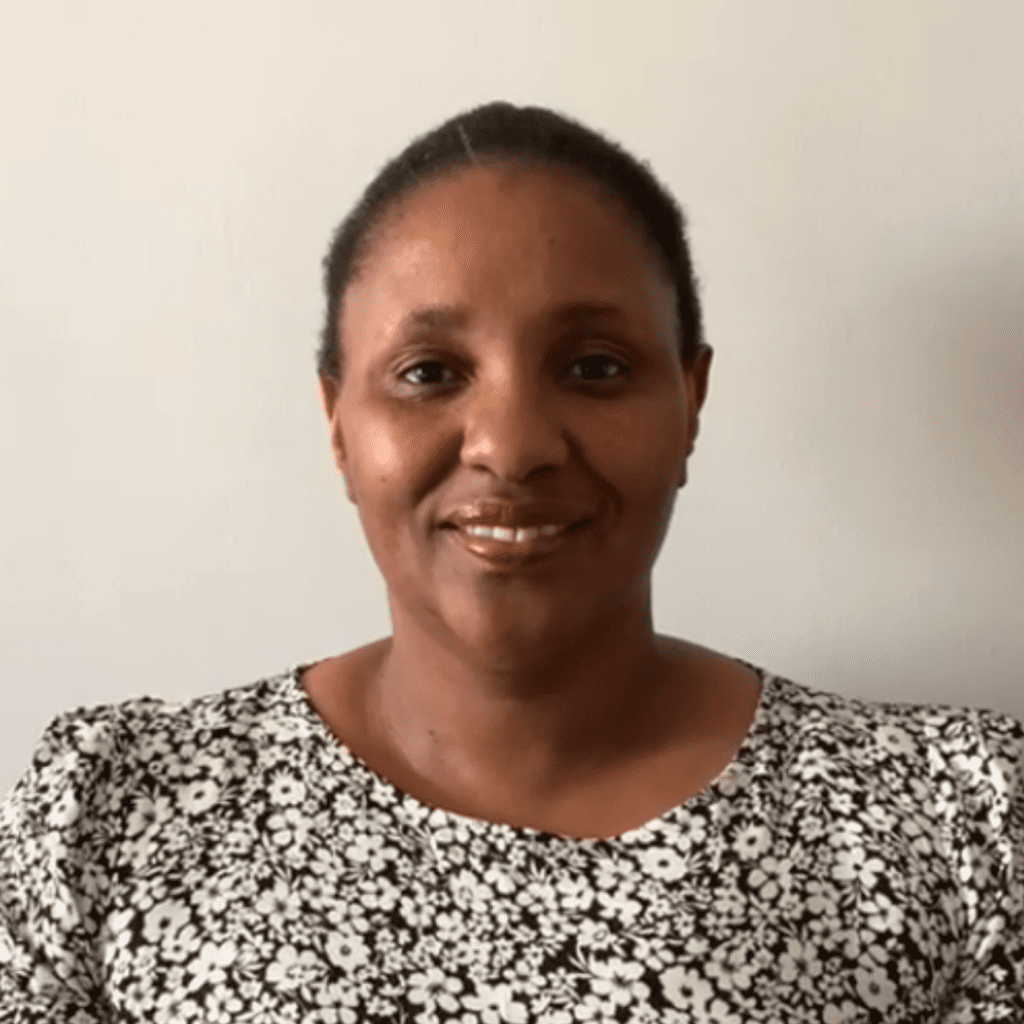 The Featured Speaker from the Country Partner was Neliswa Nkani, Hub Head, South African Tourism (MEISEA) who spoke from the heart, "None of us saw 2020 coming. But because we are a resilient nation and because we are resilient people, we stand here today as South Africans and as Indians ready to embark on the new journey that COVID has given us."
She recounted in her forthright manner, "When South Africa was hit with COVID, interestingly enough, we had the top corporates from India, among others, embarking on a familiarization trip. We were delighted to be hosting some of the top CEOs of corporate houses, top CEOs of tourism companies and showcasing the new and the unknown."

She reached out to the audience with the query, "So what did COVID give us? It gave us an opportunity to pause, reinvent ourselves. We repositioned South Africa with new products and destinations that were unique and fresh. We took the opportunity to engage with corporates on a one-on-one and ask them what they are looking for. They needed from us the assurance that South Africa is a safe destination post-Covid."

She added, "We also understood that the new travellers ranging from corporate MICE, CEO's business, leisure, are looking for new undiscovered places with a lot of space and places that have never been shown before. And so with that, we were able to repackage and reinvent ourselves."

She was her engaging best as she took forward her discourse, "Now, why are we here today? We are here today to tell you. South Africa is ready for business. Our President on the 11th of November was very clear that our skies are open. Where does that leave us? It means that corporates need to start getting ready because South Africa is ready to welcome them. We are in the process together with the consulate general of South Africa, VFS and our tour operators, as well as our airlines to engage to say, how do we make it easy to come to South Africa?"

She concluded, "We at South African Tourism would like to open our arms and our hearts to all those who are prepared to come to South Africa."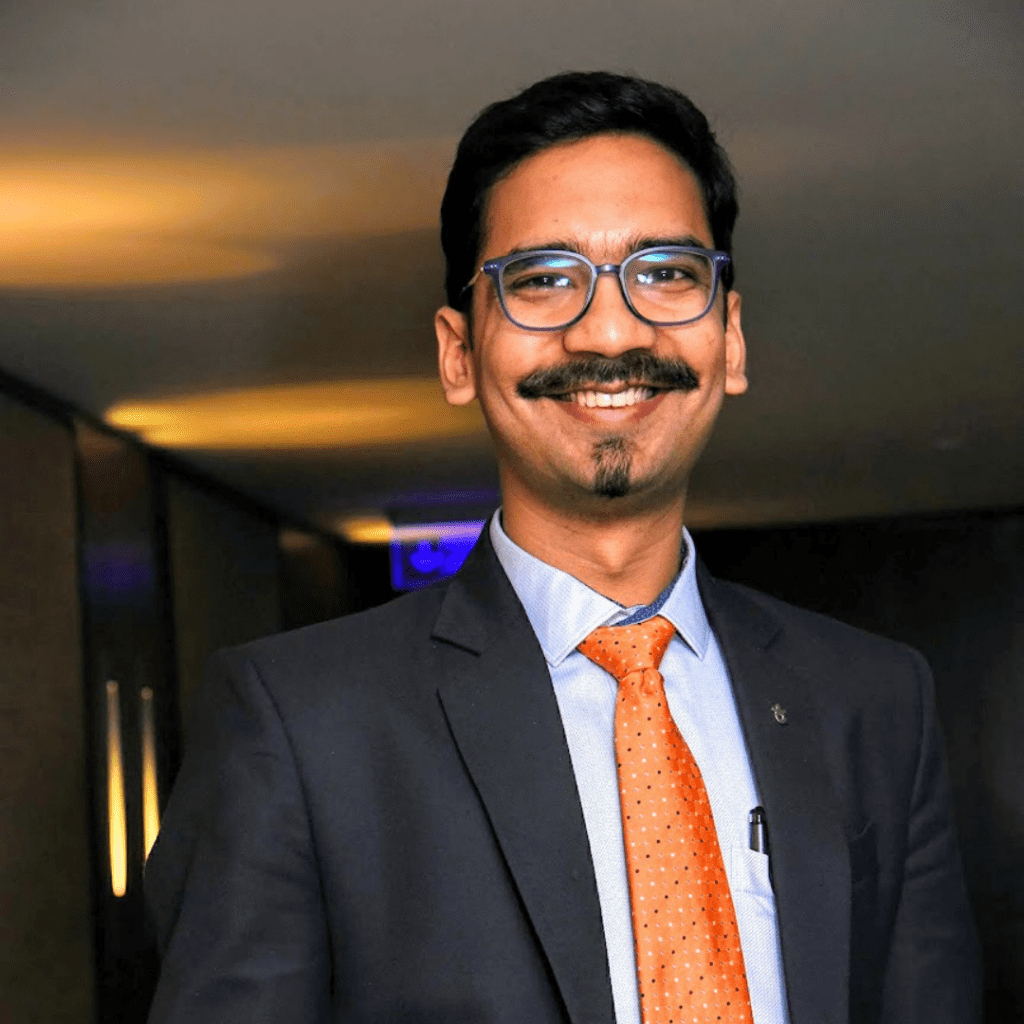 Bringing the focus on Korea as the preferred destination
Korea Tourism Organization as Gold Partner made an effective presentation at MTM & LLTM. Sandeep Dutta, Manager Marketing India & SAARC Korea Tourism Organization put forward a crisp Presentation. He said, "We aim to help the buyer understand the basics of the destination with emphasis of itinerary building for different cities and how to best connect the cities for different customer needs be it FIT or GIT or MICE groups."
The clear-cut Presentation was well accepted by the audience as they lined up for their walk-in and fixed meetings at the Korea stall with Sandeep Dutta.



After a hectic day of networking at MTM & LLTM
After a hectic day of intense business networking, Addresses, Presentations and Panel discussion, MTM & LLTM ended on a high note, with the attendees leaving notes of appreciation at the networking, which they loved. Overall, the event received an enthusiastic response from the sponsors, who spoke highly of this innovative networking initiative and thanked the organisers for putting together this unique corporate event.
Supporting the event, Srithar commented, "My team and I at STB are happy to be participating as an exclusive premium partner country at MTM & LLTM. I congratulate Kamal Gill and the team at OptiMice Events for organising this unique virtual MICE Travel Mart, embracing technology and innovation. They have been working hard to provide a virtual platform for the various players in the MICE ecosystem to come together and stay connected during these difficult times. My kudos to the team!"
Putting in a strong word, Sandeep Dutta, Manager Marketing India & SAARC Korea Tourism Organization said, "MTM & LLTM Virtual was a wonderful initiative by OptiMICE and we at KTO were pleased to be a part of it. The one thing we really appreciated was the flawless functioning of the online platform where all meetings were conducted without any technical issues. Team OptiMICE assisted in connecting with the corporates so that we could have meaningful discussions. MTM Virtual is a great addition to MTM series for the future."
Kamal Gill, Director OptiMICe said, "Our amazing team have worked ceaselessly over the last eight months to develop our digital capability to meet the challenges brought about by COVID-19 to the travel industry. We are happy that MTM & LLTM has been able to create a unique concierge-led approach to high-quality meetings and dedicated content tailored specifically for Buyers. Our intuitive learnings will come in handy for the upcoming hybrid events in 2021."
OptiMICE Events Pvt. Ltd. has conducted various surveys and interactions with a sizable number of Corporate MICE and Travel decision makers on the changing trends in MICE and its upcoming demand post-pandemic. The company is happy to share that there is light at the end of the tunnel with more than 70% of corporates projecting or planning MICE Travel by the end of the second quarter of 2021.
MTM & LLTM – Meetings & More for Outbound & Domestic MICE will play a key role by being a facilitator in the revival of Tourism in 2021.
Read More: Singapore leads the way for safe resumption of business events