A journey to Andaman is one of discovery, where the shore meets the sea, nature meets beauty, and you meet life.
The Andaman and Nicobar Islands embrace an incredible history that dates back to 800 BC. Known for having the best beaches in India, these islands are synonyms to the most famous exotic islands in the world and are ideal for vacationing.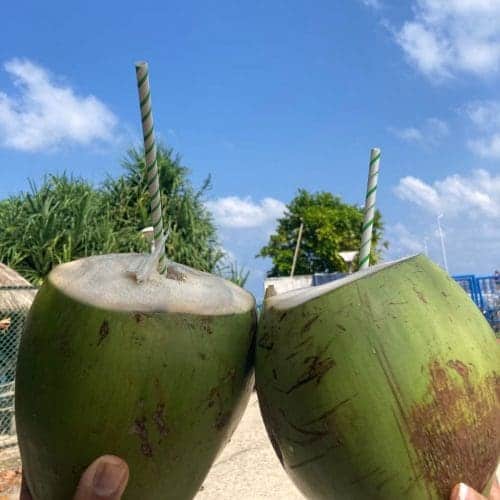 The Andamans is an archipelago of 572 tropical islands, out of which about 26 islands in Andamans and 10 islands in Nicobar have been inhabited for thousands of years.
This scenic landscape filled place was declared a Union territory in 1956 and is supported by studies pointing to habitation going back 60,000 years, with the Sentinelese tribe emerging for the first time in the 1850s.
These indigenous people continue to be isolated communities in the space to date. The Indian government has prohibited tourist travel within three nautical miles of the North Sentinel Island and declared it a tribal reserve, maintaining a constant armed patrol to prevent outsiders.
My trip to this paradise on earth is filled with much-needed adventures and memorable experiences. After all, it is where five indigenous tribes, including Jharwas (Jarawas), Onges, The Great Andamanese, and Shompens, besides Sentinelese, are still living and can be spotted by the tourists.
How to travel to Andamans to view its top attractions?
Andamans, being an island, can be reached only via sea and air routes. The fastest way to reach the Andamans is by boarding direct flights from Kolkata, Bengaluru, Chennai, and Visakhapatnam. It took approximately 2.5 hours of my travel time to reach this destination by flight.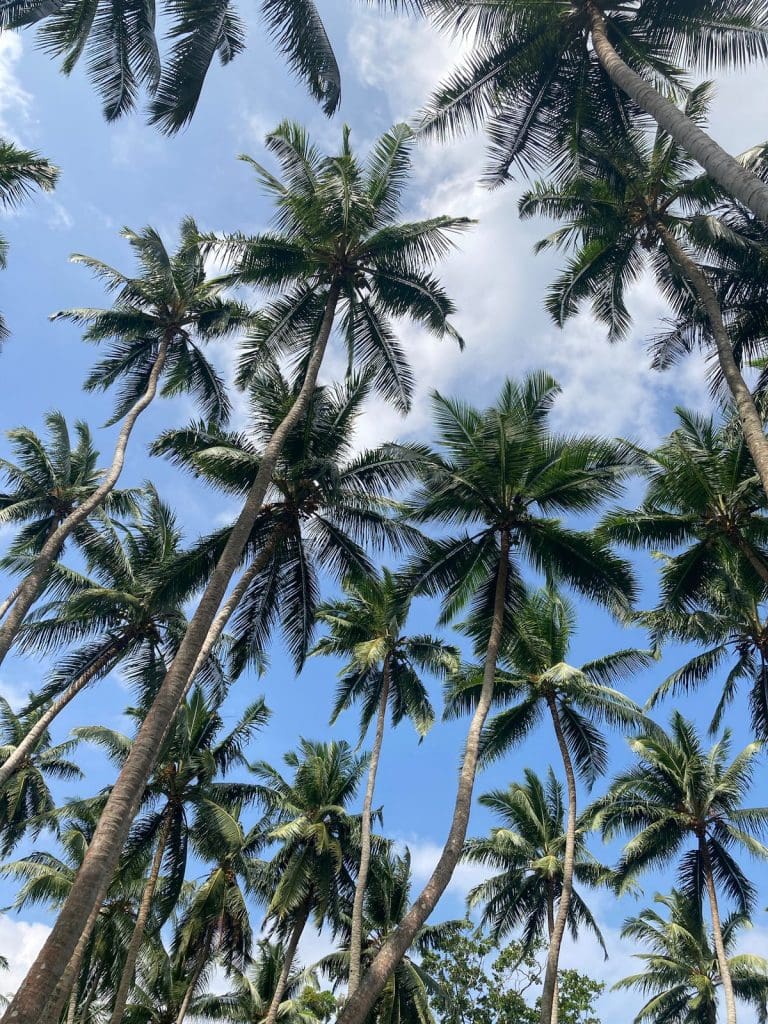 So, if you are planning to visit this space, here are my recommendations regarding the top attractions in the Andaman and Nicobar Islands.
Port Blair
It is considered the gateway to Andamans and the only airport connecting mainland India to the island. Once in Port Blair, a must-visit tourist place is the Cellular Jail, also known as Kala Pani (Water of Death). After the 1857 revolt, the site has hosted a unique light and sound show every evening, constructed to exile political prisoners. As a political prisoner, Veer Savarkar did not have access to a pen and paper and used thorns and nails to scribe thirty plus poems on the prison walls.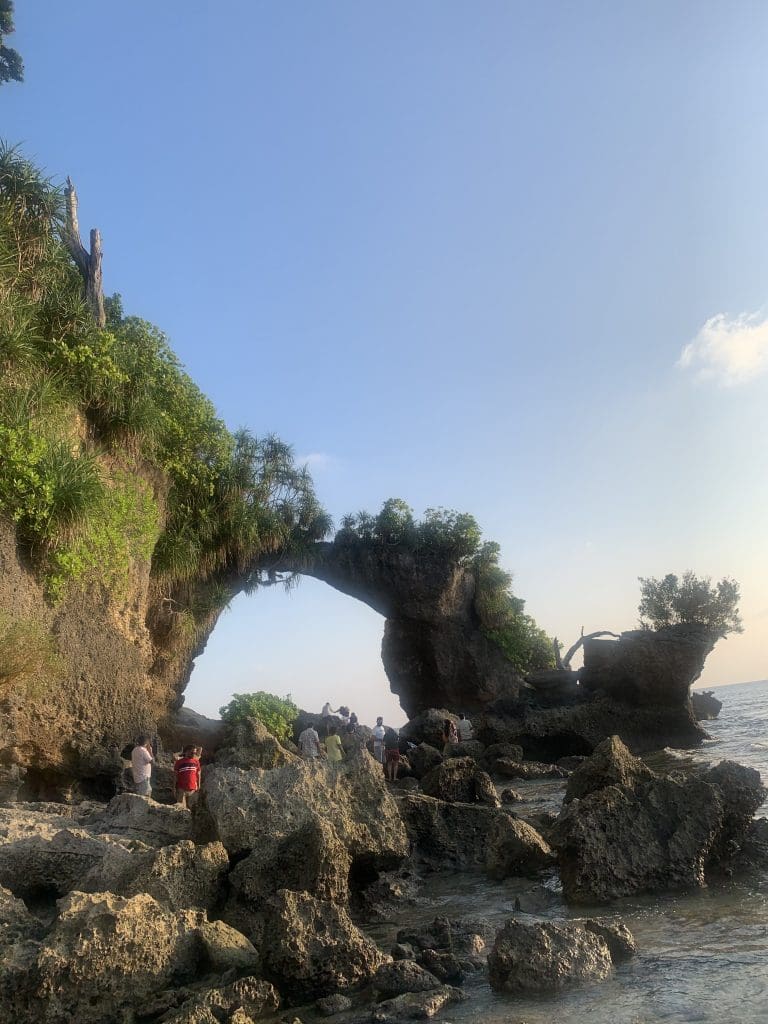 Chidiya Tapu Beach
The beach is also known as Bird Island, about 25 km from Port Blair, rich in mangrove forests that can be easily reached by road. A popular spot for picnic and trekking for the tourists, this beach is home to several natives, migratory birds, and mesmerizing sunset views, with one of the main attractions being the sunset point.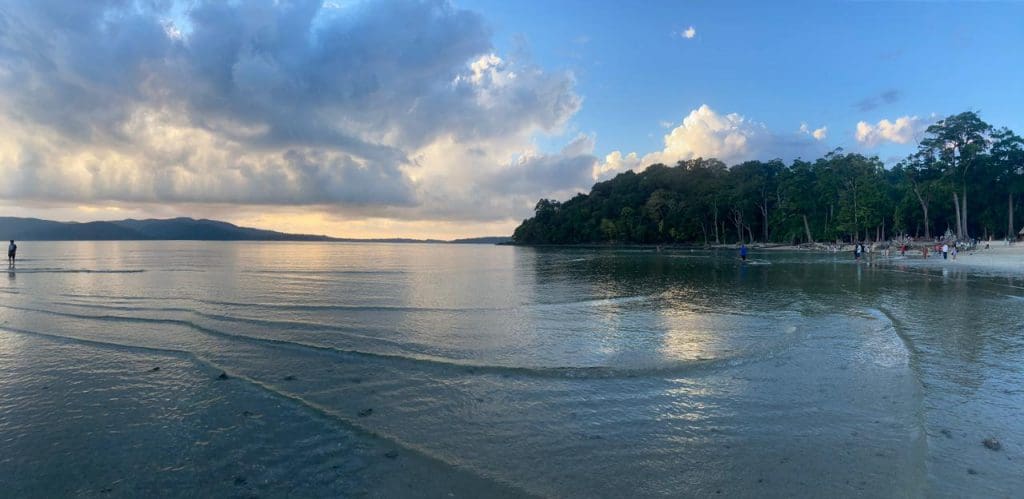 Corbyn's Cove Beach
Dotted with coconut palm trees, this is a fringed beach about 6 km from Port Blair. It is an ideal tourist location for swimming, sun-basking, and water sports with jet skis and parasailing. The snake island just across the beach is famous for scuba diving, the greatest adventure on the Andaman and Nicobar Islands. You can also unlock your adventure spirits by getting lessons from the scuba diving schools to explore underwater diving experiences.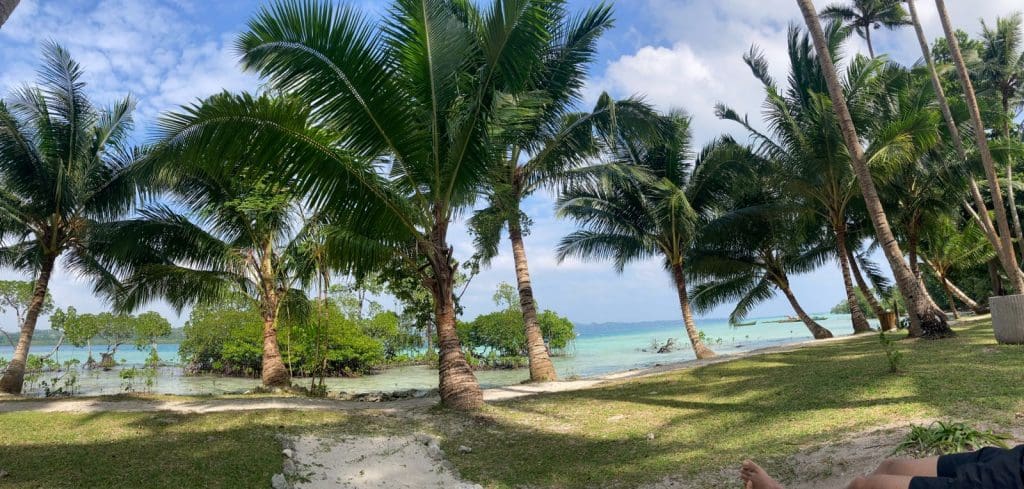 Baratang Island
Baratang Island is 130 km from Port Blair between the south and middle Andaman, featuring dense mangrove creeks, limestone caves, and mud volcanoes. You can also spot various exotic birds along the lush trail of dense trees.
You can explore the Limestone caves located on Baratang Island with the permission of the Forest Department and under local guidance. The journey to Baratang is memorable as you will cross 47 km of dense jungle in convoy, allowed four times a day under police protection.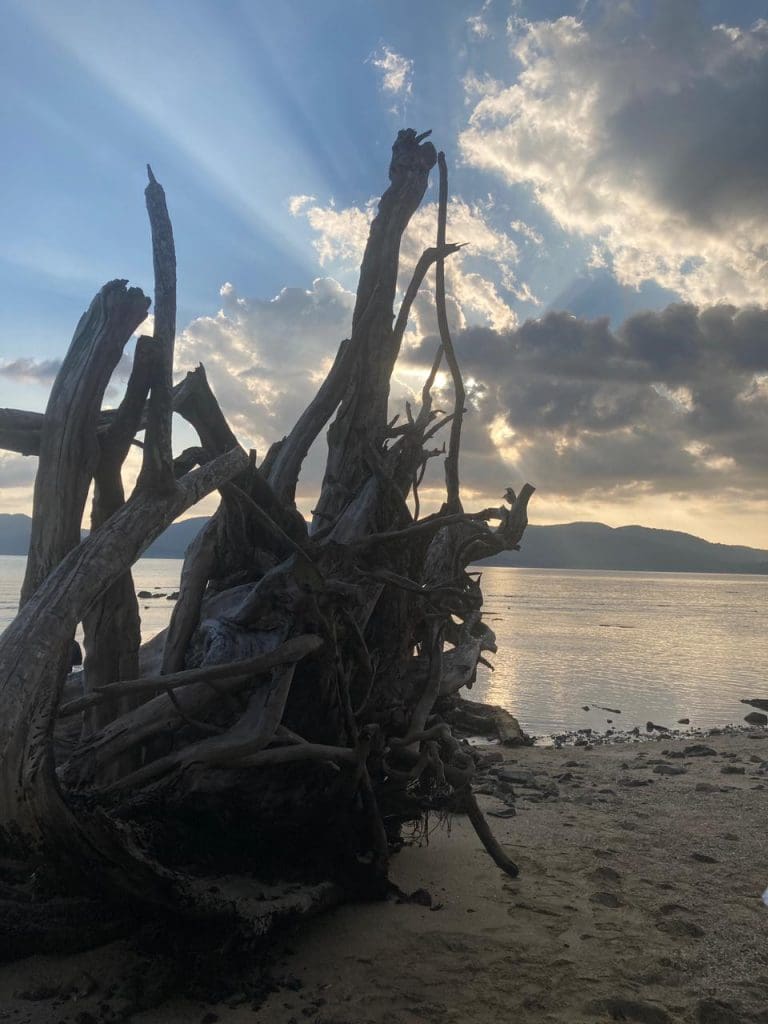 As this is a sensitive area with the Jarawa tribe residing in them, you cannot stop or take photographs. You may spot them carrying a bow and arrow as they hunt wild pigs, turtles, and other quarries. The Jarawa tribe can be traced to catching fish with bows and arrows in shallow waters in this area. Besides meat and seafood, they collect fruit from the forest. Clicking their photos or videos is illegal, and by doing so, you can land up to seven years of stringent imprisonment.
Ross & Smith Islands
Ross and Smith Islands are two separate islands, joined by a natural sandbar to form a single island. Further up, almost eight hours drive from Port Blair, you need to take a motorboat, which is about a twenty minute ride from Diglipur. In this mesmerizing spot, you will get to witness the surreal natural beauty of Ross & Smith Twin Islands and spot turtles swimming in the shallow waters.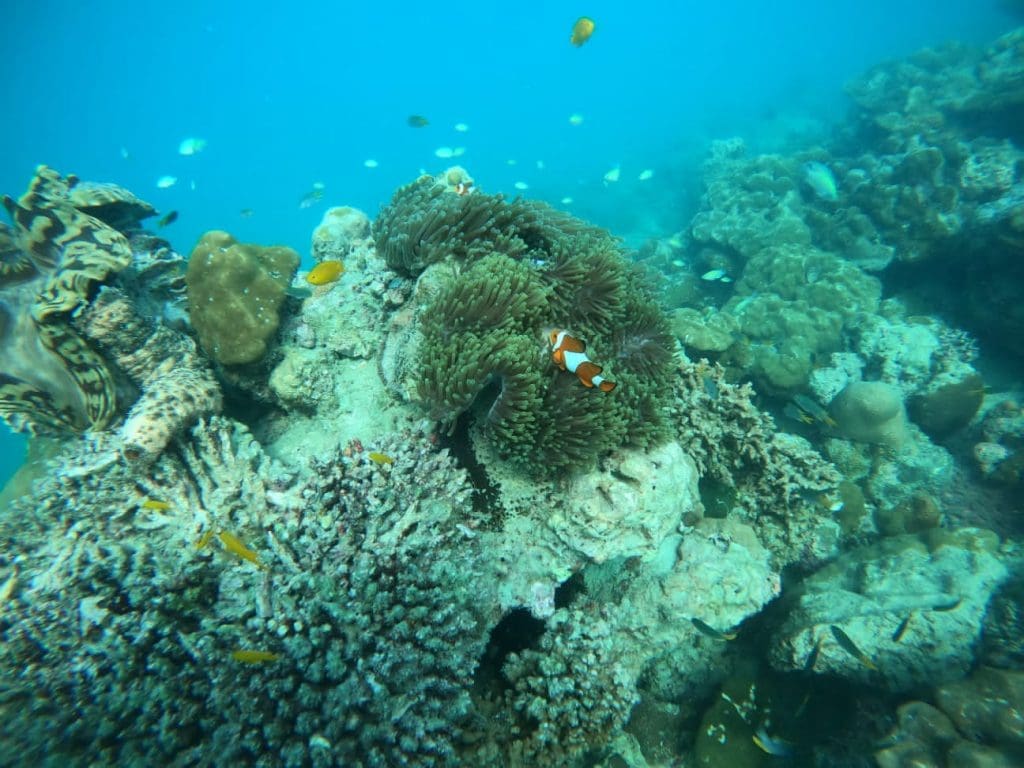 Havelock Island
Havelock Island, also known as Swaraj Deep,is known for its pristine white beaches, clear blue water, and rich coral reefs. It is the most popular tourist spot, where you can take a ferry from Port Blair, as Havelock is located 40kms northeast of Port Blair.
Havelock Island has three popular beaches: Radhanagar Beach, Vijaynagar Beach, and Elephant Beach. If you are a young soul, you may prefer to do some snorkeling. It is way easier than scuba diving that gives you a peek of the corals and other marine life under the clear surface of the water.
Alternatively, you can enjoy a ride on the dolphin glass-bottom boat that offers you a view of the underneath. If you are more adventurous, you can undoubtedly try scuba diving after a brief training led by instructors into the deep blue.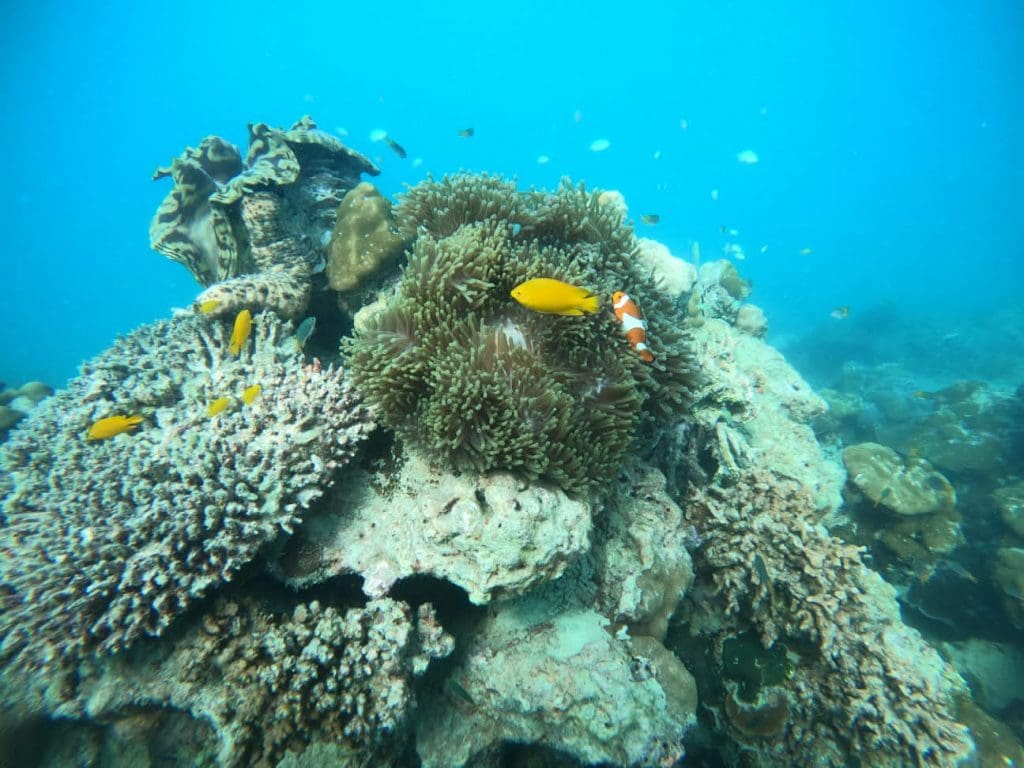 Neil Island
Also known as Shaheed Deep, Neil Island is a small and beautiful gem located 37 km south of Andaman and Nicobar Archipelago with beautiful biodiversity, sandy beaches, and tropical forest. This island is perfect for tourists who crave solitude. Neil is also known as the vegetable bowl of Andamans as it has healthy cultivation of vegetables. Scuba diving and jet-ski are very popular on this island.
Final Thoughts
If you plan to visit a beach on your next trip, Andaman and Nicobar Islands is the go-to place where you can learn scuba diving, enjoy wildlife and relax.
It is a place where the shore meets the sea, nature meets beauty, and you meet life.
( The author, Nikhil Sharma is the Regional Director Eurasia at Wyndham Hotels & Resorts and is the co-author of Rumi & Kabir Consulting. Text and pix by author. )
Read More: Discover your India