The three-day National Conference of State Tourism Ministers started on 18th September at Dharamshala aims to bring in diverse viewpoints and perspectives from all the States and Union Territories of India.
The National Conference of State Tourism Ministers in the presence of G Kishan Reddy, Hon'ble Union Minister of Tourism, Culture and Development for North Eastern Region, Jai Ram Thakur, Hon'ble Chief Minister of Himachal Pradesh, Shripad Naik, Hon'ble Union Minister of state for Tourism and Ports, Shipping & Waterways, Ajay Bhat, Hon'ble Union Minister of state for Tourism & Defence, Sambit Patra, Chairman, India Tourism Development Corporation, Dr V K Paul, Member, NITI Aayog, Arvind Singh, Secretary, G K V Rao, Director General and Rakesh Kumar Verma, Additional Secretary, Ministry of Tourism
The conference aims at tourism development and growth and to create a direct dialogue with the States on Schemes, policies, and steps being taken at a national level for overall tourism improvement in India. The National Conference also aims to be a platform for sharing best practices, successful projects, and tourism product opportunities.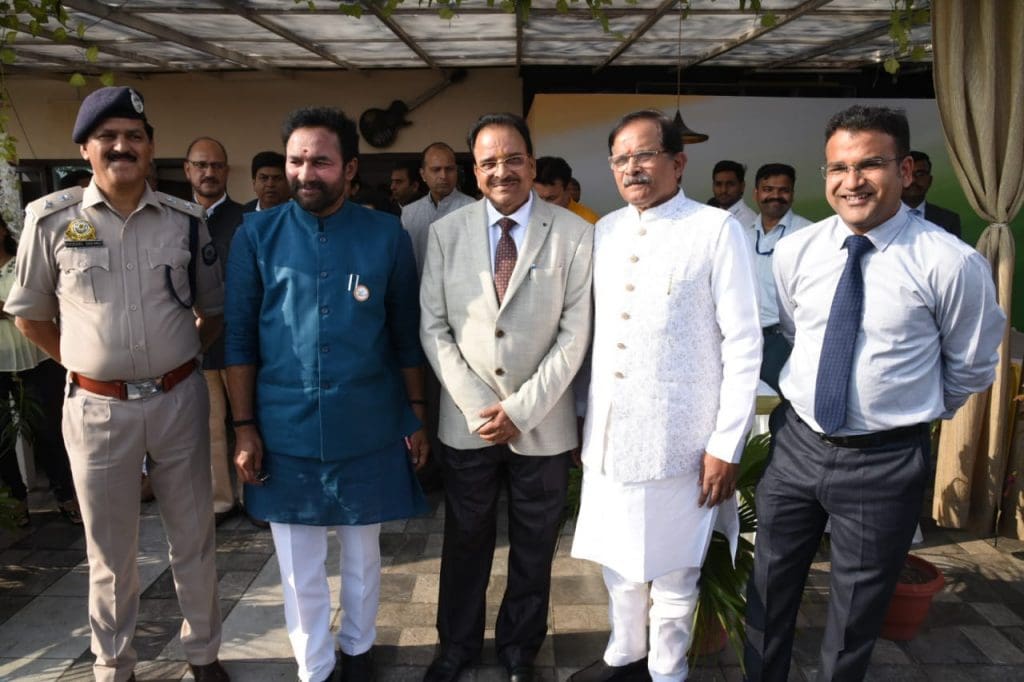 The National Conference of State Tourism Ministers is also important in the current context of India's G20 presidency and aims to unite objectives and efforts to showcase India as a must-visit destination at a global level as we lead up to India's G20
Presidency.
The Conference is divided into thematic sessions on Development of Tourism Infrastructure, Cultural, Spiritual & Heritage tourism, Tourism in the Himalayan states, Responsible and sustainable tourism, Role of digital technology for the marketing and promotion of tourism destinations, Emerging importance of homestays in the Indian hospitality sector, Ayurveda, Wellness, and Medical Value travel, and lastly on Forest and wildlife tourism.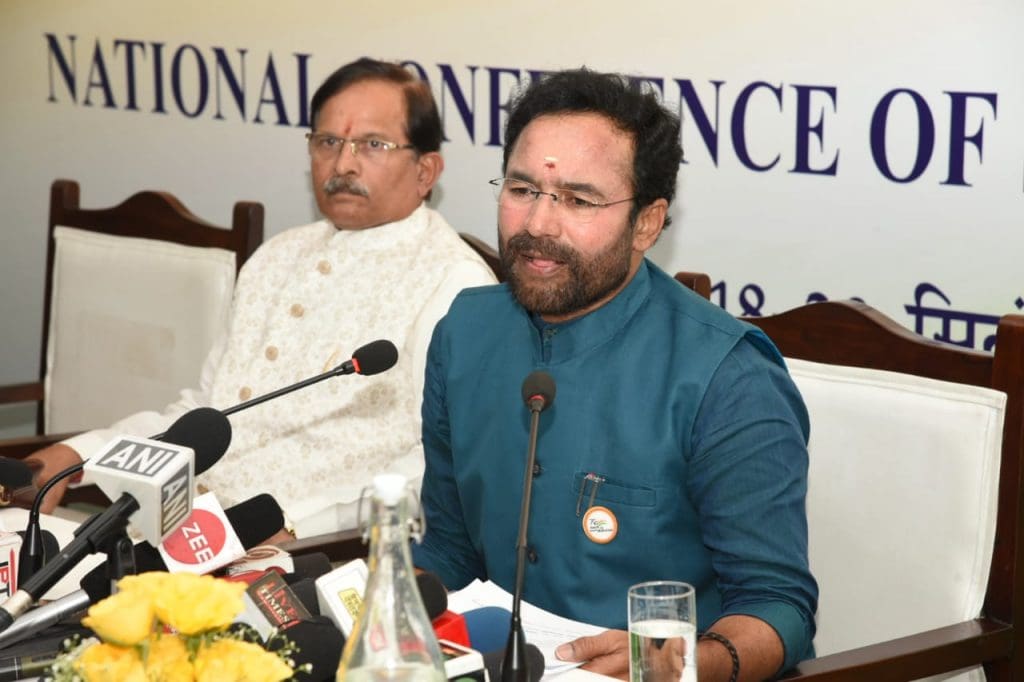 The Ministry has sanctioned Rs 7000 crores for the development of tourism infrastructure throughout the country under its various infrastructure development Schemes. A number of 76 projects have been sanctioned under the Swadesh Darshan Scheme in 30 States and UTs for building tourist infrastructure across various themes.
The PRASHAD Scheme aims to strengthen the tourist facilities around spiritual locations, under which 39 projects have been sanctioned in 24 States. The infrastructure development for these tourists, pilgrims, and heritage destinations/cities focuses on cleanliness, security, universal accessibility, service delivery, skill development, and the livelihood of local communities.
The Ministry has recently launched the Swadesh Darshan Scheme 2.0 with the objective to develop sustainable and responsible destinations following a tourist & destination-centric approach. It is a development of the previous Schemes and would and the objective is to evolve as a holistic mission to develop sustainable and responsible tourist destinations covering tourism and allied infrastructure, tourism services, human capital development, destination management and promotion backed by policy and institutional reforms.
The National Conference also aims to build a common vision for tourism and its growth as we move towards India by 2047. The upcoming 25 years being the Amrit Kaal, the aim of the Conference is to begin a common conversation between the State and Central Governments for setting the vision for tourism in India in the year 2047.
During the Press Conference, G. Kishan Reddy, Hon`ble Union Minister of Tourism, Culture and DONER stated that in the past 75 years, India has become synonymous with tourism, spirituality, transformation, culture, and diversity. It is a matter of great pride to celebrate the record-breaking expansion, leading India to become the 5th largest economy in the world. He said that under the leadership of Hon'ble PM Shri Narendra Modi, there has been a remarkable rise.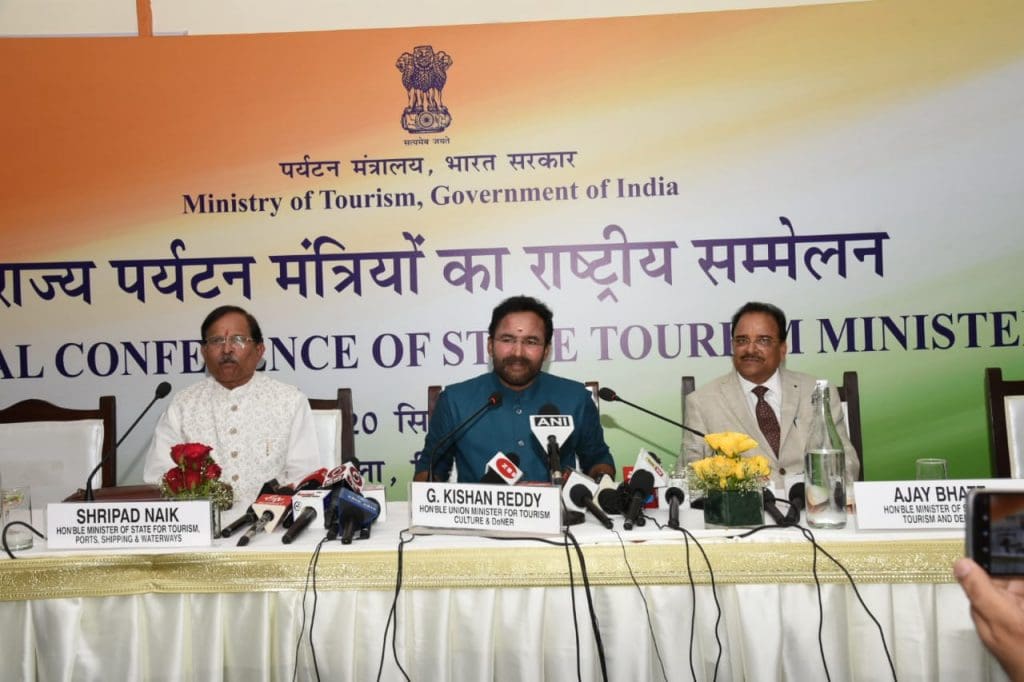 The tourism sector generated INR 16.91 lakh crore (USD 240 billion) or 9.2% of India's GDP in 2018 and has supported around 42.67 million jobs or 8.1% of total employment. As such, establishing the tourism sector as primary concern, Ministry of Tourism has undertaken various initiatives and taken a four-fold development strategy that focuses on improving the connectivity via air, rail, and roads, enhancing the tourism infrastructure and dependent services, streamlining branding and promotion and showcasing the culture and heritage.
Ajay Bhatt, Hon`ble Minister of State for Tourism and Defense stated that every town, city, village and community in India is fortunate to be blessed with unique tourist attractions and destination which happen to be connected with the spiritual and cultural ethos of the respective regions.
Shripad Naik, Hon`ble Minister of State for Tourism and Ports, Shipping, and Waterways, affirmed that promoting domestic tourism has reinvigorated tourism post-pandemic in an effective way working as a confidence booster for the global community to visit India.
In the concluding remarks, Arvind Singh, Secretary, Tourism, briefed that the power of tourism will be utilized to showcase both the ancient and cultural roots of the region and to capture the spirit of a New India driven by cutting-edge digital technologies, infrastructural growth, community development, and sustainability.
Read more: News