Coach debuted its Fall 2023 collection with a runway show at the Park Avenue Armory.

To introduce Coach Creative Director Stuart Vevers' vision for this season, the house held an intimate gathering in the Armory's historic hall for a presentation where refinement combined with attitude to tell a story about individuality, community, and safe spaces where all are free to come as they are—just the way New York City intermingles people from all walks of life.
A celebration of the heritage silhouettes and codes that define Coach's American fashion language, seen through the eyes of a new generation, Fall introduced shearling, leather, and denim pieces in youthful proportions and colors, and enriched with artisanal treatments.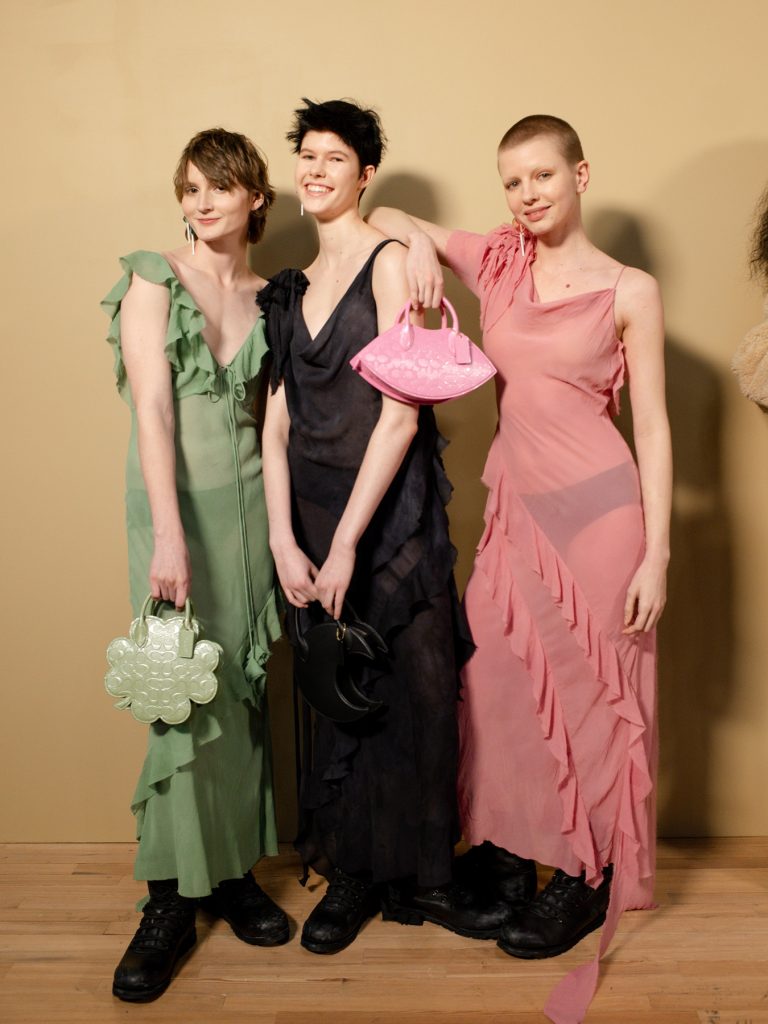 The house brought a modern attitude to classic leather staples like trenches, jackets, and skirts, explored in floor-length silhouettes. Shearling, a house code, was introduced in new design concepts that highlighted a youthful approach to the material's rugged attitude, including colorful metallic shearling, cropped and oversized aviator silhouettes with shearling-wrapped hardware and lovingly pre-worn shearling treated with a hand-finished technique.
Inspired by Vevers' vision to redefine Coach craft through the lens of circularity by exploring, designing, and learning, the house also introduced new design concepts using sustainable materials. Fall debuted iterations of the season's leather ready-to-wear crafted of upcycled leather scraps—each one unique. The house also expanded Coach (Re)Loved, its program focused on giving Coach bags a second life, by bringing its "Remade" pillar to footwear.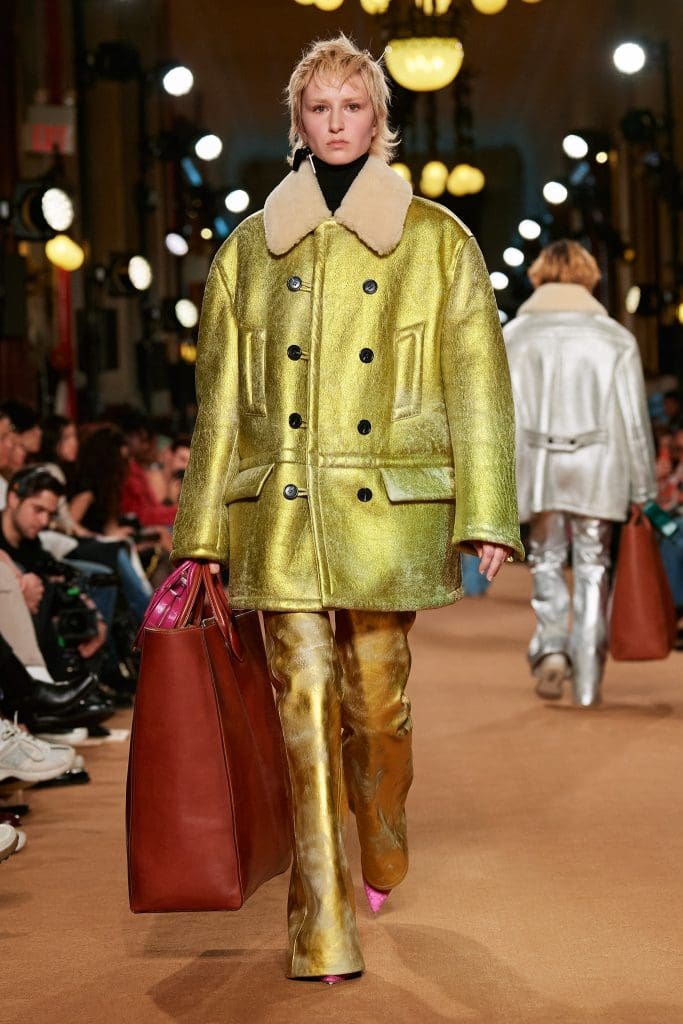 New Introductions
The collection introduced leather sneakers with the upper crafted from repurposed, pre-loved Coach bags, deconstructed and reimagined. The house also crafted a series of colorful, silk chiffon slip dresses, naturally dyed with botanicals like logwood, safflower, and marigold, and designed with minimal waste practices—using fabric scraps from pattern-cutting as embellishments. Finally, the collection introduced jewelry reimagined from repurposed vintage pieces.
In leather goods, Vevers introduced bags in Signature and colorful patent leather, including a mini-backpack and Penn, a pouch inspired by the house's 2000s archives. The collection also included the Coach Shapes, a collection of bags in playful designs like lips, big apples, hearts, and stars, and an oversized leather tote crafted in vegetable-tanned leather, a showcase for the house's legacy of leathercraft.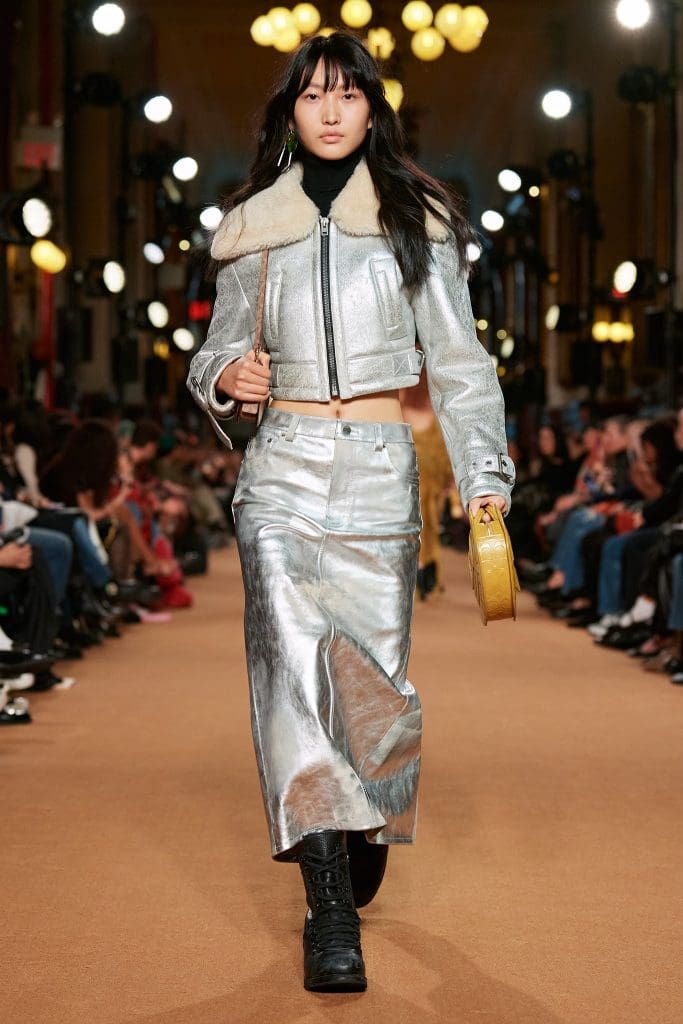 Additionally, the house continued to celebrate the beauty of love-worn, one-of-a-kind pieces, introducing hand-worked, distressed denim and form-fitting knitwear, mended and repaired by hand with Superman and Mickey Mouse graphics.

"Fall was inspired by our belief that when you show up as you really are, you inspire others to do so, too," said Vevers. "The collection presents an authentic interpretation of the heritage and house codes that define Coach, redefined through the next generation's concept of individuality and expression. There's a straightforwardness that reflects where we're headed in the future. To bring this to life on the runway, I envisioned an intimate gathering at the Armory that would not only celebrate freedom of self-expression, but the spirit of getting together and having fun that, to me, is the heart of fashion and of New York City."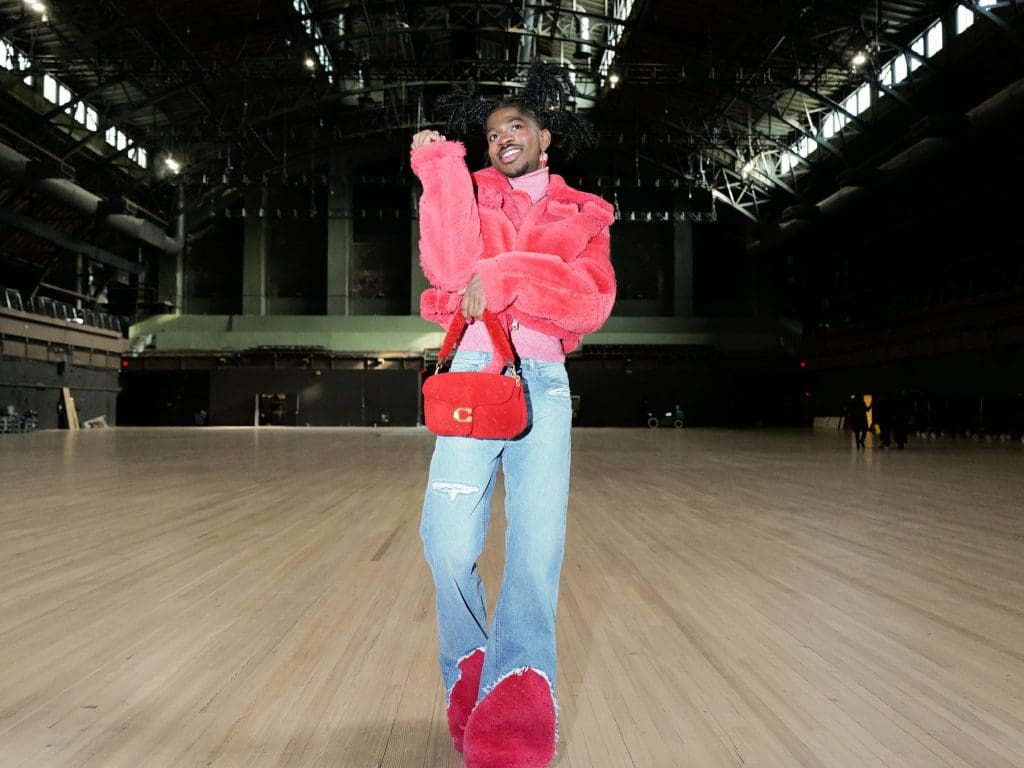 Inspired by New York house parties, the intimate presentation gave guests a close-up view of the collection, highlighting texture, spontaneous energy, and human connection.
The second Coach show was held at the Armory following the house's Spring 2023 presentation last season, the experience blurred the lines between New York's worlds, juxtaposing the Armory's ornate, gilded rooms with the youthful attitude of the collection. The casting also introduced new faces to the runway through street casting, chosen to reflect the spirit of a new generation and the individuality that defines the collection.
Read More: Latest