Nile Hospitality, a third party hotel management and development company with offices in Ahmedabad and Mumbai announced the signing of Non Exclusive Development Agreement (NEDA) with Wyndham Hotels & Resorts.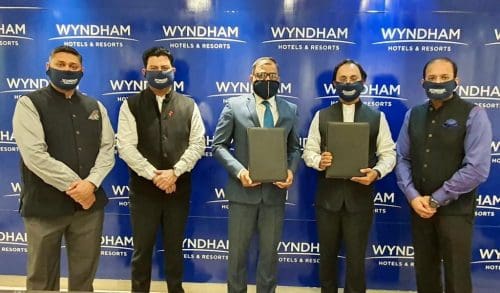 Under the NEDA, over the next 10 years Nile Hospitality and Wyndham Hotels & Resorts will develop hotels in India and Bhutan under a variety of brands, including Wyndham Garden, Ramada by Wyndham, Ramada Encore by Wyndham, Days Inn by Wyndham, Howard Johnson by Wyndham and Hawthorn Suites by Wyndham. Under the agreement, Nile will work with independent hotel owners to manage the day-to-day operations of the properties.
Established in 2018 by Vikram Singh Chauhan & Rabitha Thannooran, Nile Hospitality currently manages 6 hotels with over 650 keys including Hawthorn Suites by Wyndham in Dwarka, Gujarat, opened in April 2020.
"We are excited to partner with Wyndham Hotels & Resorts, the world's largest hotel franchise company by number of properties, to develop a selection of their iconic hotel brands in India and Bhutan over the next years. Since 2018, Nile Hospitality has built strong momentum and we look forward to further propel our growth with this exciting project" said Vikram Singh Chauhan, Founder and CEO, Nile Hospitality LLP.
"We are delighted to enter this Non-Exclusive Development Agreement with Nile Hospitality. We are a firm believer in hotel franchising and feel that it is the right time to offer third party management support in India to owners who seek more hands-on day-to-day operations and management support by collaborating with strong operators like Nile Hospitality. We see the combination of the franchised and third party management model as a key growth opportunity in the region and look forward to offering even more options to hotel owners and developers," said Nikhil Sharma Regional Director Eurasia, Wyndham Hotels & Resorts.
Read more, Hotels and Resorts