Places to visit in Manipur are manifold and memorable.
Manipur – the land of gems is a green and beautiful state in India that is located in the country's northeast.
The hills are densely forested, with bamboo and teak stands among the trees. Oak, magnolia, and chinquapin are among the other trees.
The Naga Hills are home to the Luzon pine. Rhododendrons, primroses, and blue poppies are among the state's famous plants. Asiatic elephants, tigers, leopards, and wild buffalo are among the animals that live there.
The Meitei (Meetei) people, who live in the Manipur valley and are mostly Hindus, make up around two-thirds of the population. Meitei women run the majority of the valley's trade and have a high social rank. The rest of the population is made up of indigenous hill tribes such as the Nagas in the north and the Kukis in the south.
These tribes, which are divided into various clans and parts, speak Tibeto-Burman languages and practise traditional animist religions. A small number of Nagas have become Christians. More than three-fifths of the population speaks Manipuri, which is the state's official language alongside English. Manipur's population is predominantly rural, with Imphal serving as the only major metropolis.
Agriculture and forestry are the mainstays of the economy, but trade and cottage businesses are also important.
10 must-visit places in Manipur – the land of gems
Imphal
We all know Imphal is one of the most popular tourist destinations in Manipur. This is one of the most well-known tourist destinations in Northeast India. Imphal is located in the centre of Manipur, surrounded by the splendour of hilltops and slopes.
Head to the valleys for panoramic views of the area, which include key landmarks such as the Manipur State Museum, Kangle Palace, and Polo Ground. Imphal, one of Manipur's most popular tourist sites, is studded with glistening lakes and waterfalls that you'll come across on a tour. It's also a fantastic spot to attend Manipur's numerous festivals.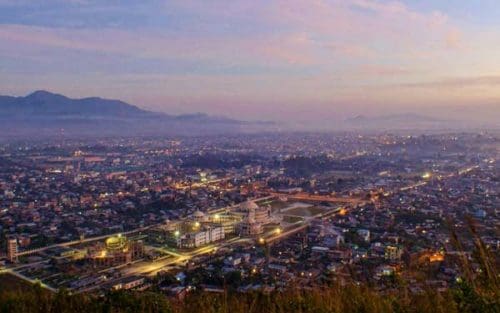 Must Visit: Loktak Lake, Kangla Fort, Red Hill Lokpaching, Manipur State Museum, Sirohi National Park, Keibul Lamjao National Park, Manipur Zoological Gardens, Matai Garden, Khonghampat Orchidarium and Shree Govindajee Temple
Best time to visit: September to April
Khongjom
Khongjom is one of the top Manipur locations, paying homage to the military. During the British period, the legendary major general Paona Brajabashi battled with his forces just here. Anglo-Manipur War was the name given to the conflict.
Today, a memorial honouring the heroic fighters has been erected, which is historically significant. The location is ideal for an Indian nationalist or someone interested in military and battle history.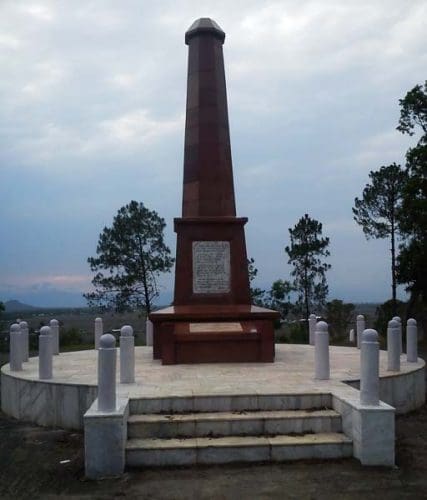 Must Visit: Khongjom War Memorial
Best time to visit: October to March
Ukhrul
Ukhrul is one of the top destinations to visit in Manipur because of its beautiful beauty. You might meditate for hours and find peace of mind because of the natural beauty. If you're intending on spending time here, be sure you have plenty of time on your hands since you might want to stay longer.
Trekking and visiting a tea garden are two of the most popular activities in Ukhrul. It is one of Manipur's most beautiful destinations.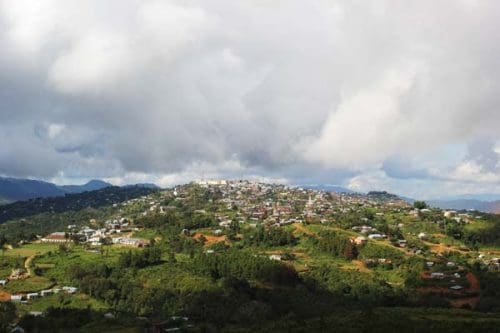 Must Visit: Nillai Tea Estate, Kachou Phung Lake, Shirui Kashong Peak, Khangkhui Cave and Khayang Peak
Best time to visit: April to June
Chandel
Chandel, Myanmar's entry point, is surrounded by natural beauty. Not only that, but the location also has a diversified cultural scene and is one of the most beautiful spots to visit in Manipur.

As a result, in this oasis, which is also one of the most attractive Manipur attractions, you get the best of both worlds. The mist-laden grasses and delicate sunlight greet you along the route, making an early morning journey here a true getaway. You may see a variety of uncommon creatures and birds when exploring the denser areas, so keep your camera handy.
Must Visit: Yangoupokpi-Lokchao Wildlife Sanctuary, Tengnoupal and Moreh
Best time to visit: October to March
Thoubal
Thoubal, one of Manipur's most well-known destinations, is a favourite among trekkers who enjoy getting lost in beautiful surroundings. The roads here are lined with banyan trees and are surrounded by lakes and rivers.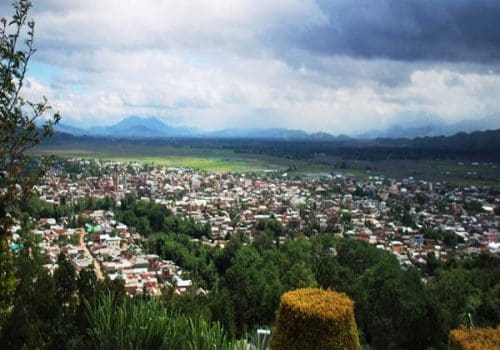 Even the residents appear to enjoy planting, as fruit-bearing plants may be found on the verandahs of the houses. You may appreciate local culture while seeing attractions such as the People's Museum, in addition to the lush nature. It is one of the best sites to visit in Manipur because of the combination of nature and culture.
Must Visit: People's Museum, Imphal River, Waithou Lake, Ikop Lake, Khongjom War Memorial, Lousi Lake and Thoubal Bazar
Best time to visit: October
Tamenglong
Tamenglong, also known as the Land of Hornbill, will delight you, especially if you are a bird-lover, and is one of Manipur's most quiet destinations. The woodlands here are unexplored, and they welcome you with open arms. Waterfalls and rivers, babbling and roaring, add to the allure of this already magical location. Without mentioning this one, our list of the greatest places to see in Manipur would be incomplete. Tamenglong is home to some of Manipur's most stunning tourist attractions.

Must Visit: Zeilad Wildlife Sanctuary, Buning Meadow, Zeilad Lake, Kisha Khou, and Tharon Cave
Best time to visit: October to April
Churachandpur
Churachandpur or Lamka, Manipur's second largest town and a well-known tourist destination, is rich in both ethnicity and natural beauty.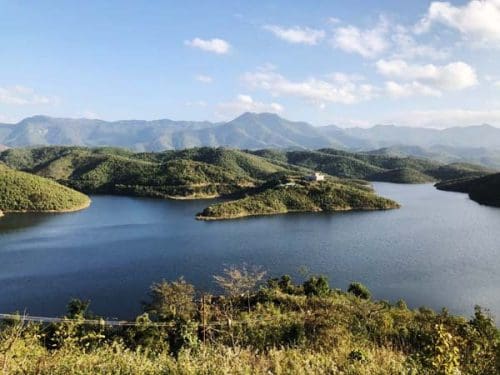 The district is home to indigenous communities that discovered it as well, yet there's no way to label it a backward area because there are numerous schools, a dam, and a museum to keep visitors entertained. Many locals speak and understand English, Hindi, and Manipuri, therefore language is not an issue.
Must Visit: Tipaimukh, Tonglen Cave, Tuibuong Tribal Museum, Ngaloi Falls and Tipaimukh
Best time to visit: October to March
Kakching
Kakching, the state's business hub, is one of the top places to visit in Manipur. This is a traveller's choice due to its ease of access and substantially more amenities. Come over during the Haraoba Festival to gain a better sense of the local culture; locals dress up as deities and enact the storey of the birth of the cosmos. When you come here, you can explore markets, gardens, a theme park, and more.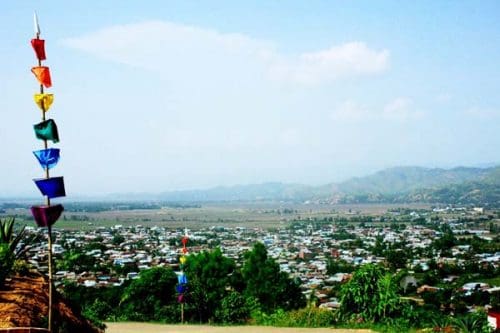 Must Visit: People's Museum, Haraoba Festival, Kakching Garden, and Adam Eco Park
Best time to visit: October to March
Dzukou Valley
For nature enthusiasts, Dzukou Valley is one of the most beautiful spots to visit in Manipur, India. The valley, which is covered in various coloured flowers, is what dreams are made of. The valley is called for the Dzukou lily, a rare flower found only in this area. It is easily accessible by automobile and is located on the border between Manipur and Nagaland.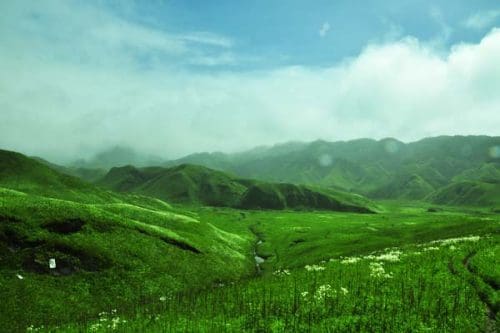 Must Visit: Jafpu peak, trekking trails
Best time to visit: June End to September
Leimaram Waterfall
The Leimaram Waterfall is one of several beautiful waterfalls in Manipur. Because of its beautiful views and peaceful environs, it has become a popular tourist destination. There are three waterfalls to greet you in all their splendour. As you get closer to the falls, take in the cool breeze. It is one of the top spots to see in Manipur, India, and you should go.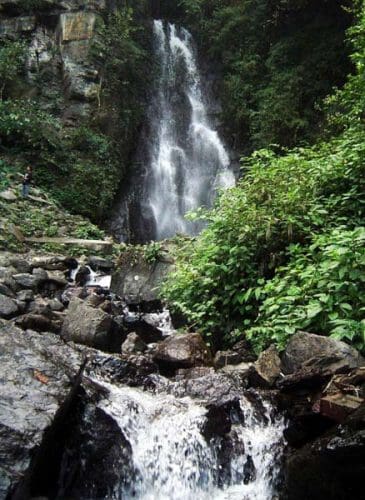 Must Visit: Loukoi Paat Lake, Langthabal, Iskcon Temple
Best time to visit: October to March
Read More: Discover Your India