What are the 20 most popular dishes at Indian weddings? We wondered and Taj Hotel's Top Chefs shared specialty dishes from distinct cuisines favoured at weddings from various parts of India.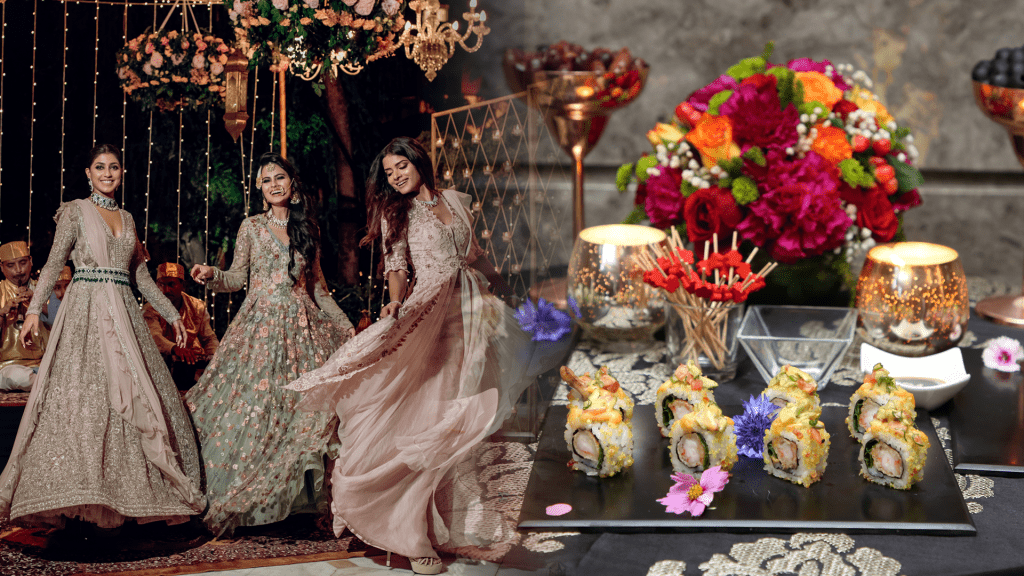 They didn't stop here. These big-hearted culinary wizards also shared how these 20 most popular dishes at Indian weddings are prepared with a recipe, especially for our readers!
The significance and the role of food during these special wedding events is well brought out by these remarkable Chefs who head celebrated kitchens when they shares their rich experience in catering to these celebratory wedding events.
Insights – Food trends at Indian weddings
Says Executive Chef, Rajesh Wadhwa at Taj Palace, New Delhi, "Food remains one of the most important elements of an Indian wedding celebration, and more often than not, the entire family partakes in the process of selecting the right choice of dishes along with our chefs and weddings specialists."
He continues, "Menus selections at Indian weddings, therefore, are highly customised and tailor-made to embrace the preferences and expectations of our guests and patrons. Thanks to evolving tastes and acceptance of novel cuisines, wedding menus have seen quite an evolution. The most popular menu selections nowadays are usually an amalgamation of traditional Indian cuisines, regional specialty dishes and International or Asian fare."
Agrees Executive Chef Abhijeet Thakre at Taj City Centre Gurugram, "Indian weddings are all about togetherness – ceremonies, festivities, celebrations, warmth and hospitality of the host and above all, the highlight is the food!"
Commenting on guest preferences and trends, Executive Chef Nitin Mathur at Taj Santacruz, Mumbai reveals, " Guests are increasingly opting for small plates with an inclination towards contemporary cuisines featuring Italian Sea Bass, Tortellini, Ravioli, Lamb Chops. There has been a surge in demand for experiences that focuses on ingredient bars which makes for interesting recipes with Asparagus, Mushrooms and Truffles."
He adds a nugget of information which most Indians know in their hearts: " However, authentic Indian cuisines remain at the heart of the overall dining experience."
Amit Chowdhury, Executive Chef, The Taj Mahal Palace, Mumbai says, "In the past, guests came in with pictures of their wedding outfits and flowers for us to replicate in their décor – now they come in with pictures of the food and experiences they've had while travelling the world. Indian weddings today are a true reflection of the bride and groom – no two weddings are alike."
He discloses, "Finally, wine paired dinners are a thing of the past. Gen next wants ale with sliders and fish tacos with margaritas and the family is more than happy to help create a unique and exciting wedding."
Different Specialty Dishes From Distinct Cuisines Favoured At Weddings From Various Parts Of India
Ram Bagh Palace, Jaipur
Executive Chef Asish Kumar Roy at Rambagh Palace, Jaipur shares that the most in-demand speciality Indian wedding dishes include Laal Maas, Jungali Maas, Dhundhar Murgh, Dhungar Paneer, Palak Chilgoza Kofta, Chakki Ka Saag, Ker Sangari Ki Subzi, Gatta Currry, Aloo Pyaz Ki Subzi with Bejad Ki Roti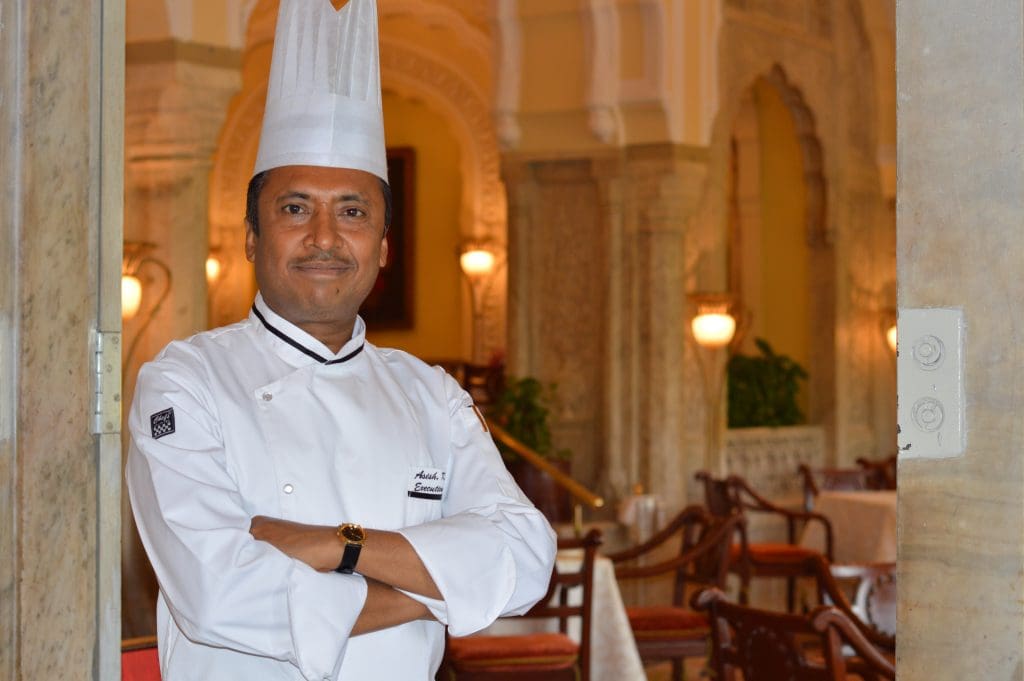 Laal Maas
Ingredients:
200 gm Boneless lamb
5 gm Deggi Red chilli powder
5 gm Whole Mathania chilli
12 gm Ginger and Garlic Paste
5 gm Coriander powder
5 gm Whole Garam Masala
20mi Refined vegetable Oil
125 gm Onion slice
20mi Tomato Puree
20 gm Fresh Tomato
4 gm Green Coriander leaves
To taste gm Salt
Method:
Soak mathania chilli for 5 hrs and make a paste, keep aside.
Heat oil and add whole garam masala and let it crackle for few minutes.
Add onion slice and sauté till brown; add ginger garlic paste and bhunno (a more traditional Indian sauté style).
Add lamb cubes and cook for some time, add Deggi red chilli powder, mathania chilli paste, coriander powder and water enough to cover the lamb and cook till the lamb gets tender.
Add tomato puree, fresh tomatoes, and salt to taste, cook till it leaves the fat.
Check for the seasoning and finish with fresh coriander leaves.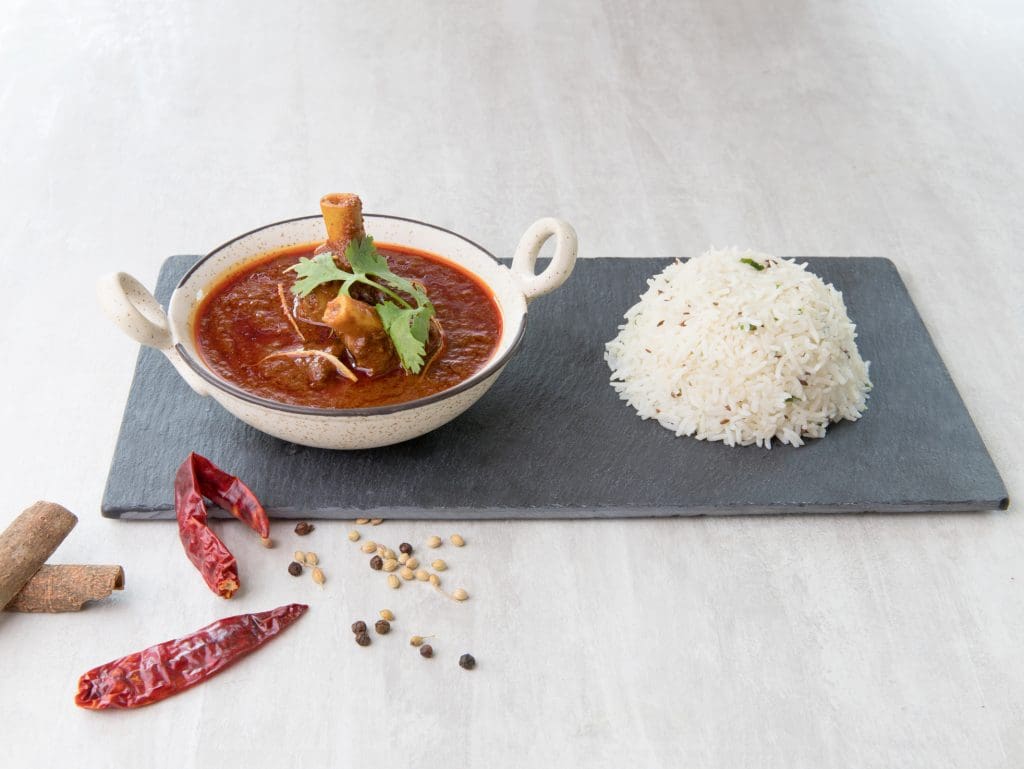 Taj Bengal, Kolkata
Executive Chef Sujoy Gupta at Taj Bengal, Kolkata shares, "At Taj Bengal, Kolkata chaats and golgappas are a must at Indian weddings. Biriyanis from Lucknow, Hyderabad, Kolkata; Appam & Stew and live dosas from the South Indian repertoire are highly preferred."
He adds, " Additionally, international favourites such as European ingredient-based grills (Peruvian asparagus, artichokes, avocados), unique Risottos with different grains & pasta, Oriental stir fries, Healthy green salads, burrata and cheeses, live pizzas and Japanese Yakitori & Teppanyaki are also extremely popular."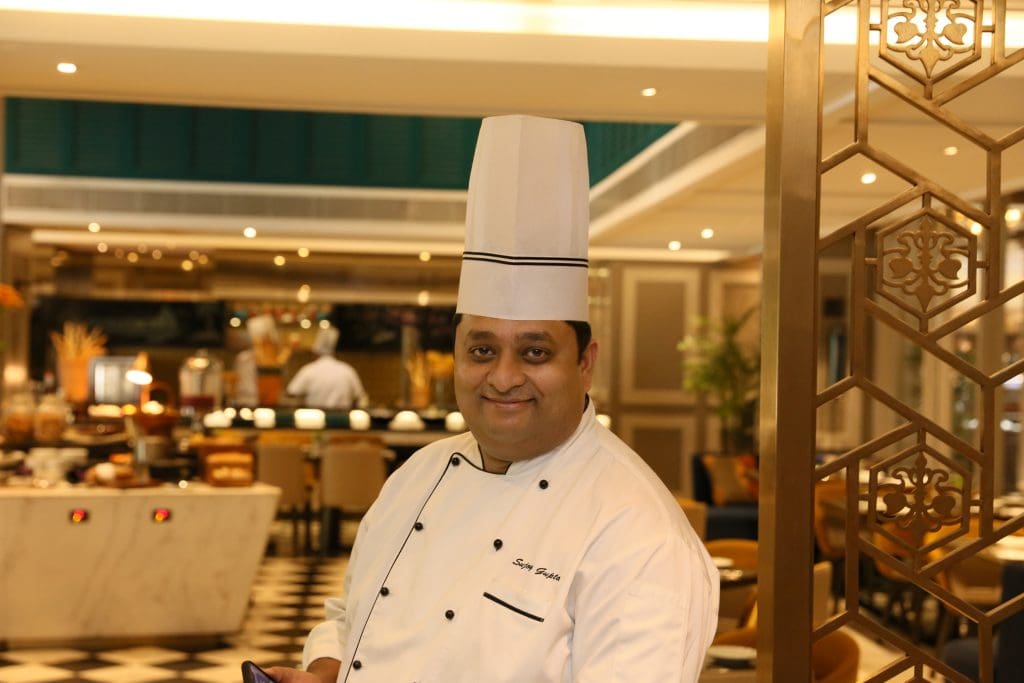 Beckti Maacher Paturi
Portion Yeild: 04
Preparetion Time: 25 mints
Ingredients
Beckti chunks-8nos (each weight 60 Gms)
Mustard oil-70 Gms
Mustard paste-35gms
Black cumin (angelica)-1gm
Turmeric Powder-5gms
Red chilli powder-5gms
Sugar-3gms
Salt-To taste
Banana leaves-08 no (6inch square)
(Cut it into squares and put on hot griddle for ½ a minute to make it soft)
Method
Cut and clean the beckti chunks.
Marinate it with 25gms of mustard oil, black cumin, turmeric powder, red chilli powder, & salt. Keep aside for an hour.
Now add mustard paste, sugar & remaining 25 Gms of mustard oil.
Adjust the seasoning & again keep aside for half an hour.
Take individual fish chunks & wrap it in banana leaves.
Put it in the steamer for 8-10 minutes or until the fish is cooked.
Steam the wrapped fish chunks just before the serving.
Serve hot.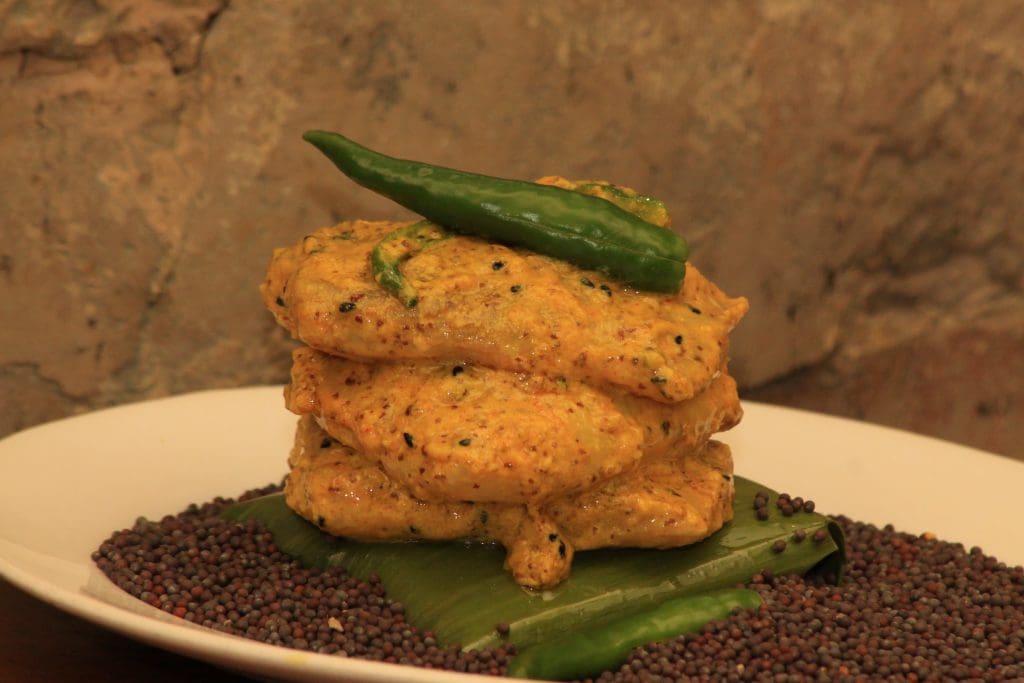 Taj Palace, New Delhi
Executive Chef, Rajesh Wadhwa at Taj Palace, New Delhi reveals, ""Our hotel's culinary repertoire in the events space ranges from the authentic to the contemporary. From traditional regional cuisines like Punjabi, Marwari, Kashmiri and Awadhi to revered international flavours such as French, Italian, Vietnamese and Sichuan to name a few. Our culinary team is proficient in creating the flavours of one's choice."
He adds, " Specialised and lesser-known fare such as Martaban Ka Khana, thaali-based experiences and Himachali Dhaam experiences have of late become hugely popular at Indian weddings."
Wadhwa continues, " For those looking at something more contemporary, we also create menus with fun elements like interactive sushi counters, live hot smoked salmon, hot iron grills, Indian tempura, live Latieng, DIY taco stations etc. We can also recreate menus from our iconic restaurants such as the Orient Express, with its legendary Camembert Souffle and Oyster Bar or Spicy Duck, with its array of authentic dumplings and Peking Duck."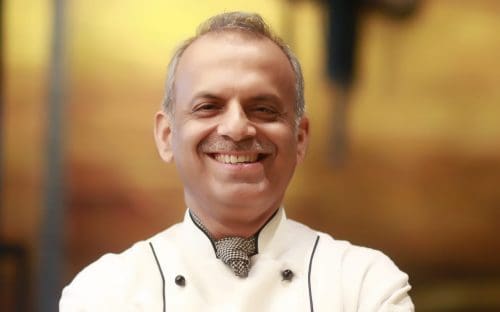 Dahi Ke Kebab
Ingredients
Hung curd-250 gms
Chopped onions-50 gms
Chopped fresh ginger-10 gms
Chopped fresh green chillies-5 gms
Chopped fresh green coriander-10 gms
Salt-5 gms
Cumin powder-10 gms
Fenugreek powder-5 gms
Black salt-2 gms
Rice flour-15 gms
Cooking oil or Olive oil-10 gms
Method
In a pan, heat around 2 ml of the oil. Add the chopped onions, chopped ginger, chopped green chillies and sauté. Remove from heat.
In a bowl, combine the hung curd with the sautéed onions mixture. Add the spices – cumin powder, fenugreek powder, black salt, chopped green coriander, rice flour and salt. Mix well.
Divide the mixture into small sized balls and flatten to create small patties.
Shallow fry the patties till light golden brown in colour.
Serve hot with mint sauce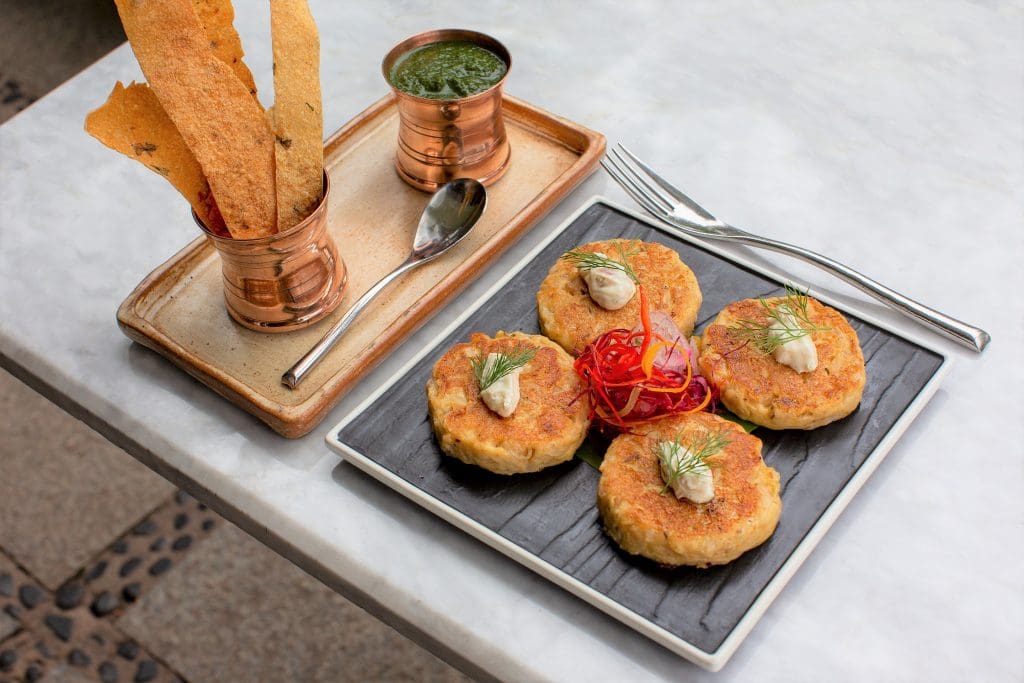 Taj Mahal, New Delhi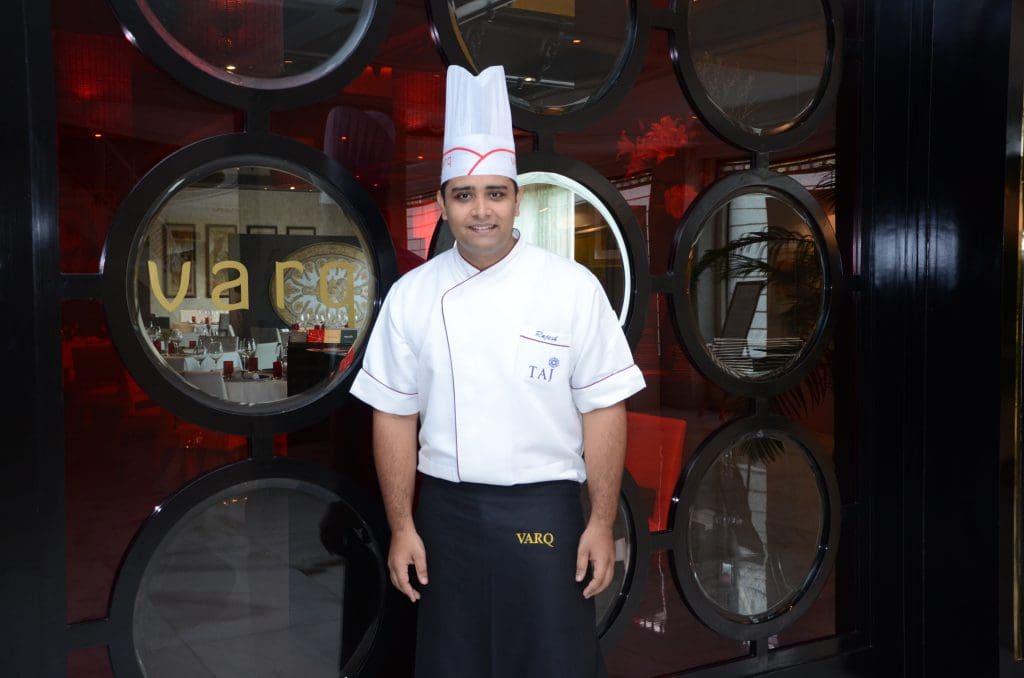 Dal Makhani
Ingredients
Black urad dal – 80 gms
Cream – 40 gms
Deggi chilli powder – 10 gms
Butter – 50 gms
Salt – 5 gms
Kasuri methi – 5 gms
Tomato puree – 80 gms
Hing – 2 gms
Ginger – 15 gms
Garlic – 15 gms
Preparation
Wash and soak urad dal overnight in water.
Change the water and then keep the lentils to boiling on simmering in a thick bottom container along with salt, some butter and deggi chilli for 10-12 Hours and let it temper until smooth.
Take a pan and add some butter and then ginger and garlic paste and cook.
Now add tomato puree and cook. Once it is done, add it to the boiled dal, cook it till it gets thickens.
Finish the dal with cream and remaining butter and sprinkle kasuri methi.
Serve hot with Indian bread and green salad.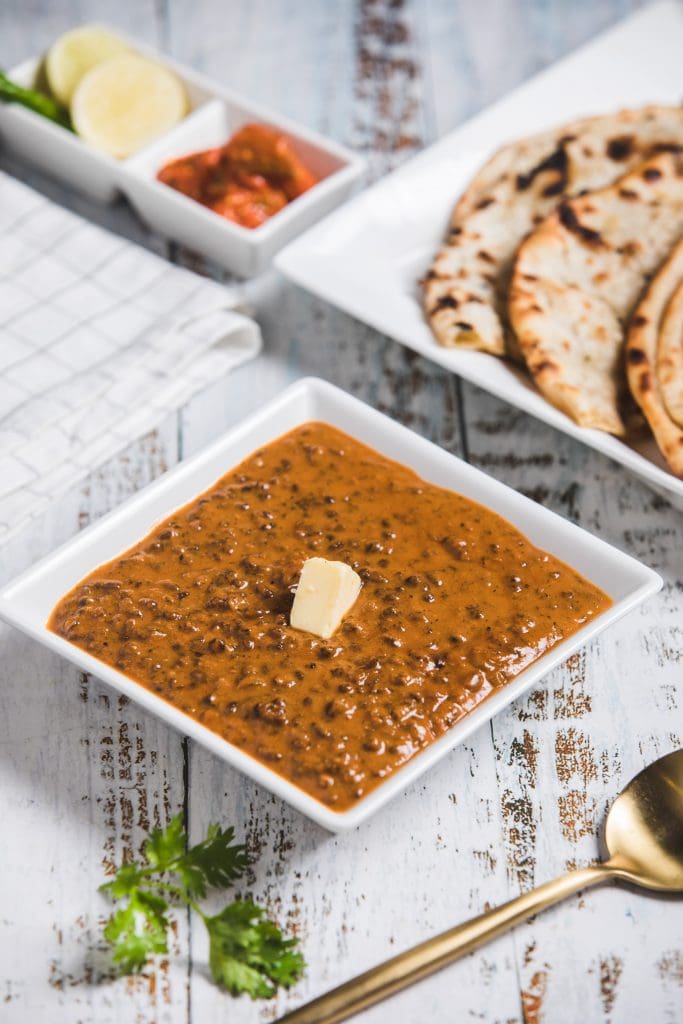 Gosht ki Biryani
Ingredients
Mutton dumba curry – 200 gms
Basmati rice – 100 gms
Onions – 20 gms
Cloves – 3 gms
Green cardamom – 9 gms
Salt – 20 gms
Cinnamon stick – 6 gms
Curd – 75 gms
Ghee – 20 gms
Full cream milk – 10 gms
Saffron – 0.1 gms
Garlic – 10 gms
Green chilli – 5 gms
Ginger – 5 gms
Mint – 10 gms
Coriander – 10 gms
Deggi mirch – 5 gms
Preparation
Clean and wash lamb.
Marinade the lamb with ginger garlic paste,salt and red chilli powder.
Refrigerate for 4 hours.
After 4 hours take out the marinated lamb and marinate with the second marination with cinnamon powder, cloves powder, cardamom powder, mint, yoghurt, green chilli, brown onion and ginger.
Take a thick bottom pan and boil water adding cinnamon, cloves, green cardamom, bay leaf and salt.
Add rice when water is boiling.
Take another thick bottom pan and place the marinated lamb in that pan.
Place the pan on simmer heat and add rice when 30% cooked.
Cover the rice with mint, saffron, ghee and brown onion.
Cover the pan with aluminium foil and increase the flame for 10 minutes.
After 15 mins again simmer the flame and keep it for another 20 minutes.
After 20 mins remove from heat and let it be covered for 1 hour.
Serve hot.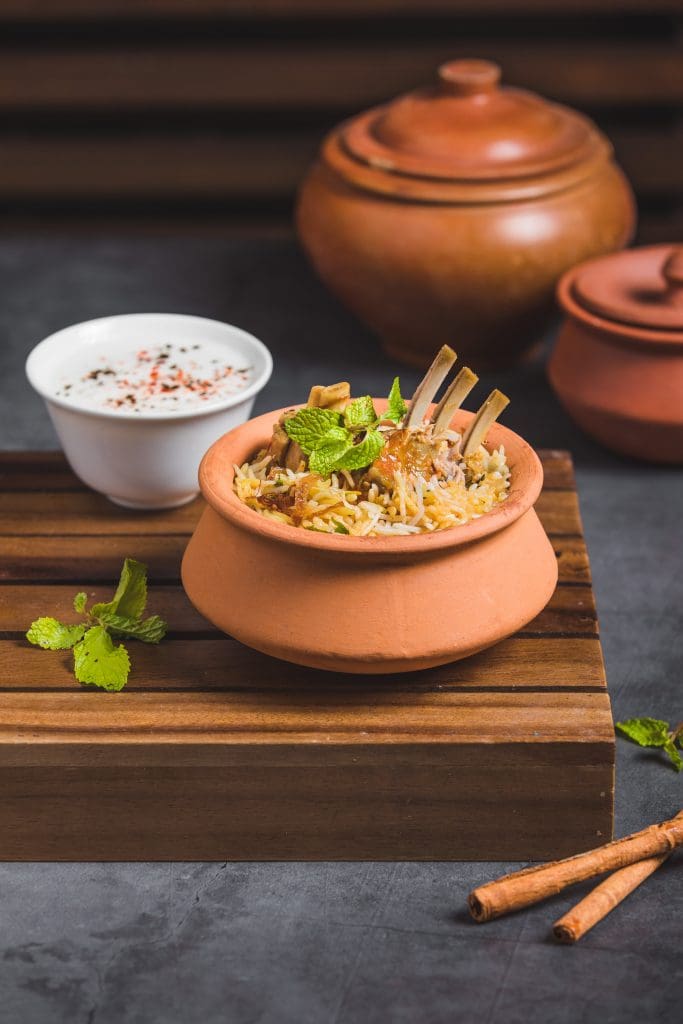 Taj City Centre Gurugram
Executive Chef Abhijeet Thakre at Taj City Centre Gurugram, shares, "Our guests prefer a diverse menu with dishes from across the country and the result is a rich, colourful spread. Some of the stellar dishes that are always in demand include Gosht Roganjosh, Hyderabadi Dum Biryani, Dum Aloo Kashmiri, Dahi Gujiya, Dal Peshawari, Murgh Korma, Anjeer Badam Ka Kofta, Badam Ka Halwa, Beetroot Halwa and even the Baked Lancha."
He goes on to say, "India, for time immemorial, has been known for its rich and diverse culinary map and we try to recreate the same on weddings. Popular regional dishes include Kashmiri Dum Aloo, Roganjosh, Nadru Yakhni from Kashmir; Chettinad Chicken, Chicken 65, Appam and Stew from Chennai; Aleppy Fish Curry from Kerala. Other star dishes like Lal Maas, Safed Maas, Dal Bati Churma are usually served in Marwari weddings."
Thakre adds more information, "Since the hotel is home to the legendary Thai pavilion, a revered name in Thai fine dining, we offer an exquisite Siam inspired menu as well. Live counters with the classic Thai curries and salads and all-time favourites like Tub Tim Grob and Mango Sticky Rice are immensely popular when it comes to menus for Indian weddings."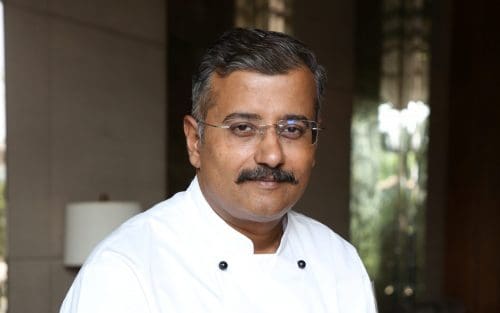 Beetroot Halwa
Ingredients
Beetroot (grated)-500 Gms / 3 Cubes
Full cream milk -3 Cups
Sugar-6 Tbsp
Ghee-3 Tbsp
Green cardamom, powdered -5 – 6 Nos.
Whole cashews-15 – 20 Nos.
Raisins -1 Tbsp
Method
Rinse, peel and grate the beetroot.
In a kadai on deep thick bottomed pan, combine milk and grated beetroot.
On a low-medium flame, bring the whole mixture to boil and then simmer.
Keep on stirring at intervals when the mixture comes to a boil and while it simmers as well.
The grated beetroot will cook in the milk and the mil will start to reduce and evaporate.
When the milk has 75 – 80% reduced, add the ghee and sugar to the halwa mixture.
Stir well and continue to simmer and cook on a low flame.
Do keep stirring the beetroot halwa in between.
Towards the end, add the cashews, cardamom powder and raisins. Simmer till all the milk is evaporated. Switch off the burner.
Serve hot, warm or chilled as you wish.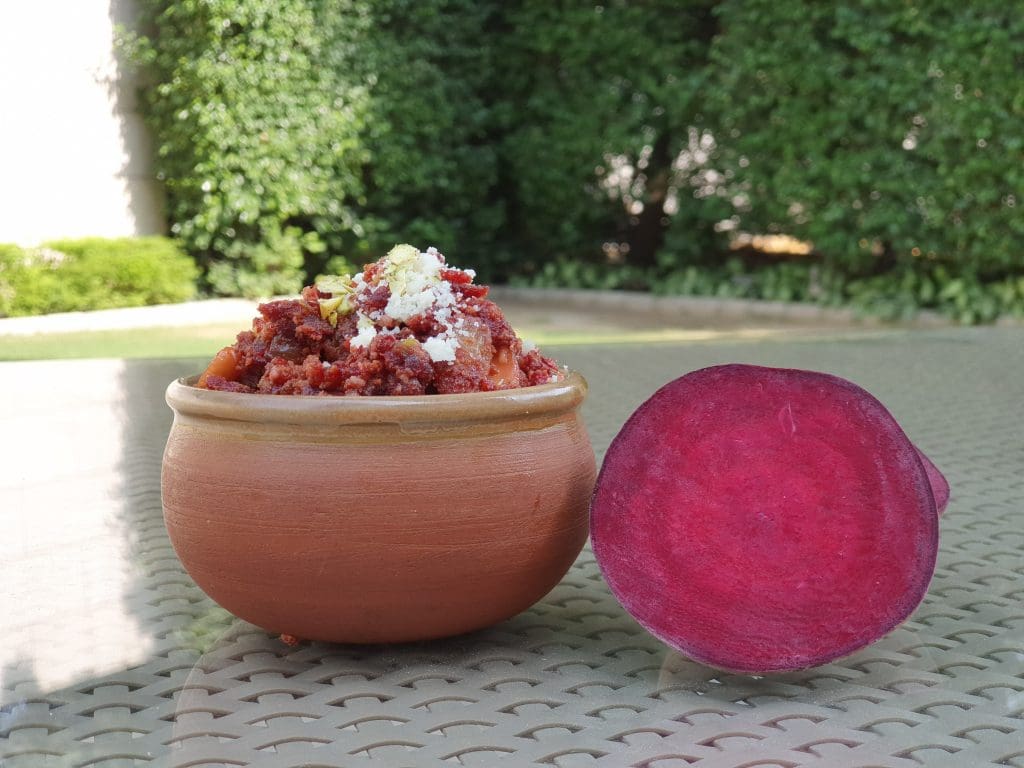 Taj Mahal, Lucknow
Executive Chef Nagendra Singh at Taj Mahal, Lucknow points out, " Awadhi cuisine is well known throughout India. Over centuries, the Nawabs of Lucknow raised cooking to a fine art, where flavors are subtle and aromatic. Vegetarian and non-vegetarian dishes include a variety of salans, quormas, kebabs, biryanis along with delicate Indian breads. Awadhi cuisine also has its very own sweets, to be had by itself or after a very satiating meal."
He adds, " Popular dishes in Indian weddings includes stellar options like Galawat Kebab, Murg Awadhi Korma, Gosht Dum Biryani, Gosht Awadhi Korma, Baigan Mirchi Ka Salan, Dal Ke Kebab, Hara Tawa Kebab, Sheermal, Sevian Ka Muzzafar, Shahi Tukra, Annas Ka Zarda."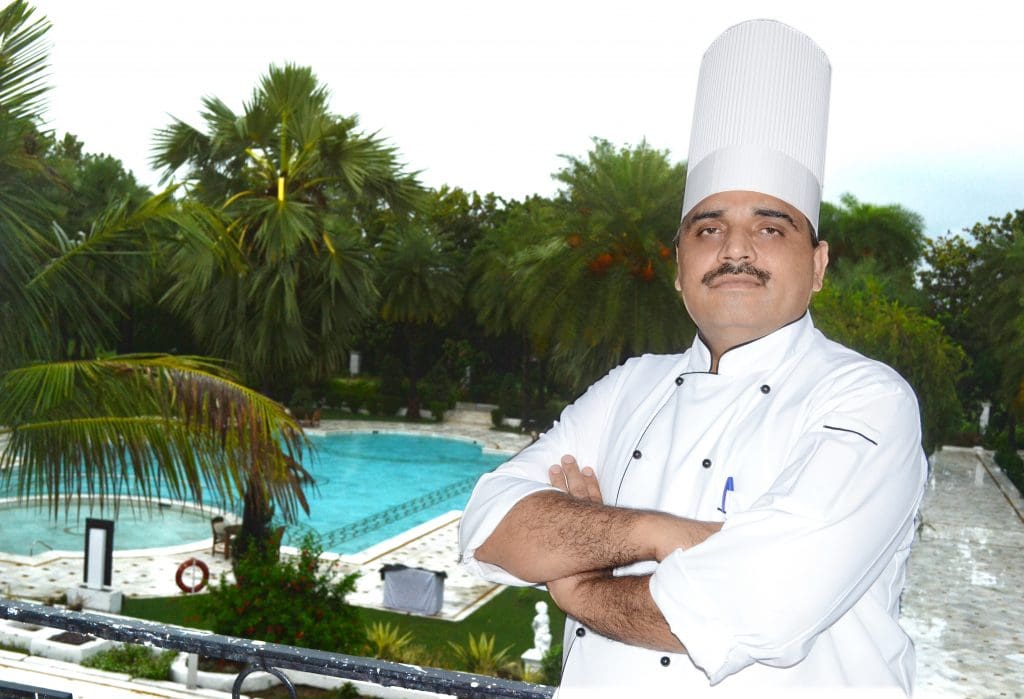 Galawat Kebab
Ingredients
Mutton mince-1000gm
Papaya(raw)-100 gm
Lamb fat-100 gm
Roasted gram flour-75 gm
Red chilli pwd.-10 gm
Salt-To taste
Ginger& garlic paste-20 gm
Fat/vegetable oil-100gm
Lemon-2no
Onion-2no
Galawat Masala:-
Ingredients
Black cardamom-5 gm
Peppercorns-10 gm
Cloves-3 gm
Mace and small cardmom powder-3 gm
Cinnamon pwd.-3 gm
Nutmeg pwd.-3 gm
All spice powder-10 gm
Potli masala-25 gm
Preparation
Make Galawat masala by grinding the entire ingredient together for masala.
Cut the lemon wedges and onion roundels for garnish.
Method:-
Pass the mutton and lamb fat through a mincer for about 3-4 times to make a fine paste.
Make the fine paste of raw papaya and add into the mutton mince .
Then add the roasted gram flour powder , red chili powder , salt , ginger & garlic paste .
Mix the Galawat masala into the above mixture , make a well in the center and place a live coal with some fat and clove for smoking and cover immediately, this will impart an unique smoky flavor to the meat .
In a sauce-pan heat some vegetable oil, make round medallions of the lamb mixture of about 60 gm each and place them over the pan , cook on both side till well done.
Serve hot with onions roundels and lemon wedges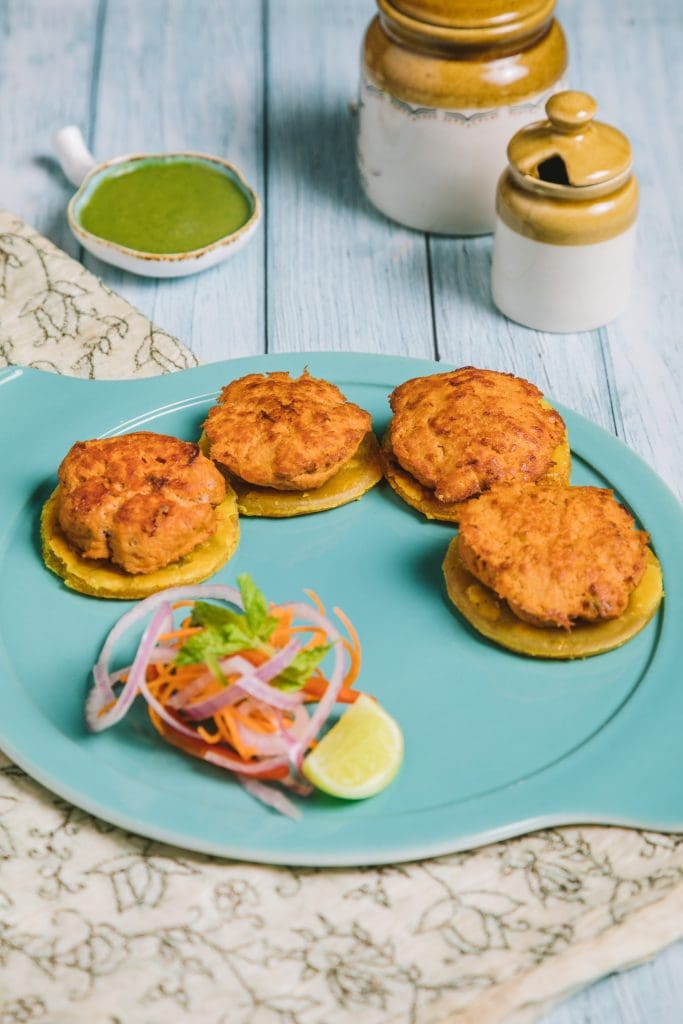 President, Mumbai-IHCL SeleQtions
Chef Raghuram Reddy, Executive Sous Chef, President, Mumbai-IHCL SeleQtions says, "Many of our clients are taking advantage of having choice and serving their guests Indian, South Indian, Italian, Continental, Thai and special Jain menu. We also see a trend where the guests at Indian weddings are willing to have more vegetarian options. With customized menus from Italian cuisine to our very own Indian delicacies, the clients end up choosing multi-cuisine for their guests."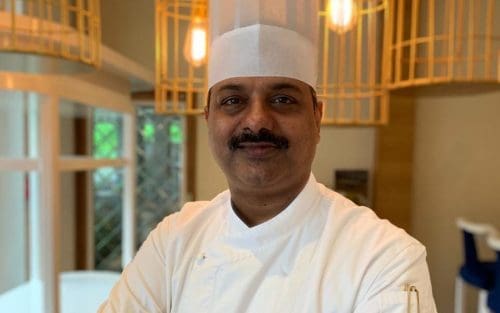 Gaeng Kiewn Warn Je
Ingredients – For curry paste
Thai ginger-15gm
Lemon grass-15gms
Onion-10gm
Garlic-10gm
Skin of makroot fruit-5gms
Roasted cumin seeds-5gms
Roasted coriander seeds-5gms
Green chillies -10gms
Long green chillies -50gm
Green curry paste
First prepare the green curry paste, mix all the ingredients and make a smooth paste. Cook it on low flame and cool it
For curry
Coconut milk-50gms
Cauliflower cubed (blanched)-10gms
Baby corn roundle (blanched)-10gms
Brocolli cubed (blanched)-10gms
Carrot -10gms
Zucchini-10gms
Long beans -10gms
French Beans-10gms
Tofu-40gms
Makwa-3gms
Makroot-2gms
Basil-10gms
Procedure – for curry
Blanch the vegetables
Cook the green curry paste add coconut milk
Add the vegetables
Add makwa , basil and makroot leaves
Adjust the seasoning and add fresh coconut milk
Serve hot garnished with coconut milk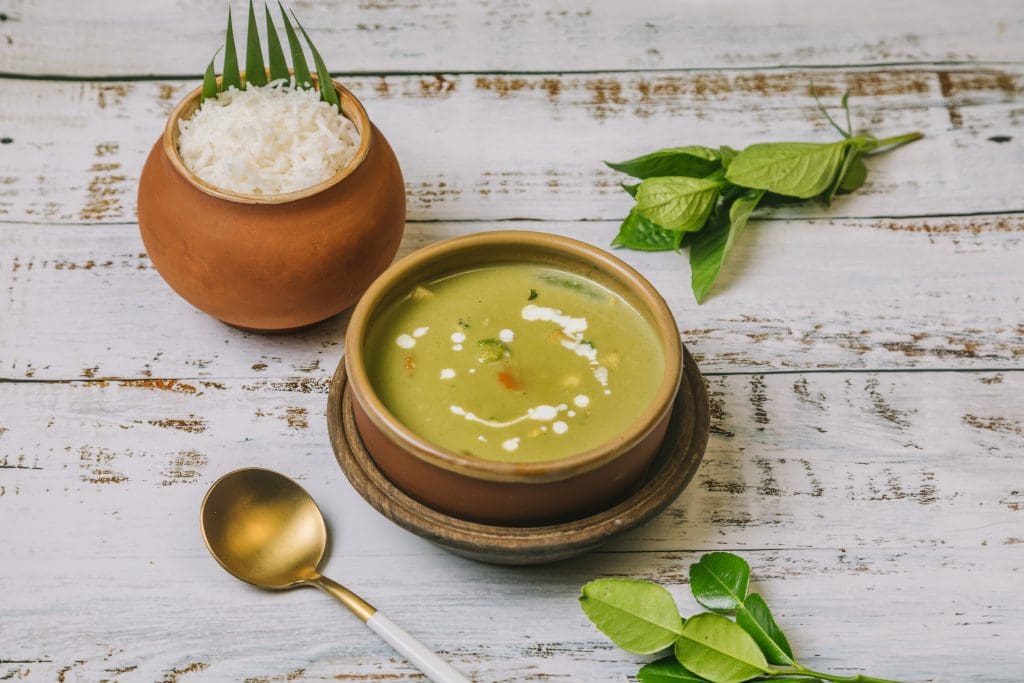 Corn Cake – Thord Man Khao Phod
Ingredients
For Corn Cake
White Corn – 100 gms
American Corn – 50 gms
Corn Flour – 10 gms
Sugar – 20 gms
Salt – 10 gms
Root Paste – 10 gms
Makroot Juliene – 05 gms
For Red Curry Paste
Thai Ginger – 15 gms
Lemon Gradd – 15 gms
Onion – 10 gms
Garlic – 10 gms
Skin of Makroot fruit – 05 gms
Roasted cmin seeds – 05 gms
Roasted coriander seeds – 05 gms
Kashmiri chillies (whole) – 10 gms
Reshampatti chillies (whole) – 20 gms
For Red Curry paste – First prepare the red curry paste, mixed all the ingredient together and make a paste of it, cook it in low flame and cool it
Blanch the American corn and clean the white corn under running water
Procedure
Take out the extra water from corn
Grind the corn very fine
Add corn flour, sugar, salt, root paste, Makroot julienne and red curry paste
Mix it properly and check the seasoning
Make round cake which is smaller in size
Deep fry and serve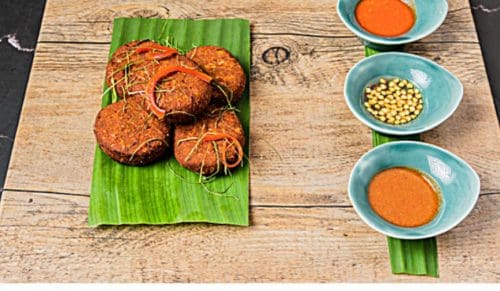 Malfatti
Ingredients
Soinach – 300 gms
Ricotta Cheese – 140 gms
Parmesan cheese = 30 gms
Nutmeg – 05 gms
Salt – 05 gms
Wheat flour – 08 gms
Butter – 08 gms
Milk – 80 ml
Tomato – 100 gms
Garlic – 10 gms
Onion – 20 gms
Carrots – 20 gms
Celery – 10 gms
Rosemary – 05 gms
Olive oil – 10 gms
Procedure
To make the Malfatti, wilt the spinach down with a splash of water and a pinch of salt. Transfer to a sieve and allow to cool
Once cool, squeeze out as much water as you can from the spinach, then finely chop
Place the ricotta in a mixing bowl with the rest of the ingredients nutmeg, parmesan and salt and mix well until everything is evenly incorporated
Roll the mixture into individual balls 30 grams each
Make the Aurora sauce by adding olive oil in a heated saucepan. Once hot add in onion and cook for 5 minutes, stir occasionally
Add in garlic, chopped carrot, celery, rosemary and further add chopped tomatoes
Add in stock and let it cook for half hour over medium heat while stirring occasionally
When the consistency of sauce changes to thick, strain the Aurora sauce
Make roux mixture by combing butter flour and add same to the strained liquid
Serving
While serving take Malfati ball in plate four in number and pour this Aurora sauce over it
Sprinkle some parmesan cheese over it
You can choose to bake the Malfati in oven or it can be heated in micro oven also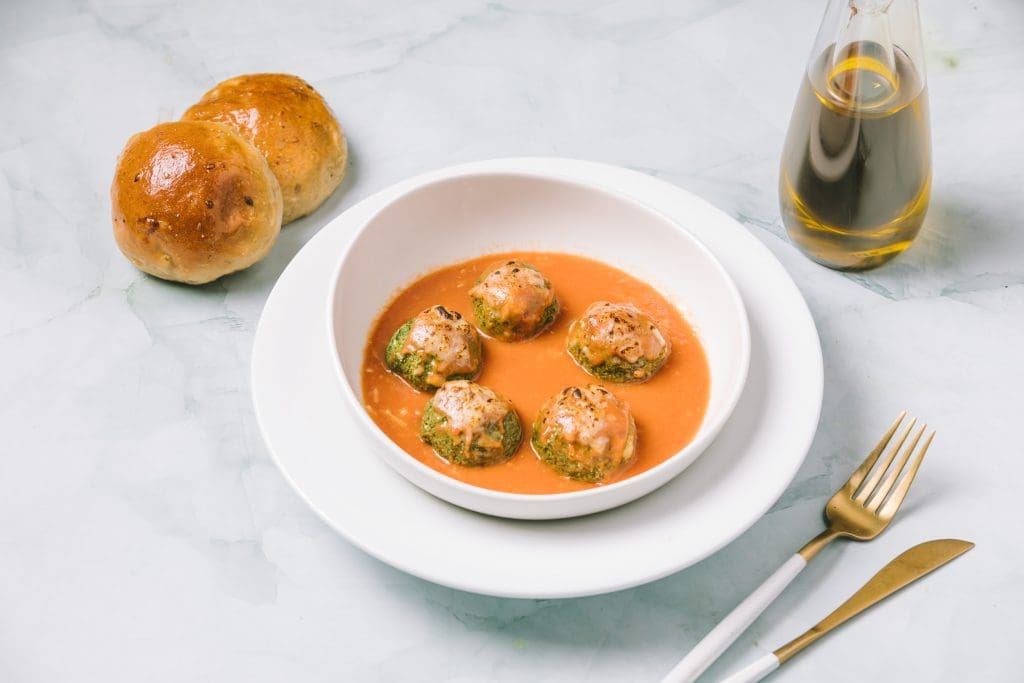 Taj Santacruz, Mumbai
Speaking of preferred cuisines at Indian weddings Executive Chef Nitin Mathur at Taj Santacruz, Mumbai shares, "Asian delicacies such as the Vietnamese Rolls, Dim Sums, Baos and a variety of Stir Fry continues to dominate the menus. We also recreate signature recipes such as Peking Duck, Pork Belly, Chicken Chilli Oyster and Mapo Tofu from our Chinese specialty restaurant China Inc."
He goes on to say, "Regional cuisine styles such as Kair Sangri, Dal Baati Churma, Gaatte Ka Saag, Alleppey Fish Curry, Malabari Fish Curry, Appam, Idiyappam and Stew, Kosha Mangsho, Shukto, Chingri Malai Curry are widely sought out delicacies. It is safe to say that guests enjoy the recipes as much with their eyes and hence the team is extremely careful with plating and presentation of each dish served. It has become imperative to captivate their attention at a time when a picture speaks louder. However, it is equally important to maintain the authenticity of the dish being served on the table."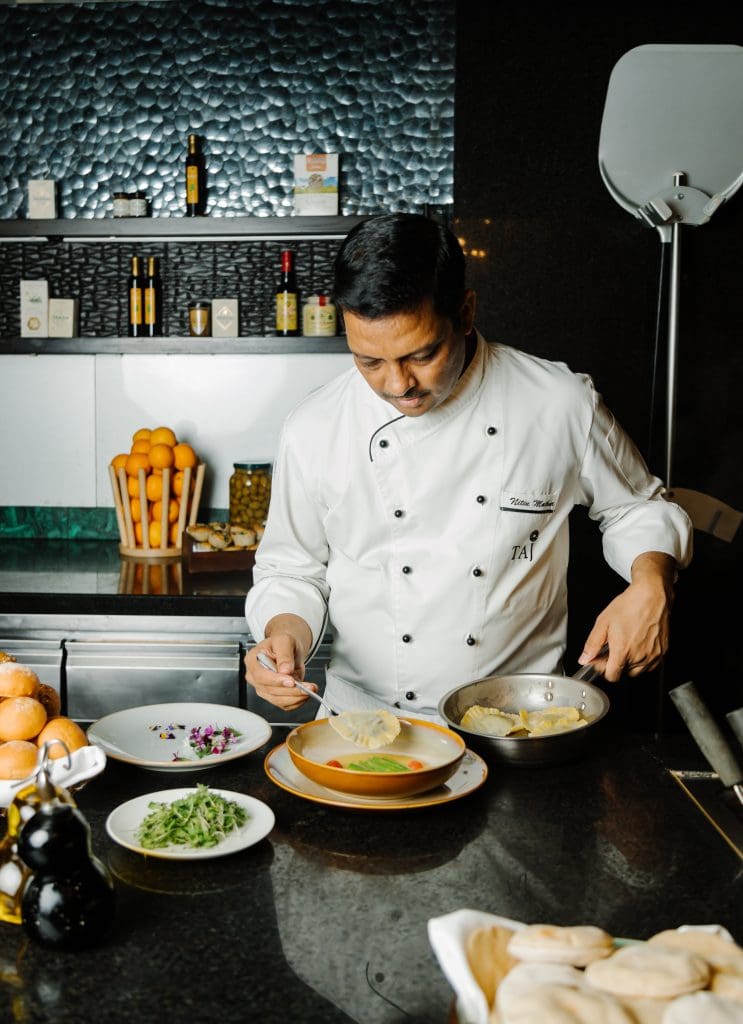 Truffle Garlic Parmesan Zucchini Spaghetti
Ingredients
Zucchini 250gms
Fresh truffle slices 5 gms
Truffle oil 1 tablespoon
Extra virgin olive oil 3 tablespoons
Minced garlic 20gms
Crushed red pepper flakes 5 gms
Tomatoes 50 gms
Parmesan cheese 60 gms
Basil leaves 30gms
Unsalted butter 60 gms
Salt To taste
Method
Prepare Zucchini Spaghetti
Trim and spiral the zucchini with the use of vegetable spiral machine. Cut extra-long zucchini to match the length of pasta spaghetti.
Prepare Sauce
Take a large deep pan. Add olive oil, garlic, and red pepper flakes. Turn to medium heat and sauté them well.
Add and toss the zucchini spaghetti with pasta tongs and cook until al dente — they should be wilted, but still to have a crunch
Do not let the zucchini cook any longer or else they will become extra soft & tender, keep stirring so that all the zucchini gets cooked evenly.
Stir in the chopped tomatoes, torn basil, and grated parmesan cheese. Cook for one minute.
Use pasta tongs and swirl zucchini spaghetti with tomatoes, and basil into serving plate.
Let the left extract be in the pan and simmer it further. Add butter and let it emulsify
Taste the sauce and season with salt. Pour the sauce over ready zucchini spaghetti.
Finish with truffle oil, parmesan sleeves and truffle shavings on ready zucchini spaghetti and serve immediately.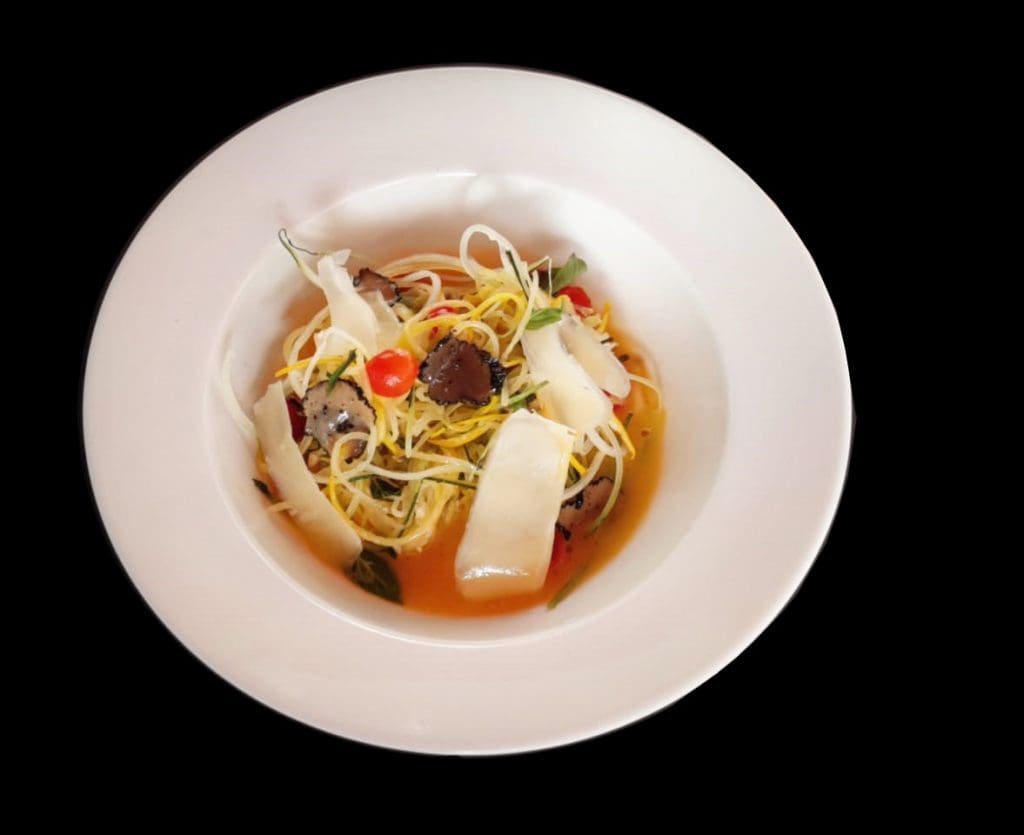 Iddiyappam
Ingredients
Rice flour 2 cups dry roast for 7-8 mts on low flame
Boiling water 2 cups
Salt To taste
Ghee 1/2 tsp
Grated coconut 1/2 cup
Method For Making Idiyappam
Bring 2 and 1/2 cups of salted water and ghee to a boil. Keep aside 1/2 cup of water (to be used while kneading the dough).
Slowly pour the hot water (2 cups) into the rice flour and mix with a wooden spoon to bring it all together. Place lid and leave aside for 15 minutes.
While the dough is resting, grease the Idiyappam maker and the Idli plates. Sprinkle little grated coconut into each depression of the Idli plate and keep aside.
The dough will be easier to handle once the heat reduces. Knead the mixture into a smooth yet firm dough, adding 2-3 tbsps of hot water while kneading.
Make a cylindrical shape of the dough and place into the Idiyappam maker. Press the dough through sieve to get thread texture. Put like mini swirls in Idli mould.
Steam for 12-15 minutes and allow to cool a bit. Serve with Chicken Ceylon Curry.
Tips:
To prepare Idiyappam flour – soak 2 cups rice in water for 4 hours. Drain the water and spread the rice on a thin cloth. Allow to dry for half an hour to an hour. Once it is almost dry, grind to a fine powder. Sieve the powder and dry roast it on low flame for 7-9 minutes. Homemade Idiyappam flour is ready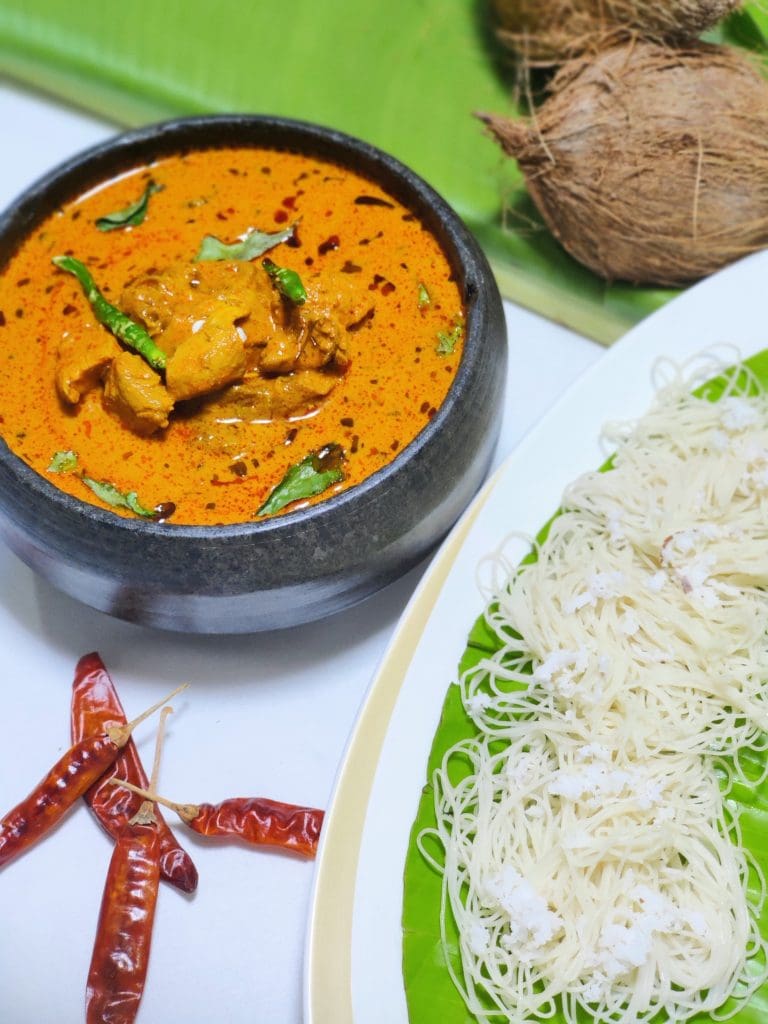 Chicken Ceylon Curry
Ingredients
450 gms chicken breasts, skin removed and cut into large strips
300 ml coconut milk
2 tbsp vegetable oil
Few curry leaves
1/2 tsp mustard seeds
1 tsp turmeric powder
1tbl spoon red chilly powder
1 tbl spoon ginger garlic paste
100g onions, sliced
1 tsp fresh root ginger, chopped
1 green chilli, kept whole but slit lengthways
Salt to taste
1 tsp sugar
Juice of 1/2 lemon
Fresh coriander, chopped, for garnish
Method
Heat the oil in a pan and add the sliced onions, curry leaves, ginger, mustard seeds and slit green chilli. Fry for two minutes
Add the ginger garlic paste and cook for 3 more minutes
Sprinkle in some water if the mixture begins to stick
Add the chicken, reduce the heat and sauté for 5 minutes
Add the coconut milk and bring to the boil, reduce the heat and simmer for 10 minutes or until the chicken is cooked through
Adjust the seasoning by adding sugar and lemon juice
Garnish with fresh coriander and serve with Idiyappam
The Taj Mahal Palace, Mumbai
Amit Chowdhury, Executive Chef – The Taj Mahal Palace, Mumbai says, " While we are happy to offer signature dishes from some of our iconic restaurants like Zodiac Grill, Wasabi by Morimoto, Souk and Golden Dragon – more often than not, we are reinventing our repertoire based on what a guest desires."
He reveals, " Elaborate buffet set-ups have made way for small-plates and bite-sized canapes so that invitees can experience the whole world in one evening. Finally, wine paired dinners are a thing of the past. Gen next wants ale with sliders and fish tacos with margaritas and the family is more than happy to help create a unique and exciting wedding."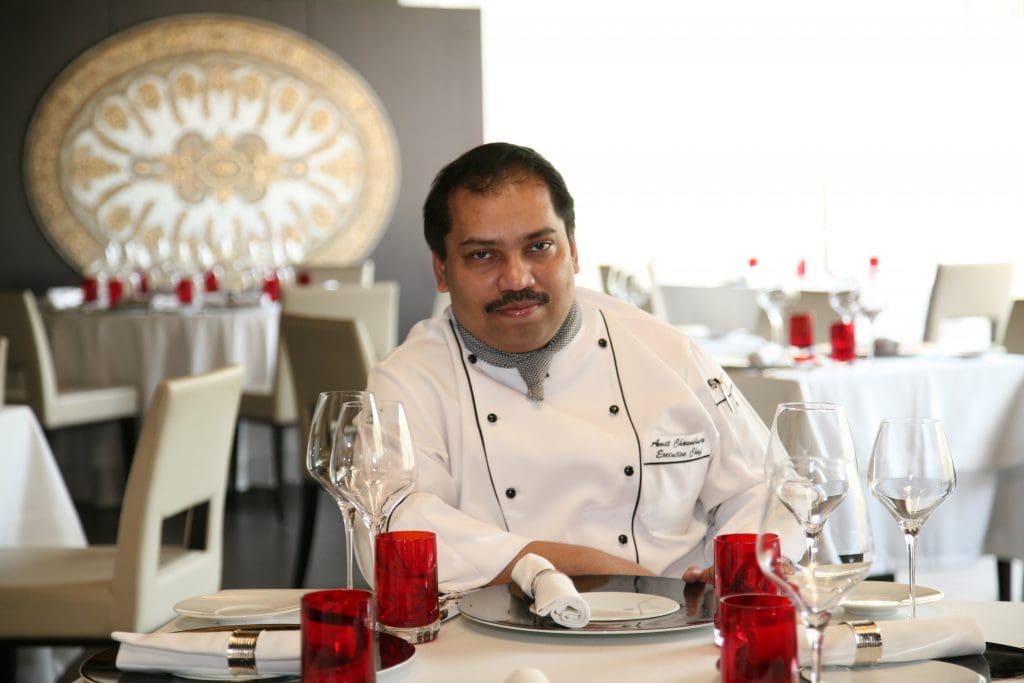 Lackha seekh
Ingredients
American corn -200-Gm
Ghee -25-Gm
Jeera -5-Gm
Chop ginger -5-Gm
Chop chili-5-Gm
Turmeric powder-2-Gm
Cumin powder-5-Gm
Gram masala -5-Gm
Yellow chili powder-10-Gm
Salt-5-Gm
Grated paneer -30-Gm
Fried potato -30-Gm
Kasoori methi-10-Gm
Procedure
Heat ghee in a pan
Add jeera, chop chili, ginger, kasoori methi, saute for a while.
Add corn and remaining spices
Add fried potato. Cool it, chop in buffalo chopper coarsley.
In a bowl add grated paneer and bread crumb to this mixture.
Skewer it and cook it tandoor.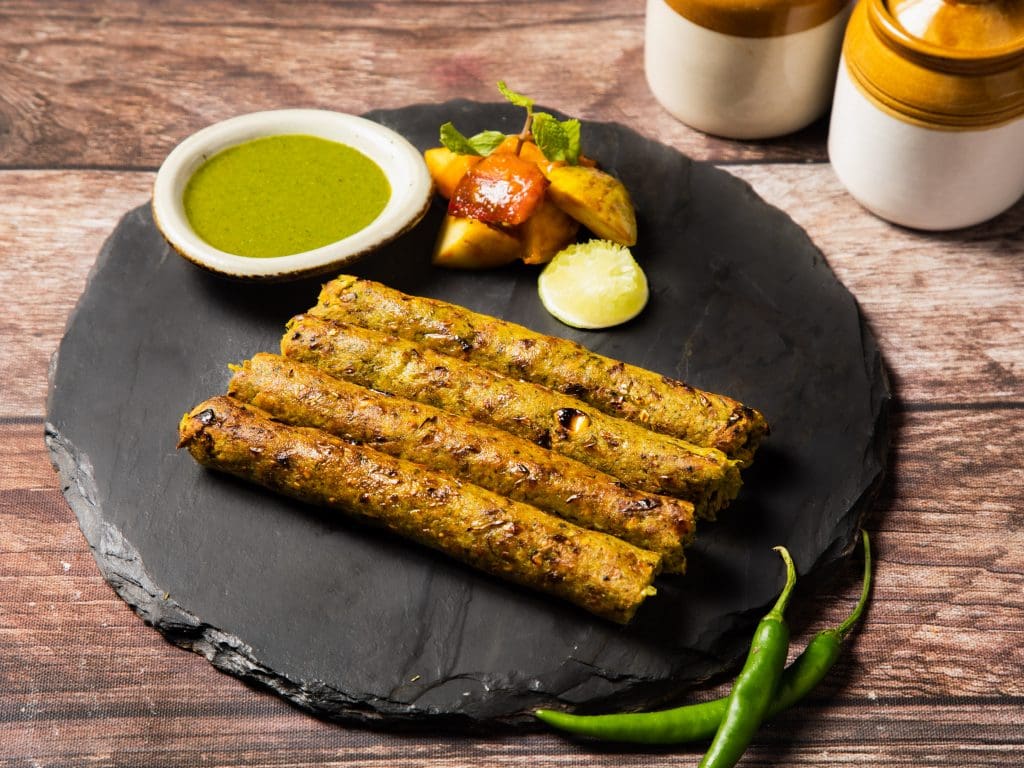 Tandoori salmon
Ingredients
Pink Salmon (or any boneless fish)- 300 -Gm
Mustard oil-20 -Gm
Jeera powder-5 -Gm
Red chili paste -20 -Gm
Red chili powder-5 -Gm
Kasoori methi powder-3 -Gm
Garam masala powder-3 -Gm
Hung curd-50 -Gm
Salt-10 -Gm
Lemon juice-5 -Gm
Ginger paste-10 -Gm
Garlic paste-10 -Gm
Procedure
1st marination:
Marinate the salmon with lemon juice, salt, ginger garlic paste, mustard oil.
2nd marination:
Mix the hung curd, red chilly powder, chilly paste, jeera powder, garam masala, kasoori methi powder and smoothen it .
Apply this to the salmon and coat it properly and rest for a while.
Cook the salmon in the tandoor. Serve hot.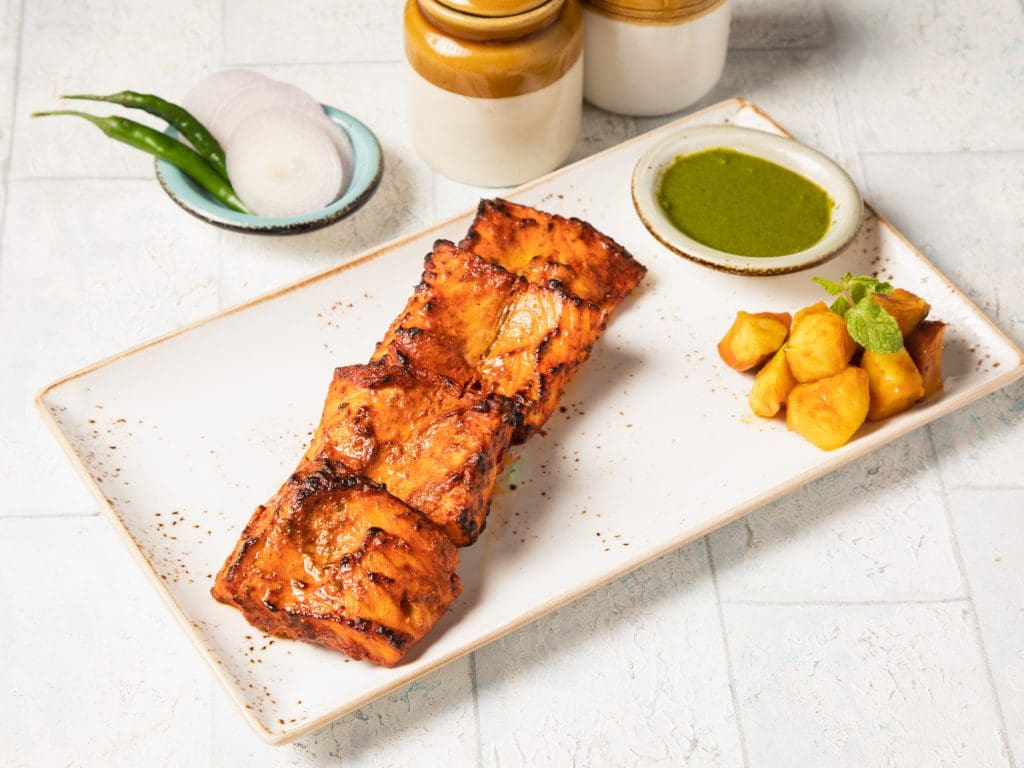 Lucknowi seekh
Ingredients
Lamb chunks-300-Gm
Lamb fat-100-Gm
Salt-5-Gm
Chili powder-15-Gm
Chopped ginger-3-Gm
Chopped green chili-3-Gm
Fried onion-60-Gm
Garam masala powder-20-Gm
Coriander stem-50-Gm
Garlic cloves -10-Gm
Procedure:
Mix all the ingredients and put them through a mincer. The mixture should be coarse and not too fine.
Apply the mix on a seekh and cook over a grill.
Serve hot.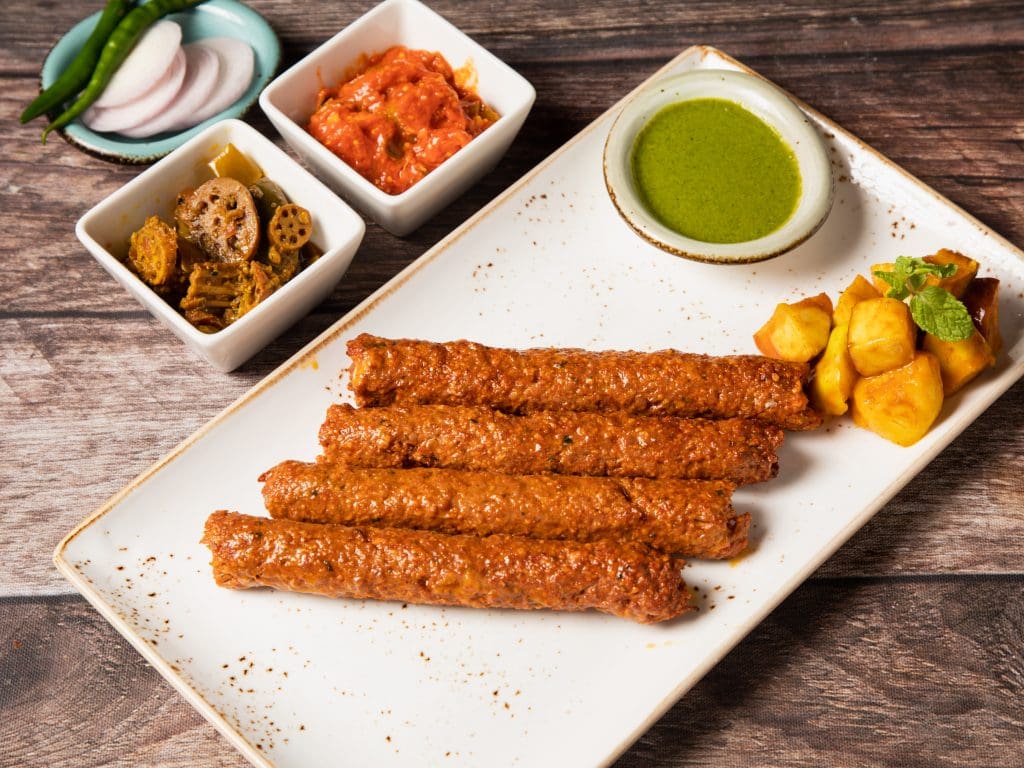 Kalimirch ka jheenga
Ingredients
Big white prawns (16-20 pc / kg)-300-Gms
Salt -10-Gms
Ginger paste-5-Gms
Garlic paste-5-Gms
Kasoori methi powder-5-Gms
Hung curd-50-Gms
Lemon juice-5-Gms
Cashew gravy-100-Gms
Fresh cream -25-Gms
Butter-25-Gms
Black pepper-25-Gms
Garam masala powder-3-Gms
Procedure
Marination:
Marinate the prawns with lemon juice, salt, ginger garlic paste.
Mix the hung curd, red chilly powder, chilly paste, jeera powder, garam masala, kasoori methi powder and smoothen it .
Apply this to the prawns and coat it properly and rest for a while.
Cook the prawns in the tandoor and keep aside.
For gravy:
Heat butter, add cashew gravy, kasoori methi powder, salt, jeera powder, black pepper powder and the prawn pieces.
Add the fresh cream , sprinkle garam masala powder, adjust seasoning , and serve hot.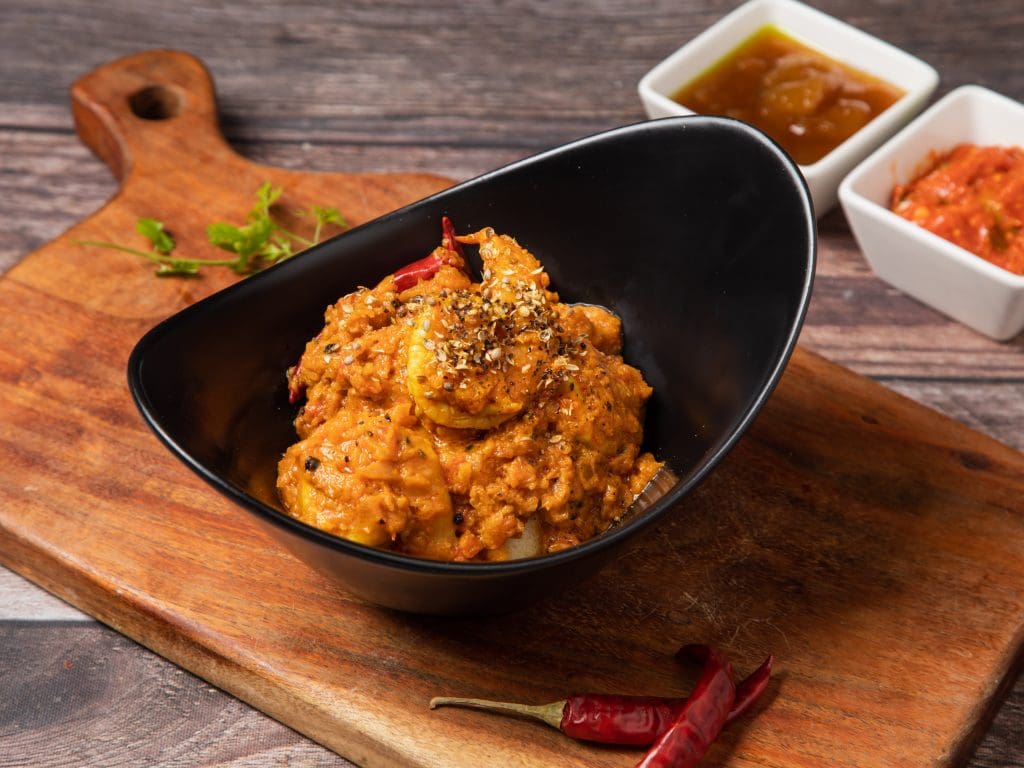 Murgh masaledar bombay biryani
Ingredients
Chicken curry cut- 400 -Gm
Ginger paste- 15 -Gm
Garlic paste- 15 -Gm
Green cardamom- 1 -Gm
Black cardamom- 1 -Gm
Cinnamon stick- 1 -Gm
Cloves- 1 -Gm
Javitri powder- 1 -Gm
Black peppercorn- 1 -Gm
Red chilly powder- 5 -Gm
Slit green chilly- 5 -Gm
Mint leaves- 3 -Gm
Cream – 30 -Gm
Milk- 150 -Gm
Ghee- 200 -Gm
Shahi jeera- 1 -Gm
Saffron – 1 -Gm
Rice – 200 -Gm
Curd- 100 -Gm
Rose water- 5 -Gm
Kewra water- 5 -Gm
Mutton stock- 250 -Gm
Oil-100-Ml
Eggs-60-Gm
Procedure:
Dry roast the saffron in a pan, taking care it does not burn, crush it and then soak in hot water.
Boil the eggs and keep aside
For gravy:
Marinate the chicken with jeera powder, salt, lemon juice, mint, brown onion, ginger garlic paste, curd , red chili powder.
Heat ghee, add the whole spices, then the brown onion, and the chicken and sear for a while.
Now, add the slit green chilies, mint leaves, brown onion and shahi jeera saffron water and javitri- elaichi powder and boiled eggs.
For rice:
Heat water, add whole spices, salt and rose water and kewra water.
add the rice and cook till 80% done.
For biryani:
Now spread this rice evenly over the gravy and pour saffron on top.
Cover the vessel with silver foil and cook for about 20 mins .
Serve hot.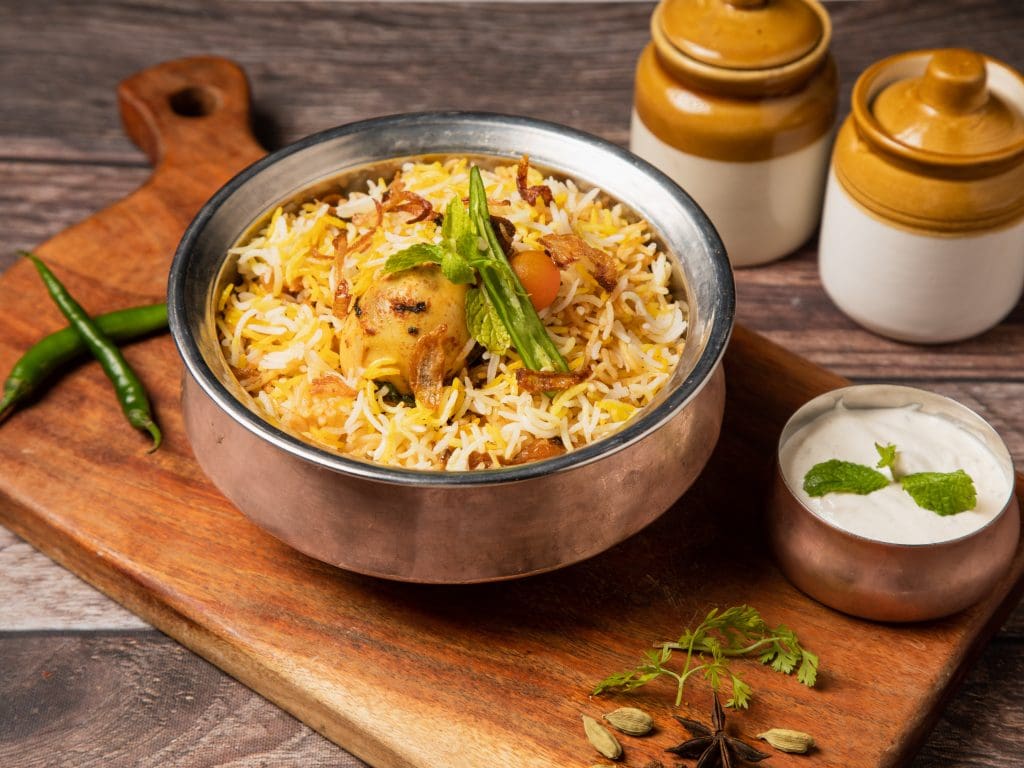 Chilgoza Falli Shatavari
Ingredients
Oil-30-Ml
Cumin seeds-2-G
Chopped garlic-5-G
Chopped onion-10-G
Ginger juliene-2-G
Red chilly powder-3-G
Tomato paste -40-G
Asparagus-60-G
Haricot beans-60-G
Jeera powder-5-G
Chat masala-3-G
Chopped coriander-5-G
Deggi chili powder-2-G
Cherry tomato -5-G
Pine nuts-10-G
Procedure
Heat oil, add whole jeera, chopped garlic, asparagus, and sauté. Add little water so as to blanch the asparagus, and add chili powder.
Add haricot beans, makhni gravy, jeera powder, chat masala and sauté.
Add slit cherry tomatoes, pine nuts, adjust seasoning, add chopped coriander and serve hot.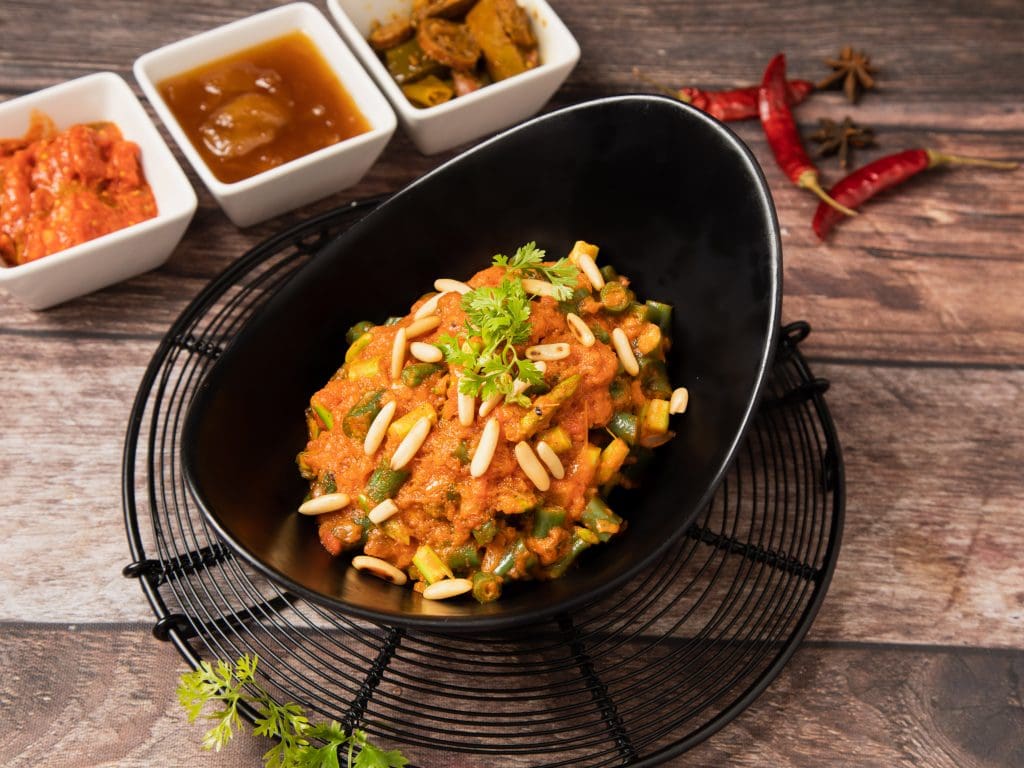 Nadru Singhade Ka Chowgra
Ingredients
Oil-30-Ml
Whole red chilly-3-Gm
Black pepper crushed-2-Gm
Curry leaves-3-Gm
Chopped garlic-5-Gm
Chopped onion-10-Gm
Ginger julienne-2-Gm
Red chilly powder-3-Gm
Lahori gravy-40-Gm
Makhni gravy-40-Gm
Nadru blanched-20-Gm
Singhada blanched-20-Gm
Chopped coriander-5-Gm
Coconut milk-15-Ml
Jeera powder-3-Gm
Garam masala powder-2-Gm
Chat masala-2-Gm
Procedure:
Heat oil, add black pepper, whole red chilly, chopped onion, chopped garlic, ginger julienne, curry leaves and sauté.
Add the nadru and singhada, red chilly powder and toss. Then add lahori and makhni gravy, salt, jeera powder, garam masala, chat masala.
Finish with coconut milk, adjust seasoning, add chopped coriander and serve hot.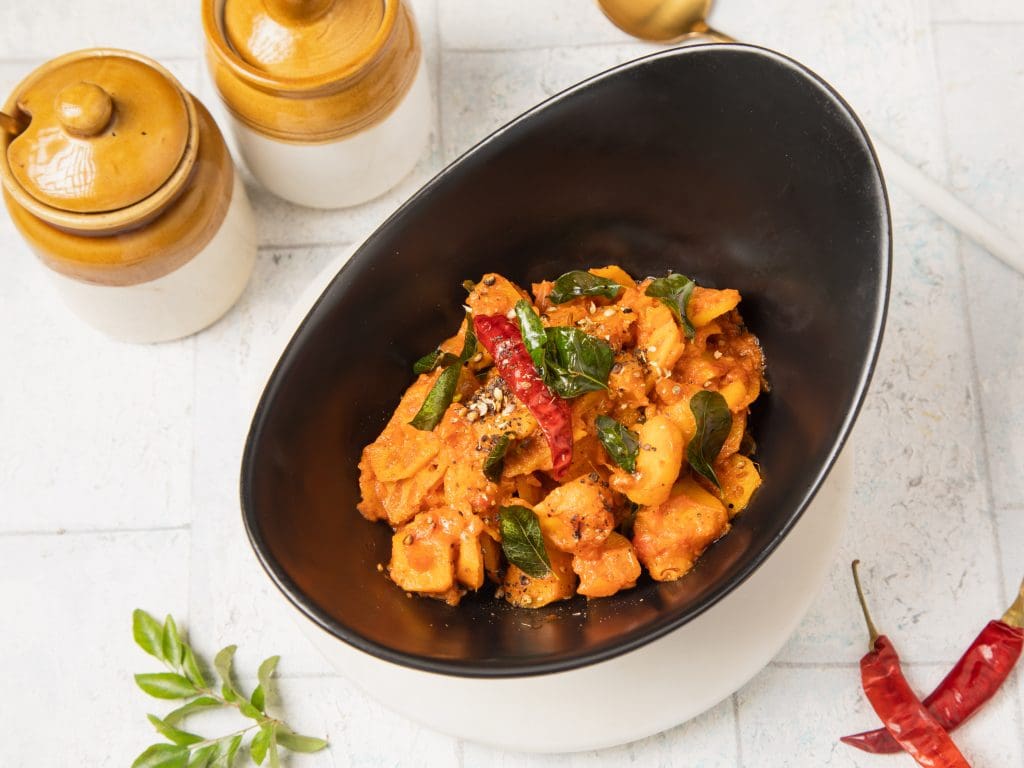 Khajur badam ka halwa
Ingredients
Almond powder-200-G
Ghee-80-G
Sugar-50-G
Dates-20-G
Elaichi powder-5-G
Procedure:
Mix the almond powder, and ghee and dry roast well together in a wok on slow heat till the mixture cooks well and ghee starts to separate from the flour.
Then add sugar and cook
Then mix in chopped dates, elaichi powder.
Serve hot.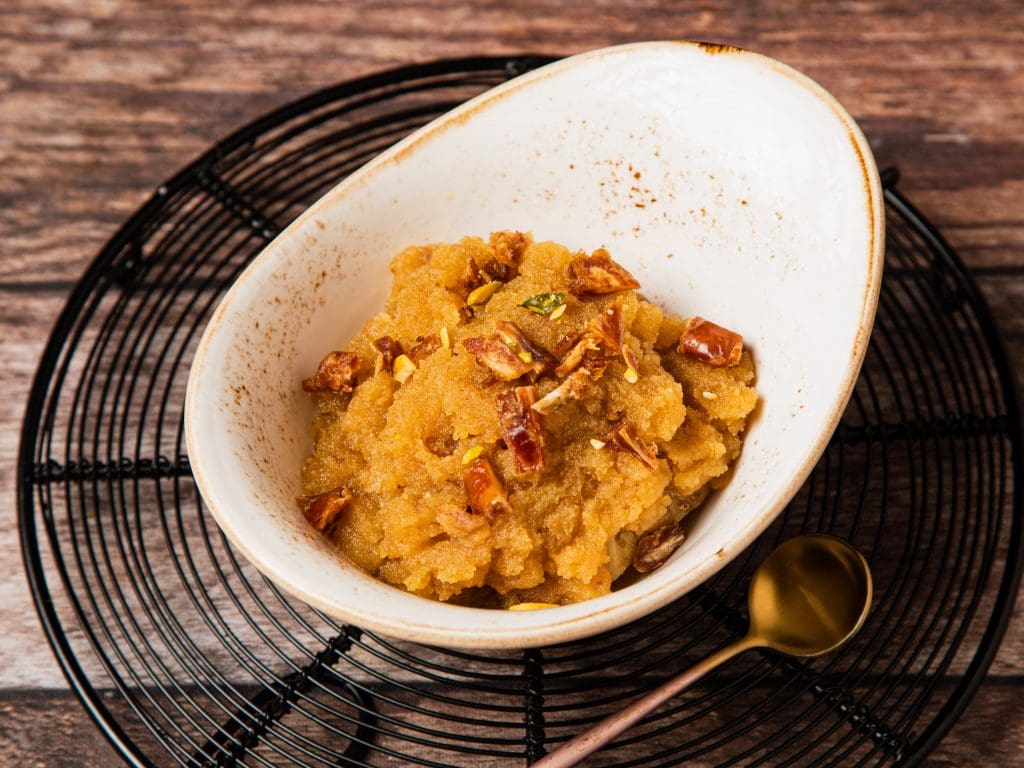 Read more: Food Voyager