From the spacious Qatar National Convention Centre to the easy-to-access Doha Exhibition and Convention Centre, the venues to host business events in the country are numerous.
Qatar, with its thriving business environment, provides a variety of venues and services tailored to every type of business traveller.
These venues range from large convention centres outfitted with cutting-edge audio-visual systems to intimate settings that provide a quiet sanctuary for brainstorming ideas in peace.
Given such customised solutions, it's no surprise that the country has emerged as a one-stop destination for event organisers, international business organisations, and travel agents.
Here are two of the country's premier convention centres, as well as other ballroom venues in Qatar: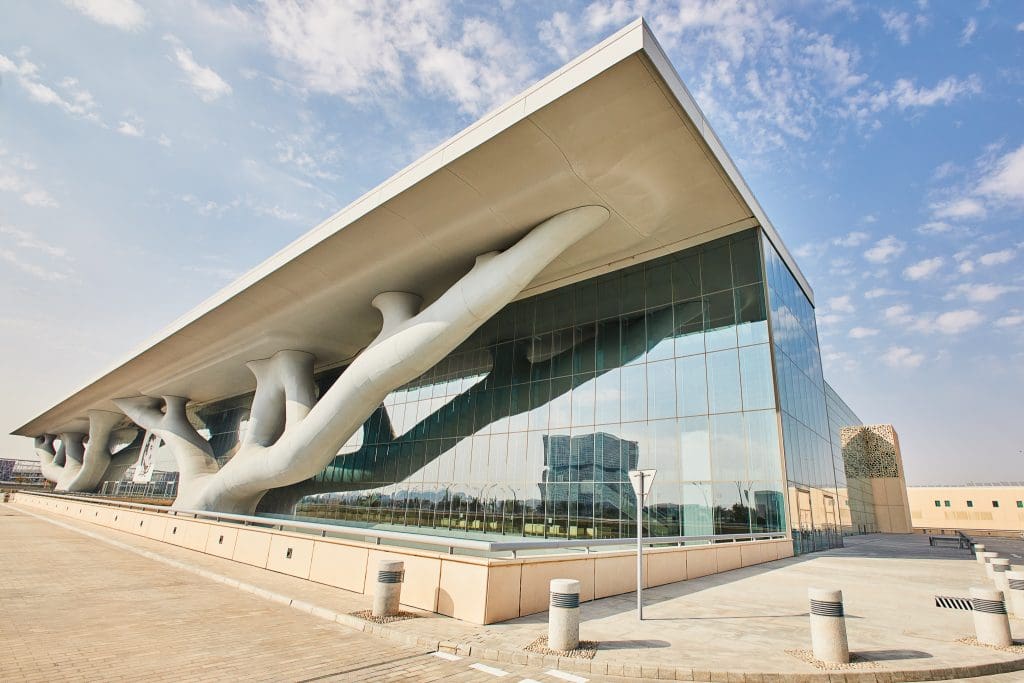 Qatar National Convention Centre
The crown jewel of all convention venues in Qatar is the Qatar National Convention Centre. Apart from conventions, the centre has also hosted many international events, cultural evenings, and corporate programmes. It has welcomed dignitaries, world-renowned artists, and distinguished personalities. In short, it is not only a convention centre, but also a fully immersive experience in itself.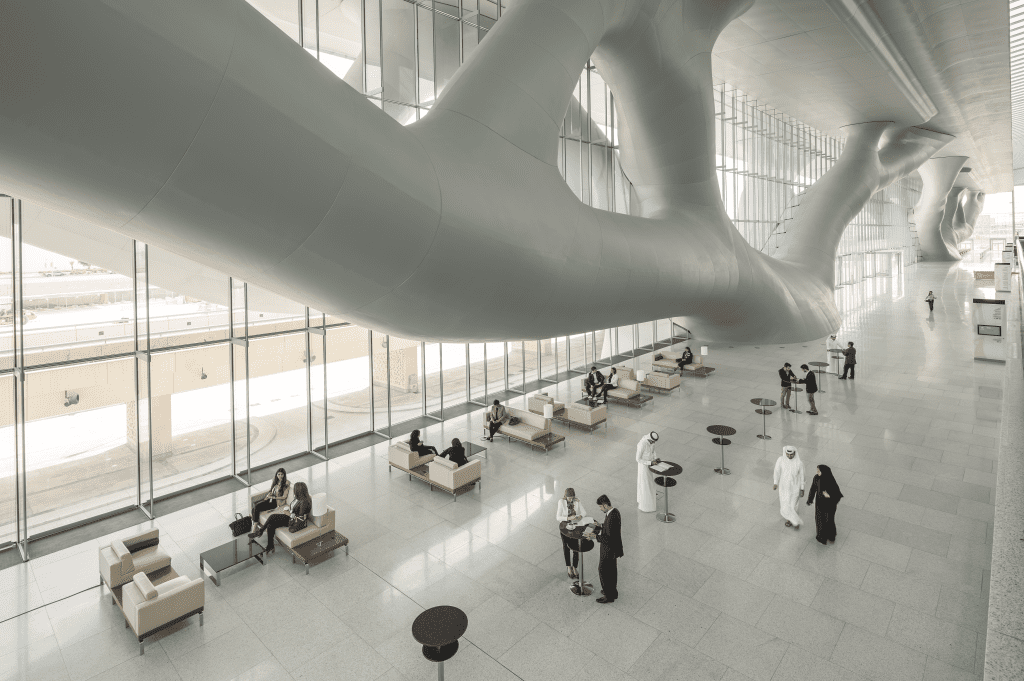 Spread over an area of 200,000 square metres, the centre comes with 40,000 square metres of indoor and outdoor exhibition space that is column-free. It comes complete with a pit and trench services system and modular mobile rigging grids. It has two multi-purpose halls that can be used for banquets, exhibitions, and conferences. The conference hall can comfortably seat 3,800 delegates.
The 2,300-seater lyric-style theatre is perfect for hosting movie nights and screenings. There are also three-tiered auditoria that accommodate 295, 407, and 474 guests respectively. There are 6 lounges to host VIP guests and 7 hospitality suites. Spacious pre-function and exhibition foyers, dedicated registration desks, business centres, and media rooms make up the rest of the centre.
Why one should choose QNCC, one might ask. The answer is simple. Not only is the convention centre one of the most technologically advanced and comprehensive venues in the world, but it also sets a benchmark in F&B services, AV systems, housekeeping, IT facilities, and suchlike. It provides on-site accommodation at the Premier Inn Doha Education City, which has 219 bedrooms.
Apart from meetings, conferences, and conventions, the centre also offers space for holding weddings of a lifetime. Wedding is a special occasion that not only brings two souls together, but also joins families. There is no better place to celebrate this occasion of unmatched joy than the QNCC. The terrific housekeeping, and food and beverage services ensure that couples truly get what they deserve on their special day.
The Al Mayassa Theatre is the epitome of excellence and comfort and offers the perfect venue for hosting grand musical and theatrical productions. It can comfortably seat 2,300 guests and comes with 10 dressing rooms, 2-star dressing rooms, 2 chorus changing rooms, one green room, 5 musician's rooms, and one conductor's room.
Each, customised Bentley leather seat comes with an A3 writing table and a charging station. Advanced audio-visual solutions, helpful staff to provide technical support, Wi-Fi, and wired data connections are also available.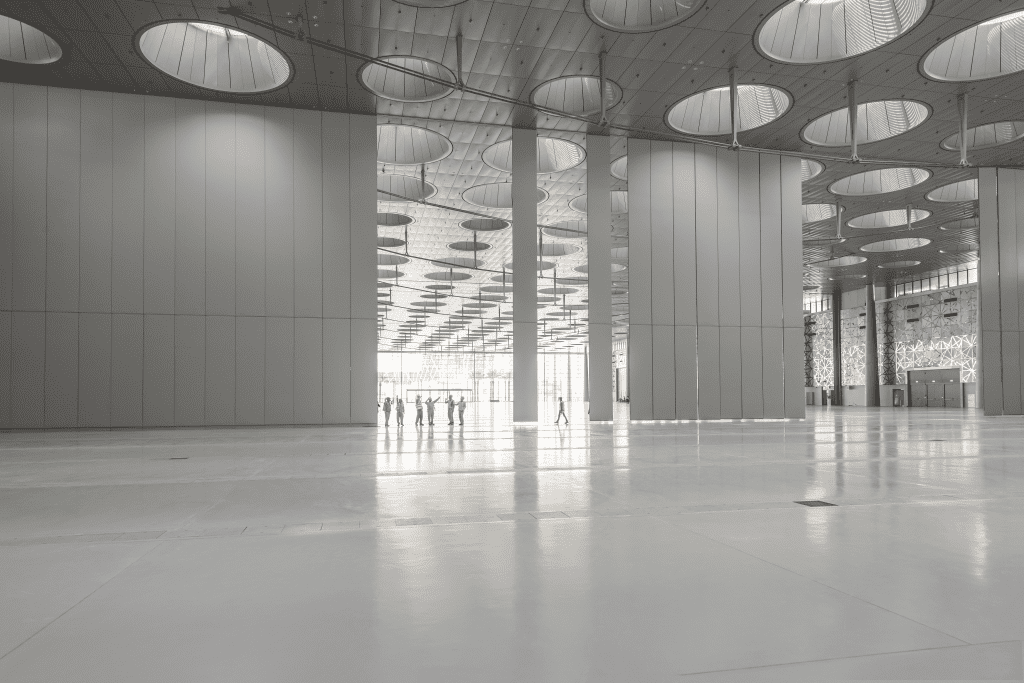 Doha Exhibition & Convention Centre
Located in the West Bay, at the heart of the business district, the DECC or the Doha Exhibition & Convention Centre is yet another stunning venue for conferences, conventions, summits, and exhibitions. The DECC has 7 main entrances, 2,800 on-site parking spaces, 10+ on-site outlets and shopping centres, and 20+ hotels within walking distance. DECC's highly skilled team can provide top-notch services in a wide range of fields including rigging, storage, utilities, security, IT services, catering and more.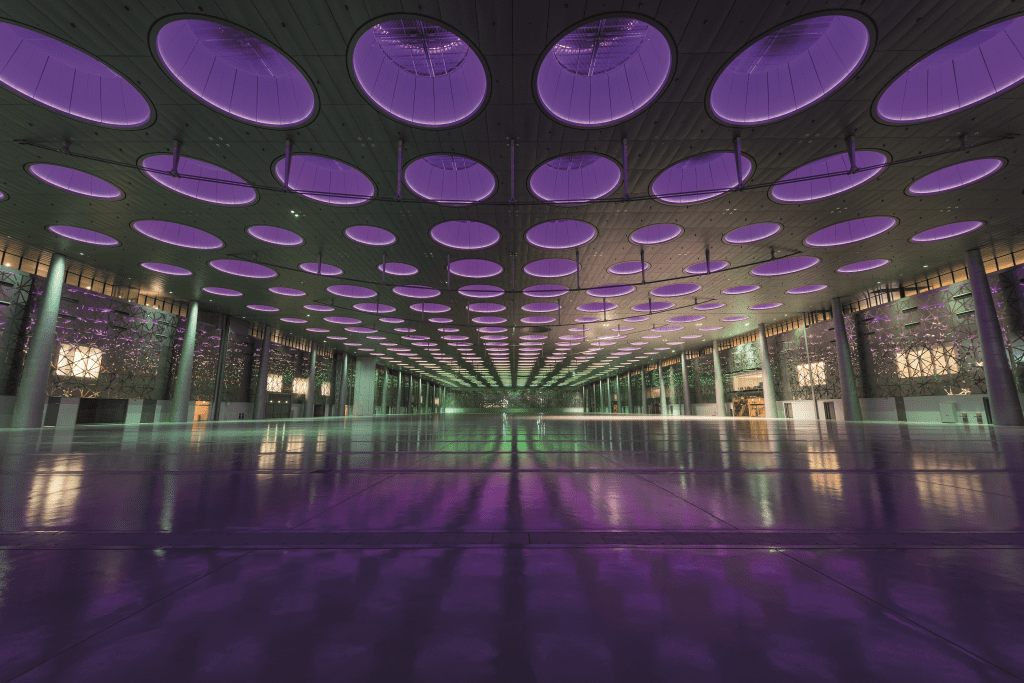 International and local food and beverage outlets are located in the foyer and inside the halls, where guests can indulge in both quick refreshments as well as leisurely dining. There are more than 15 hotels around the convention centre, offering more than 4,000 plus rooms for the business traveller of every budget and taste.
Before you leave, don't forget to check out SMOKE – a stunning geometric sculpture designed in 1967 by American artist Tony Smith. Installed by the Museums' Authority of Qatar, it is indeed a stunning piece of art that is admired by visitors from all over the world. Getting to the exhibition centre is easy. Being centrally located, it can be reached by public transport, private limousine, and personal car.
The exhibition centre also has a host of convenient features, including prayer rooms, facilities for the disabled, digital information kiosks, and long- and short-term parking. All in all, this exhibition centre offers exhibitors an unmatched experience coupled with state-of-the-art facilities, enough to make your business event a great hit.
Ballroom Venues and Other Sites
In addition to the QNCC and the DECC, Qatar also boasts 13 ballroom venues with more than 10,000 square metres of space in each venue. Many of these hotels are centrally located and come in a range of budgets to suit every traveller's needs.
From 5-star properties to 3-star hotels, from deluxe serviced apartments to standard apartments, these venues also provide accommodation to organiszers at competitive prices. In addition to the purpose-built venues, Qatar is also home to a host of community centres and cultural sites, which double up as unconventional meeting spaces and event venues.
Some of these include:
Downtown Msheireb
Msheireb Museums
Al Zubarah Fort
Al Shaqab Equestrian Centre
Museum of Islamic Art
Inland Sea Desert Camp
Conclusion
With such a diverse range of venues and world-class facilities, it is no surprise that Qatar has become one of the world's most popular MICE destinations. The sheer number of venues, services, and amenities, combined with the good weather, sea, and leisure options, make this desert nation an ideal location for business meetings.
Qatar is preferred over others for hosting events and conferences due to its proximity to both Europe and North America. Furthermore, the country's business-friendly government is investing heavily in infrastructure, luxury hotels, resorts, and meeting facilities.
While other MICE destinations may offer similar facilities for conducting business, what distinguishes Qatar is its hospitality that is rooted in its age-old tradition yet modern in approach.
Read more: Qatar