Rajinder Mohan Bhatia's Hotel Futurama is a remarkable book about a hotel that we hope to see in the future.
Futurama : noun: a preview of something that is not yet a reality: indication of potential.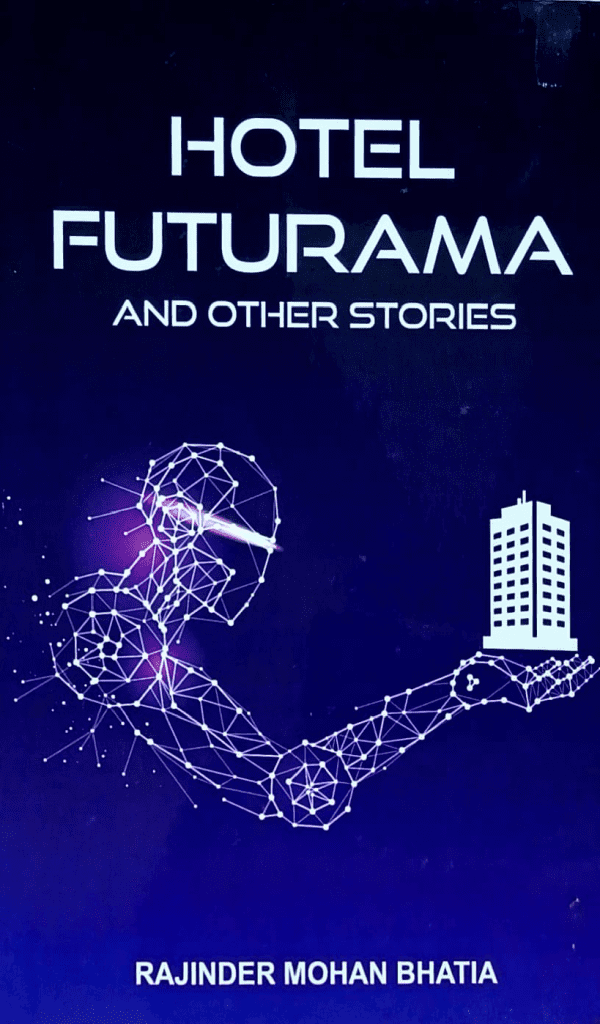 True to its name, the book was written ahead of its time around 2008 and the original manuscript slated the story to take place in the year 2015, but the year 2015 came and went and the hotels are yet to advance to this stage as on date.
Part of Hotel Futurama's predictions are now coming true for hospitality and yet so much more has to be adapted in technology. It took a pandemic to start many aspects in motion like mobile phone access, facial recognition, and digitalization of menu cards, sensor taps in guest rooms, to say the least. The setting has therefore pushed the story into 2025.
Like the name of the Hotel – Futurama – the actual hotels are somewhat there but not yet a reality. But in the Hotel Futurama we get a glimpse of the future, and yet with technology changing faster than we can imagine, would there be an actual hotel like this or it would always not yet be a reality?
The Hotel is situated in San Francisco and tells the story of Rajinder Mohan Bhatia (Raj) (as the author himself, a renowned hotelier) who visits the hotel to understand its USP and explore this technologically advanced mini-city of a hotel.
Rajinder Mohan Bhatia takes you through the journey of a 3-day stay at Hotel Futurama. It is an eye-opener of what can be. From his experience at the reception to the exploration of a hotel as a mini-city, every part of it is a journey into a possible future.
There are several other interesting stories on different topics
Love Is Blind: If love is blind then what makes us perceive love?
Lucky Charm: Would you consider a successful thief lucky?
The Marriage Proposal: How many proposals for marriage have been made too late in anticipation of the right time, would you give up, or ….
The Withering Flower: To what extent will a father go for his daughter's happiness?
All these and more delightful stories by Rajinder Mohan Bhatia are presented for the reader to enjoy.
About the Author: Rajinder Mohan Bhatia (fondly known as Raj Bhatia or R.M.) (1939-2020)
Rajinder Mohan Bhatia lived his life in Gujranwala, Delhi, Singapore, Mumbai, and Gurgaon but travelled across the world extensively in his life.
The early years of his career were spent with the Oberoi Group of Hotels. It was his 15 years with the Oberoi Group that enabled him to travel and get exposure to the best of hotels in the world. His passion for hospitality grew. He was part of purchasing and starting many hotel properties with Mr Oberoi himself. He travelled widely across the globe absorbing and reflecting on many life experiences.
Thereafter he started a Consultancy service: "United Hospitality Services". His hobbies included sports like tennis and squash, reading, and later in life penning down his stories, views and creating a well-known e-newsletter called " United Newsletter" which he diligently sent out every month to an email list of several hundred in the hospitality industry, friends and family.
It was in this newsletter that the book – Hotel Futurama (earlier under the title "Hotel Bill Gate") was born and became so popular that he was asked to repeat the series.
Besides Hotel Futurama, there are interesting stories on life experiences – love, marriage, temptation, the daily survival of a street dog, and an employee's unwavering love for his work and trust that puts him in a precarious situation and changes his destiny.
One of the longer stories, a short novel in itself "Ten Days After My Death" has quotes after each chapter that lead you into a family saga after the Head of the family passes away suddenly.
He quotes Abraham Lincoln: " the people when rightly and fully trusted will return the trust"
Unfortunately, Rajinder Mohan Bhatia could not release it as a book in his lifetime and so his children, Ritu and Rachna, have taken the onus to make true his dream of publishing his book.
Ritu and Rachna shares nostalgic memories of their father Rajinder Mohan Bhatia
He was forever a storyteller with lively anecdotes on his travel and life experiences. His children, extended family, and his grandchildren have all benefitted from many a lively soiree listening to the tales of Raj Bhatia. We share a few with you here.
We all take something from our parents, voluntarily or involuntarily. I realised much later in life that my father, Rajinder Mohan Bhatia's collection of stories was more than just that. There were life's messages and philosophies hidden and told in them.
When my father had written the main story – Hotel Futurama, around 2007 – 2008, it was slated to take place in the year 2015. He had a desire to publish his writings into a book and share it with others. As often happens in life, one is caught up in the daily rigmarole. Unfortunately, this did not happen in his lifetime.
Since the Lockdown happened soon after he passed in March 2020; I had time to revisit his writing. I recalled that his most popular story renamed "Hotel Futurama" was about a futuristic hotel. Futurama: noun: a preview of something that is not yet a reality: indication of potential. The Hotel is situated in San Francisco and tells the story of Rajinder Mohan Bhatia (Raj) (as the author himself, a renowned hotelier) who visits the hotel to understand its USP and explore this technologically advanced mini-city of a hotel.
As I reread the story, I was astounded at how many things had yet to happen in the hotels despite the advancement of technology in many fields, and now due to a pandemic, these were finally being looked at and are slowly being considered or being put in place.
I quote an example from the story here " I walked to the bathroom and started making critical observations. I immediately noticed that all the water outlets – WC, washbasin, shower, had no knobs, which meant sensors were installed to dispense water automatically…A temperature setting was indicated. As soon as I moved under the shower, warm water started flowing. I stepped back for the soap and the shower flow stopped automatically."
In the current year of 2021, some of the facts in hotel technology have come into existence like 'touchless check in' or soon the use of mobile phones to access the room door is about to begin. I have therefore chosen to place the story in the year 2025; in the near future. I am sure we would be seeing more of the technology and AI-enabled processes available than in the hotel industry. However, the main essence of a hotel – hospitality – should always be real and present.
It is this core of "hospitality" that my father learned from the Oberoi Group and instilled in his daily life and in the many social functions he hosted. It's one of the many things we learned from our father – how to be hospitable and how to throw a great party. Without saying it, he taught us that "Atithi Devo Bhava": "Guest is God"
I decided to fulfill his wishes and spent the next one-year editing, compiling, and working on the process to get the book published.
His close friend, and a hospitality expert himself, Narendra Verma, MD of Hospitality Consultants (India) Pvt Ltd has written a touching foreword and says "Raj gives a very vivid account of how technology is likely to take over most of the human functions in the hotel. He has also gone to the extent of suggesting that as more and more functions become automated in a hotel, the service to guests will not suffer, but will improve in the coming years.
The author has even gone to the extent of suggesting that Hotels by using modern technology and gadgets efficiently will be able to provide better and more efficient service to the guests. He has given a very good example of how a large hotel with extensive Food and Beverage facilities was maintaining better-operating statistics, providing efficient service, mostly by using technology effectively, with very few but more productive staff.
His description and explanation of the Nouvelle Cuisine gives away his liking for food and also the knowledge gained as the F & B Cost Controller during the nascent years of his tenure in the Oberoi Hotel, Delhi. Subsequently, his desire to learn the details of the costs of construction and operation indicates the information and data that he required for comparing with his figures when designing, planning, or costing of new hotels.
While reading the book I virtually felt as if I was accompanying him on the trip and experiencing the hotel being described. Many hoteliers will find this book interesting and so will the students undergoing courses in Hotel Operations."
His love for books and travelling, was also passed on to both me and my sister. From reading stories to telling stories and writing stories, his memory lives on and I hope you will enjoy them as much as we have.
Read More: Latest