Ratna Chadha, Chair Person, TIRUN Travel Marketing is a force to reckon with. On the one hand, she is the strong-willed, brilliant head of a company that has created a successful niche for over 25 years as the exclusive India Representative for Royal Caribbean Cruises that introduced cruising to India. On the other hand, she is a gritty survivor who got her life back on track by sheer dint of will.
In this candid and honest sharing of milestones in her life, Ratna Chadha recounts the highs and lows that swept up her life in a tempest, how she learned to find her feet, the will to carry on, and the strength to hold her head high.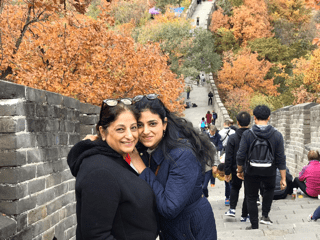 Her life philosophy remains high spirited regardless of challenges and she believes strongly in relying on family, colleagues, and life-long friends "who are now my extended family, apart from my own, who fortified me to such an extent, that it mitigated my own grief as they took the curves with me- grieved and rejoiced with me, in my loss and in my achievements."
A budding hotel professional
I started early in life as a budding hotel professional and joined the Management Trainee Programme at ITC Hotels in 1978 when the company had just three hotels under its brand.
I learnt a lot, both professionally, by working with the best in the field and personally, with people who are now family! After 12 great years with ITC, I left to take care of my kids and then moved to London to join my husband.
I worked briefly in London with the Sheraton before returning back to roots after two wonderful years there.
The journey of an entrepreneur
On our return, I joined my husband as an entrepreneur, representing some of the world's best American brands in the Airline and Hospitality industry.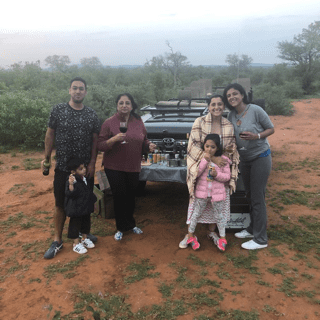 Incepted in 1991 as Discover the World Marketing (DTWM), and later rechristened to TIRUN in the year 2000, the company introduced many acclaimed international brands to the country, some of which include US Airways, Hyatt Hotels, Hertz and Universal Studio's.
In the advent of representation, I got an opportunity to pioneer the concept of cruising, with Royal Caribbean Cruise Line in India. We worked hard to get the brand established and from 200 Indians who cruised in 1993, we were successful in pushing the numbers to thousands to cruise to date.
Getting to grip with grief and walking tall
Unfortunately, I lost my husband in 2012 and had to take over the reins soon after, to prove to myself and the world at large, that I was a force to reckon with! I am still trying but surrounded by my kids & strong women, I am sure I'll get there sooner than later!

My husband's very sudden loss and that too at a very young age and for no conceivable reason, was a huge shock, for me personally and my family.
I had to gather myself quickly and put up a very strong facade for the sake of many, especially my colleagues, who had put their confidence in us, when they joined the company.
Some of our colleagues had been associated for over 20 years to build a robust brand in the category. Keeping in mind that our colleagues and their families were dependent on the business and were our extended family, I had to get out of my personal grief and walk tall.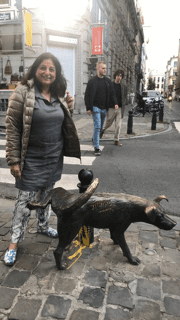 On the other hand, the same role of grounded businesswoman was required for the principals and our audience in the domestic market.
My kids joined the business at this stage, to support my endeavour and we worked with a will to reestablish the strength of the company and what we stood for.
Together we took the company to much greater heights and proved the worth of the brand and the fact that no one individual is indispensable and the show must go on irrespective!
Challenges to overcome
As a woman, there were many challenges plus I had my own personal grief to deal with internally but somewhere in all this, I drew strength as I was adamant to carry on the legacy of my late husband and I think, In my mind I had the thought, I can't let him down no matter what!
Today, people talk of what we had built together and remember him as the pioneer, which he truly was! A lone woman in a man's world, battling the nuances of running a business is not new and I am not rid of the challenges, but I think we women are naturally strong and have a sense of inbuilt confidence in our DNA! I was probably prepared genetically for any eventuality!

Leadership Style: there's a saying, " I value your opinion and you have my permission to share it ". This is put up in my office in bold letters and I think, gives away my leadership style!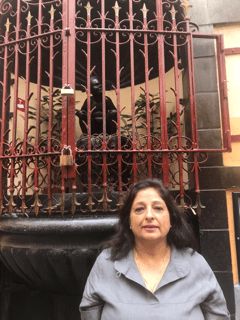 Just kidding, I have learned to be a democratic n work with consensus as today's digital youth are a different breed … one can learn tremendously from them and enhance one's own repertoire.
I'd like to add, life prepares you with a business plan from the time you are born till the day of reckoning. The only difference is that the expiry date is unknown. So as life unfolded I realised how meticulously my life had been planned!
As a child I was very aggressive and then mellowed. Once in boarding school, I made good friends who are still with me – like family now. It was the same with college and later at my place of work- as a lifer at ITC !
These friends, now my extended family, apart from my own, fortified me to such an extent, that it mitigated my own grief as they took the curves with me- grieved and rejoiced with me, in my loss and in my achievements.
My husband always said, a person's worth is judged by the company they keep not by their bank account! He also believed, if I were to outlive him, I would not be alone, because of the company I had to sustain and grow.
This is very true and I think since women are generally stronger and more gregarious, this holds true for most women, as it did for me.
Read More: Corporate Connect