Royal Tulip – a luxury brand from Louvre Hotels Group, managed in South Asia by Sarovar Hotels, continues to expand its global footprint with the signing of its first Royal Tulip hotel in Nepal by KTM Hospitality, a subsidiary of KTM Group Holdings, Nepal.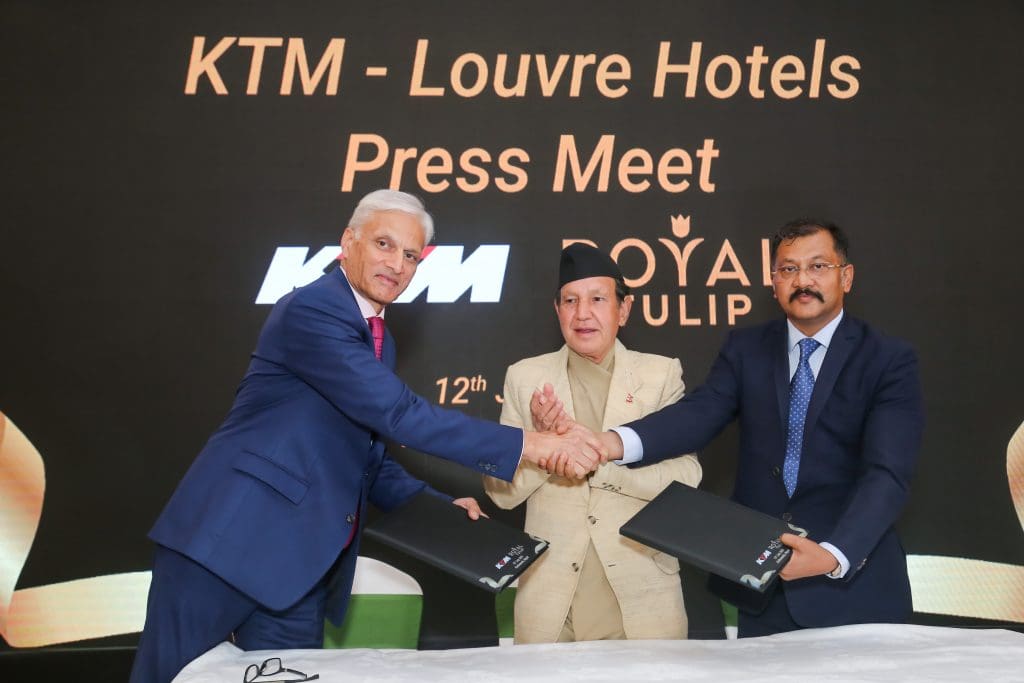 Royal Tulip Hotel is nestled in Chitwan National Park, a UNESCO World Heritage site. The hotel would be a perfect gateway to explore the spectacular wilderness as well as the rich flora and fauna of Nepal.
Royal Tulip upon completion will have 64 rooms and suites overlooking uninterrupted views of the park. The hotel would feature a 'Terrace Specialty Grill and Bar' and a 'Multi-cuisine All Day Dining' serving popular dishes from around the world. It shall also put a special emphasis on celebrating local cuisine and beverages.
Rameshwar Shah, Chairman, KTM Hospitality, said, "Royal Tulip Chitwan – Nepal will help bolster Nepal's tourism industry with hopes to enhance the local economy and livelihoods of the people of Sauraha."
He firmly believes, "Our fingerprints don't fade away from the lives we touch. Operating in a National Park area comes with greater responsibility for us not only for recreation but also for education, thus leading it to more sustainable conservation."
Commenting on the development, Ajay Bakaya, Managing Director, Sarovar Hotels said "Nepal is a growing hotspot tourist destination among Indian and International travellers and we're delighted to expand our presence in this beautiful destination that is well-connected by road, air and by train. We look forward to welcoming travellers and delivering an experiential stay through consistent, comfortable and reliable service".
Chitwan National Park, characterized by lush flora and a natural landscape, is one of the most popular tourist destinations in Nepal. The only way to uncover the hidden wealth of wildlife is by going into the heart of the jungle. Home to the king of the jungle-the Bengal tiger; the endangered greater one-horned rhino; the narrow snouted gharial, leopard and many more, this lush forest is an absolute joy to treasure.
The other experiences to explore are Safari drives, Tharu village visit, Bird watching, Canoeing, Elephant safari, Jeep safari and Jungle walk.
This will be Louvre Hotels Group's fourth signed hotel in Nepal after Sarovar Premiere, Manakamana; Sarovar Premiere, Janakpur; and Sarovar Portico, Birgunj and KTM's first hospitality venture in the country.
ABOUT SAROVAR HOTELS

Sarovar Hotels Pvt. Ltd. manages over 97 operational hotels in 65 destinations in India and overseas, under Sarovar Premiere, Sarovar Portico, Hometel and Golden Tulip brands.

The brands cover the 3, 4 and 5-star spectrum. Sarovar Hotels also operates a Corporate Hospitality Services division with the management of services at various prestigious Business Schools.

Sarovar Hotels is part of Paris-headquartered Groupe Du Louvre, a major player in the global hospitality industry, with a portfolio that now includes 2,500 hotels in 52 countries.
Read More: News