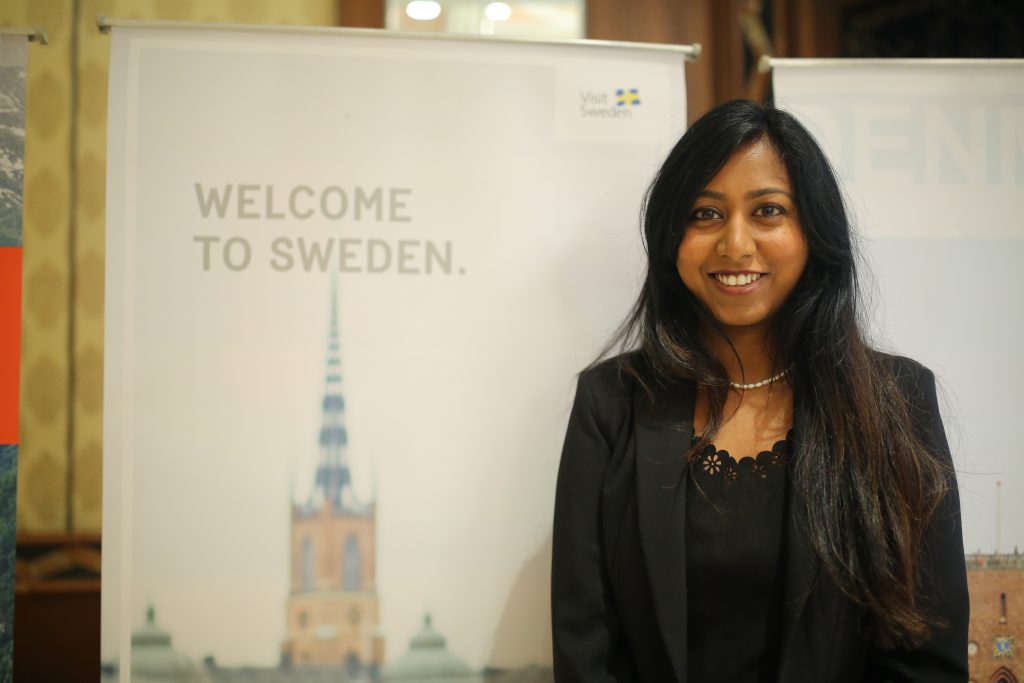 Ruth Dolla, Manager – India, Visit Sweden AB speaks with Today's Traveller on how Visit Sweden satisfies the need for nature travel and its initiatives in keeping ahead of the Covid curve.
TT Bureau: People travel for various reasons like experiencing food, art, adventure, history etc. Which of these segments do you believe Sweden addresses the best?

Ruth Dolla: Sweden satisfies the need for nature travel the best. Ecotourism and adventures that can be experienced while being in nature are what we promote along with experiencing food, art, city life, history as well.

When you are in Sweden you have the right of Public Access or 'Allemansrätten' which includes – the right to walk, cycle, ride, ski and camp on any land except for private gardens, near a dwelling house or land under cultivation. We call it the Freedom to Roam.

The Right of Public Access is a unique right to roam freely in the countryside. But with this right come responsibilities – to take care of nature and wildlife and to show consideration for landowners and other people enjoying the countryside. The Swedish Environmental Protection Agency (EPA) sums up the Right of Public Access in the phrase 'Don't disturb – Don't destroy.'
Sweden's natural wonders, the Swedish Lapland, the Swedish mountains, coastlines and archipelagos are waiting to be discovered.
TT Bureau: What would you say has been the biggest shift in the way Sweden will be marketed as a tourist destination vis a vis pre and post-Corona?

Ruth Dolla: We probably took nature for granted and now value being outdoors with social distancing much more during these pandemic times. Visit Sweden focuses on nature even more now post Corona. Freedom and the space to move around freely is so much more valued today.

TT Bureau: Tell us about Visit Sweden's initiative, 'The 72 Hour Cabin'
Ruth Dolla: We know, according to research, that there are several benefits to staying outdoors, such as reduced negative emotions and lowered stress levels. The positive effects were tested and proven through Visit Sweden's very own initiative, "The 72 Hour Cabin", with participants from major cities who had demanding jobs. They were examined before and after spending three consecutive days in the Swedish countryside where they slept in glass cabins next to water.
More than two-thirds of Sweden is covered with trees, and it is not only the sparsely populated North that boasts lush wilderness: Cities throughout the country have lakes, meadows, forests, scenic coastal paths, and vast archipelagos around the corner, which makes nature easy to reach wherever you go.
No wonder Swedes maintain an unusually close relationship to nature and draw from the healing power of spending time al fresco. In several places around the country, experts offer experiences in nature that foster mental health: Outdoor cooking, hiking, canoeing, and mountain biking are classic activities with a lasting effect.
TT Bureau: What kind of unique accommodations and locations have been identified for visitors?
Ruth Dolla: We have identified 15 unique accommodations and destinations and each is distinct with its charms. Take Bergaliv with its panoramic views stretching along the Ljusnan River Valley, across the neighbouring meadows to the dense forests beyond. Here is this minimalistic yet beautiful cabin, designed by Swedish architect Hanna Michelson, which is built over two floors, with the raw interior made from pale ash and birchwood. The first floor is where you will find your sleeping accommodation, while the upper floor is an open terrace with magnificent, unobstructed views — the perfect place to meditate.
One could opt for 'Naturbyn' which offers a back-to-basics experience where you live and breathe the surrounding nature. With cabins situated on land, floating in the water and even up in the trees, this is not your average campsite. You will find this hidden treasure in the midst of the Swedish woods where you can take the time to unwind. Naturbyn also provides enjoyable activities including canoeing, swimming, hiking, and its very own sauna.
Similarly, you have many other wonderful places.
TT Bureau: What is the current profile of Indian tourists to Sweden?
Ruth Dolla: Leisure and business travellers from the metro cities in India. VFR (visiting friends and relatives) is a growing segment.

TT Bureau: Are there challenges in developing the India market?
Ruth Dolla: Accessibility is a big part of our efforts in driving tourism from India to Sweden. In 2017 after a lot of talks Air India launched a direct flight from Delhi to Stockholm.
Due to the current pandemic situation, Air India was forced to cut down on 5 European routes in August 2020 as part of a cost-cutting move, the direct flight to Stockholm being one of them. We don't know when this direct route will resume again. We really hope it resumes again in the future either with Air India or another airline company.
Read More: Explore the World