Sabudana Tikki by Chef Shivam Sharma, Rosakue – Bara Bungalow Gethia, Nainital is such a super tasty crunchy snack that you will be left asking for more during Navratri.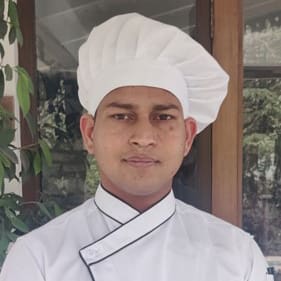 What is your favourite dish to cook during Navratri? we asked and pronto! India's top Chefs generously shared their favourite dish to cook during Navratri along with the recipe, so all our readers can make it in their home for their loved ones.
We wait all year for celebrating food during the Navratri festival in mid-April. The 9-day of festivities puts a focus on what is traditionally known as Navratri vrat food but these meals are probably some of the most nutritious and diet-friendly meals in the world.
Sabudana Tikki for Navratri by Chef Shivam Sharma, Rosakue – Bara Bungalow Gethia, Nainital is a hot favourite and our readers are happy to use his recipe in their kitchens to cook up the snack for their families.
Happy Navratri! Happy Cooking with the step-by-step recipe given by the Chef so you can make sure the sabudana tikki or sabudana vada does not break and it turns out perfect!
Recipe – Sabudana Tikki for Navratri by Chef Shivam Sharma
Sago is a nutritious food made from the milk of tapioca root. Sago is full of carbohydrate and provides energy, which is why it is considered a good fasting food for festivals like Navratri. When cooked with other food ingredients like milk, arrow root flour or water chestnut flour or buckwheat flour , it becomes a complete and nutritious meal that is light on the stomach.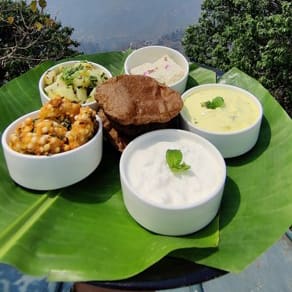 How to make the Sabudana Tikki by Chef Shivam Sharma
Soaking Sabudana
Rinse and then soak ½ cup sabudana pearls in water covering them above from 1 to 2 inches, for 5 to 6 hours or overnight. ( Sabudana = Tapioca Pearls).
Depending on the quality of sabudana you can even soak for 2 hours. When properly soaked, the sabudana pearl, should get mashed when pressed. If you feel some hardness in the center, then soak for some more time.
Then drain the soaked sabudana pearls very well in a strainer.
Cooking and Mashing Potatoes
Boil or steam 1 large potato in a pressure cooker, steamer, Instant Pot or microwave oven. The potato has to be softened and well cooked. Drain all the water from the boiled potato.
When the potato is hot or warm, peel and mash it very well in a bowl. Let the mashed potato be lukewarm or cool completely at room temperature.
Now add the following ingredients. You can also use roasted and slightly crushed peanuts instead of cashews.

Sabudana that has been drained of all the water
1 green chili (chopped)
10 to 12 cashews (chopped) or 4 tbsp chopped cashews,
½ tbsp chopped raisins
½ tsp cumin powder
¼ tsp dry mango powder or add as per taste.
rock salt as required.
Mix very well. This ensure that the tikkis will not break while frying. This recipe works. But if in doubt, you can add 1 tbsp of arrow root flour or water chestnut flour or buckwheat flour.
Heat 2 tbsp peanut oil in a pan. Place 4 to 5 sabudana tikki in the pan.
When the base is lightly browned, flip and pan fry the other side. If needed you can add 1 to 2 tablespoons more oil.
Flip a couple of times more, till the sabudana cutlet are crisp and golden from both sides.
Drain sabudana tikki on kitchen paper towels to remove excess oil.
Fry the remaining batch in the same way add 1 to 2 tablespoons or as needed. The recipe makes for 8 sabudana cutlet.
Serve sabudana tikki hot or warm with a satvik coconut chutney or homemade tomato sauce made without preservatives or coriander chutney or mint chutney.
Read More: Food Voyager