Sarovar Hotels signs a new Sarovar Premiere hotel in Manakamana, Nepal.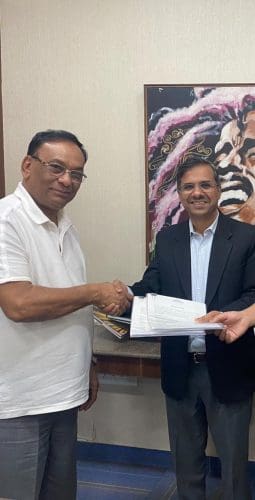 Sarovar Hotels, one of the fastest-growing hotel chains in India with over 98 operational hotels across 65 destinations in India and Africa continues to expand its global footprint with the signing of a new hotel in Manakamana, marking the group's entry into the temple town of Nepal. This will be Sarovar's first Sarovar Premiere branded resort and second hotel in Nepal after Sarovar Portico, Birgunj.
Manakamana is a temple town perched atop a hill in Kurintar and is midway between Pokhara and Kathmandu. Popularly known for Hindu goddess Bhagwati, who is an incarnation of goddess Parvati. It's a beautiful upcoming tourist destination and a preferred spot for trek lovers.
Sarovar Premiere, Manakamana, upon completion, will have 44 rooms offering a beautiful view of the temple town and Trishuli river . The hotel will also include all-day dining, a meeting room, a Coffee shop, a Fitness center, and a swimming pool.
Commenting on the development, Anil Madhok, Executive Chairman, Sarovar Hotels said "We are delighted to partner with Manakamana retreat Resort and Spa for this new hotel. This is another welcoming step toward the company's continued global expansion plan. Manakamana is an extremely popular religious town and holds immense tourism and business potential".
The Mankamana temple oversees the Trisuli and Marshyang-di river valleys. It offers a vantage point for seeing the breathtaking view of the Manaslu, Himalchuli, and Annapurna massifs to the north. The easiest way to reach the Manakamana temple is by Cable car.
Read More: News