What is your favourite dish to cook during Navratri? we asked and pronto!
India's top Chefs shared their Favourite Dish to cook during Navratri along with the recipe, so all food lovers can make it in their home for their loved ones.
We wait all year for celebrating food during the ongoing Navratri festival coming up in mid-April 2021. The 9-day of festivities puts a spotlight on what is traditionally known as Navratri fare but these meals are probably some of the most nutritious and diet-friendly meals in the world.
Celebrity Master Chef – Dr Kaviraj Khialani, Creative Cuisine International – Mumbai shares his Favourite Dish to cook During Navratri
Happy Navratri! Happy Cooking!
Recipe – Shahi Samak ka Badami Meetha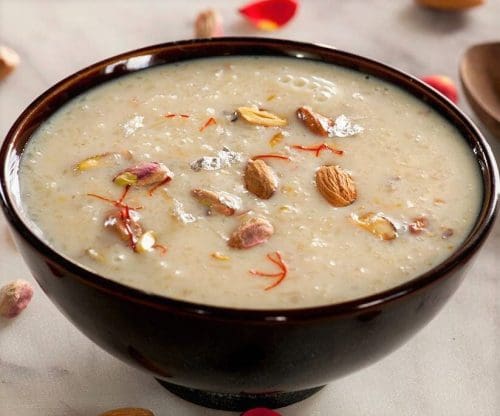 Ingredients:
Samak or Sama rice/ barnyard millets- 1 cup
Full fat milk- 750 ml
Ghee- 1 tbsp.
Green cardamom- 2-3 no or ¼ tsp cardamom powder.
Saffron- 1 pinch soaked in 2 tbsp. warm milk.
Organic sugar or jaggery- ¼ cup.
Dates- 3-4 chopped, use more of dates to reduce the sugar content ideally.
Almonds- 2-3 tbsp. powdered.
Raisins- 2 tbsp. soaked in water for 20 mins.
Rose petals/ varq as desired for presentation of the kheer.
Assorted seasonal fresh fruits- ½ cup cut can also be used.
Method:
Clean the sama rice well rinse it 2-3 times and soak it in double the amount of water for 10-15 mins.
Meantime boil the milk in a thick bottomed pan to prevent the meetha from sticking at the base, simmer the milk with chopped dates for 10-12 mins and add in the drained sama rice to the milk and keep stirring constantly, add the sweetening agents of your choice like sugar, jaggery, stevia etc can also be used in this recipe.
After around 20 mins we will observe the sweet starts getting a nice coating like custard texture to it since the sama starts to cook in the milk at this stage add a little ghee and mix in well, check for sweetness and adjust accordingly.
Now add in a little saffron soaked in milk, the almond powder/paste as desired and mix it well, cook for another 3- 4 mins turn off the flame and allow to cool slightly.
I usually like to layer this sweet with nuts and seasonal fruits as well into small dessert bowls/glasses/cups etc and garnish with rose petals/nuts of your choice and serve it warm or chilled.
Read More: Food Voyager